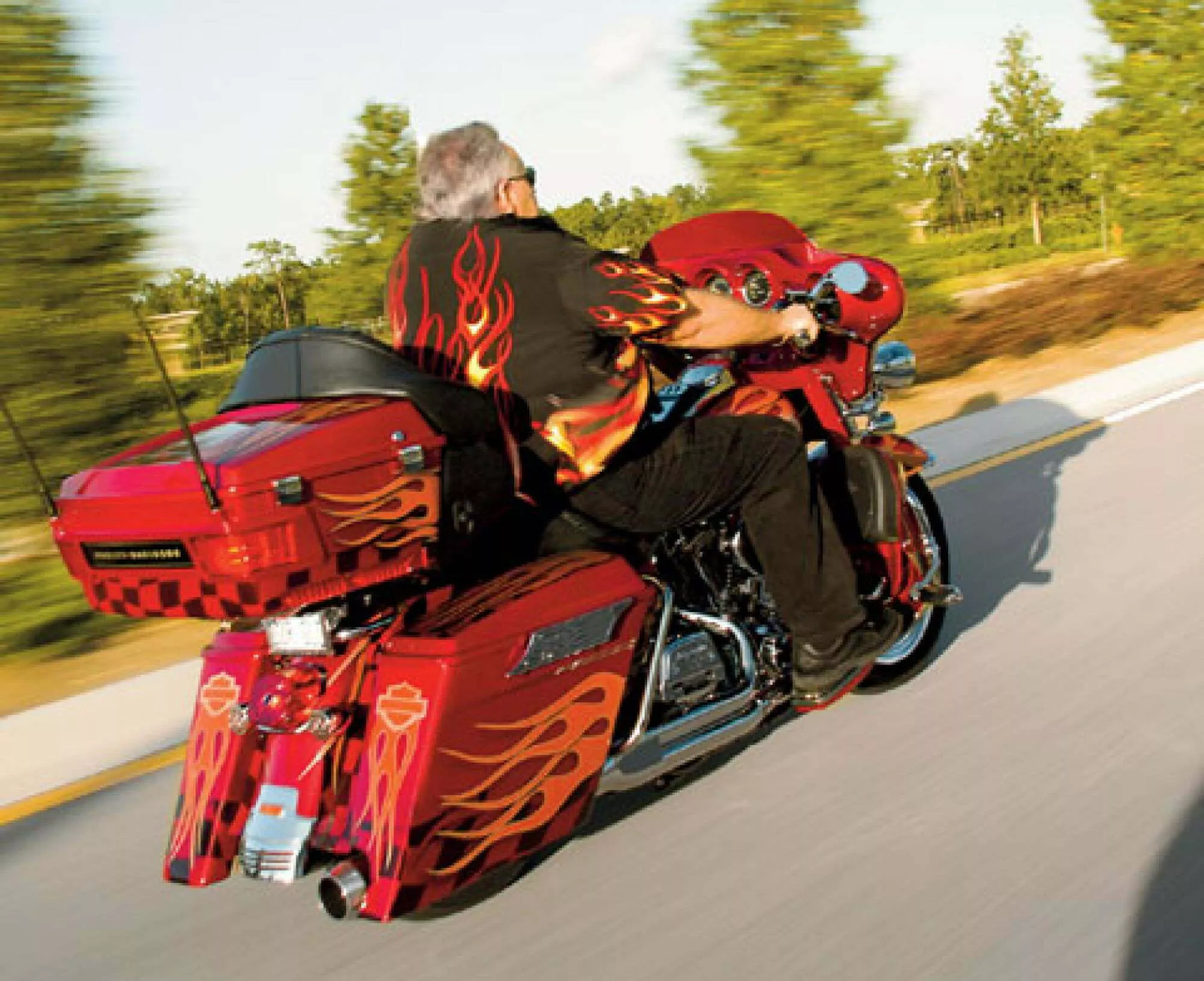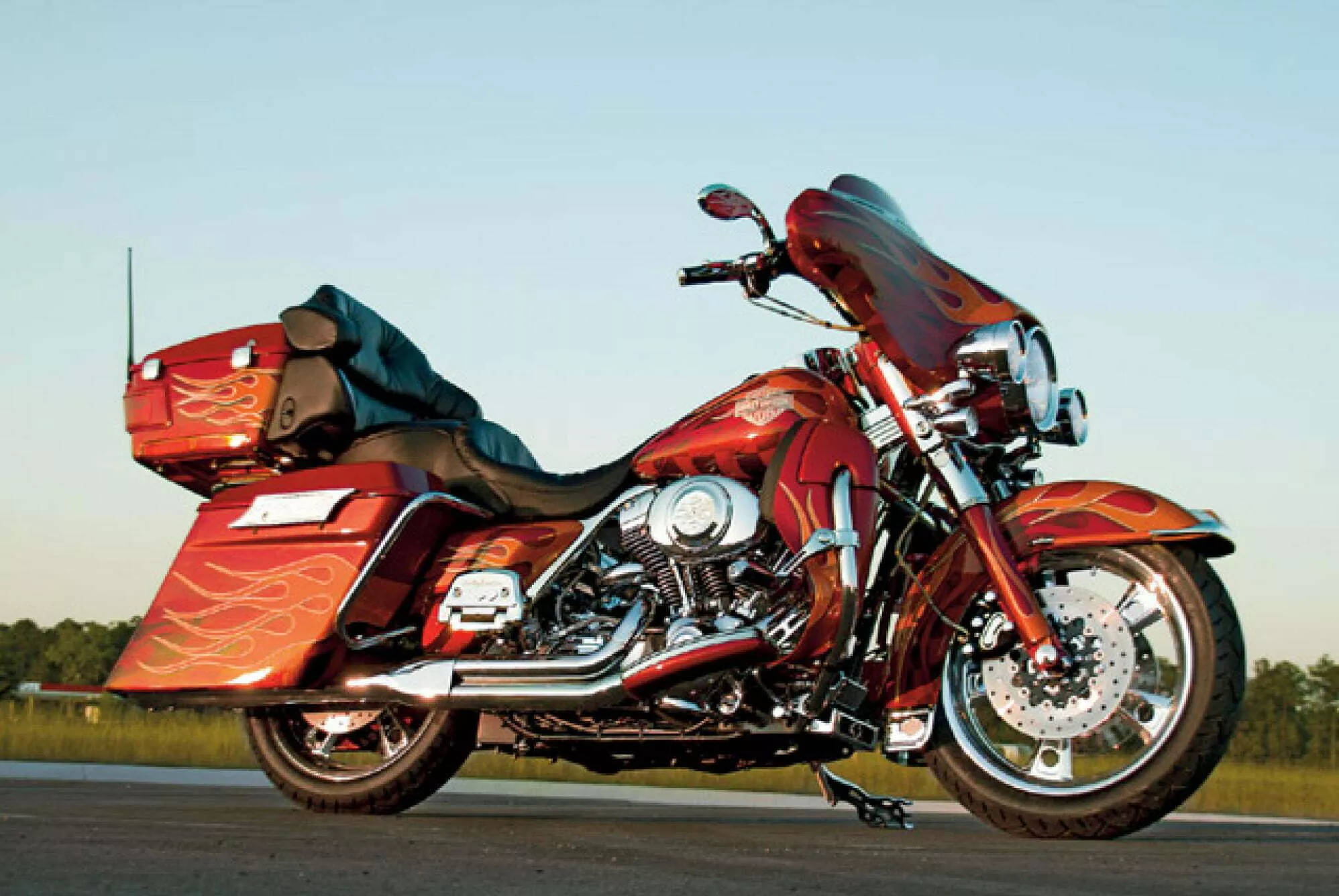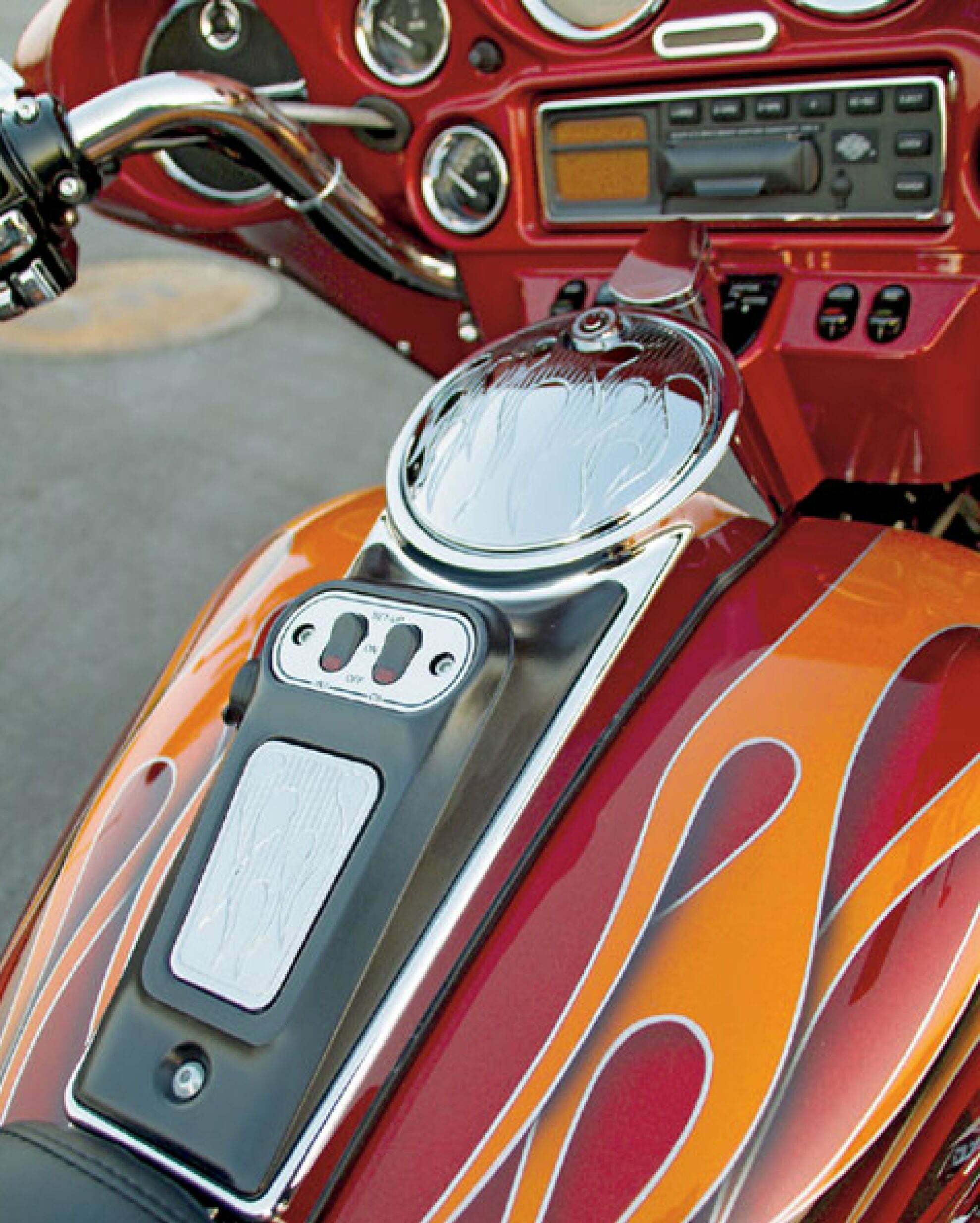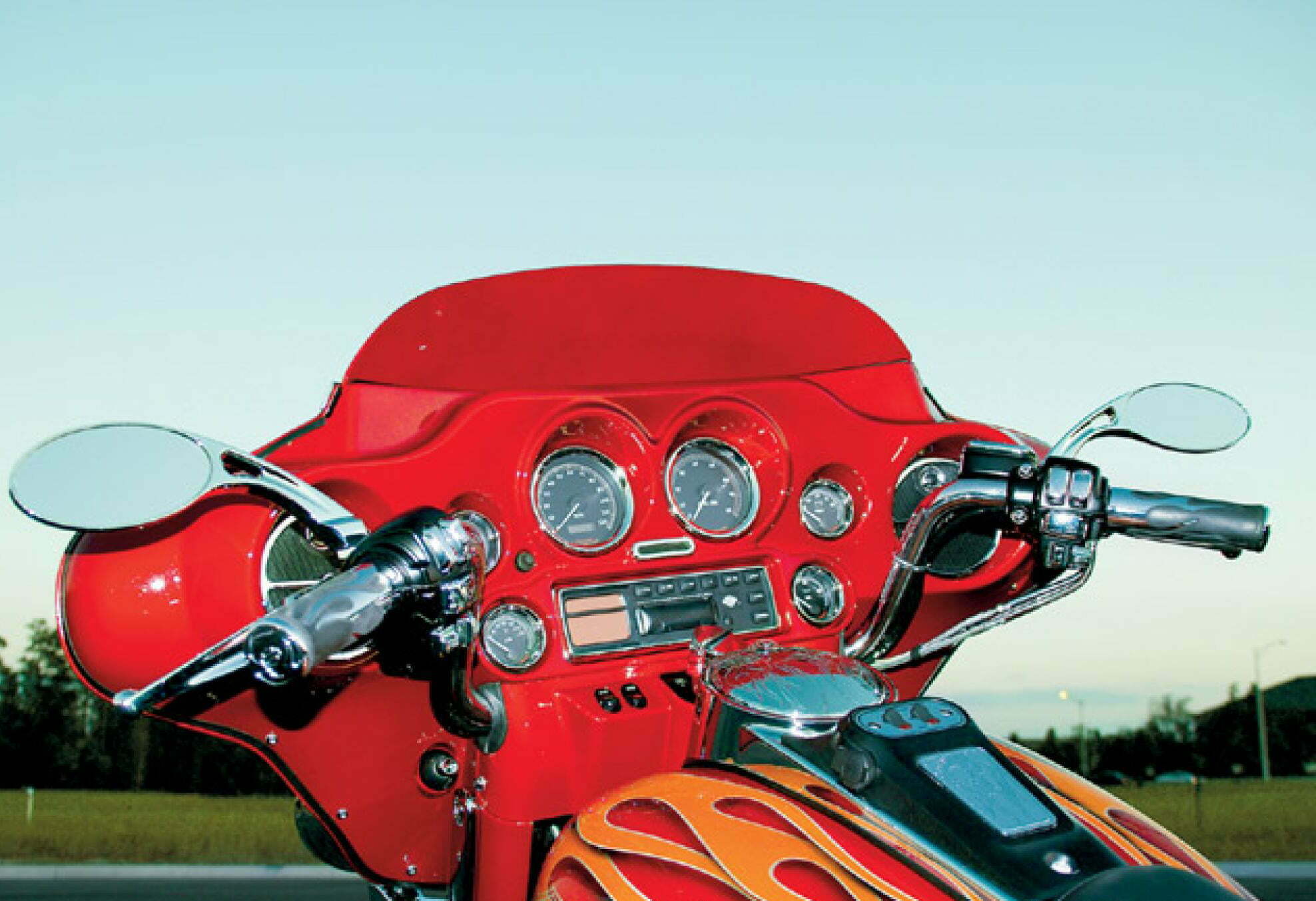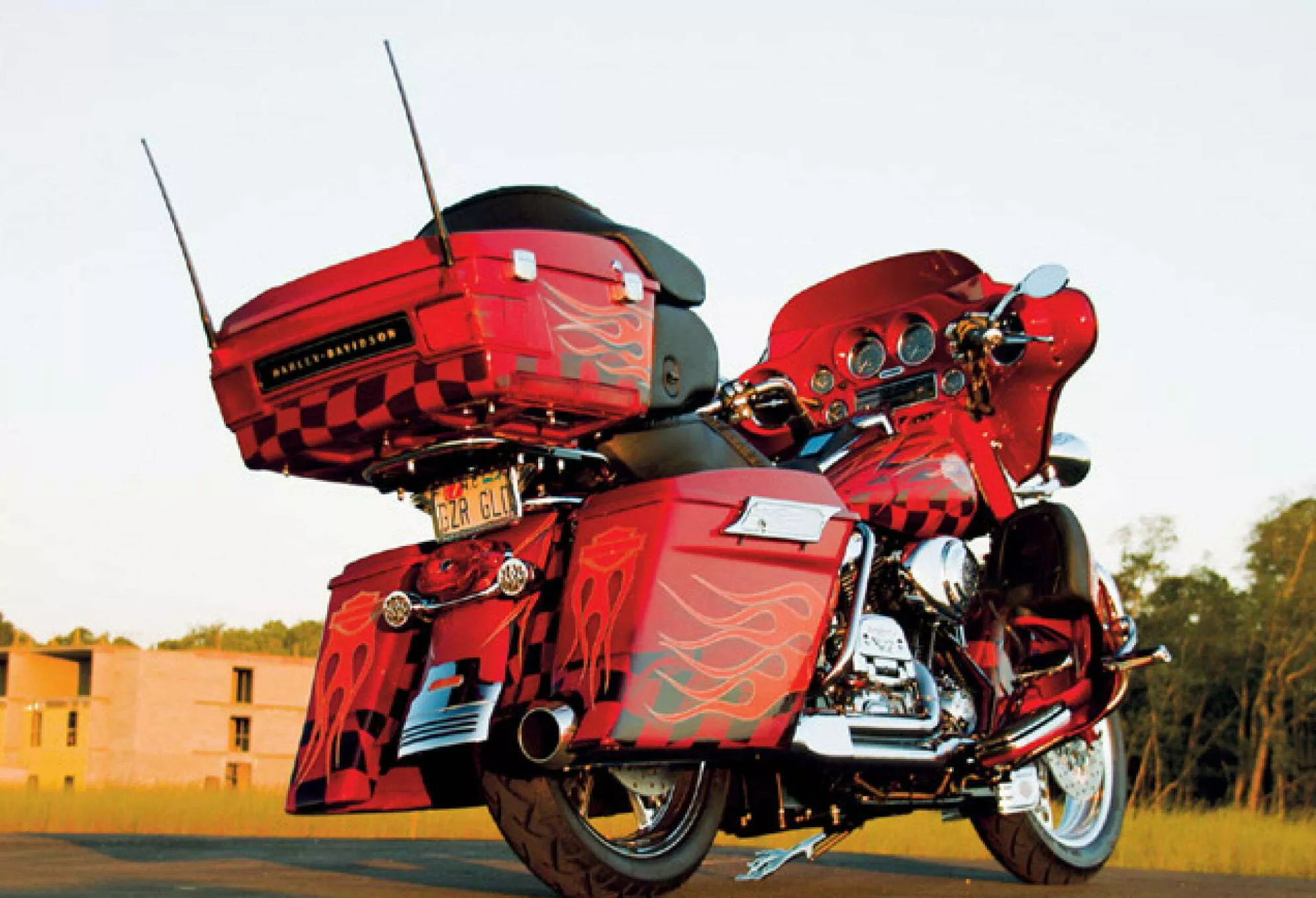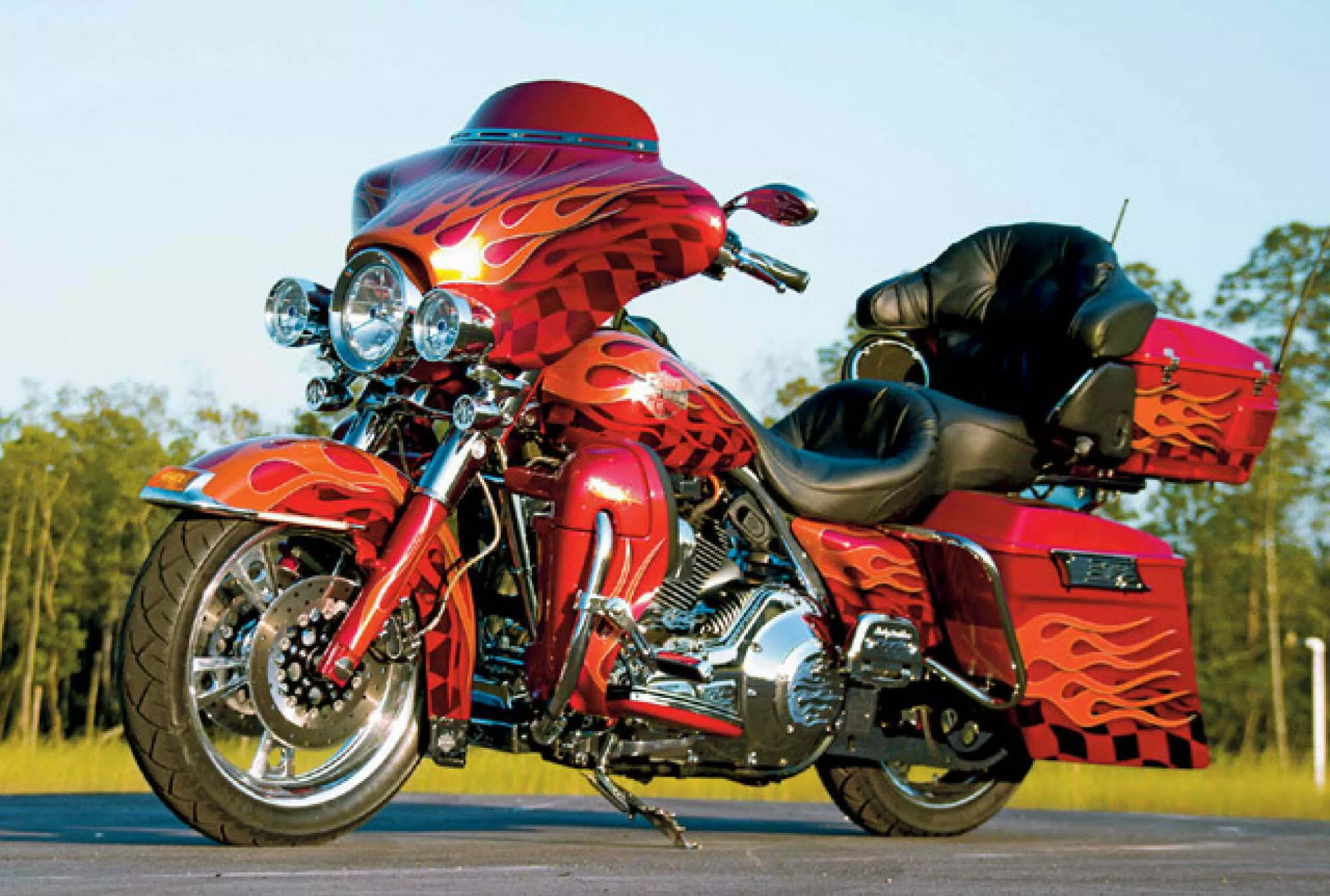 It is assumed that every phenomenon has a cause. Meaning, events do not occur at random but in accordance with certain physical laws. In principle, causes can be found for each effect. Such is the case with Eddie Atkins and his 2002 Electra Glide Ultra Classic. Having a very definite idea of what a bagger should be and being old enough to see the first round of choppers come, go, and come back again Eddie bought a fully loaded Ultra Classic off the showroom floor and decided it needed a few tweaks. After adding a bit of chrome and some upgraded lighting, Eddie lost the crank in April of 2005. With a rebuild imminent, he decided to bump up the cubic inches a bit. The mild 103ci engine re-build took a wild turn and the next thing Eddie knew he had a 117ci engine between the rails. This fire-breather, which was fine for the open road, proved to be just too radical for cruising around the many bike weeks that Eddie attends. A few months after the engine build, while Eddie was trying to manhandle his big-inch beast in Biketoberfest traffic, he ran into Carl and Doug from Carl's Speed Shop. After a short conversation about making big motors tolerable in all conditions, he had them rework it to its current condition. The magic that was done at Carl's Speed Shop brought a very streetable motor that produces 129 hp with 141 lb-ft of torque.
In July of 2006 after a year of sheer bliss on the big-bore Ultra, Eddie was side-swiped by a car and escaped the whole situation with his life intact and one messed-up FLHTCU. Though much cosmetic damage was inflicted, due to the solid chassis design of the Harley bagger nothing structural was damaged. About this time Eddie ran into Brian Klock and decided that his damaged sheet metal needed to be drastically upgraded. Adding late-model lowers, newer-style saddlebags, and saddlebag extensions from Klockwerks, he instantly made the Ultra look like the very latest model the motor company was producing. After a little soul-searching and with help from his pal, Jody Davis, the graphic layout was decided upon. He then had every last piece of paintable bodywork sprayed by the big dogs at Gunpoint Graphics in Brunson, South Carolina. This is one detailed paintjob thanks to House of Kolor Brandywine with orange and sliver accents laid over a metallic and pearl base.
While the bike was down from the accident and the parts were at the paint shop, Eddie also added a six-speed transmission and Scorpion clutch along with a set of 18-inch wheels from Weld Racing with Metzeler tires. A True-Track stabilizer was also installed and the bike was then lowered 1 and a half inches. After getting run over by that car back in 2006 he firmly believes the old adage that loud pipes save lives, so a newly added set of Bassani Road Rage pipes keep automobiles at bay. While the painted pieces were being re-installed, Eddie couldn't help himself as he added even more chrome and billet goodies as well as some custom engraving on the gas cap and horn. To round out all of the bling and bring a close to his mega-build, brighter lights front and rear, as well as a much-louder-than-stock stereo thanks to J&M Audio, made this one of the most epic Ultras we have ever seen.
<div class="st-block quote text-
Notice: Undefined index: st_text_align in C:laragonwwwhotbike-importblocksquote.php on line 1
">
Considering the law of cause and effect, we often want to know why something happened as the result of an entirely different occurrence. So the question is posed: Why did Eddie take the geezerest of geezer glides and make a hot rod out of it? The answer is simply because he could.
Find more of our favorite custom iron here.