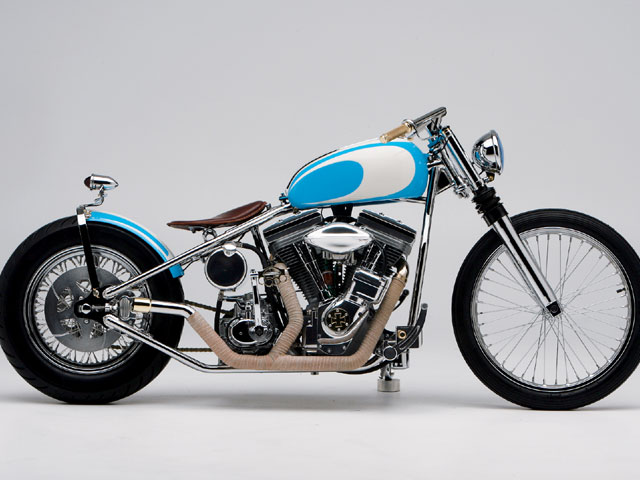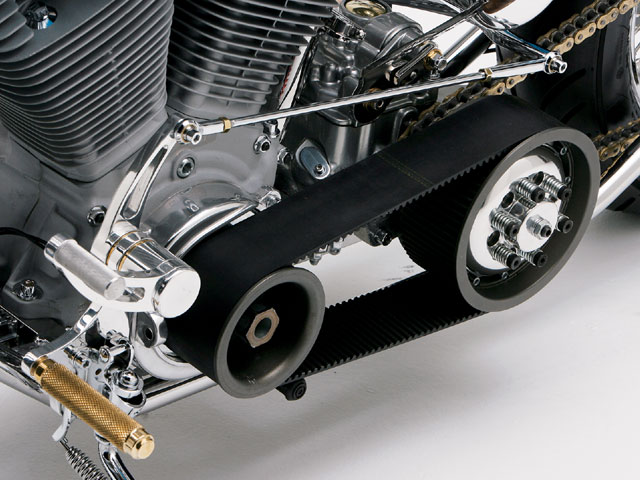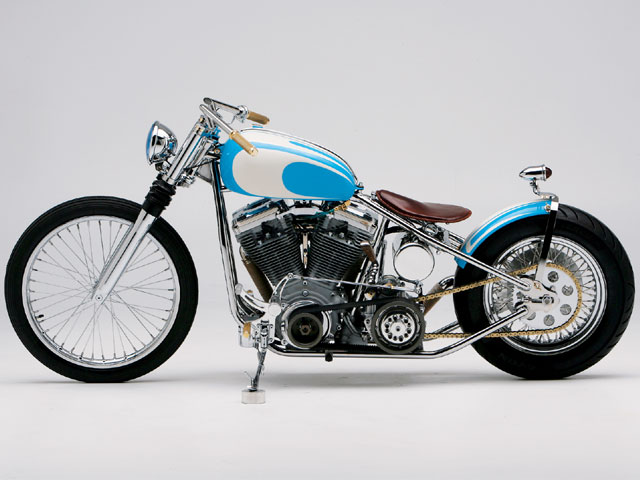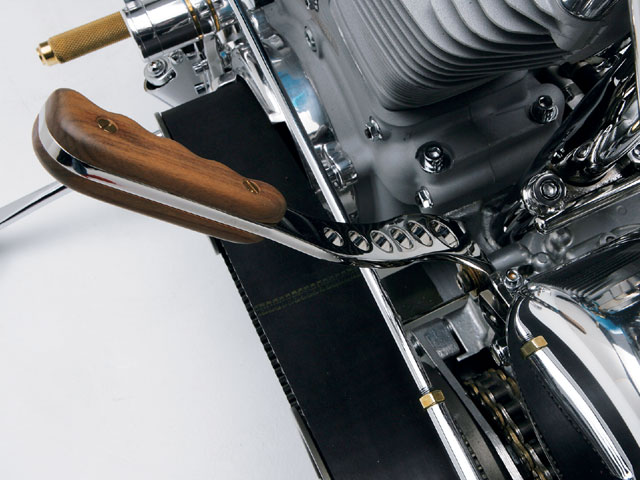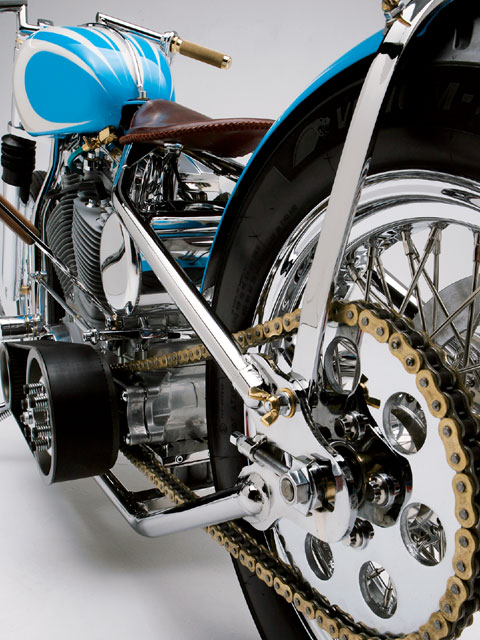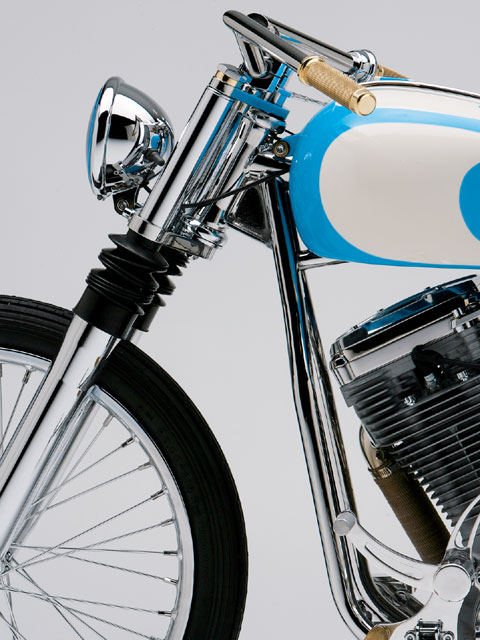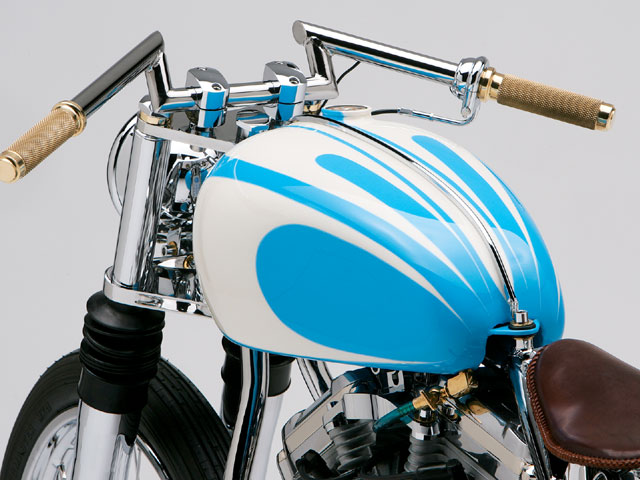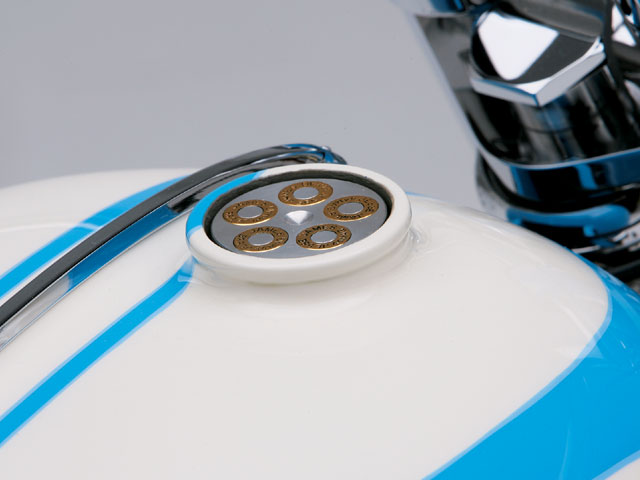 We are an eclectic group here at HOT BIKE, and we appreciate all types of bikes. We like the beefy look of wide tires and flowing lines on pro-streets, and the stretched-out, seamless sheetmetal of the big-bodied Cadillac-esque bikes (we have a beautiful example of one in this book from Xtreme Machine). However, sometimes less is more. And in our opinion, you don't have to spend hours cutting, bending, and shaping sheetmetal, trying to cover up every mechanical aspect of a motorcycle for it to be considered a hot bike.
Every once in awhile we'll come across a clean and simple bike, put together with just the right components that'll stand out amongst the rest. This stripped-down, no frills, chrome frame rigid from Wayne Ahlquist of ACME Choppers out of Meredith, NH, is proof of that.
Sure, we know what you're thinking: "There's not much to it, and hell, it doesn't even have a front brake." But that's exactly what drew us to this bike: its simplistic beauty. With its lightweight and compact stature, it's one of those bikes that just begs to have a leg thrown over it and be ridden hard.
The nature of most custom motorcycle shops is to create bikes based on the designs and specific parts requested by their customers, and a lot of the bikes we feature are built by custom shops for just that purpose. So when someone from a shop decides to build a bike for themselves, it's like we are getting to look at a Rorschach test the builder has created from metal. Glancing over the bike and studying the components they chose to use gradually reveals his or her personality.
For instance, when looking at the Wishbone frame we get the feeling that Wayne has an appreciation for classic styling and tradition. The fact that he decided to use brass ACME accents like grips, footpegs, kicker pedal, and magneto cover tells us Wayne has a deep respect for old-world metals and the generations of metalsmiths who have passed down their knowledge of metallurgy.
Eyeballing the H-D Evo motor and H-D trans leads us to believe that loyalty and dependability are important characteristics to Wayne, and he probably tends to surround himself with people who embody these traits. The 3-inch open beltdrive, jockey shift setup, and kicker rather than electric start says to us that Wayne doesn't take the mechanical aspects of motorcycles for granted. He doesn't want to just jump on and ride mindlessly; he wants to become one with the bike, conscious of every moving component, melding to become a part of the machine he's riding.
Those were our thoughts on the bike and how we think it reflects Wayne's personality. Here's what Wayne told us about the bike. "I was going for a neo-bobber/boardtracker look with a lot of antique parts, but powered by a modern engine. I used a Ford tire cover for the rear fender, old H-D Hummer taillight, and an H-D turtle top trans. All my attention on this bike was geared towards having it look like there were parts missing. The bike was built to be light and fast and turn quick, all these things are needed here in the mountains of the northeast. No front brake, no battery, no starter, no hand controls; just a bare bones racer. We were sure to give this thing at least 5 inches of ground clearance and made the exhaust tuck up near the frame so it wouldn't scrape around corners.
"The frontend uses narrow trees with 2-inch under 41mm tubes and a super light spool wheel up front. The frame is a Paughco with all un-needed mounts and tabs cut away. We got the gas tank from a '68 Triumph 500 Daytona-it really looks fast and aggressive on the backbone. To really get into the turns the stance was made high, but very short to keep a racing feel."
All in all, we'd say Wayne did a pretty good job of achieving his neo-bobber/board tracker, because that's exactly what we see when we look at this bike: A beautiful racer from another era.
| | |
| --- | --- |
| GENERAL | |
| OWNER | WAYNE AHLQUIST |
| SHOP | ACME CHOPPERS |
| PHONE | 603-279-5995 |
| WEBSITE | WWW.ACMECHOPPERS.NET |
| YEAR/MAKE/MODEL | '06/ACME/RIGID RACER |
| FABRICATION ACME | CHOPPERS |
| ASSEMBLY | ACME CHOPPERS |
| BUILD TIME | FIVE MONTHS |
| | |
| --- | --- |
| ENGINE | |
| YEAR/TYPE/SIZE | '99/H-D/80CI |
| BUILDER | H-D |
| CASES | H-D |
| FLYWHEELS | H-D |
| RODS | H-D |
| PISTONS | H-D |
| CYLINDERS | H-D |
| HEADS | H-D |
| VALVES | H-D |
| ROCKERS | H-D |
| ROCKER BOXES | H-D |
| PUSHRODS | H-D |
| PUSHROD TUBES | H-D |
| CAM | H-D |
| LIFTERS | H-D |
| CARBURETOR | S&S; |
| AIR CLEANER | GOODSON |
| IGNITION | MORRIS MAGENTO |
| EXHAUST | ACME CHOPPERS |
| | |
| --- | --- |
| TRANSMISSION | |
| YEAR/TYPE | H-D/ROTARY TOP |
| CASE | H-D |
| GEARS | H-D |
| CLUTCH | BDL |
| PRIMARY | DRIVE BDL |
| | |
| --- | --- |
| FRAME | |
| YEAR/TYPE | PAUGHCO/RIGID |
| RAKE | 30 DEGREES |
| | |
| --- | --- |
| SUSPENSION | |
| FRONT | 41MM NARROW GLIDE |
| LENGTH | 2 INCH UNDER TUBES |
| TRIPLE TREES | CUSTOM CYCLE ENGINEERING |
| | |
| --- | --- |
| WHEELS, TIRES, AND BRAKES | |
| _FRONT _ | |
| BUILDER/SIZE | SPOOL/21 INCH |
| TIRE/SIZE | AVON SPEEDMASTER/21 |
| REAR | |
| BUILDER/SIZE | AMERICAN WIRE WHEEL/16-INCH |
| TIRE/SIZE | AVON VENOM/140/70-16 |
| CALIPERS | GMA |
| ROTOR | GMA |
| | |
| --- | --- |
| FINISH/PAINT | |
| COLORS | POWDER BLUE/WHITE PEARL |
| PAINTER | BONE HEAD CUSTOM DESINGS |
| PLATING/POLISHING | ACME CHOPPERS |
| | |
| --- | --- |
| ACCESSORIES | |
| REAR FENDER | '35 FORD SPARE TIRE COVER |
| FENDER STRUTS | ACME CHOPPERS |
| GAS TANK∩ | '68 TRIUMPH |
| OIL TANK | CCI |
| HANDLEBARS | CHICA {{{MINI}}} Z |
| RISERS | V-TWIN |
| HAND CONTROLS | ACME CHOPPERS |
| FOOT CONTROLS | BILLET W/FOOT CLUTCH |
| FOOTPEGS | ACME CHOPPERS |
| HEADLIGHT | CHEAPO |
| TAILLIGHT | H-D HUMMER |
| LICENSE MOUNT | ACME CHOPPERS |
| SEAT | BACKDROP |