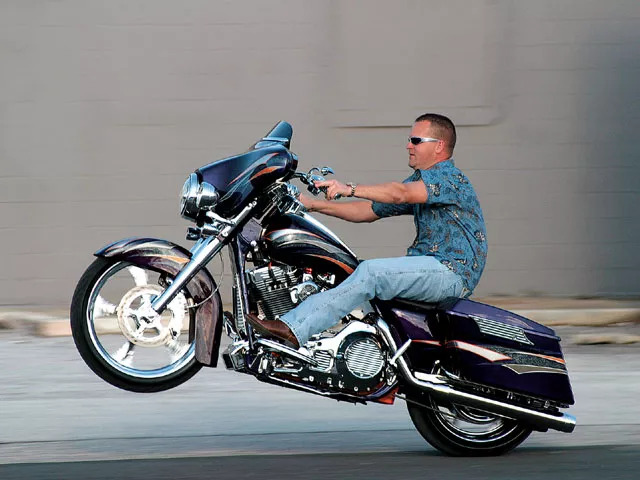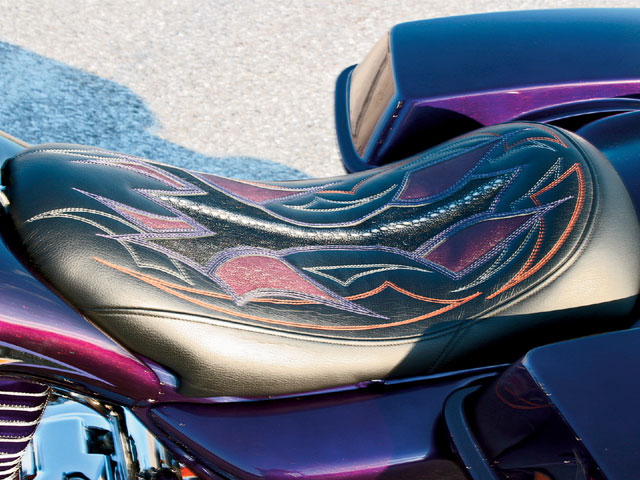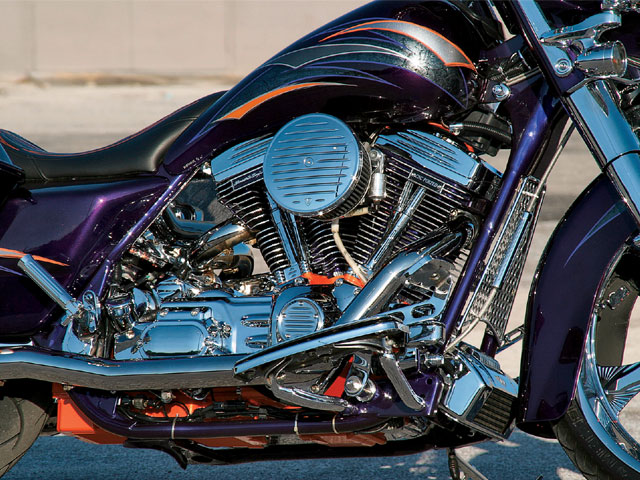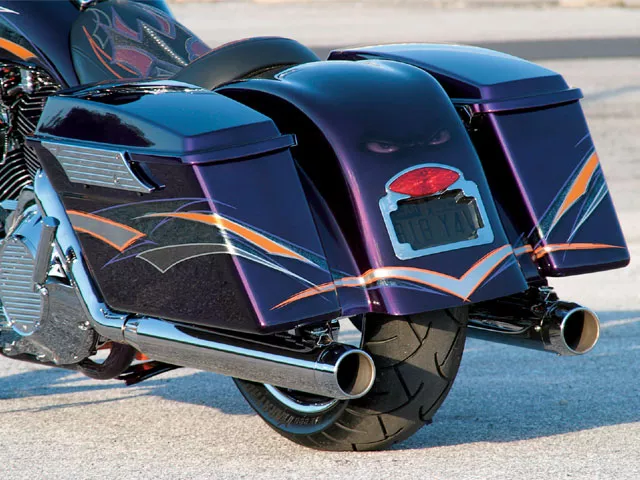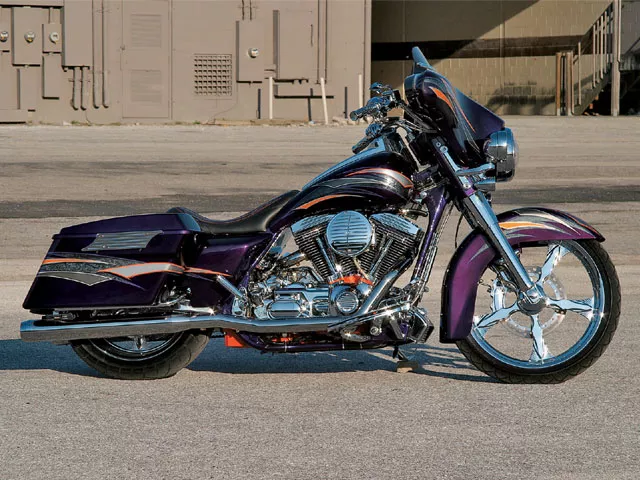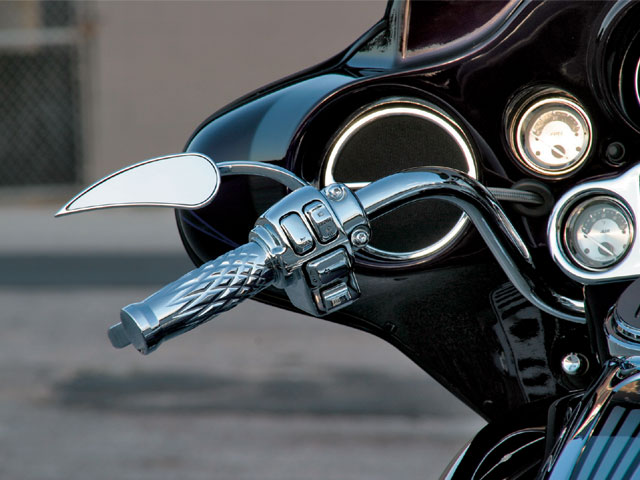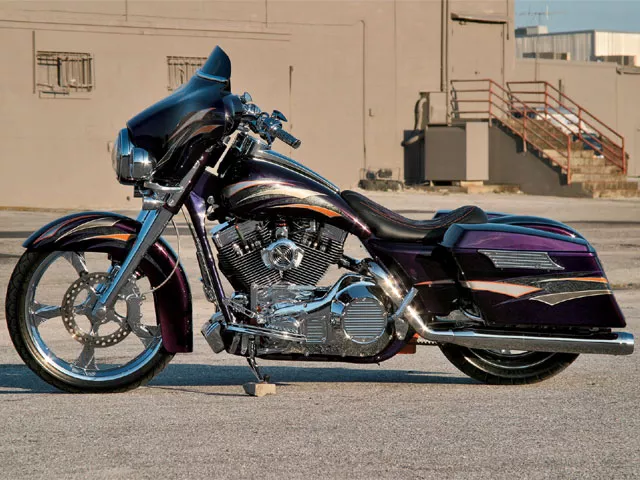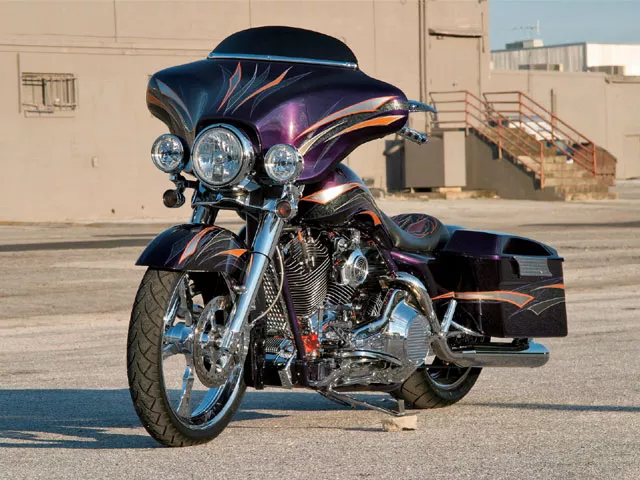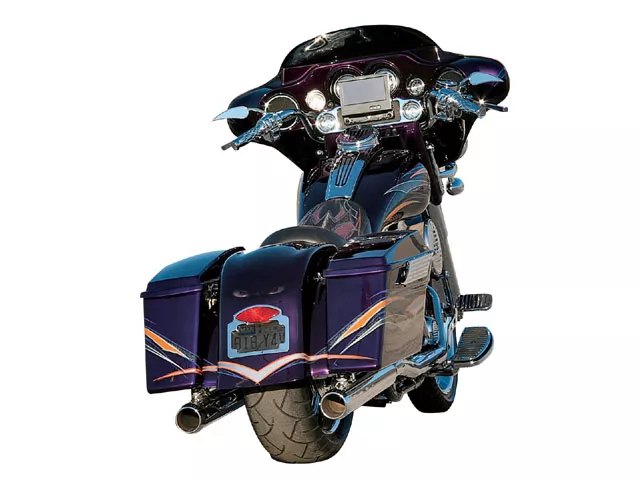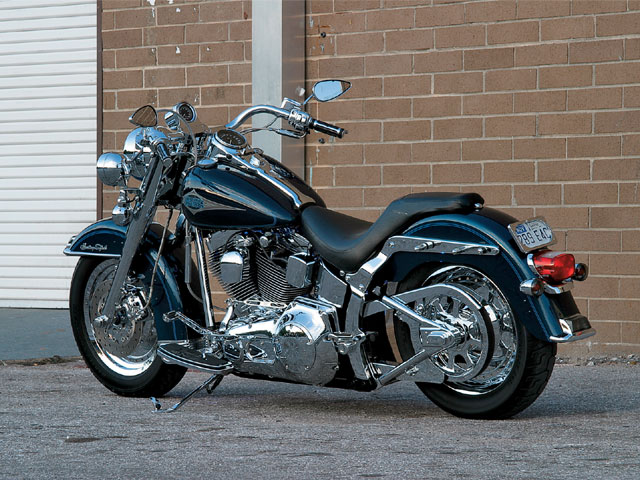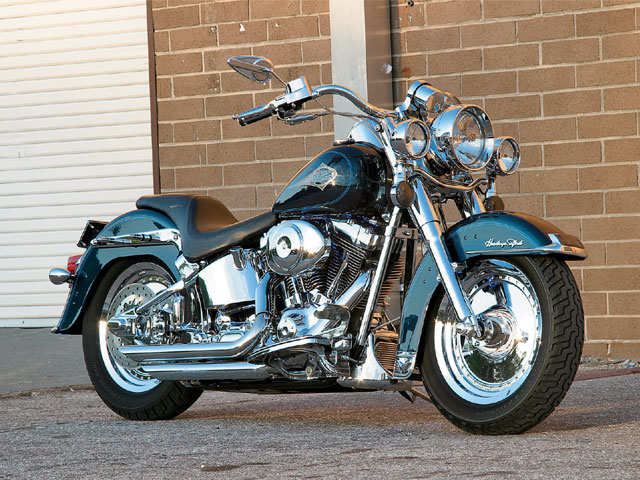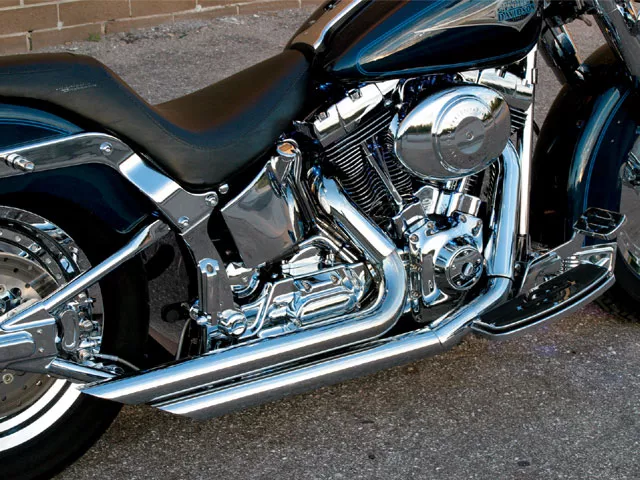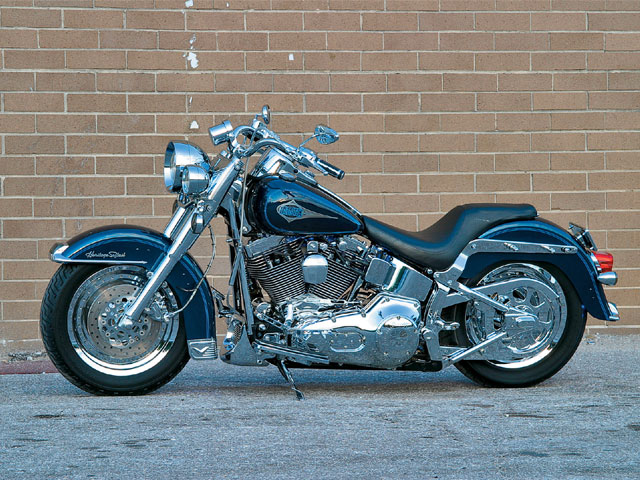 When we pass our skills or knowledge on to others, we are essentially sharing a part of ourselves that will hopefully be carried on or instilled in somebody else. Whether it's a sibling, friend, significant other, or stranger, one of the typical methods of passing on attributes or possessions is from parent to child. In the case of the purple '06 Ultra Classic before you followed by the blue '01 Heritage Softail, the tables turned a bit as son Jimmy Doyle II passed his bike building skills on to his father James Doyle Sr., and helped to shape a new hobby for his dad.
With a relationship similar to the old "like-father-like-son" clich, both Doyles had a longtime interest in motorcycles, with Jimmy's stemming from childhood. Since the age of 10, Jimmy has been tinkering with and riding anything two-wheeled. Although he always had a passion for Harleys, it wasn't until 1994 that Jimmy purchased a Dyna Wide Glide and it started the Harley phase of his life. "Being that this was my first Harley," Jimmy said, "I paid others to work on it for me. But every time I had someone else work on it, they took weeks to complete the work and the work was not done right." And you know how another clich goes: When you want something done right, sometimes you gotta do it yourself.
After moving from Maryland to Kingwood, Texas, in 2000, Jimmy bought a new Fat Boy and started doing his own work on it. "I have always been a stickler for detail and mechanically inclined," Jimmy said, "but this was a new challenge for me." He picked up more bikes, high-performance motors, and transmissions, and honed his skills. "My dad has always told me that I should open up my own bike shop, but I have done all of my own work in my garage at home," Jimmy said.
After he sold the bike at Daytona Bike Week '05, Jimmy went home wondering what he'd build next. Then he returned the following year to Bike Week with a blue '06 Ultra Classic and noticed that all the other bikes seemed to look like his bike. "I decided that I wanted something totally different from everyone else's bike," Jimmy said. "I have stayed at the same hotel in Daytona for 10 years and the other guys that we meet every year are always curious as to what is going to come out of my trailer each year. So when we returned from Bike Week, the work began."
As you can see, practically the only things that didn't get modified on this bike are the year and model. In fact, Jimmy built this ride to be a wheelie machine and a daily rider, although it's hard for him at times to keep both wheels on the ground. He built a 103-inch Stroker kit with mostly Screamin' Eagle internals as well as modified the transmission. Jimmy cut the frame and raked it 4 degrees, and then had the metal and tins treated to a House of Kolor concoction of candy purple, orange, silver, and marble, and the bike also ended up all chromed out. After securing a modified '07 Street Glide frontend as well as a Legends Air Ride system, Jimmy got started on two of the features that seems to grab the folks' attention: The gas tank and rear of the bike. Jimmy stretched the fuel tank 9-1/2 inches to flow into the side panels instead of having them go straight out, and then installed an FBI Fat Tire Kit.
Being that he's a widget and gadget fanatic, Jimmy installed a Pioneer TV/DVD/Navigation/Sirius Satellite in the Factory dash and added an Alpine amp for plenty of sound. "I wanted to have a one-up on everybody," Jimmy said. It doesn't stop there. Sound, screen, and bling, Jimmy also wanted his ride to be bright. At the time of print, he has about 300 orange LED lights throughout the bike to accent the chrome. Now he can be seen and heard. However, Jimmy's dad one-upped him with about 350 blue LEDs on his scoot. Now before this all becomes an LED shootout, Jimmy's aware of his pop's light show because he helped install all 350 lights and enjoys the opportunity to help his dad (who he refers to as "his helper").
On the contrary to being raised around motorcycles like his son, times were tougher for James, and it wasn't until the '80s when he could finally afford a Harley. "I had a Harley that was stolen and never found or returned," James said. "With three teenaged children at the time, I could not afford to have it replaced. In the spring of 2000, I had a massive heart attack that required open-heart surgery. I told my wife while recovering in the hospital that I was going to get another Harley before I die." And that's just what James did.
In the fall of 2000, James purchased an '01 Heritage Softail and was back on the road again. Unfortunately, more health problems occurred, and although he recovered from the operations, James is currently a Disabled Vietnam Marine and can no longer work. Making the best of his circumstances, James started to learn how to work on and customize his bike with Jimmy's help and skills. "I started to chrome my bike with the help of my oldest son Jimmy," James said. "My goal was to create a Heritage Softail that did not look like all the others."
The Doyles built the Twin Cam 88 engine and had it diamond-cut by Diamond Heads, and from there it was one chrome piece at a time. "If the part wasn't available to buy, then I took the original piece and had it chromed," James said. "I put in a set of cams, got solid Fat Boy rims, which I had chromed, added easy disconnect saddlebags, and a lot of blue LED lights." With all the time and hard work that James feels went into his bike it's all been worth it considering how proud he is of it and the recognition it's received. While he was at Daytona Bike Week 2007, his bike was chosen by Xsighting Lighting, the aftermarket division of Valeo Sylvania, to be painted by the artist Perego on the wall of Bruce Rossmeyer's Harley-Davidson. So if you're ever in the area, stop by the Dealer in Ormond Beach, Florida, and take a look at the mural.
In 2007 during Daytona Bike Week, Jimmy took First place with his ride in the Rat's Hole Show in the dresser/bagger class. Shortly thereafter during Biketoberfest, his dad won First in the same show in the 1,000cc over stock class. Whether it's "like-son-like-father" or vice versa really doesn't matter between either Doyle, as Jimmy and Jim Sr. simply enjoy working with each other (with the occasional one-ups), and riding and being proud of bikes they built together.
Spec Sheet
| | |
| --- | --- |
| GENERAL | |
| BIKE OWNER | Jimmy Doyle II |
| PHONE | (832) 527-8763 |
| YEAR/MAKE/MODEL | '06/H-D/Ultra Classic |
| ASSEMBLY | Jimmy Doyle II |
| BUILD TIME | Two months |
| | |
| --- | --- |
| ENGINE | |
| YEAR/MANUFACTURER | '06/H-D |
| TYPE/SIZE | H-D/103ci |
| BUILDER | Jimmy Doyle II |
| CASES | H-D |
| CYLINDERS | Screamin' {{{Eagle}}} |
| HEADS | CNC ported Screamin' Eagle |
| ROCKER BOXES | H-D billet |
| EFI | Zipper's Performance 53mm |
| AIR CLEANER | Arlen Ness Big Sucker |
| EXHAUST | Reinhart True Duels |
| EXTRAS | Heads diamond-cut by Diamond Heads |
| | |
| --- | --- |
| TRANSMISSION | |
| YEAR/MANUFACTURER/TYPE | '06/Baker |
| | Jimmy Doyle II |
| CASE | H-D |
| CLUTCH | Screamin' Eagle |
| PRIMARY DRIVE | H-D |
| | |
| --- | --- |
| FRAME | |
| YEAR/MANUFACTURER | '06/H-D Ultra Classic |
| RAKE | 34 degrees |
| STRETCH | Stock |
| | |
| --- | --- |
| SUSPENSION | |
| MANUFACTURER FRONT | Jimmy Doyle II/'07 Street Glide |
| LENGTH | Lowered 1-inch |
| TRIPLE TREES | H-D |
| MANUFACTURER REAR | Chrome, Fat |
| | Baggers Inc |
| SHOCKS | '06 Legends Air Ride |
| | |
| --- | --- |
| WHEELS, TIRES, AND BRAKES | |
| MANUFACTURER FRONT/TYPE | Kendall Johnson Customs/Weld |
| SIZE-WIDTH/HEIGHT | 21 inches |
| TIRE/SIZE | Metzeler/120/70/21 |
| CALIPER | Jaybrake |
| ROTOR | Weld |
| MANUFACTURER REAR/TYPE | Kendall Johnson |
| | Customs/Wel |
| SIZE-WIDTH/HEIGHT | 18 inches |
| TIRE/SIZE | Metzeler/{{{200}}}/50/18 |
| CALIPER | H-D chrome |
| ROTOR | Weld |
| | |
| --- | --- |
| FINISH/PAINT | |
| COLOR | HOK candy purple, orange, |
| | silver, marble |
| PAINTER | Emil@Debonair-FX |
| GRAPHICS | Emil@Debonair-FX |
| PLATING/POLISHING | Airline Plating |
| POWDERCOAT | Precision Powdercoating |
| | |
| --- | --- |
| ACCESSORIES | |
| FRONT FENDER | Street Glide |
| REAR FENDER | Fat Baggers Inc |
| FENDER STRUTS | Stock |
| GAS TANK & CAP | Stock/stretched 9-1/2 inches |
| OIL TANK | H-D |
| DASH | Street Glide |
| GAUGES | Screamin' Eagle spun aluminum |
| HANDLEBARS | H-D chrome |
| RISERS | Stock |
| MIRRORS | Arlen Ness Rad-2 |
| HAND CONTROLS | H-D chrome |
| FOOT CONTROLS | H-D chrome |
| FOOTPEGS | Arlen Ness billet |
| HEADLIGHT | HID Xsighting Lighting by Kuryakyn |
| TAILLIGHT | Pro-One LED |
| TURN SIGNALS | H-D billet Pro-One |
| LICENSE MOUNT | Pro-One |
| SEAT | Stingray custom by Stoney at Thunderhead Design |
| EXTRAS | Pioneer TV/DVD/Navigation/Sirius Satellite, Alpine amp |
| | |
| --- | --- |
| OWNER | James P. Doyle Sr. |
| HOMETOWN | Kingwood, Texas |
| YEAR/MODEL | '01/Heritage Softail |
| BUILDER/ASSEMBLY | H-D/James and {{{Jimmy}}} Doyle |
| ENGINE | H-D 88 Twin Cam |
| PIPES | Samson Slashers |
| TRANSMISSION | H-D |
| GAS TANK | H-D |
| FRONT FENDER | H-D |
| REAR FENDER | H-D |
| FRONT SUSPENSION | H-D |
| REAR SUSPENSION | H-D |
| WHEELS | H-D Fat Boy |
| TIRES | Dunlop |