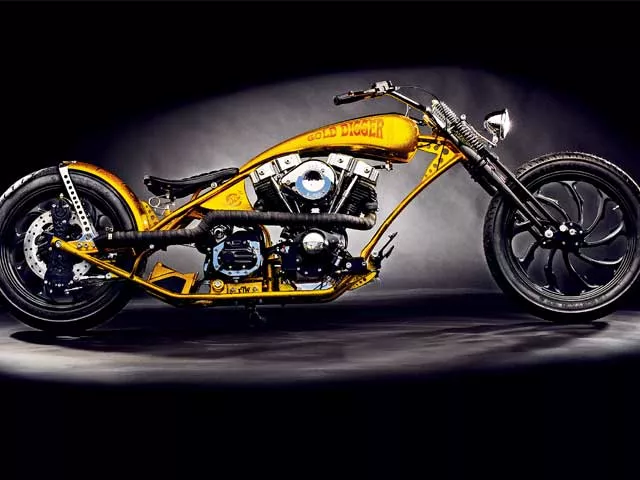 The word "voodoo" usually conjures up images of sacrificial poultry and tiny dolls with needles sticking in them, not chopped and dropped digger-style custom motorcycles. But calling his custom chopper shop Voodoo Choppers made perfect sense to Eric Gorges of Rochester, MI. "I've always been superstitious, and I thought it was a cool name for a shop," Eric told us.
Eric first dabbled in the custom motorcycle realm as a youngster, when he resurrected an old ironhead Sportster from the dead. After he saw what he could create out of metal with his own hands and elaborate imagination, the idea of owning a custom chopper shop popped into his head, but for years it would remain just a dream. Then, after overcoming a life-changing event, Eric took it as a sign that life was too short to sit idly by, working a corporate job that didn't bring him happiness. Since he always enjoyed working with his hands, especially when it came to motorcycles, and with several years of experience apprenticing under master metalshapers Ron Fournier and Fay Butler, it just made sense for Eric to combine his two passions.
So with the white-collar spell broken and the needles lifted, Eric followed the inclination that his hands were the keys to his happiness and surrendered his 500-square-foot garage to the chopper spirits, churning out badass bikes and handcrafted parts. After a year and a half of working in the cramped quarters, his sacrifice and dedication paid off, affording him the opportunity to move into a new 2,500-square-foot building. Since that time Eric has surrounded himself with every piece of equipment and machinery possible so he could extrude his metal-plagued imagination to the masses. It has been his metalshaping talent that's helped him catch the attention of some influential people in the custom motorcycle industry who have assisted him in storming into the public eye.
For example, Eric's skilled metalwork led Ron Finch to call on him to build the frame for Ron's Biker Build Off (BBO) bike (see HOT BIKE, Vol. 38, No. 5), and Indian Larry had Eric fab the oil tank for his BBO bike. Then all the BBO work snowballed into Eric scoring his own competition against Cory Ness. However, Eric's latest jump into the public masses is touring the country with the Hard Rock Road House Tour (HRRHT).
If you're not familiar with the HRRHT, then you must be a new reader to HOT BIKE and our sister publications, STREET CHOPPER and HOT-ROD'S BIKEWORKS. Last year we tagged along as the tour hit some of the major rallies. Between the mags we covered the events and featured the four bikes built by Roland Sands, Jesse Rooke, Doug Keim, and the late Johnny Chop.
For you newcomers, the HRRHT is put on by the Seminole Hard Rock in Hollywood, FL, and is led and organized by Carrie Repp of R&R; Promotions. Among its sponsors are S&S;, Baker Drivetrain, Performance Machine, and HOT BIKE. The idea behind the HRRHT was to create a traveling rock 'n' roll party that would stop at major bike events, set up a huge tent and stage, and display custom bikes from four of the hottest bike builders in the industry. Party-goers hang out with the builders, ask questions, party like rock stars, and watch builders burn a tire to the ground every now and then.
Aside from being a top party spot, the main draw of the tour is the giveaway bikes. The four builders each have to build a bike specifically for the tour, and at each stop rally attendees can sign up for a chance to win one of the bikes, which will be given away at the last stop. But here's the best part: The one person who's lucky enough to have his or her name drawn gets to pick which one of the four bikes he or she wants. It's kind of like winning the lottery, except that instead of only one grand prize, you get to pick from four grand prizes. This year's four HRRHT builders are Aaron Greene of Paramount Custom Cycles, Gard Hollinger of L.A. Chop Rods, Paul Cox and Keino of Indian Larry Legacy, and of course Eric Gorges of Voodoo Choppers. Over the next couple of issues we'll be featuring the other three bikes, giving you the 411 on how the partying went down at the various stops, along with the grand finale wrap-up and giveaway at the Seminole Hard Rock Casino in Hollywood, FL. But now let's get back to Eric and his "Gold Digger."
Eric says most of his bikes follow the low-slung digger look, a style that was heavy with guys such as Arlen Ness and Ron Simms in the NorCal area back in the '70s. The bike Eric built for the tour is his modern version of what would have been built back in those days: stretched backbone, raked neck, tight to the ground, and a minimalist narrowed profile with very little molding.
Coming up with the basis for the bike was a matter of Eric cutting, bending, and welding some steel tubing together to create one of his own digger-style frames. Highlighted by a double-barrel downtube, gradually arched backbone, and some drilled gusset accents, the rigid frame sets the bike up with a sleek stance, ready to run red to red against anything on the block. Eric used a re-popped 45 Springer frontend from V-Twin MFG to serve as the only form of suspension on the bike. A modern edge was added with set of aluminum-forged wheels from PM: a 19×3.25 front and 16×3.5 rear. Keeping with the streamlined digger style, no excess rubber was harmed in the building of this bike. The front and rear Metzeler tires combined don't even add up to the width of a 250.
The powertain Eric used is a combination of older style with modern tech. "I picked up a 96ci shovel from S&S.; But rather than just tossing it in the frame, I decided to split the rocker boxes, machining away as much material as possible between each and rounding off the edges for a clean, split look." The motor and Baker six-speed trans were tied together with one of PM's Contour open belt-drive systems.
Eric really enjoys every aspect of metalworking. In fact, he often holds classes at his shop and teaches people with little to no experience how to bend, shape, and weld. By looking at all the beautifully handcrafted parts on this bike, Eric must be a pretty good instructor. From the vintage dirt-style handle bars, stretched and tapered gas tank, and tire-hugging rear fender with drilled brace to the two-into-two exhaust, machined foot controls and foot pegs, and dual oil tanks (that's right-the bike has two tanks for oil), it's evident his skills are a combination of mastered techniques and modern machinery. When asked about the two oil tanks, Eric replied, "The space between the bottom of the seat pan and the back of the primary was too small. I could only fit about 1-1/2 quarts under the seat, so I fabricated another 1-1/2-quart tank under the trans and then ran oil lines between the two."
Just about the only thing Eric didn't do with his own two hands on this bike is the paint. The bassboat gold (actually called Spanish Gold) and black paint was handled by Big G. Kustoms out of Dreyden, MI, while the graphics and pinstriping were laid by Bob Soroka. As far as the gold paint scheme and the name Gold Digger goes, Eric said, "I had been wanting to build a gold bike for a long time, and I knew I would call it Gold Digger. But gold is one of those weird colors that's hard to pull off. Building a bike that's mostly all one color can be tough if you don't use the right color. Of course any bike looks good in black, but gold on the other hand-that's a little tricky."
Eric's superstitious nature kicked in around the time he was asked to be a part of the HRRHT. The song "Gold Digger" by Kanye West was very popular, and since the HRRHT's logo's primary color is gold, Eric took it as a sign that it was time to build a gold bike called Gold Digger.
To register online for a chance to win the Gold Digger or one of the other awesome HRRHT bikes, visit www.hrroadhouse.com
| | |
| --- | --- |
| SPEC SHEET | |
| OWNER | Eric Gorges |
| SHOP | Voodoo Choppers |
| PHONE | (248) 601-3000 |
| WEBSITE | www.voodoochoppers.com |
| YEAR/MAKE/MODEL | '06/Voodoo Choppers/Digger |
| FABRICATION | Voodoo Choppers |
| ASSEMBLY | Voodoo Choppers |
| BUILD TIME | Seven weeks |
| ENGINE | |
| YEAR/TYPE/SIZE | '06/S&S Shovel/96ci |
| BUILDER | S&S |
| CASES | S&S |
| FLYWHEELS | S&S |
| RODS | S&S |
| PISTONS | S&S |
| CYLINDERS | S&S |
| HEADS | S&S |
| VALVES | S&S |
| ROCKERS | S&S |
| ROCKER BOXES | S&S |
| PUSHRODS | S&S |
| PUSHROD TUBES | S&S |
| CAM | S&S |
| LIFTERS | S&S |
| CARBURETOR | S&S |
| AIR CLEANER | S&S |
| IGNITION | S&S |
| EXHAUST | Voodoo Choppers |
| TRANSMISSION | |
| YEAR/TYPE | '06/Baker six-speed |
| CASE | Baker |
| GEARS | Baker |
| CLUTCH | PM |
| PRIMARY DRIVE | PM |
| FRAME | |
| YEAR/TYPE | '06/Voodoo Digger |
| RAKE | 42 degrees |
| STRETCH | Just enough |
| SUSPENSION | |
| FRONT | V-Twin MFG |
| LENGTH | Stock |
| TRIPLE TREES | V-Twin MFG |
| WHEELS, TIRES, AND BRAKES | |
| FRONT | PM Torque |
| BUILDER/SIZE | PM/19×3.25 |
| TIRE/SIZE | Metzeler/100×19 |
| CALIPER | PM |
| ROTOR | Russell |
| REAR | PM Torque |
| BUILDER/SIZE | PM/16×3.5 |
| TIRE/SIZE | Metzeler/140×16 |
| CALIPER | PM |
| ROTOR | Russell |
| FINISH/PAINT | |
| COLORS | Spanish Gold & Black |
| PAINTER | Big G Kustoms |
| GRAPHICS | Bob Soroka |
| MOLDING | George Fulesi |
| PLATING/POLISHING | Dynamic |
| POWDERCOATING | QC Coating |
| ACCESSORIES | |
| REAR FENDER | Voodoo Choppers |
| FENDER STRUTS | Voodoo Choppers |
| GAS TANK(S) & CAP(S) | Voodoo Choppers |
| OIL TANK | Voodoo Choppers |
| HANDLEBARS | Voodoo Choppers |
| RISERS | V-twin |
| HAND CONTROLS | PM |
| FOOT CONTROLS | Voodoo Choppers |
| FOOTPEGS | Voodoo Choppers |
| HEADLIGHT | CCI |
| TAILLIGHT | Voodoo Choppers |
| LICENSE MOUNT | Voodoo Choppers |
| SEAT | George Paul {{{STS}}} |