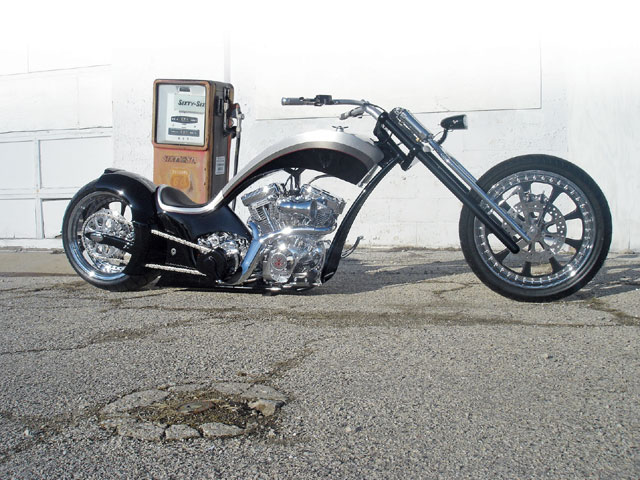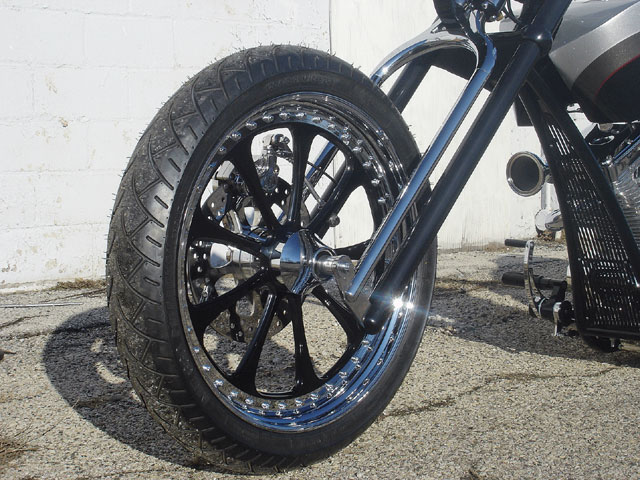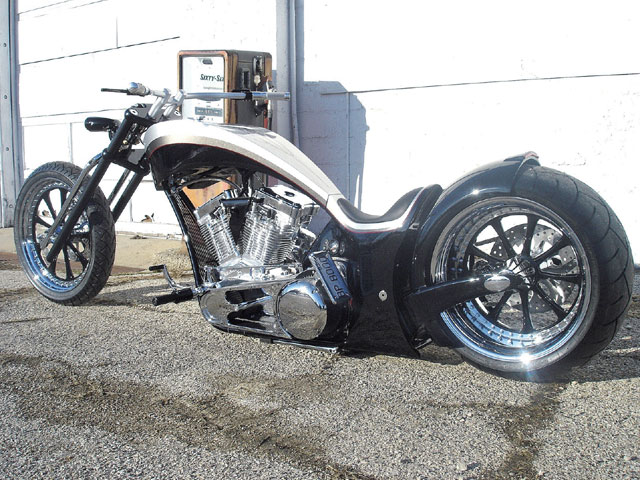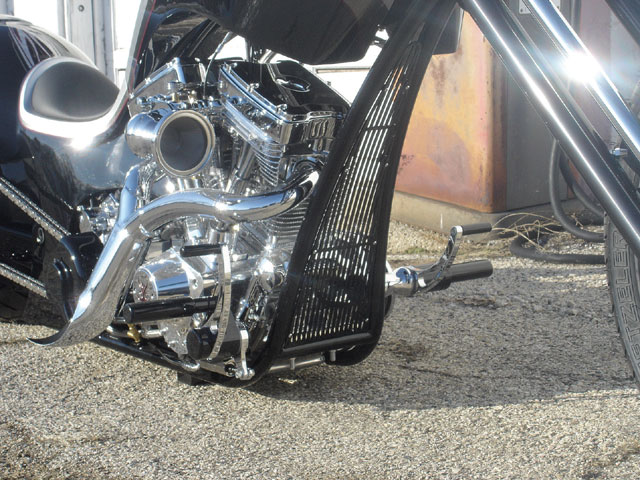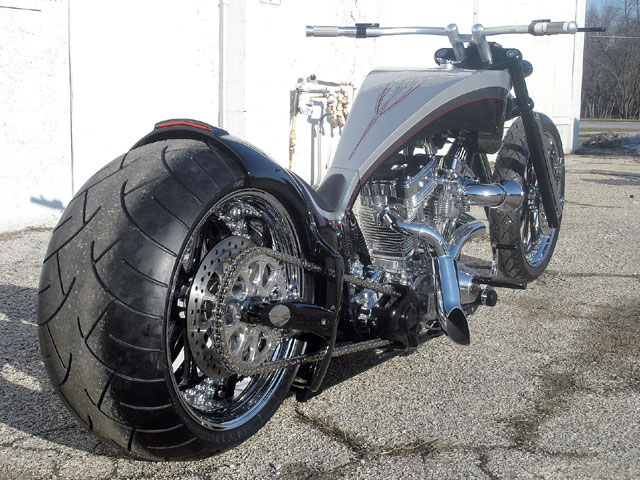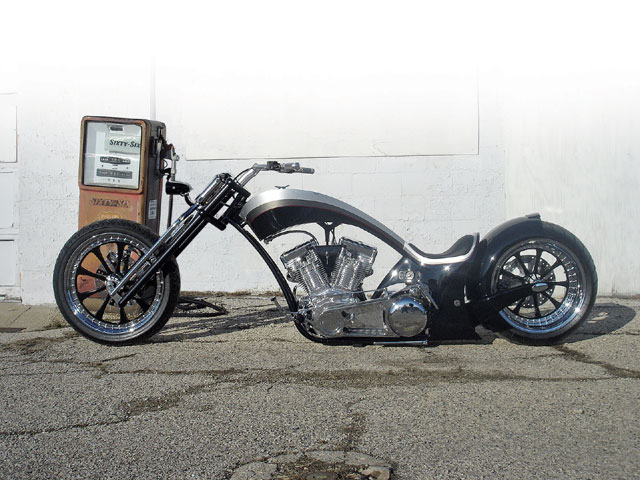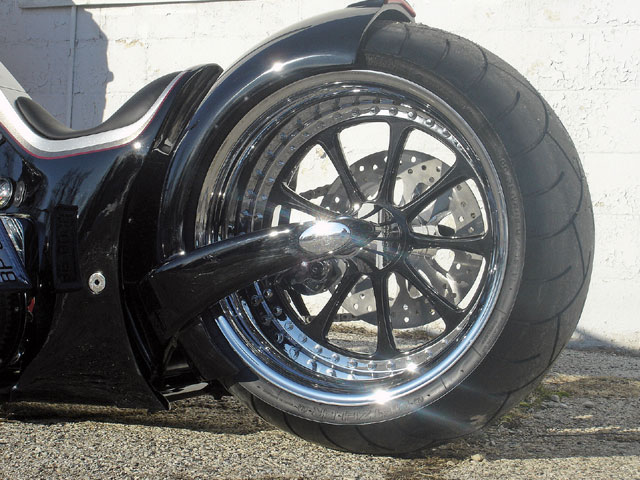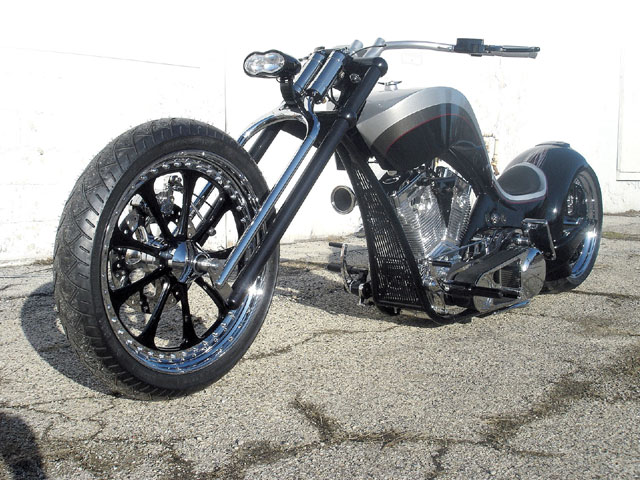 One look at the sweeping curves of Dave Dupor's "Lowlife Trader" custom and Edvinas Arkusauskas had found his dream bike. It wasn't until a year later that Edvinas approached Dave again to finally have the bike built. "I made his dream bike a reality," said Dave, owner of DD Custom Cycle (DDCC) in Lake Villa, Illinois. "Some people are big talkers and say they want something, but nothing happens. He [Edvinas] came back to me a year later and was like, 'You remember me…'" Two months later the "D'Ultimate" bike was finished just in time for the show season.
Hidden lines, seamless molding, and a smooth-flowing appearance are just a few of the ideas Dave had in mind for this bike. It was going to be very similar to the Lowlife Trader bike except Dave wanted to take it to the next level with features such as an air-ride system. Starting with an '07 ICI Lowlife frame with 7 inches of stretch in the backbone, the neck was raked to 40 degrees. Dave then made a new swingarm for this ride. The bike has a DDCC complete front and rear air-ride system. "The front suspension is comprised of Tricky Air canisters on their Springer frontend, while the rear is supported by a Legends rear airbag system," said Dave.
Designing the air system is where Dave's mechanical engineering background and more than 15 years of experience tuning and customizing cars and motorcycles came in handy. Dave made the framerails and uptubes from the rear of the chassis, along with a drilled-through crossmember that connects both framerails to gain twice the volume-in the air storage tank. To simplify the system even more, he installed an Air Ride Technologies compressor with a 120-psi pressure switch that automatically refills the frame upon demand and automatically shuts off when the frame reaches 120 psi. It's very similar to car and truck systems-no more holding the toggle switch for 30-45 seconds and draining your battery. The compressor only operates when the key switch is on. The main heart of the system is the ARV-2500 Big Red Valve Assembly, which is fed by the frame supply, then divides it to the front control and the rear control. Dave installed a Dual Needle 150-psi gauge that displays the front and rear air systems independently of each other. The valve body is a completely self-contained system that does not need maintenance, lubrication, and so on. All the air lines are 1/4-inch DOT high-temp hoses that semis use. The frame even has a Schrader valve (standard tire/ball valve) that can be used in case of compressor failure.
Dave went on to explain that when considering both front and rear air-ride systems, you have to think about two compressors, twice the number of fittings, and more hoses and areas for leakage. "This system has half the fittings and only one compressor," Dave said. "The biggest advantage is the rise time, which is very critical. The rise time now from ground zero to almost 4 inches is from one to three seconds 'fast' and you can raise or lower the frontend about three to four times on one frame fill. This eliminates the original problem of battery drainage. Sure, you have it and you want to show how it works, but the more you show it the more the battery drains. No more having to hold the toggle switch up and down to pump in real time or vice versa." Although the system may sound somewhat complex, Dave claims it is pretty simple to understand and diagnose.
Aside from the innovative air-ride system, Dave also worked up a laundry list of design ideas he had bouncing around in his head and got straight to work. Since Dave knew that Edvinas would be making the rounds on the show circuit with his bike, he went all-in with a show-polished diamond-cut S&S; 113ci motor, with spent gases handled by a custom exhaust. When it came to sheetmetal, Dave wanted a smooth-flowing look, so after pounding out a custom fuel tank and rear fender, all the tins were sent to Mike and Nick Ellul from MNK Custom Works for a HOK treatment of black and silver paint with inlaid silver leaf. Jim Ross worked on the graphics and the blood-red piping on the tank and fender. Other details that followed suit are the DDCC triangle motor mount/key switch housing, custom handlebars, and chain guard as well as the one-off RMD Billet Smooth 9 chrome and black three-piece wheels.
It seemed just as soon as Dave unveiled the D'Ultimate bike to Edvinas, the custom was already entered in bike shows and taking Best in Show trophies. "I remember his reaction when he saw the bike," Dave said. "He was speechless." Dave continued, "It's funny, you never know with some people, big talkers or not. You should treat everybody equal because you never know when they'll come back."
| | |
| --- | --- |
| SPEC SHEET | |
| BIKE OWNER | Edvinas Arkusauskas |
| SHOP | Dave Dupor of DD Custom Cycle (DDCC) |
| PHONE | (847) 356-8053 |
| WEBSITE | www.ddcustomcycle.com |
| YEAR/MAKE/MODEL | '08/D'Ultimate/DD custom |
| FABRICATION | Dave Dupor/DDCC |
| ASSEMBLY | Dave Dupor/DDCC |
| BUILD TIME | Two months |
| | |
| --- | --- |
| ENGINE | |
| YEAR/MANUFACTURER | '07/S&S; |
| TYPE/SIZE | Evo/113 |
| BUILDER | S&S;/DDCC |
| CASES | S&S; |
| CYLINDERS | S&S; |
| HEADS | S&S;, diamond show-cut/show-polish |
| ROCKER BOXES | S&S; |
| CARBURETOR | S&S; |
| AIR CLEANER | Wimmer Machine |
| EXHAUST | DDCC LML Chrome |
| | |
| --- | --- |
| TRANSMISSION | |
| YEAR/MANUFACTURER/TYPE | '07/Rivera Primo/RSD six-speed |
| CASE | Polish |
| CLUTCH | BDL ball-bearing style |
| PRIMARY DRIVE | ICI Inc. |
| | |
| --- | --- |
| FRAME | |
| YEAR/TYPE | '07/ICI Lowlife |
| RAKE | 40 degrees |
| STRETCH | +7 inches backbone, 0 up |
| | |
| --- | --- |
| SUSPENSION | |
| MANUFACTURER FRONT | Tricky Air Springer |
| YEAR/TYPE | '07/Tricky Air |
| MODIFICATIONS | DDCC Air System byAir Ride Technologies |
| MANUFACTURER REAR | N/A |
| SWINGARM | DDCC/Tricky Air |
| SHOCKS | ICI Legends airbags |
| | |
| --- | --- |
| WHEELS, TIRES, AND BRAKES | |
| MANUFACTURER FRONT/TYPE | RMD/BilletSmooth 9 |
| SIZE-WIDTH/HEIGHT | 21×3.25 |
| TIRE/SIZE | Metzeler/120/70 R21 |
| CALIPER | PM four-piston |
| ROTOR | RMD Billet Smooth 9 |
| MANUFACTURER REAR/TYPE | RMD/BilletSmooth 9 |
| SIZE-WIDTH/HEIGHT | 18×10.5 |
| TIRE/SIZE | Metzeler/{{{300}}}/35 R18 |
| CALIPER | PM four-piston |
| ROTOR | RMD Billet Smooth 9 |
| | |
| --- | --- |
| FINISH/PAINT | |
| COLORS | HOK Black/Orion Silver/ Black Diamond |
| PAINTER | Mike and Nick Ellul/MNK Custom Works |
| GRAPHICS | Jim Ross/Letters, Lines, Designs |
| MOLDING | Nick Ellul |
| CHROME PLATING | Star Chrome |
| POWDERCOATING | J&J; Powdercoating |
| | |
| --- | --- |
| ACCESSORIES | |
| FRONT FENDER | None |
| REAR FENDER | DDCC |
| GAS TANK | DDCC/Westbury Hot Rod |
| OIL TANK | ICI |
| HANDLEBARS | DDCC/PYO |
| RISERS | DDCC |
| MIRRORS | N/A |
| HAND CONTROLS | PM {{{Contour}}} |
| FOOT CONTROLS | ICI/DDCC |
| FOOTPEGS | ICI/DDCC extensions |
| HEADLIGHT | Eurocomponents |
| TAILLIGHT | DDCC LED |
| TURN SIGNALS | N/A |
| LICENSE MOUNT | DDCC/PYO |
| SEAT | DDCC/Vintage Stitch |