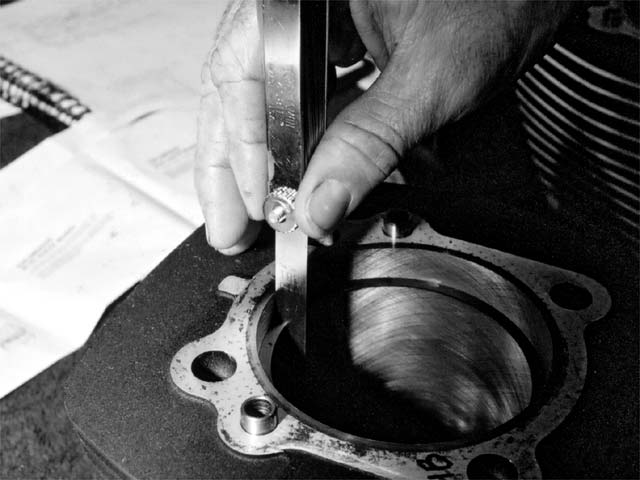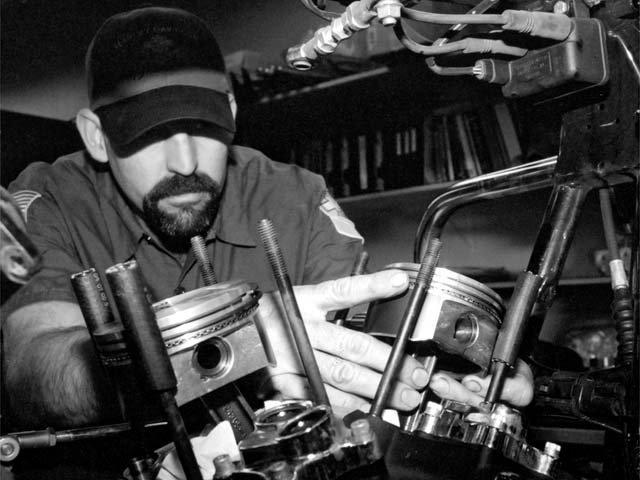 Part of our job here at HOT BIKE is to test as many of the thousands of parts available as we can get our hands on each year. When it comes to testing engine components, we've found that a part that may offer huge power gains in one setup will cut them drastically in another.
Unless you have a dyno, a gas analyzer, and an unlimited budget that allows you to try over and over until you hit on the proper combination of parts, the best idea is to let someone else do the research and development work for you. When you start mixing cams, rockers, pistons, and things, clearance issues become very important and damage can result if everything is not thoroughly checked for clearance before you turn the motor over. This can take literally dozens of extra hours to check, making a pre-fit and tested kit a better way to go.
After we sat around the table and hammered out a plan, we got on the horn to Head Quarters and ordered one of its Low Compression 1550 Twin Cam big-bore kits. The Low Compression kit comes with 9.5:1 pistons, HQ0039 (0.580-inch lift intake with 0.530-inch lift for exhaust) camshafts, pushrods, and a set of HQ's Spin-Drop TC88 cylinder heads. These heads come with a set of 1.625-inch exhaust and 1.900-inch intake valves, titanium valve springs, and, most importantly, some of HQ's trademark porting and polishing work. The heads are set up for a volume of 82 ccs, and Viton valve stem seals are installed for years of trouble-free service.
We also ordered a Power Commander PCIIIr from Drag Specialties to adjust our fuel levels and a really cool adjustable fuel regulator from Epicycle in Sydney, Australia, that will be used to push our fuel pressure up a few pounds. Stock fuel pressure is about 43.5 psi. The adjustable Epicycle regulator comes set at 52 psi, which should give us better fuel atomization and more fuel delivery when we need it most. We decided to use an Arlen Ness Big Sucker 2 air cleaner to guide air into the motor, and a nice-sounding set of RC Cycles slip-ons was added to the pipes. The RC slip-ons are extremely quiet, considering how free flowing they are.
Everything was boxed up and shipped to Pomona Valley Harley-Davidson/Buell in Montclair, California, where we made an initial dyno pass of 64 peak hp and 75.3 lb-ft of torque a few days before we started taking the bike apart. PVHD's head tuning guru, Tony Denius, turned us over to Dan Vesterby to do the work after a short consultation. Here's how it went.
Arlen Ness Inc.
Dept. HB
16520 E. 14th St.
San Leandro, CA 94578
(510) 276-3395
www.arlenness.com
Barnett
Dept. HB
2238 Palma Dr.
Ventura, CA 93003-5733
(805) 642-9435
www.barnettclutches.com
Drag Specialties
See your local dealer
www.dragspecialties.com
Epicycle Racing Services
Dept. HB
115 Carlingford Rd.
Epping, Sydney, 2121, Australia
0011 61 9868 2691
www.epicycle.com.au
Head Quarters
(519) 289-5990 (sales)
(519) 289-5229 (tech/kit info line)
www.head-quarters.com
Pomona Valley
Harley-Davidson/ Buell
Dept. HB
8710 Central Ave.
Montclair, CA 91763
(909) 981-9500
www.pvhd.com
RC Cycles
Dept. HB
30872 Huntwood Ave.
Hayward, CA 94544
(510) 471-9755
www.billetboys.com