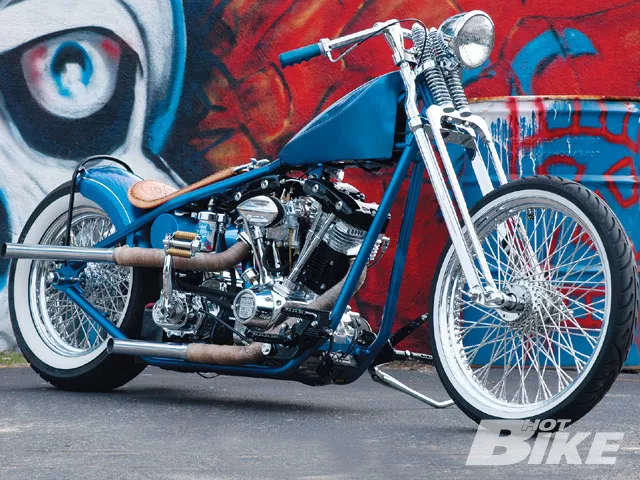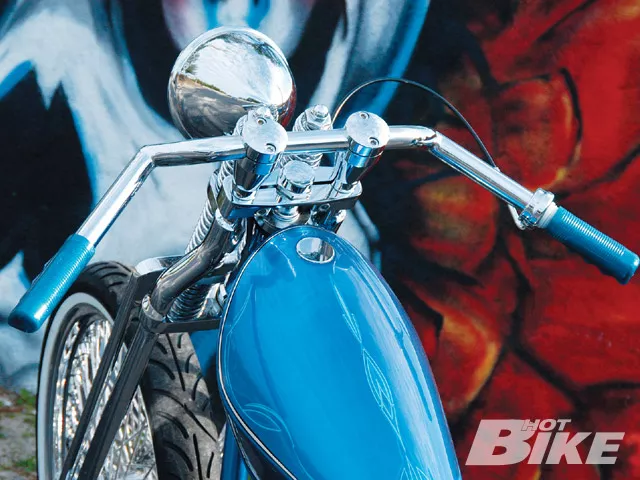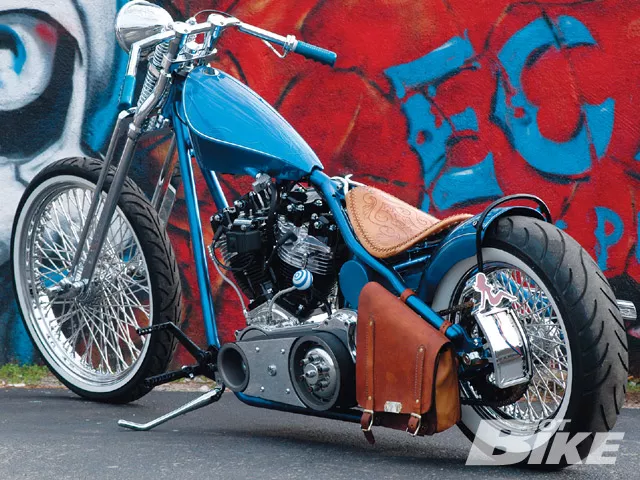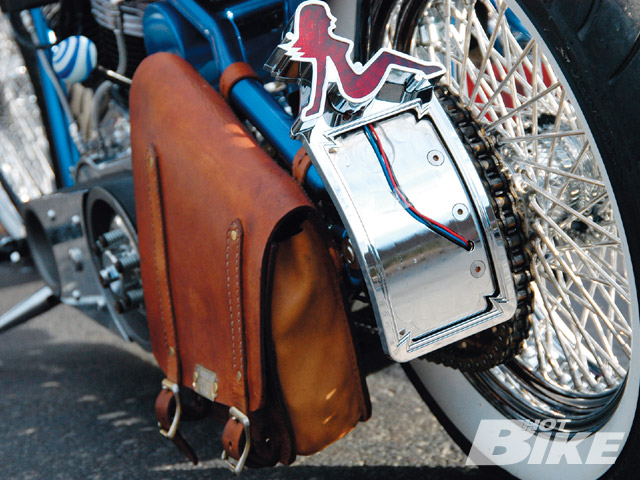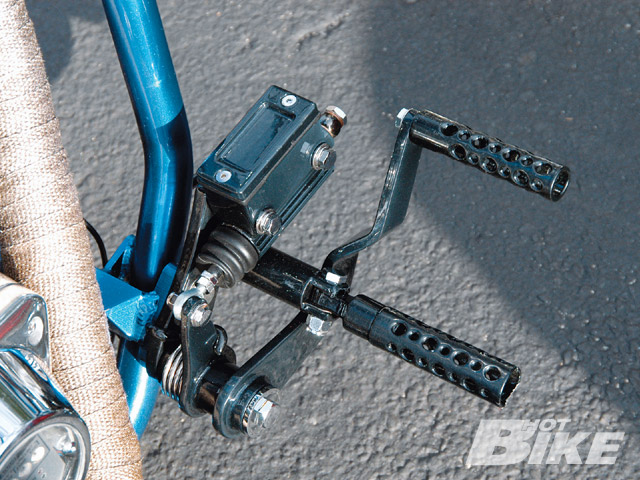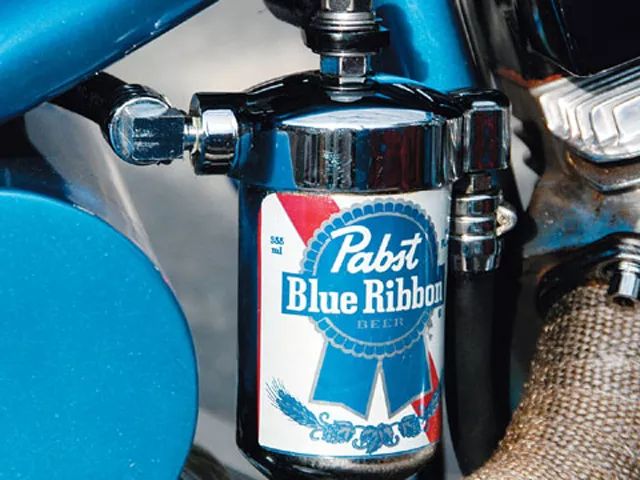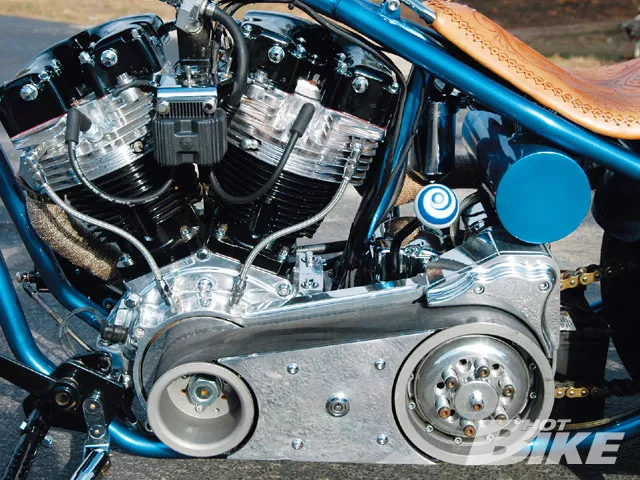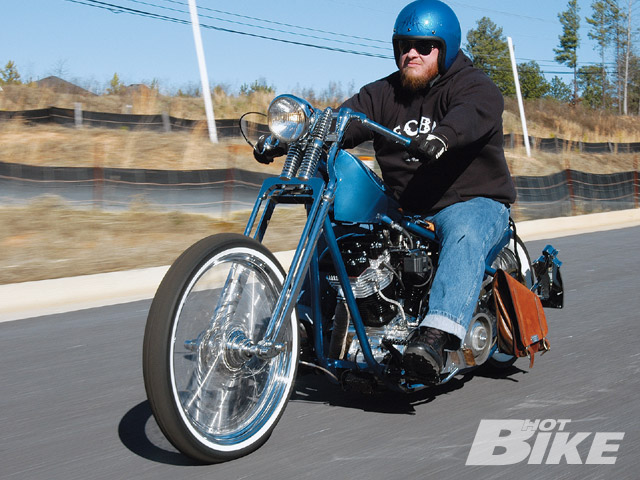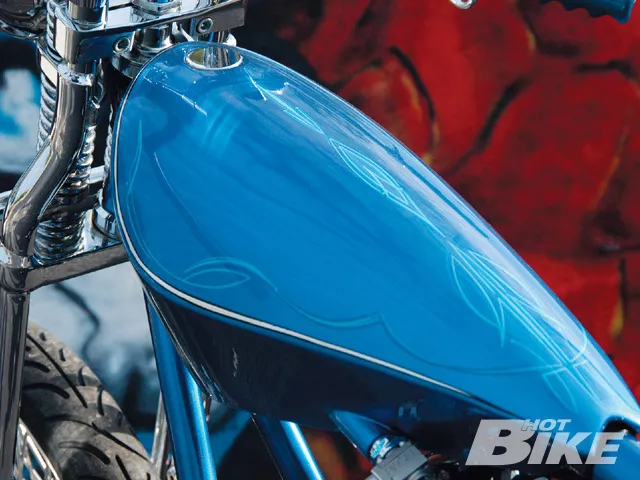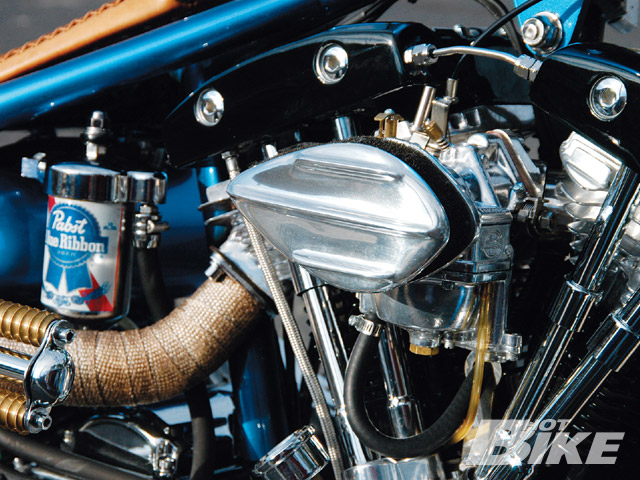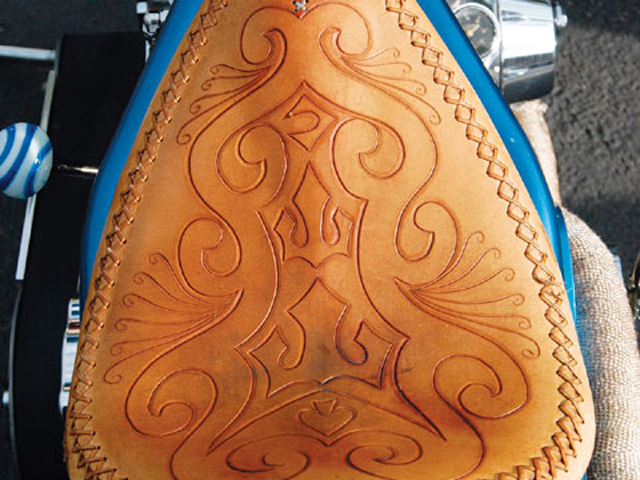 For Jamie Camp, aka Bubba, of Twisted Throttle Choppers in Grayson, Georgia, old school or traditional choppers as he likes to call them, have always been and continue to be an irresistible attraction. Ironically intriguing is the fact that Bubba was not even born when these bikes practically dominated the custom scene during the '60s and '70s. Even so, the old school creations are a real obsession for him. It seems that this style possesses a living essence that transcends decades and makes its presence by captivating the intellect and emotions of certain people. Legacy, especially that of parents, also has an impact of connecting to the past as Bubba himself confirmed. "I owe everything to my dad. He was always into hot rods and in his garage you can find a collection of them. As a kid I remember him taking me on rides and letting me sit up front. I felt like the coolest kid in the neighborhood. So I inherited from him the horsepower virus. He also supported me from the beginning as far as what I wanted to do and he still continues to do so. Like I said earlier, I owe it all to him." As you can see, for Bubba horsepower-mania is a family tradition.
So far the most unique custom to pass through the doors of Twisted ThrottleChoppers, is this blue Shovelhead, dubbed Bubbastank. The design of this bike is dominated by the old school style, but it also blends in some modern characteristics. Bubba's passion for choppers does not go only as far as looks, but way beyond, as he stated. "Even though I didn't live during the glory days of old school customs, I'm still captivated by the craftsmanship of the builders from decades past and how they hand built the majority of the parts they needed. There weren't stacks of catalogs to order parts from. If you wanted something unique, you had to build it. I'm still amazed at the creativity they had back then. Today you can assemble a motorcycle with all the parts being available through catalogs."
For Bubba an authentic characteristic of old school is that it has to be rigid and Bubbastank certainly meets this criteria. Personally I prefer a custom that is 100 percent artistic and also practical. In Bubbastank, a perfect example is the Blue Ribbon oil filter located in front of the oil tank. You're probably wondering how Bubba came up with that idea and I couldn't resist asking him that same question. "One day I stayed late in the garage with a friend of mine, Mike Robinson, and after a couple of beers, we started having a good time. Then Mike got a beer can and went up to one of the customs I was working on and said, "Here is your new oil filter." I thought that was a really cool idea and since then all my designs have this type of filter. It's actually a normal oil filter covered with a beer can." Surely the most pleasant part of the building process is the emptying of the beer cans to make the oil filter. Another part that required creativity and skill was building the gas tank. The tank's sexy curves and smooth lines are accented by some hand laid pinstriping representative of the old school choppers.
When it came to powering this chop, Bubba went to the authority in old style custom V-twin engines, Accurate Engineering, to employ their services. The engine is a 106 Shovelhead. Looking at the bike from the right side, you can't miss the kicker pedal that looks just like the ones on a bicycle pedal. The Springer forks built by Paughco are authentic examples with an impeccable quality. So Bubba's choice to bestow one of these forks on his design is perfectly logical. Mark Green employed such skills and rudimentary tools from past decades to make the leather seat and decorate it with old school designs.
Twisted Throttle Choppers, is a place where everyday, and especially on the weekends, bikers gather over beers, Blue Ribbon of course, and where they discuss their passions for the two wheel marvels in a pleasant atmosphere. Bubba promotes this type of lifestyle that is shared by others in this field, as he explained. "West Coast Choppers, Blings Cycles, Outlaw Custom seats, MPA and others are a source of inspiration for me. In 2004, I had the privilege of meeting Indian Larry at a show. I told him how much I admire him and when I asked him if I could take a closer look at his bikes, he said "Sure, no problem. Go ahead. Sit on it and make funny noises." That had an impact on me and since then I wanted to have the same attitude as well." That desire has truly become a reality and the large number of those attracted by the hospitality of Twisted Throttle Choppers is remarkable proof
I have no doubt that the old school choppers will continue to exist in the future due to a new generation of custom builders with a passion for the retro style. After the experience of meeting Bubba, I had a clear understanding of what defines the old school style. In Bubba's own words: "It's all about freedom, craftsmanship, and brotherhood."
| | |
| --- | --- |
| SPECS | |
| BIKE OWNER | Jamie "Bubba" Camp |
| SHOP NAME | Twisted Throttle Choppers (TTC) |
| SHOP PHONE | (678) 344-5594 |
| SHOP WEBSITE | www.myspace.com/twistedthrottlechoppers |
| YEAR/MAKE/MODEL | '08/Custom/Bubbastank |
| FABRICATION | TTC |
| ASSEMBLY | TTC |
| BUILD TIME | Five Months |
| | |
| --- | --- |
| ENGINE | |
| YEAR/MANUFACTURER | '08/Accurate Engineering |
| TYPE/SIZE | Shovel/106ci |
| BUILDER | Accurate Engineering |
| CASES | S&S; Cycle |
| CYLINDERS | H-D |
| HEADS | Accurate Engineering |
| CARBURETOR | S&S; |
| AIR CLEANER | Goodson |
| EXHAUST | Twisted Throttle Choppers |
| | |
| --- | --- |
| TRANSMISSION | |
| YEAR/MANUFACTURER/TYPE | '08/RevTech/Five Speed |
| CASE | RevTech |
| CLUTCH | BDL |
| PRIMARY DRIVE | BDL |
| | |
| --- | --- |
| FRAME | |
| YEAR/MANUFACTURER | '08/Kraft Tech-TTC |
| RAKE | 34 degrees |
| STRETCH | 1 1/2 out, 4 up |
| SUSPENSION | |
| MANUFACTURER FRONT | Paughco |
| LENGTH | 3 inches over |
| TRIPLE TREES | Paughco |
| MANUFACTURER REAR | None |
| SWINGARM | None |
| | |
| --- | --- |
| WHEELS, TIRES, AND BRAKES | |
| MANUFACTURER FRONT/TYPE | American Wire Wheel/{{{80}}} Spoke |
| SIZE-HEIGHT/WIDTH | 21×2.15 |
| TIRE/SIZE | Avon/{{{90}}}/90-21 |
| CALIPER | None |
| ROTOR | None |
| MANUFACTURER REAR/TYPE | American Wire Wheel/80 Spoke |
| SIZE-HEIGHT/WIDTH | 16×3 |
| TIRE/SIZE | Avon/150 |
| CALIPER | Exile Sprotor |
| ROTOR | Exile Sprotor |
| | |
| --- | --- |
| FINISH/PAINT | |
| COLOR | HOK Ocean Blue/light blue, silver |
| PAINTER | Shane Gouwer-MPA |
| GRAPHICS | Shane Gouwer-MPA |
| | |
| --- | --- |
| ACCESSORIES | |
| REAR FENDER | TTC |
| FENDER STRUTS | TTC |
| GAS TANK∩ | TTC |
| OIL TANK | TTC |
| HANDLEBARS | TTC No name bars |
| RISERS | Drag Specialties 2 inch |
| HAND CONTROLS | Joker Machine/Bicycle |
| FOOT CONTROLS | Drag specialties/TTC Foot Clutch |
| FOOTPEGS | Barry Moore |
| HEADLIGHT | V-Twin MFG |
| TAILLIGHT | V-Twin |
| LICENSE MOUNT | V-Twin |
| SEAT | TTC/El Locco Leather |
| SADDLEBAG | Outlaw Custom Seats |