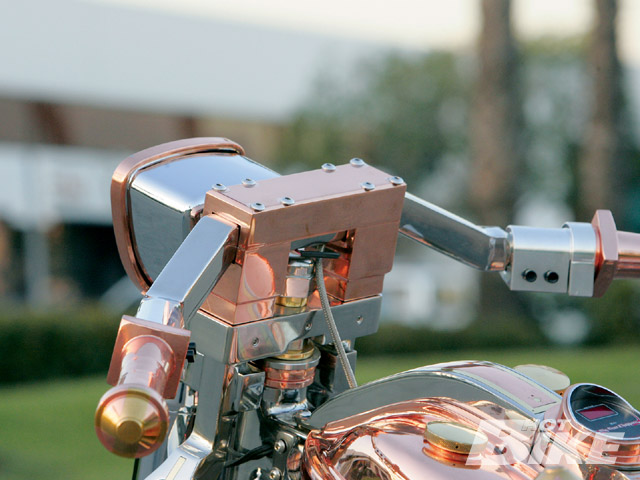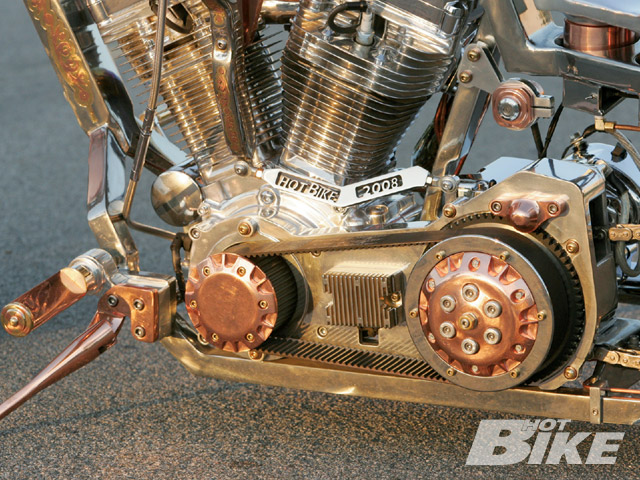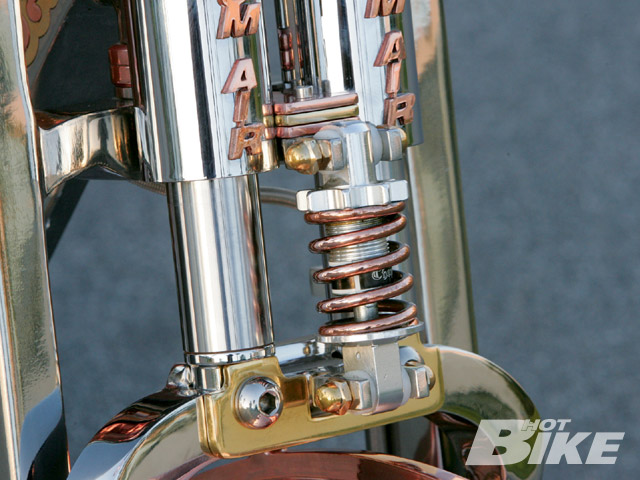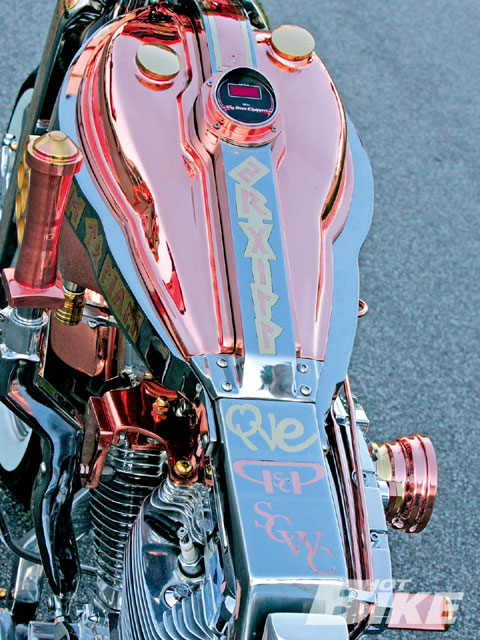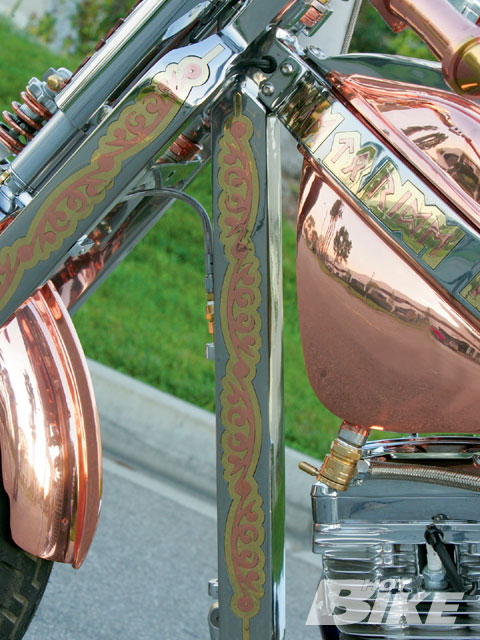 In these economic times, it's not hard to miss extra coin on the ground or be tempted to deplete the "free" penny dish at your local gas station. Like a shiny penny catching your eye, the copper beast before you has a similar effect, except it's worth a pretty penny to the bike's owner and creator, J.R. Gill, of So-Cal Power Products (SCPP) in Santa Fe Springs, California. Although the custom took nine months to build, its concept dates back as far as 2005 and its completion wouldn't have been possible without teamwork.
As a third generation metal fabricator, J.R. has spent most of his life in the metalwork industry. He further honed his skills when he went to work for Quality Vessel Engineering (QVE), a company that specializes in the aerospace industry and on a variety of different types of fabrication, including working with exotic metals. "These individuals helped me greatly with the building of this bike," J.R. said. Starting with a frame jig and some stainless steel square and rectangular tube, the frame was constructed to sit a bit different than a stock configuration, with 22 degrees of rake at the neck and adding 3 inches to the framerails behind the transmission, giving more room for the air compressor and battery.
Using the same steel tube materials, a custom frontend that is only 18 inches in length was also fabricated. J.R. wanted to have the look of a Springer-style frontend, and he also wanted an air-ride feel. So he came up with the idea to create a dual air-shock setup with a mono shock in the center for rebound. J.R. called on Platinum Air Suspension for a set of its Road King air rams, and then he created a bracket to house the two shocks on the frontend. Next, J.R. routed the air line back to the compressor. To ensure that the shock wouldn't float as he was riding, he added a small mono shock to control the rebound J.R. added some additional suspension in the seating area with a custom air ride seat. "For this application, we removed the pivot point in the front of the seat pan and mounted three air bags to the frame where the pan would mount, making the seat an actual suspension point for a rigid frame," J.R. said.
For the heart of the bike, J.R. approached Westminster Harley-Davidson for a fully polished and built 80ci motor. There is an engraved inscription of the dealer's logo on the ignition cover to reflect J.R.'s appreciation to the company and how much of an asset they were to this bike. "Those guys were great and really helped me out with this project," J.R. said. If you notice, there is some interesting writing on the sides and top of the custom gas tank, as well as hand-drawn copper and brass patterns all over the frame. The writing is in Rune, or ancient alphabetic characters used by the Germanic people a long, long time ago. To better familiarize himself, J.R. studied ancient and medieval history while building this bike, and he got help from a top U.S. Linguist, Elmer H. Antonsen, who passed away before he saw his translated work on the bike. "I wanted people to know Elmer's work," J.R. said, "and that his expertise in translating a captivating, ancient language lives and remains a part of this bike." Helping with all the inlay work and intricate details found on this bike was Jim DeVoll of So. Cal Water Cuts, who J.R. is also working with at SCPP. "Jim programmed and cut anything for this bike via a blueprint or my hand drawings," J.R. said.
As J.R. intended this bike to test and elaborate on his skills, he wanted as many hand-crafted parts as possible and the bike devoid of any bondo or paint. From the custom steel square handlebars and the copper two-part gas and oil tanks to the copper front and rear fenders and square 2-into-1 pipes, you'd be hard-pressed to find a part not fabricated or modified on this ride. With a variety of resources available to J.R. and plenty of industry companies located near SCPP, he was able to utilize their services and establish good working relationships. J.R. went to see Sam at Ride Wright Wheels (RWW) for a set of its Fat Daddy 50-spoke, diamond-cut wheels, then J.R. had the spokes copper-plated, and returned to RWW for assembly. Then J.R. made a trip over to Custom Mobile Wiring where Burto ran all the internal wiring for the kill switch, oil pressure switch, module compressor, and an speedo gauge provided by Big Bear Choppers (BBC), who also provided the BBC rear sprotor setup. Seeing as J.R. used the bike's stainless steel and copper materials as color itself, Aggressive Designs stepped up and did all the clear coating on the bike to finish it up and help keep it shiny.
In the end, everyone involved was really pleased with how the custom turned out, especially J.R. For someone who has come a long way in developing his skills and this bike is a true expression of his craftsmanship. "I still learn every day that I love my craft, love a challenge, and prefer to test my capabilities and try to explore new techniques and old ones," J.R said. J.R. wishes to give a special thanks to everyone who helped make this bike possible, as well as to a couple additional companies not mentioned in the story, including Universal Finishing, Road Dogs, Spyke, Emgo, and Jaybrake.
| | |
| --- | --- |
| SPECS | |
| BIKE OWNER | J.R. Gill |
| SHOP NAME | So-Cal Power Products (SCPP) |
| SHOP PHONE | ({{{626}}}) 227-3216 |
| SHOP WEBSITE | socalpowerproducts.com |
| YEAR/MAKE/MODEL | '08/Rigid/Runic |
| FABRICATION | J.R. Gill/Quality Vessel Engineering (QVE) |
| ASSEMBLY | J.R. Gill/QVE/ SCPP, Mobile Custom |
| BUILD TIME | Nine months |
| | |
| --- | --- |
| ENGINE | |
| YEAR/MANUFACTURER | '99/Harley-Davidson |
| TYPE/SIZE | Evo/80ci |
| BUILDER | Westminster Harley-Davidson |
| CASES | H-D |
| CYLINDERS | H-D |
| HEADS | H-D |
| ROCKER BOXES | H-D |
| CARBURETOR | 42mm Mikuni |
| AIR CLEANER | J.R. Gill |
| EXHAUST | J.R. Gill |
| | |
| --- | --- |
| TRANSMISSION | |
| YEAR/MANUFACTURER/TYPE | '08/{{{Prowler}}}/six-speed |
| CLUTCH | Ultima |
| PRIMARY DRIVE | Ultima 2-inch belt |
| | |
| --- | --- |
| FRAME | |
| YEAR/MANUFACTURER | '08/J.R. Gill/QVE |
| RAKE | 22 degrees |
| STRETCH | 3-inch frame stretch behind tranny |
| | |
| --- | --- |
| SUSPENSION | |
| MANUFACTURER FRONT | Platinum Air Ride/ J.R. Gill/QVE |
| MODIFICATIONS | Platinum Air Suspension/ Chopper Shox |
| LENGTH | 18 inches |
| TRIPLE TREES | J.R. Gill |
| MANUFACTURER REAR | N/A |
| SWINGARM | N/A |
| | |
| --- | --- |
| WHEELS, TIRES, AND BRAKES | |
| MANUFACTURER FRONT | Ride Wright Wheels Fat Daddy |
| SIZE-HEIGHT/WIDTH | 3.5×16-inch |
| TIRE/SIZE | Dunlop/16-inch |
| CALIPER | Jaybrake |
| ROTOR | Ride Wright Wheels |
| MANUFACTURER REAR | Ride Wright Wheels |
| SIZE-HEIGHT/WIDTH | 3.5×16-inch |
| TIRE/SIZE | Dunlop/16-inch |
| CALIPER | Big Bear Choppers |
| ROTOR | Big Bear Choppers |
| | |
| --- | --- |
| FINISH/PAINT | |
| COLOR | Clear |
| PAINTER | Aggressive Designs |
| GRAPHICS | N/A |
| PLATING/POLISHING | Universal Finishing Inc. |
| POWDERCOAT | Olympic Powder Coating |
| | |
| --- | --- |
| ACCESSORIES | |
| FRONT FENDER | J.R. Gill/SCPP |
| REAR FENDER | J.R. Gill/SCPP |
| GAS TANK & CAP | J.R. Gill |
| OIL TANK | J.R. Gill |
| GAUGES | Big Bear Choppers |
| HANDLEBARS | J.R. Gill |
| RISERS | J.R. Gill |
| HAND CONTROLS | Jaybrake/J.R. Gill |
| FOOT CONTROLS | Jaybrake/J.R. Gill |
| FOOTPEGS | J.R. Gill/QVE |
| HEADLIGHT | Emgo |
| TAILLIGHT | Eddie Trotta |
| SEAT | J.R. Gill |