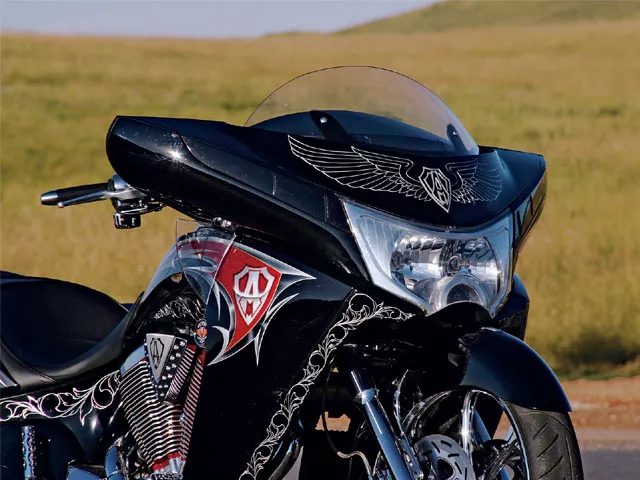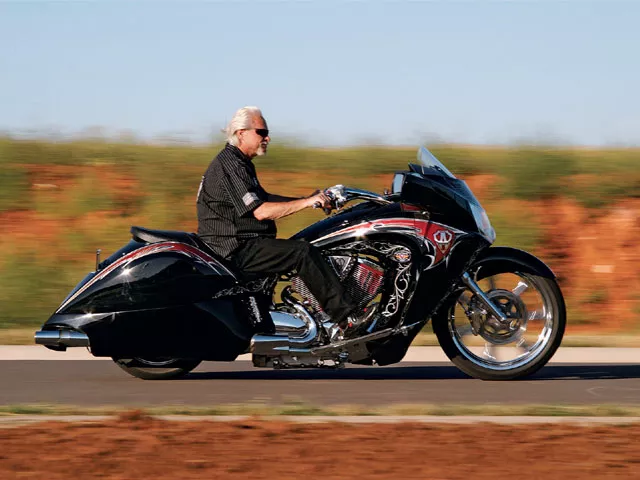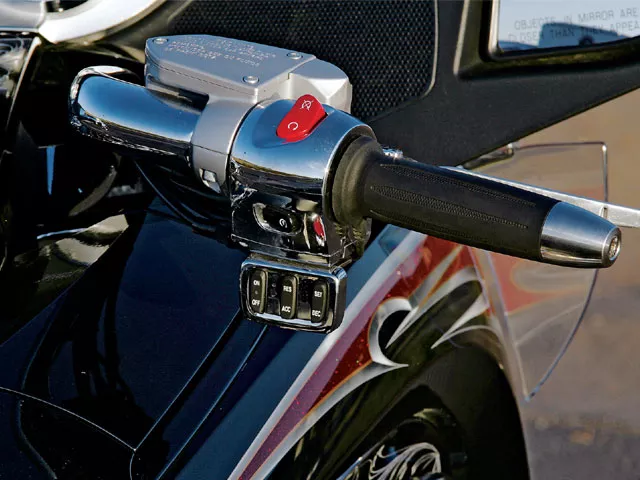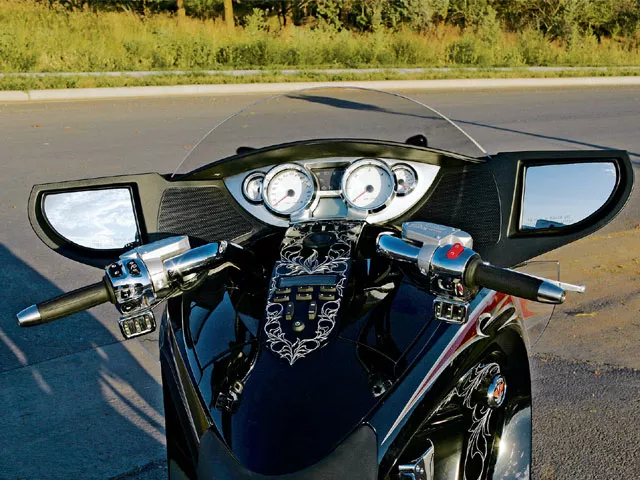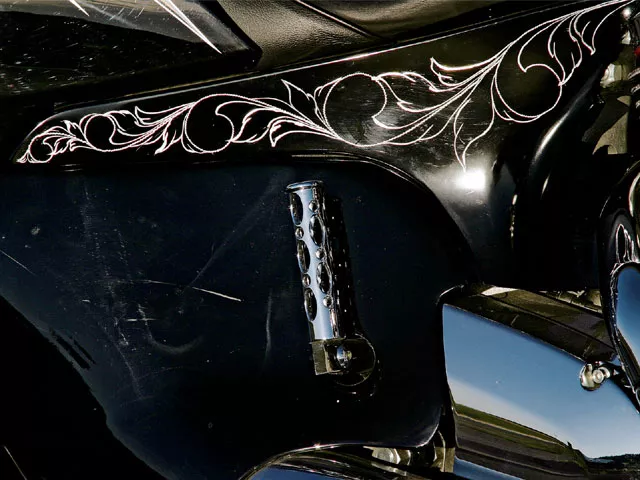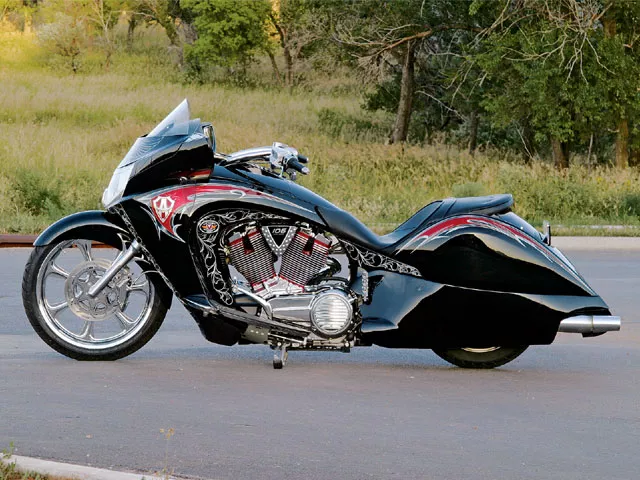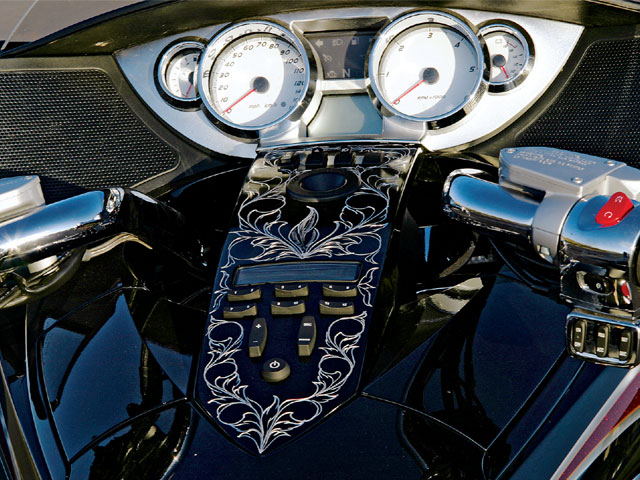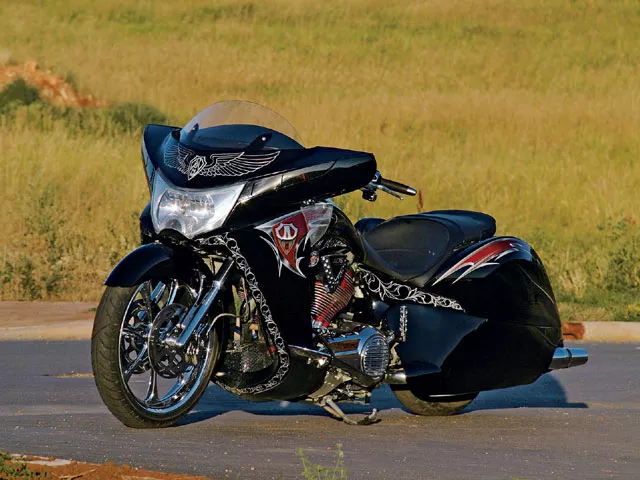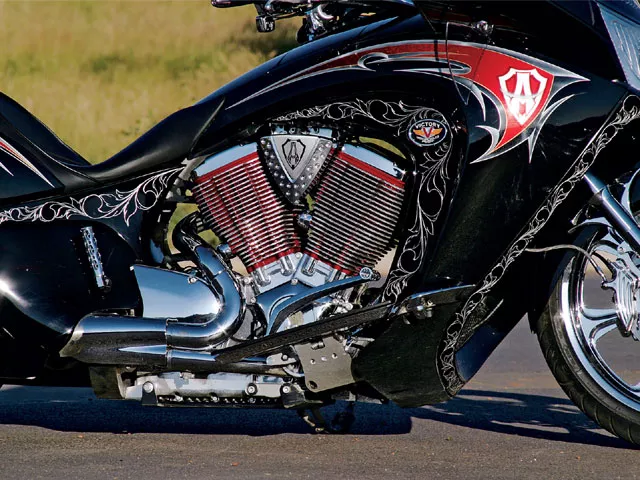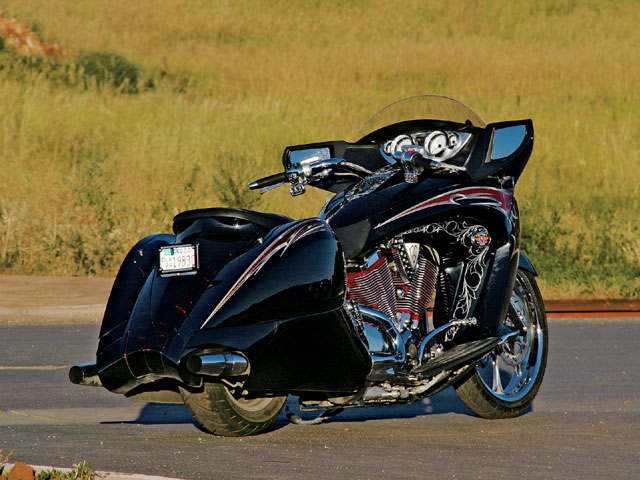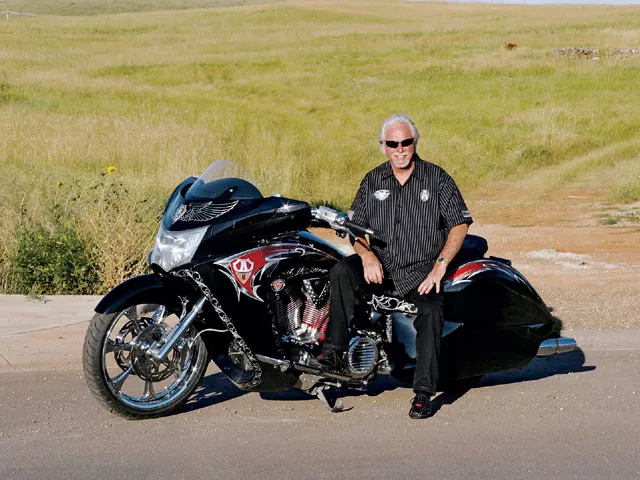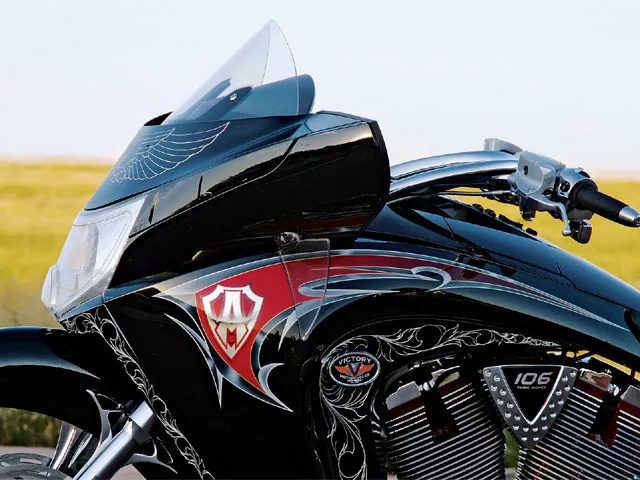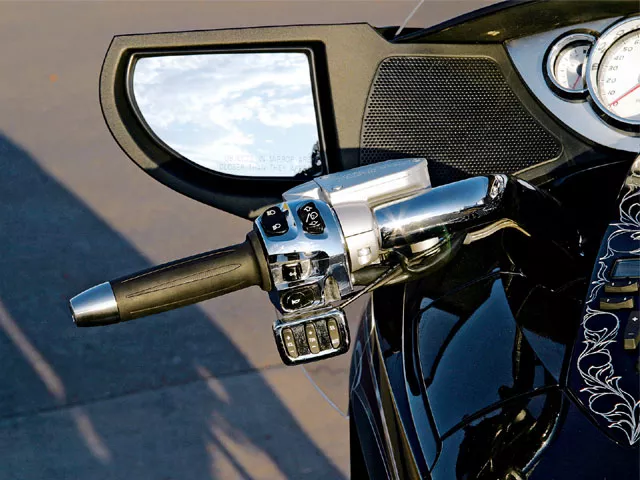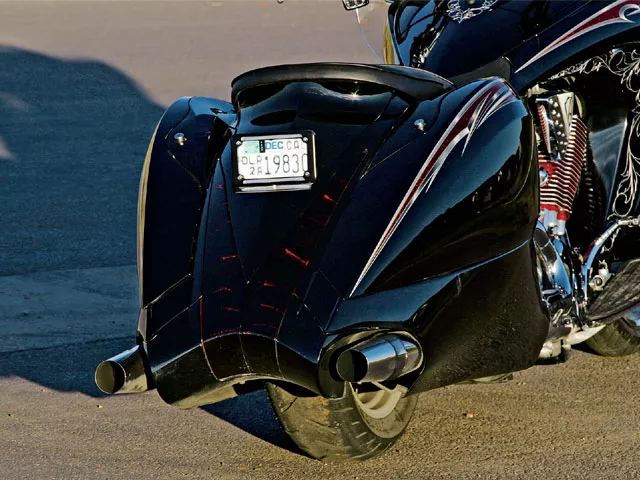 It took five years of pre-production development at Victory Motorcycles to present to you the bike on these pages. While the company was spending nearly half a decade to design, engineer, and perfect this bike, Arlen and Cory Ness were consulting on the project from their headquarters in Dublin, California. For those of you following along who have not seen Victory Motorcycles' 2008 Vision, you're in for a treat.
As much a visionary and instrumentalist in the industry, it made sense for Arlen Ness to be the opportunist and throw a futuristic, radical spin on Victory's new touring bike. Adding icing to the cake, son Cory put his own twist on another one of these models, which you can find in a future issue of BAGGERS magazine. The decision came easily for the company, considering Arlen and Cory are Victory design consultants and renowned builders, meeting the demands of a prosperous bike building and parts enterprise.
After five years of working on this bike, Arlen and Cory were among the few lucky people to receive the shiny new stockers before the public. Ramping up to its release, Arlen was excited to customize Victory's new bagger, especially with the company's success and impact in the industry. It seems more and more people are taking notice of Victory's motorcycles. "I really love the brand," Arlen said, "and Victory is growing with leaps and bounds." What's more is having the opportunity to customize a bike that most people haven't seen yet.
The plan was to give the new Victory bagger the full customized treatment-cut, raked, stretched, lowered-plus adding the trademark Ness touches. Then it would be ridden to Sturgis and all the in-between places in the Black Hills, as well as to the Victory event set up at the Rally. The kicker was having about 45 hours for Team Ness to complete the bikes in time for Sturgis, considering they had received the new baggers shortly before the event. No deadline was going to hinder missing the mother of all rallies on two hot new Victory baggers for the team.
The new Victory Vision fuses smooth modern styling with a less than hefty handling and performance package, boasting a 106ci Freedom V-Twin engine and ergonomics and comfort to emphasize rider comfort for the long haul. All are features Arlen likes to work with, considering some of his styling cues on this bagger are flowing lines and stretched-out style; the biggest thing he wanted was to lower it-three inches overall to slam this bagger closer to the ground with Victory's mono-shock. Arlen's style is low bikes, and most importantly, it's more at the center of gravity and more comfortable overall.
Arlen made the body panels to make the bike longer and lower, and then had them painted. Arlen also cut in and shaved the Victory seat to help lower the center of gravity and to sit deeper into the bike. With a stock rake of 29 degrees, he raked the frontend of the frame to 38, and then adapted a Ness inverted frontend to the Vision frame. Then he slid on a 21×3.5-inch Ness Evil-7 wheel in the front wrapped in Avon rubber, with a 16×5-inch Victory wheel in the rear wrapped in Dunlop rubber. Two Ness/Performance Machine six-piston calipers and two Ness Evil-7 rotors in the front with Victory calipers and rotors in the rear help to stop this bagger on a dime.
Hand-formed aluminum panels replaced the stock pieces, which were then black anodized and finally hand engraved. An old trade dating back to a time when there was no such thing as old school, hand engraving is something they used to do and was a notable feature on Ness bikes back then. According to Arlen, the engravings are the most distinctive feature of this bike. "I thought it would be cool," Arlen said. "A lot of people didn't know what I had done. Was it paint, or what? It's just an old trade, all done free hand."
Whether it's the Ness touches, parts, or a combo of the two, the sole purpose of this customized Victory bagger is for people to see it and get their own customization ideas. The Ness product line offers parts such as lowering kits, handlebars, cut-down seats, pipes, and more, for owners who want to dress up their touring model. As for the near future, Arlen's goal is to expand more on this product line, and with how Victory's doing, there shouldn't be a problem.
Now, as for the future of this bike, "Several people have offered to buy it," Arlen said, "but it's not for sale right now. It's my daily rider, and it's a pleasure to ride. I'm very happy with the product." So, too, seems to be the case for the individuals who got to see it firsthand at the Sturgis Rally. Arlen and Cory's customized Victory baggers "were a big hit," Arlen said. "Nobody had ever seen one-plus it's customized." They drew a lot of attention, but we didn't expect anything less.
| | |
| --- | --- |
| SPEC SHEET | |
| GENERAL | |
| BIKE OWNER | Arlen Ness |
| SHOP NAME | Arlen Ness Motorcycles |
| SHOP PHONE | (925) 479-6350 |
| SHOP WEBSITE | www.arlenness.com |
| YEAR/MAKE/MODEL | '08/Victory/{{{Vision}}} |
| FABRICATION | Team Ness |
| ASSEMBLY | Team Ness |
| BUILD TIME | 45 hours |
| | |
| --- | --- |
| ENGINE | |
| YEAR/MANUFACTURER | '08/Victory |
| TYPE/SIZE | Freedom V-Twin/106ci |
| BUILDER | Victory |
| CASES | Victory |
| CYLINDERS | Victory |
| HEADS | Victory |
| ROCKER BOXES | Victory |
| CARBURETOR/EFI | n/a |
| AIR CLEANER | Victory |
| EXHAUST | Victory/Thunderheader mufflers |
| | |
| --- | --- |
| TRANSMISSION | |
| YEAR/MANUFACTURER/TYPE | '08/Victory/6-speed with true overdrive |
| CASE | Victory |
| CLUTCH | Victory |
| PRIMARY DRIVE | Victory |
| FINAL DRIVE | Victory carbon reinforced belt |
| | |
| --- | --- |
| FRAME | |
| YEAR/MANUFACTURER | '08/Victory |
| RAKE | 38 degrees |
| STRETCH | n/a |
| | |
| --- | --- |
| SUSPENSION | |
| MANUFACTURER FRONT | Team Ness |
| LENGTH | Ness 63.5mm inverted |
| TRIPLE TREES | Ness Flat-Ness 4-degree rake |
| MANUFACTURER REAR | Victory mono-shock |
| MODIFICATIONS | Lowered 3 inches |
| | |
| --- | --- |
| WHEELS, TIRES, AND BRAKES | |
| MANUFACTURER FRONT/TYPE | Ness/Evil-7 |
| SIZE-WIDTH/HEIGHT | 21X3.5-inch |
| TIRE/SIZE | Avon Venom X/120/70/-21 |
| CALIPER | Two Ness/Performance Machine 6-piston |
| ROTOR | Two Ness 11.5-inch Evil-7 |
| MANUFACTURER REAR/TYPE | Victory |
| SIZE-WIDTH/HEIGHT | 16X5-inch |
| TIRE/SIZE | Dunlop Elite 3/180/60-16 |
| CALIPER | Victory |
| ROTOR | Victory |
| | |
| --- | --- |
| FINISH/PAINT | |
| COLORS | Black, silver, red |
| PAINTER | Steve Faraone |
| GRAPHICS | Steve Faraone |
| PLATING/POLISHING | Hosh Lustre/New Age Metal Finishing |
| POWDERCOAT | Daytec |
| | |
| --- | --- |
| ACCESSORIES | |
| FRONT FENDER | Ness |
| REAR FENDER | Victory |
| FENDER STRUTS | Victory |
| GAS TANK & CAP | Victory |
| OIL TANK | n/a |
| DASH | Victory |
| GAUGES | Victory |
| HANDLEBARS | Victory |
| RISERS | Victory |
| MIRRORS | n/a |
| HAND CONTROLS | Victory |
| FOOT CONTROLS | Victory |
| FOOTPEGS | Ness/Battistinis |
| HEADLIGHT | Victory |
| TAILLIGHT | Victory |
| TURN SIGNALS | Victory |
| LICENSE MOUNT | Victory |
| SEAT | Victory |