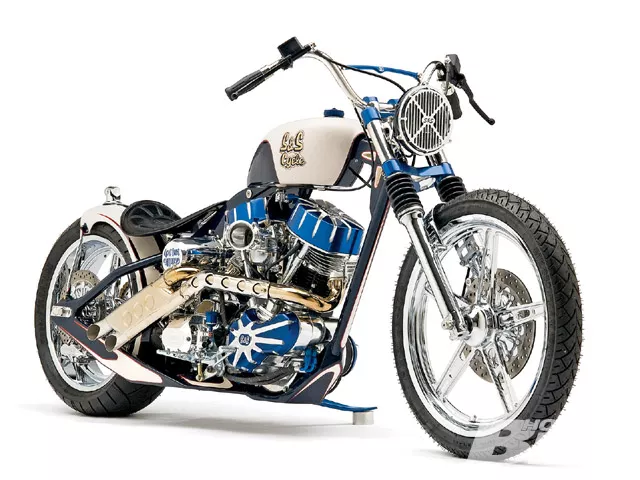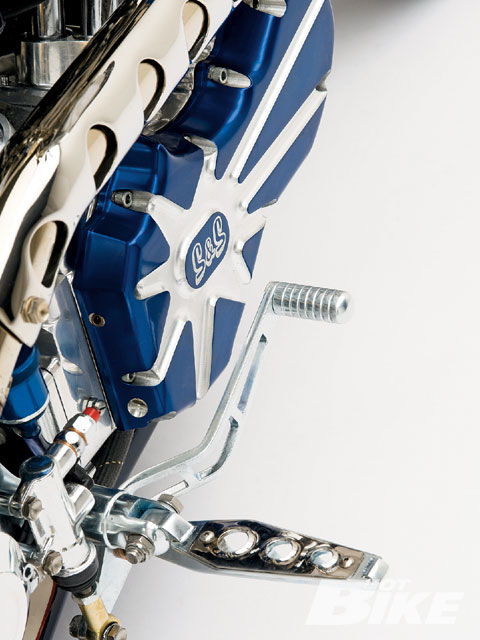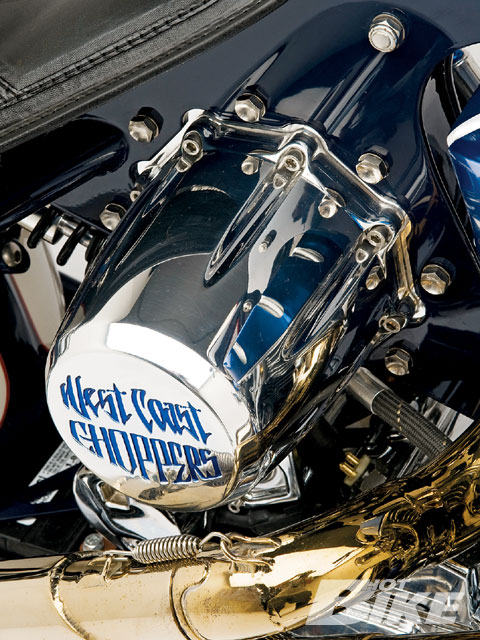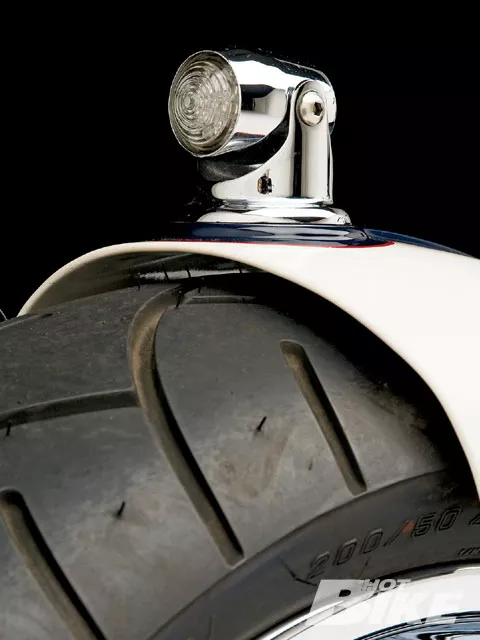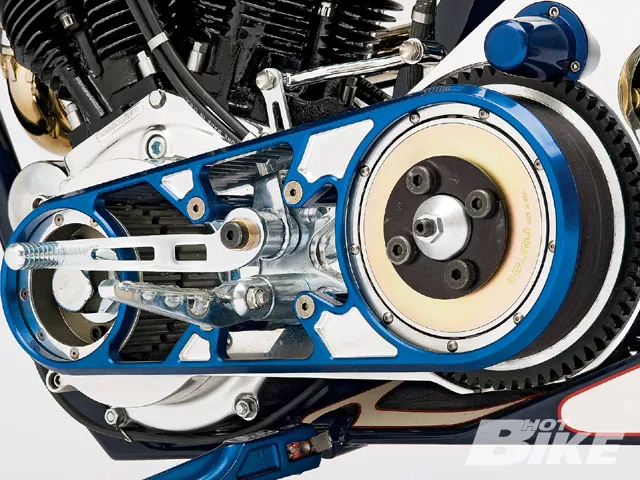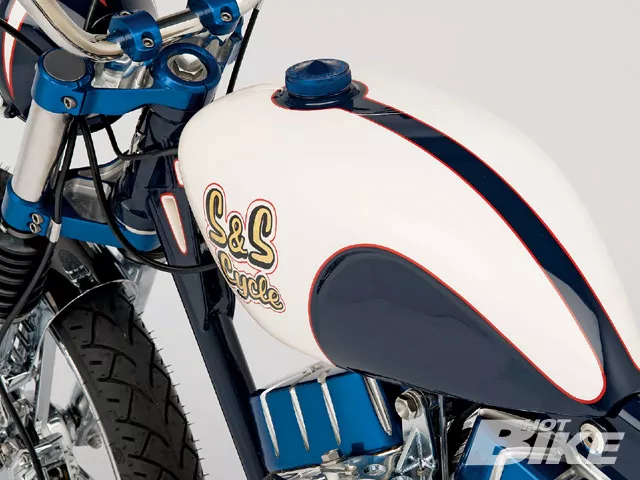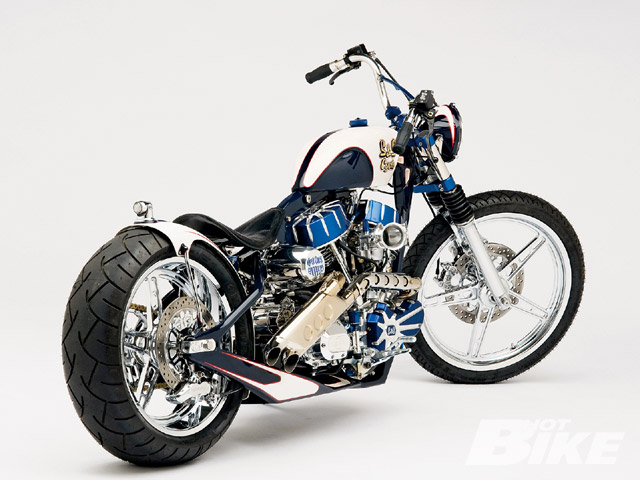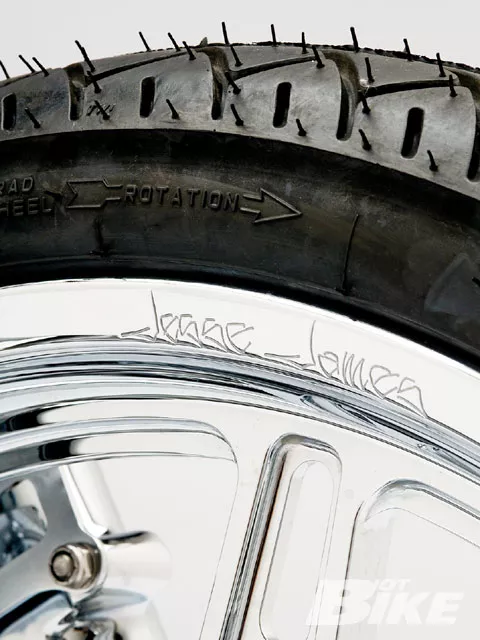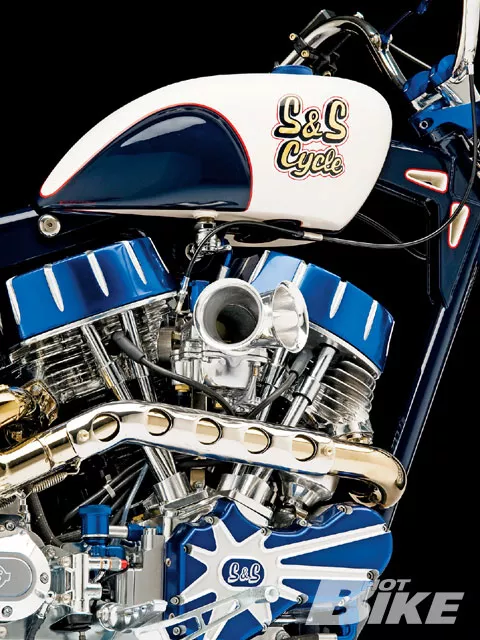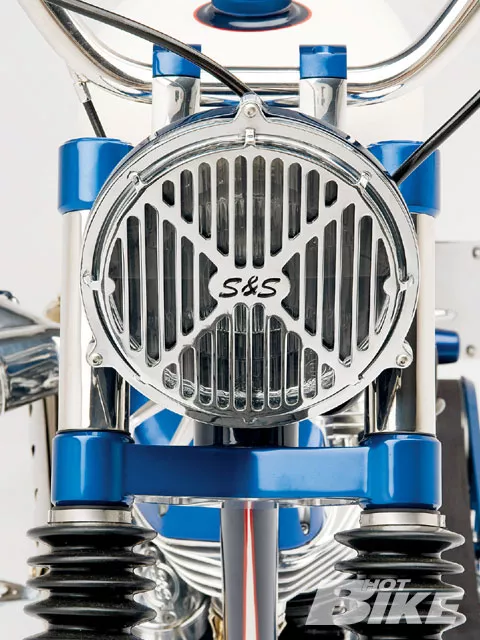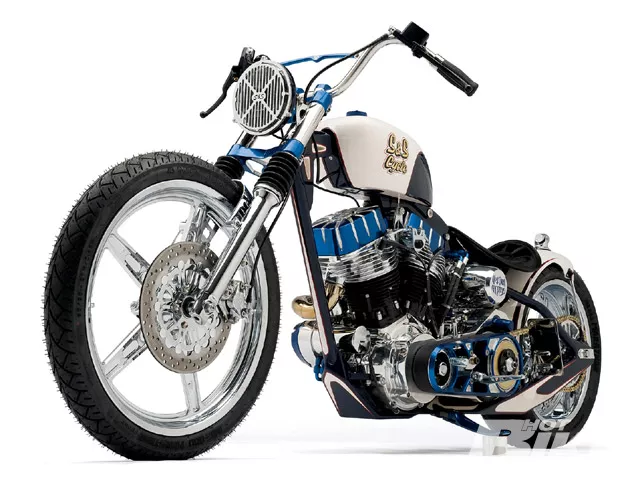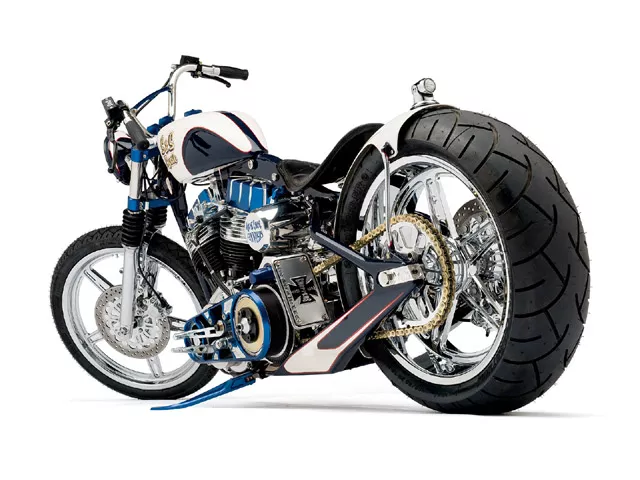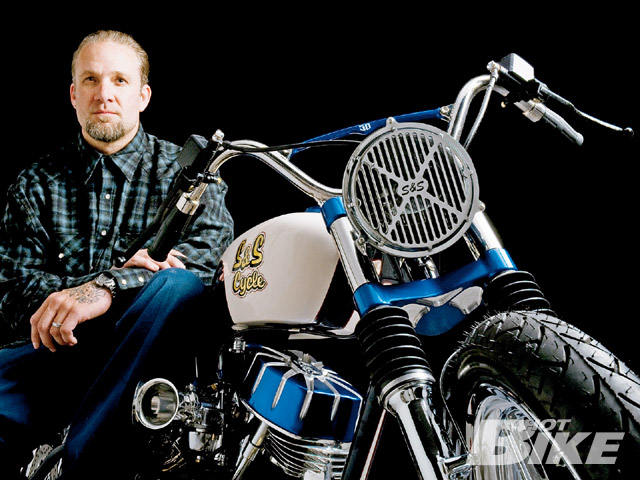 It's funny how things work out in life sometimes. Take this Jesse James built retro-meets-modern-technology Panhead, for instance. For years Jesse has been using S&S; engines as the powerplants for his West Coast Choppers' builds. Last March Jesse agreed to an exclusive collaboration, marketing, and endorsement agreement with S&S; in which he agreed to exclusively use S&S; engines in all of his American V-twin builds.
Another part of the marketing and endorsement deal was that Jesse and S&S; would collaborate on an apparel line. In fact, it was one of the meetings about the apparel that got the ball rolling on this bike. The discussion of having a bike built for S&S; came up and Brett Smith (S&S; President at the time) suggested using one of his company's new P-Series engines.
To help exemplify the significance of its 50 years of dedication towards making bikes run better and faster, one of S&S;' latest products was the P-Series engine line. A significant historical and retro engine, the P-Series is not just a looker, but it's built for performance (offered in 93ci and 103ci displacements), and Brett felt it would be the perfect centerpiece for the project.
On Jesse's end, the ideal cradle for the engine was one of his newest offerings, the CFL2. If you recall we got the exclusive on this revolutionary new frame and ran a feature on the first bike built based on the frame, supplemented with an in-depth First Look article on the design and construction (HB Vol.40 No.1).
A significant technological step in the American V-twin industry, the CFL2 frame is a detailed execution of structural engineering and aesthetics. The frame features only a few short sections of steel round stock; everything else started as 1/8-inch flat sheets that were cut, CNC bent, boxed and welded to create an monocoque substructure capable of handling the most severe punishment.
With the frame on a work bench and a 93ci S&S; P-series engine and S&S; six-speed transmission tucked between the backbone and lower framerails, Jesse began constructing a bike that would proudly represent S&S; and reflect his innate skill of building cool bikes. Up front he slipped a set of shortened 39mm H-D legs into his own triple trees, then wrapped a Metzeler tire over one of his 21-inch I-Beam wheels. In the back an 18×5.5 inch I-Beam was stuffed inside a 200mm Metzeler.
Working with sheetmetal, Jesse knocked out a tweak bar that he fit snugly between the lower legs then shaped a retro-esque style gas tank with slight detent bodylines, to help give it some definition. The rear fender was shaped so it would hug the Metzeler and the sides were cut high to show off the sidewalls of the tire.
Since this was a bike being built for S&S;, it made sense to add some S&S; accents. The top of the Panhead covers and the cam/gear cover were milled with the S&S; logo. When it came time for paint Jesse handed things over to his in-house artist, Hot Dog, who covered the frame and sheetmetal in subtle, historical American colors: red, white, and blue.
In talking with Jesse about this bike we asked him about some of the styling ques, specifically the milling of the covers. His reply was that he had done a set of covers many years ago for a bike that was on the cover of one of our old sister publications, HOT ROD BIKES. "I had an extra set of covers lying around from that old bike and I put them on this bike but they just looked old and dated. So I made some new ones, and when I placed them on this bike they looked kind of like bundt cakes with icing dripping off." Interesting analogy, but with those iconic panhead covers we can see exactly what he means.
As you can see the bike came out incredible, a perfect combination of some retro styling meets modern technology. S&S; was extremely happy with its new show piece. In fact, S&S; Communications Manager, Howard Kelly, told us the bike is sitting on a pedestal in S&S;' main office, so it's the first thing you see when you walk into the S&S; office. Jesse informed us he has more S&S; inspired excitement ready to hit the streets any day. This next project is very forward facing and focuses on some of the latest advancements in the American V-twin industry. "I'm working on that new S&S; X-Wedge engine bike that will be like a modern FXR. It's based on the new Dominator swingarm frame. It's a total rider, fuel injected, all carbon fiber bodywork, chromeolly frame-super light-weight and fun to ride."
Sounds like we need to setup shop over in downtown Long Beach, and try and catch a glimpse of this new machine as soon as it rolls out of the shop doors. We'll keep you posted.
| | |
| --- | --- |
| SPEC SHEET | |
| BIKE OWNER | S&S; Cycle |
| SHOP NAME | West Coast Choppers |
| SHOP WEBSITE | www.westcoastchoppers.com |
| YEAR/MAKE/MODEL | '08/West Coast Choppers/CFL2 |
| FABRICATION | West Coast Choppers |
| ASSEMBLY | West Coast Choppers |
| | |
| --- | --- |
| ENGINE | |
| YEAR/ MANUFACTURER | '08/S&S; Cycle |
| TYPE/SIZE | P-Series/93ci |
| BUILDER | S&S; Cycle |
| CASES | S&S; Cycle |
| CYLINDERS | S&S; Cycle |
| HEADS | S&S; Cycle |
| ROCKER BOXES | West Coast Choppers |
| CARBURETOR | S&S; Cycle |
| AIR CLEANER | West Coast Choppers |
| EXHAUST | West Coast Choppers |
| | |
| --- | --- |
| TRANSMISSION | |
| YEAR/MANUFACTURER/TYPE | '08/S&S; Cycle/6-speed |
| CASE | S&S; Cycle |
| CLUTCH | Primo |
| PRIMARY DRIVE | Primo |
| | |
| --- | --- |
| FRAME | |
| TYPE | West Coast Choppers CFL2 |
| YEAR/MANUFACTURER | '08/West Coast Choppers |
| RAKE | 35 degrees |
| STRETCH | Zero |
| | |
| --- | --- |
| SUSPENSION | |
| MANUFACTURER FRONT | H-D 39mm |
| LENGTH | Shortened |
| TRIPLE TREES | West Coast Choppers |
| MANUFACTURER REAR | |
| SWINGARM | none |
| | |
| --- | --- |
| WHEELS, TIRES, AND BRAKES | |
| MANUFACTURER FRONT/TYPE | West CoastChoppers/I-Beam |
| SIZE-WIDTH/HEIGHT | 21X2.125 |
| TIRE/SIZE | Metzeler |
| CALIPER | Brembo |
| ROTOR | West Coast Choppers |
| MANUFACTUER REAR/TYPE | West Coast Choppers/I-Beam |
| SIZE-WIDTH/HEIGHT | 18X5.50 |
| TIRE/SIZE | Metzeler/200mm |
| CALIPER | Brembo |
| ROTOR | West Coast Choppers |
| | |
| --- | --- |
| FINISH/PAINT | |
| COLOR | Red, white, and blue |
| PAINTER | Hot Dog |
| GRAPHICS | Hot Dog |
| PLATING/POLISHING | West Coast Choppers |
| | |
| --- | --- |
| ACCESSORIES | |
| REAR FENDER | West Coast Choppers |
| FENDER STRUTS | West Coast Choppers |
| GAS TANK∩ | West Coast Choppers |
| OIL TANK | West Coast Choppers |
| HANDLEBARS | West Coast Choppers |
| RISERS | West Coast Choppers |
| HAND CONTROLS | Brembo |
| FOOT CONTROLS | Brembo |
| FOOTPEGS | West Coast Choppers |
| HEADLIGHT | West Coast Choppers |
| TAILLIGHT | West Coast Choppers |
| LICENSE MOUNT | West Coast Choppers |
| SEAT | West Coast Choppers |