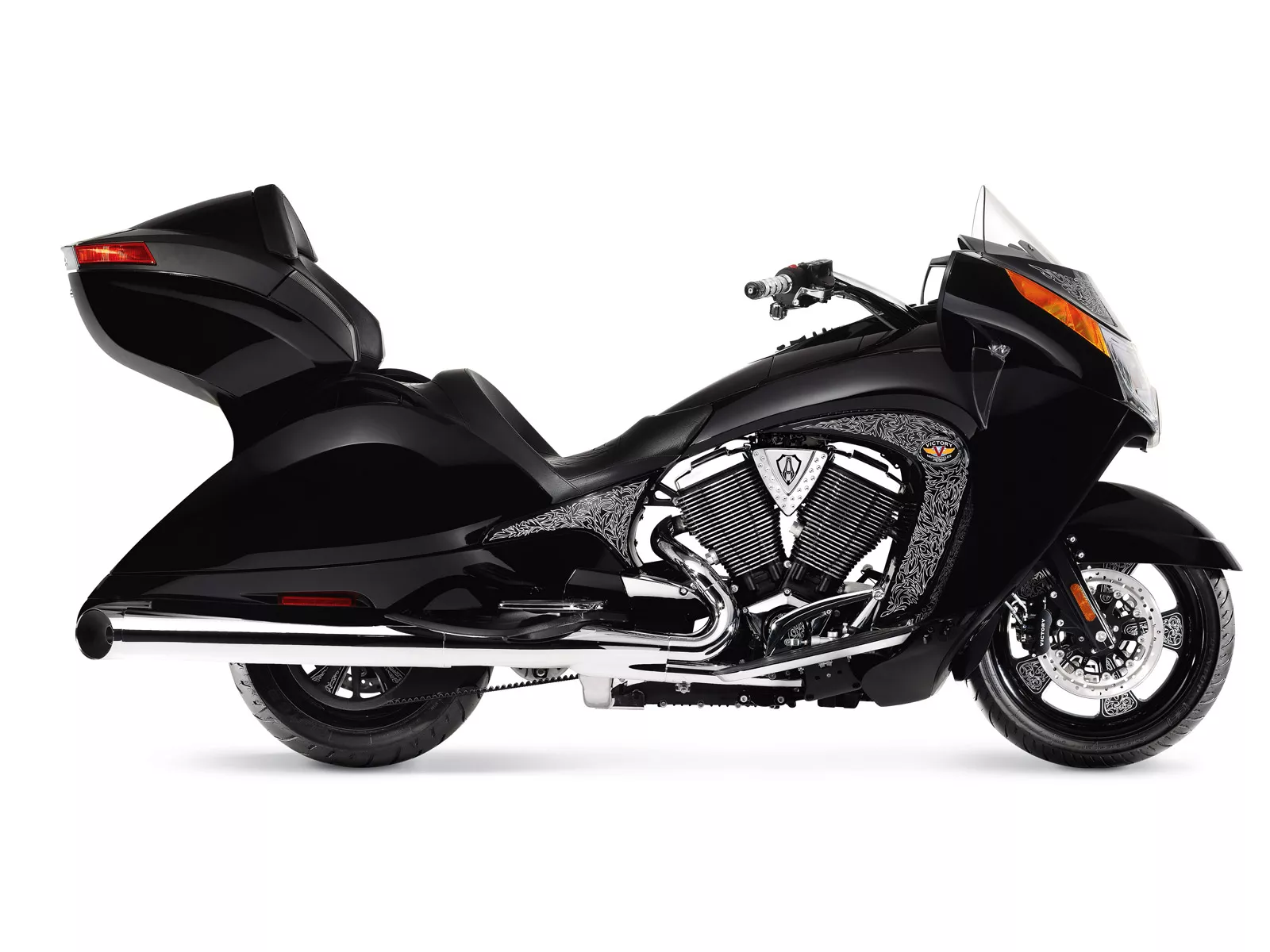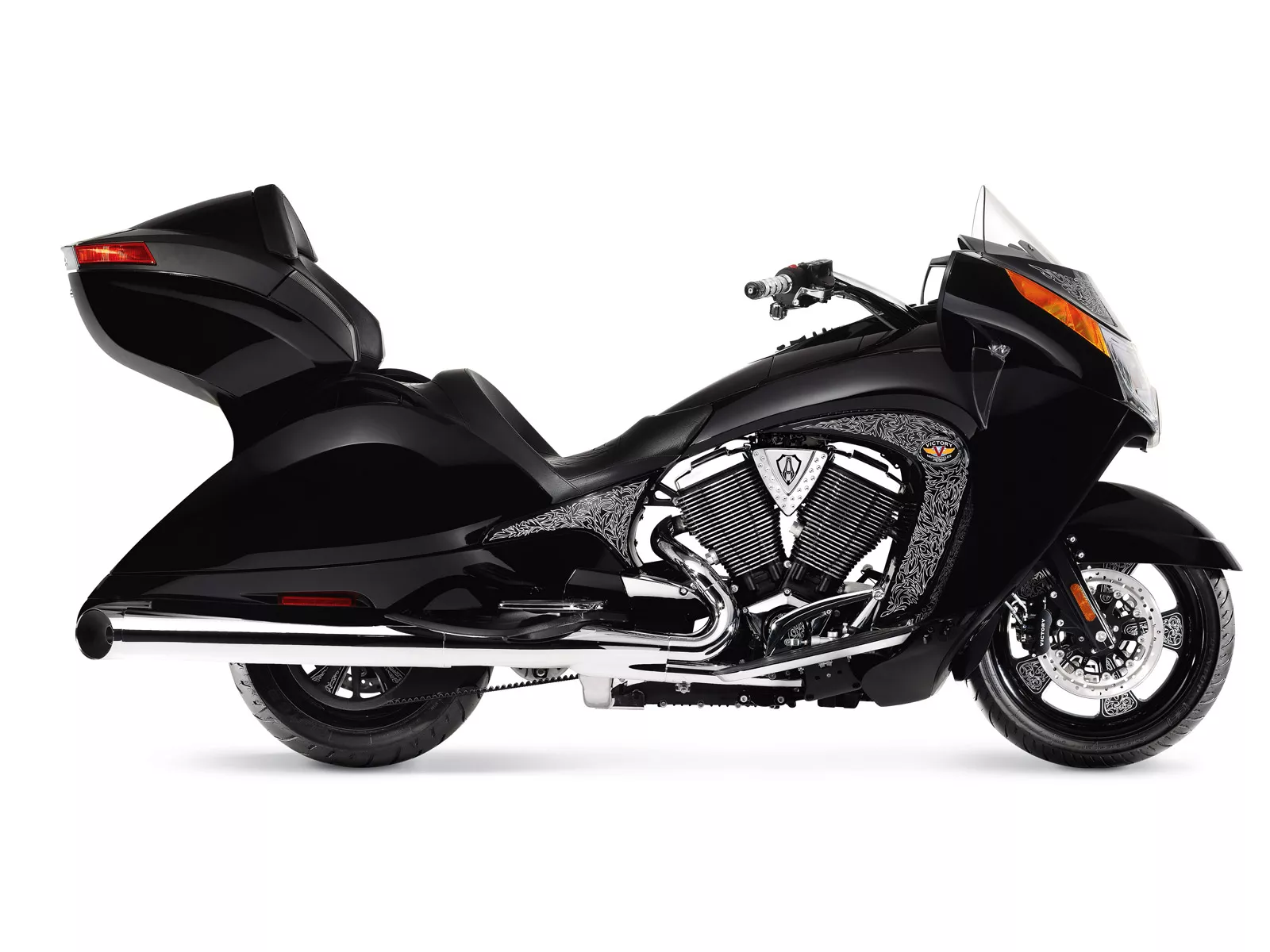 Just the Facts
| | |
| --- | --- |
| Engine | Freedom V-twin 106ci |
| Trans | Six-speed Overdrive |
| Brakes Front | ABS dual four-piston calipers |
| Rear | ABS two-piston caliper |
| Wheels Front:Rear | Ness, 18×3 : 16×5 |
| Tires Front:Rear | Dunlop 130/70-18 : 180/60-16 |
| Seat Height | 24.5 inches |
| MSRP | $27,999 |
| Contact | Victorymotorcycles.com |
Victory Motorcycles has quickly become a force to be reckoned with and isn't scared to take chances as evidenced by its introduction of the Vision line of touring motorcycles back in 2008. Billing itself as "The New American Motorcycle," Victory might have caught people off guard with its forward thinking and space-age design of the Vision models, but it seems people have quickly accepted the edgy lines and sweeping body panels and now see the vision of the Vision.
One thing that helped Victory quickly gain popularity, a strong following of loyal customers, and respect amongst a finicky crowd of American motorcycle enthusiasts is its incorporation of the Ness family into the design process. Utilizing one of the most well-known and well-respected families in the industry was a great move for Victory, and since it first handed the reigns to Arlen Ness back in 2004 to personalize a signature Kingpin model, the response has been well-received. If it wasn't, do you really think Victory would have brought in Arlen's son, Cory, and most recently the third gen of the Ness clan, Cory's son, Zach, to personalize their own models?
As the patriarch of the Ness family it only makes sense that Victory would give Arlen carte blanche to personalize the company's top-of-the-line touring rig, the Vision Tour. Loaded with all the luxuries you'd want for a two-week road trip—custom leather seat, cruise control, six-gallon fuel capacity, multi-function instrumentation, AM/FM four speaker stereo with MP3/satellite radio capability, and ABS brakes to name a few—you would think the bike couldn't get any better; but it does.
Wheel Deal
From tire to tire, this signature model is outfitted with top-of-the-line Ness components. Actually the billet Ness wheels feature a unique scroll design that is carried throughout the rest of the bike.
Bling Thing
At the heart of the Vision Tour is Victory's 106ci Freedom V-Twin engine and six-speed overdrive transmission. The 106 boasts 92hp and 109 ft-lb of torque while the trans offer's a smooth and quiet operation. While the internals of the 106 might provide the horsepower, the diamond-cut exterior provides bling power.
Ness Elegance
Available only in black, the silky smooth paint is highlighted by Arlen Ness–designed graphics that complement the assortment of Ness accessories such as the chrome billet grips with scrolled ends, chrome shift lever, brake levers, and handle bars.
Touch of Class
Keeping the bike more streamlined and sleek looking, Arlen chose to go with a custom windshield. Right below the windscreen, the top fairing panel sets off the custom look of the bike with a Ness logo flanked by highly detailed scrolled wings. And lighting the way is an HID driving light.