Australia is a country full of V-Rods and apehangered Dynas, so I built this bike to change a few mindsets. I planned on building this bike myself, and that's the way I kept it. I am the only person to lay a spanner on this bike, and I can happily say I trust it on one wheel doing hooligan shit.
From the day I got this bike, I had in my mind that I wanted it to handle a good thrashing, so I sourced only the best parts to build the bike you see today. What started as a simple bar/riser setup quickly blew out to an extensive build thanks to a set of gold ProTaper bars. Before talking with my buddy Justin Case from Hard Case Performance, I had my mind set on black bars and risers. A few ideas were thrown around, and a set of Hard Case risers and gold ProTapers were on their way to Australia.
The day I fitted the bars and risers, I sat back to have a beer, looked at the bike, and thought to myself it needed something else. A few more beers and two hours later the bike was stripped down to a bare frame and engine. The next day I dropped the tins and a Simpson Ghost Bandit down to Smith Concepts in Sydney, Australia. I knew from the first time I saw Kyle's "Smith Concepts" work that he was the man for the job. That being said, I gave Kyle the okay to let loose with only two things in mind: timeless and gold.
I've built a lot of strong friendships through @hd_hooligans on Instagram, and I am super thankful for that. I thought starting the account would be a cool thing for myself and other riders to post their videos, pictures, and get the up-and-comers some exposure along the way with no bullshit ads. I've kept it that way and have made a lot of mates along the way. The Bassani crew have been strong friends and supporters of the build, and I can't say enough about the legends and the quality of their work.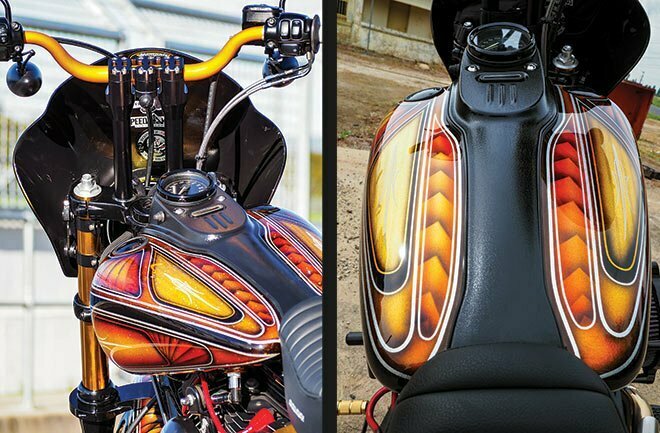 Memphis Shades, Progressive Suspension, Hard Case Performance, Saddlemen, Speed-Kings Cycle, Simpson Helmets, Big Bear Choppers, Topline Tubes, and Rebel Supply Company all have been strong supporters and have contributed to the build and helped take it to the next level.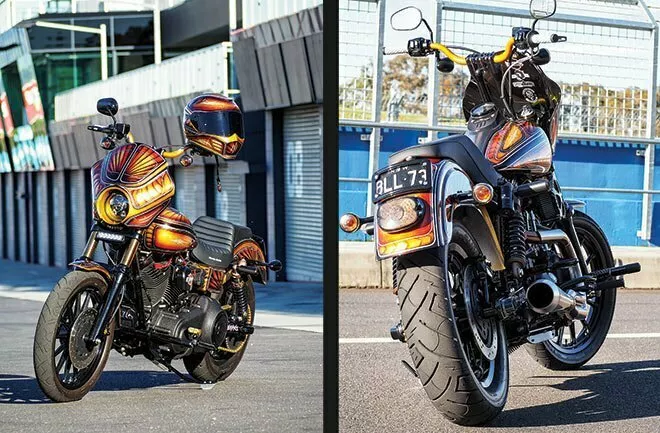 | General | |
| --- | --- |
| Owner | Josh James |
| Shop | Josh James |
| Shop Phone | N/A |
| Website | Instagram @hd_hooligans |
| Year/Make/Model | 2006/Harley-Davidson/Dyna FXDB |
| Fabrication | Josh James |
| Build Time | 3 months |
| Engine | |
| --- | --- |
| Year/Type/Size | 2006/H-D/96 in. |
| Builder | H-D |
| Cases | H-D |
| Cylinders | H-D |
| Heads | H-D |
| Rocker Boxes | Roland Sands Design |
| Cam(s) | H-D |
| Throttle Body | H-D |
| Air Cleaner | Roland Sands Design |
| EFI Controller | Dyno Jet Power Commander 3 |
| Exhaust | Bassani Road Rage 3, Stainless |
| Transmission | |
| --- | --- |
| Year/Type | 2006/H-D |
| Gears | 6-speed |
| Clutch | H-D |
| Primary Drive | H-D |
| Frame | |
| --- | --- |
| Year/Type | 2006/H-D |
| Rake/Stretch | Stock |
| Suspension | |
| --- | --- |
| Front End | Progressive Suspension Heavy Duty springs, Speed Merchant adjustors, 49mm Gold Topline Tubes, 25 weight oil |
| Length | Stock |
| Triple Trees | H-D powdercoated black |
| Swingarm | H-D |
| Rear Shocks | 12.5 Progressive Suspension Bronze 970 Piggyback series |
| Wheels, Tires, and Brakes | |
| --- | --- |
| Front | |
| Builder/Size | H-D Dyna Lowrider 13 spoke/16 in. |
| Tire/Size | Shinko 777/100/90/16 |
| Calipers | H-D powdercoated |
| Rotors | H-D |
| Rear | |
| Builder/Size | Dyna Lowrider 13 spoke/16 in. |
| Tire/Size | Shinko 777/150/80/16 |
| Caliper | H-D powdercoated |
| Rotor | H-D |
| Pulley | Hard Case Performance Lock-r kit |
| Sprocket | PBI 51/24 |
| Finish/Paint | |
| --- | --- |
| Manufacturer | Painthuffer Metalflake, DNA candies, PPG Deltron clear coat |
| Colors | Sahara Yellow/gold to orange fade |
| Paint/Graphics | Smith Concepts custom design |
| Powdercoating | Gloss Black |
| Accessories | |
| --- | --- |
| Front Fender | H-D |
| Rear Fender | H-D |
| Gas Tank | H-D |
| Dash | H-D |
| Gauges | H-D |
| Handlebars | Hard Case Performance 9.5 risers with ProTaper Mini Highs |
| Grips | ProTaper Pillow Tops |
| Mirrors | H-D |
| Hand Controls | H-D |
| Foot Controls | Stroker billet shift peg, modified H-D brake pedal |
| Pegs | Biltwell Rocker |
| Headlight | Speed-Kings Cycle Sunlight Creator, Speed-Kings 6 in. LED lightbar |
| Taillight | Speed-Kings Cycle |
| Turn Signals | H-D |
| License Mount | Kuryakyn |
| Seat | Saddlemen step-up tuck and roll |