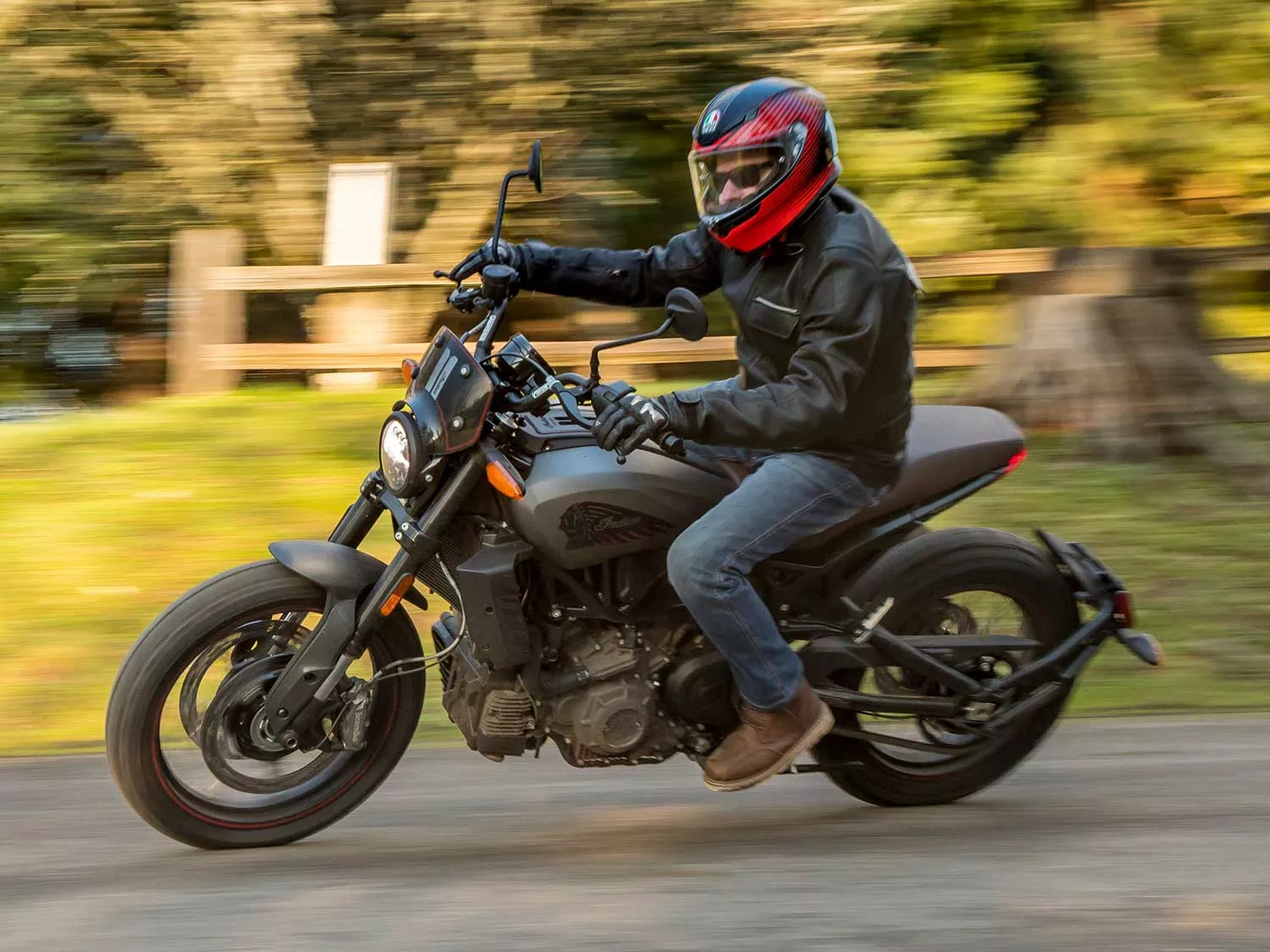 When Indian announced the FTR Rally model a few months back and said it was destined only for Europe, we sorta sulked, but also held out some hope the thing would come Stateside eventually. And wouldn't you know it, the company recently announced it would be bringing the new scrambler-styled model to North America for 2020 as well. The best part? We unexpectedly lucked into a quick ride on the newest FTR just after Indian showed it off in-person at this year's The One Show in Portland, Oregon.
Related: 2020 Indian FTR Rally First Look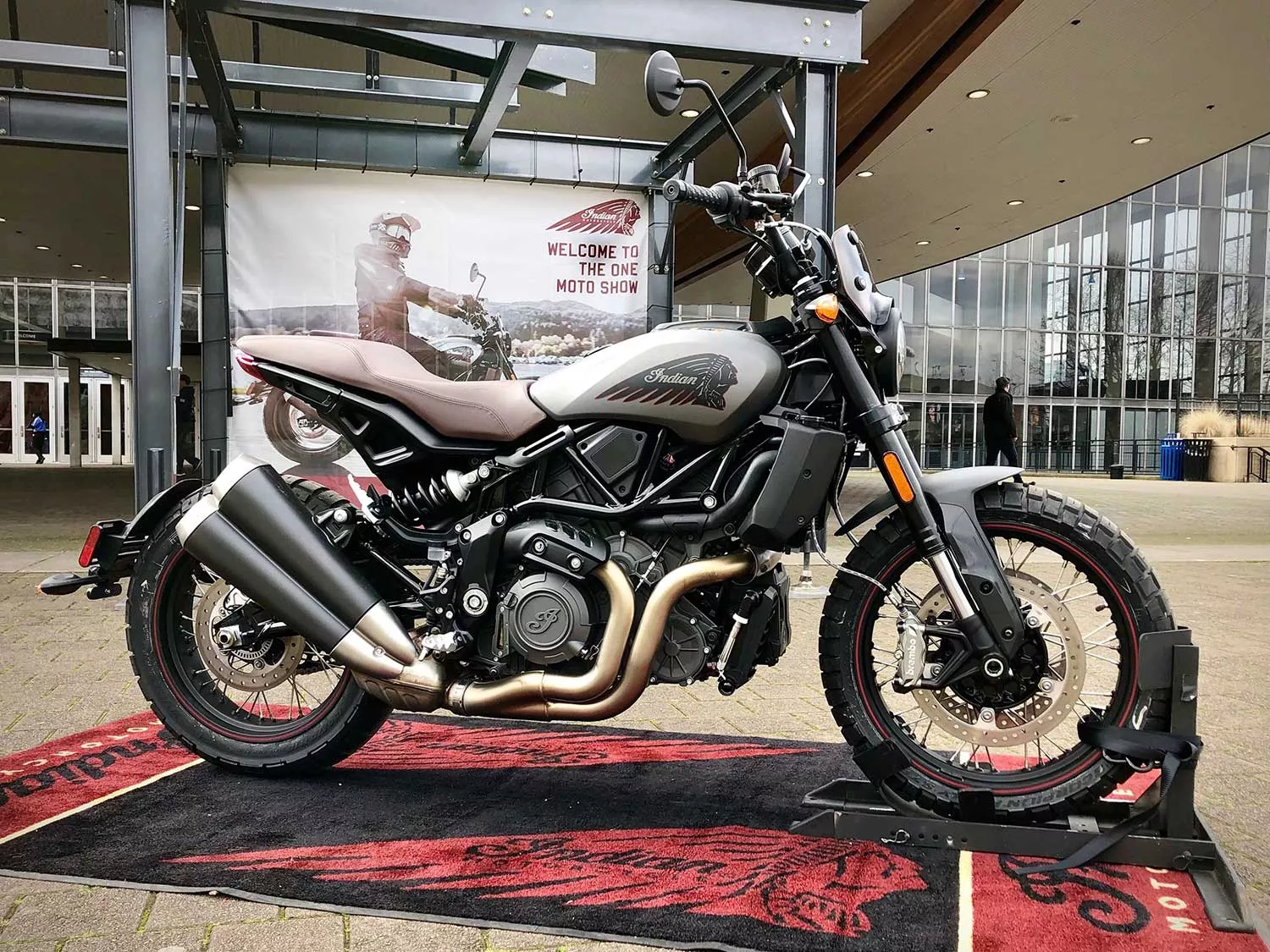 First, a quick refresh on what this bike's about. The bones of the 2020 FTR Rally are still that of a base 2019 FTR, but they're gussied up with what Indian's calling "authentic retro styling," which in this case includes many of the bits used on the (US) Rally Collection introduced last year. Because it riffs on the lowest-spec FTR model, you'll get an analog speedometer on the FTR Rally instead of the touchscreen display found on the S, and no traction control or ride mode options either (though you still can count on lean-sensitive ABS). The Rally retails for $13,499, so it slots between the top-line S ($14,499) and the base FTR 1200 ($11,999).
Related: Indian Announces Accessory Kits For FTR 1200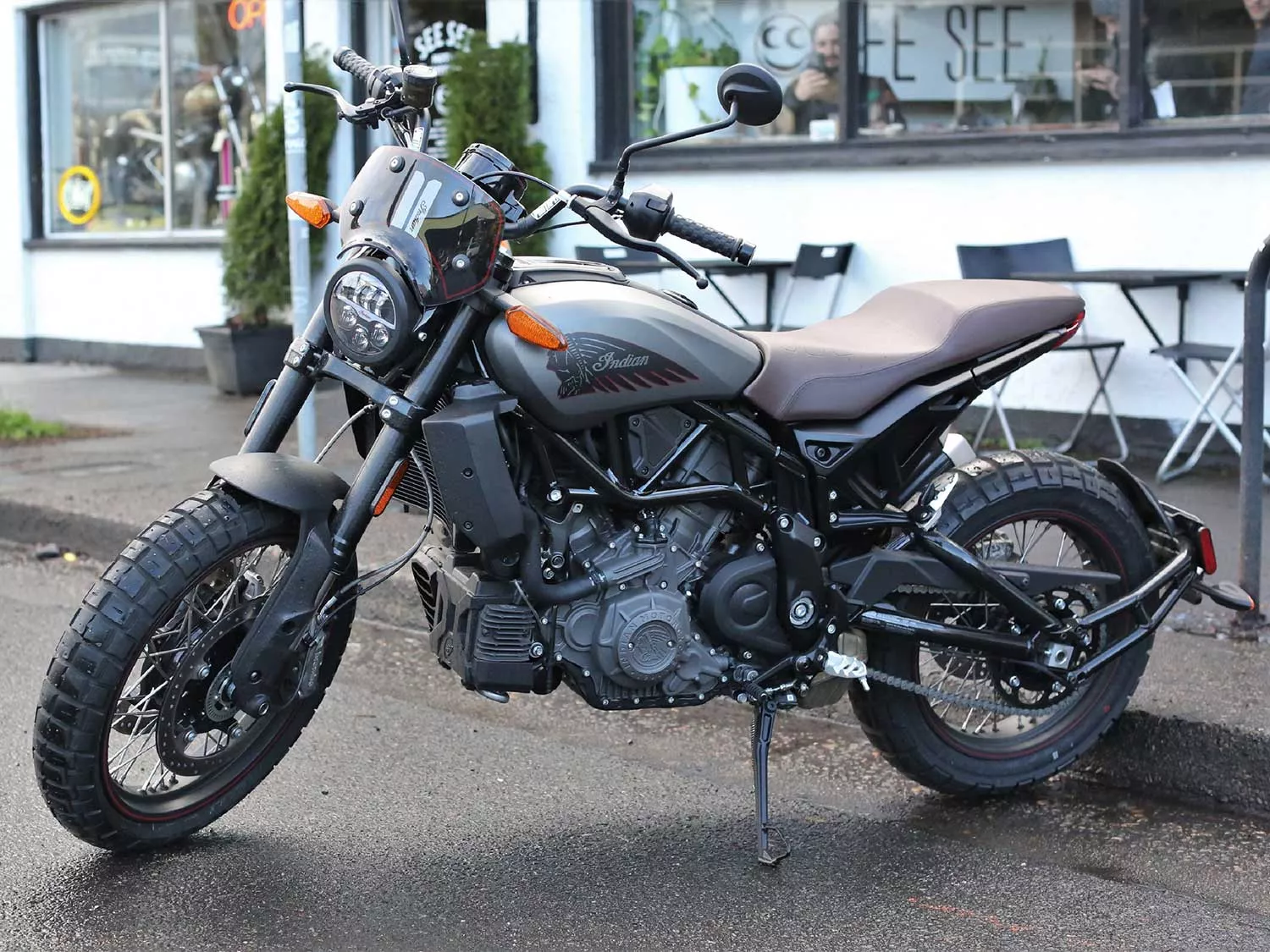 The Rally's scrambler vibe hits hardest with the new aluminum spoked wheels (though in the same 19-inch front, 18 rear sizes) which get a red pinstripe and wear super-chunky Pirelli Scorpion Rally STR tires. Other accessories distinguishing the Rally from its stablemates include the 50mm-taller ProTaper handlebar, a short "rally" screen, and slightly stepped brown saddle (Indian calls this vinyl-clad perch an Aviator saddle, don't ask me why). That's the cosmetic stuff. The beating heart remains a meaty 1,203cc V-twin engine with a claimed 120-plus hp and loads of low-end punch, housed in a black steel trellis frame. Suspension setup carries over from the base model as well, with a fully adjustable inverted fork and a rear monoshock (preload and rebound adjustment only). Radially mounted dual Brembos also provide stopping power up front, so all in all, there hasn't been any sacrifice in the name of style on the 2020 Rally.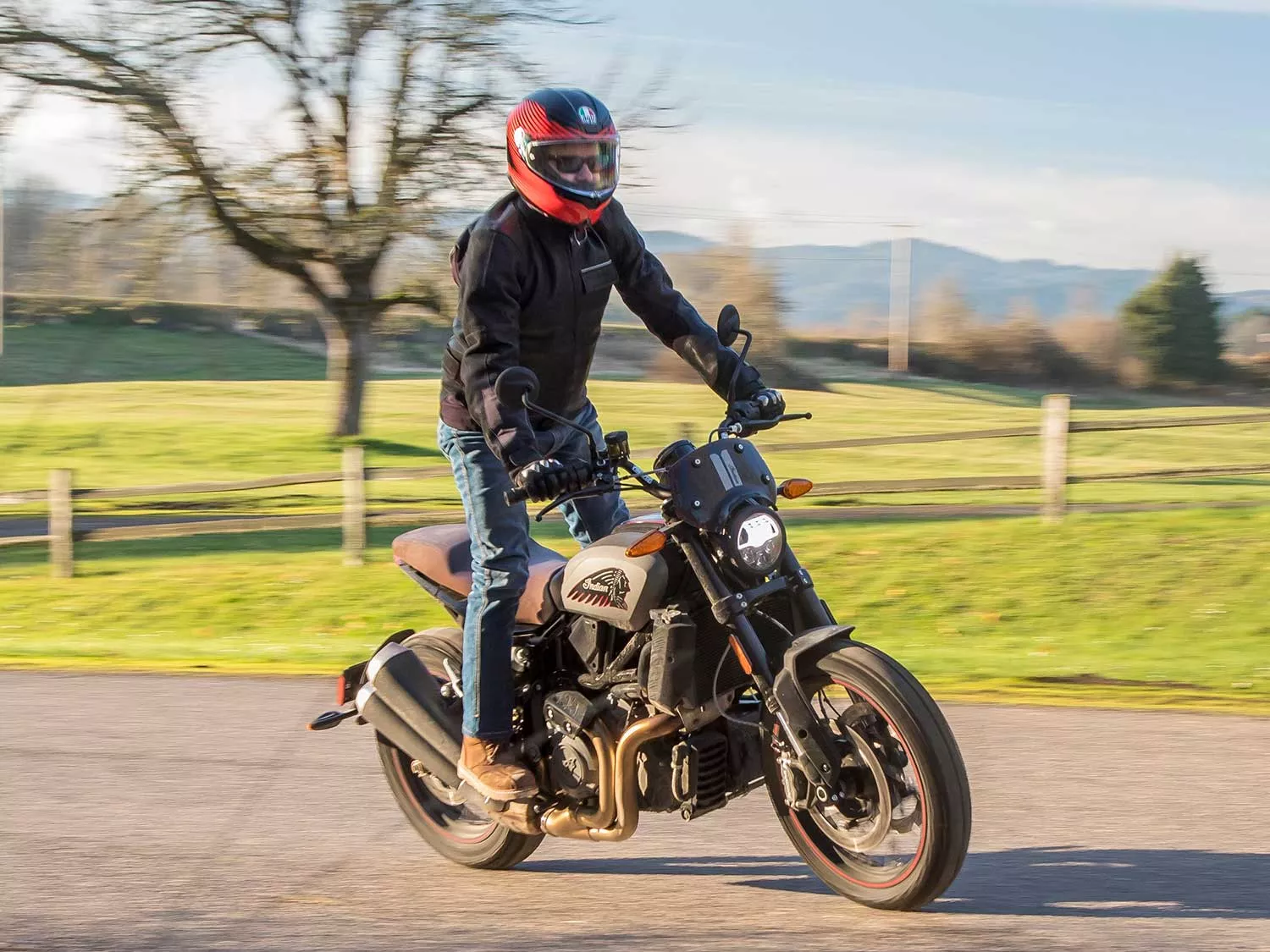 In any case, I have to admit the Rally's trim looks damn sharp. The Titanium Smoke paint job is killer in person, with the full Indian headdress graphic feeling appropriately subdued. It was striking how large an effect a few well-placed changes made between models; the Rally literally carries just new paint, tires, and bars. That brown seat gives a nice pop to the matt gray paint, with the black frame tying it all together. Just don't look for serious guards, high-mounted pipes, engine protection, or the like—that's not what this bike is about. It's a 527-pound streetbike with tires better suited to light-duty off-roading and a graphic scheme that'll probably appeal to a certain urban demographic.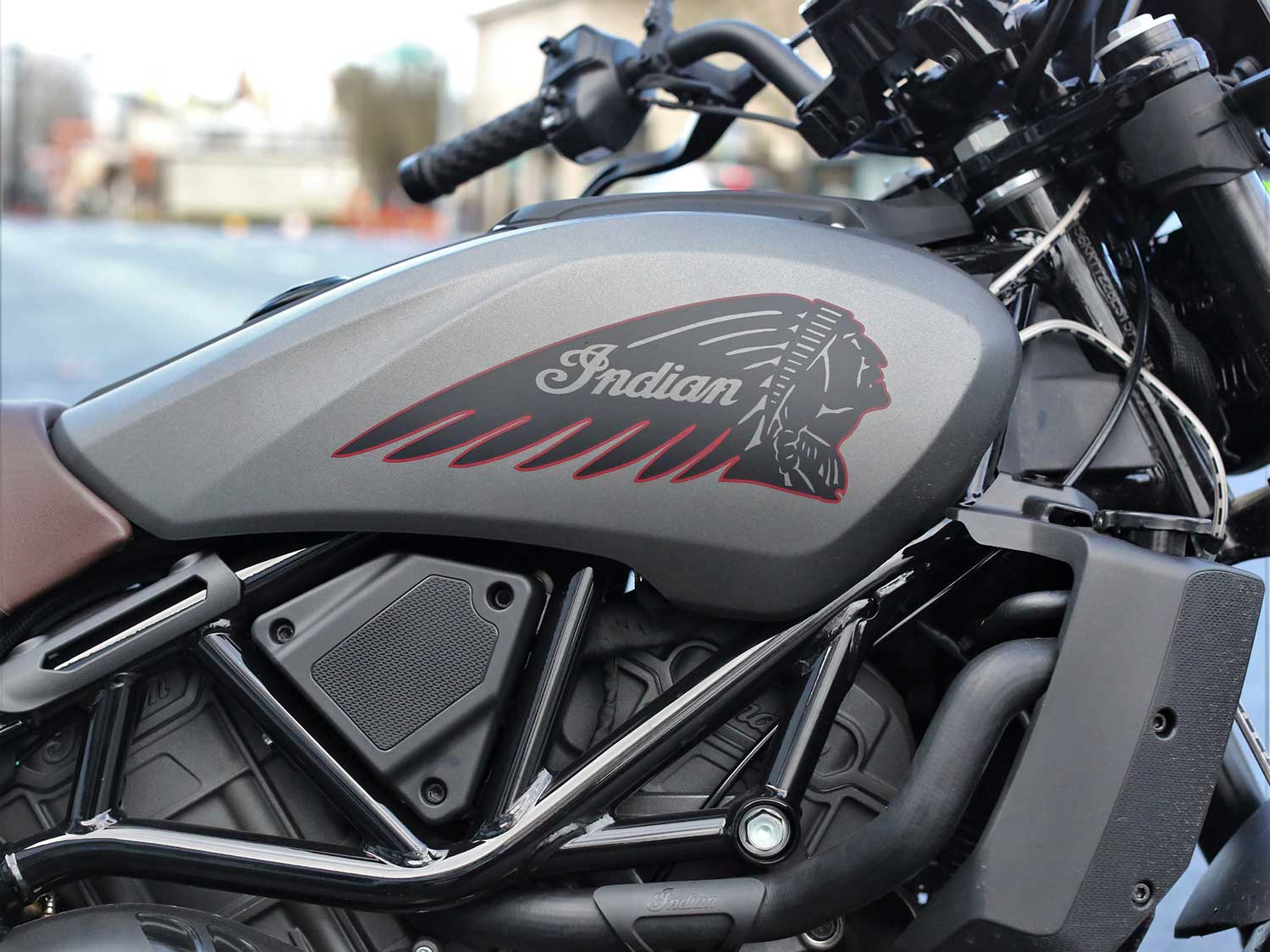 When the Indian rep I bumped into at The One Show jangled a set of keys in front of me, I was more than ready to throw a leg over the Rally. Turns out I had no problem settling into that Avia—er, brown saddle pretty easily; Indian lists it as 33.1 inches tall, but it seemed way lower (and more manageable). The taller bar hit my hands just right for a more upright riding position, and felt like a better angle for round-town ripping. Cruise control, a USB port, and LED headlight comes on the FTR as well as the base model, so I was all set.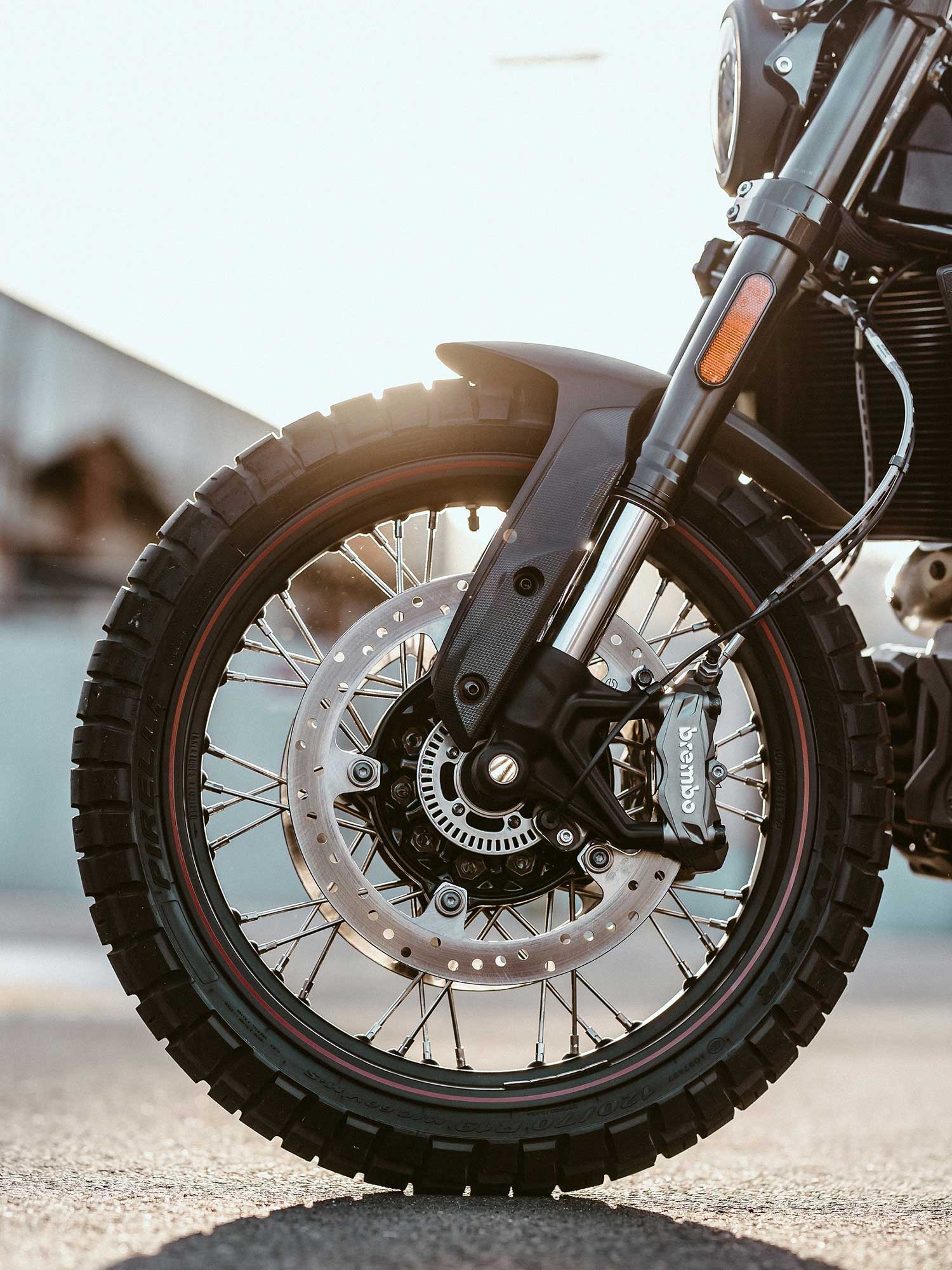 Turning the key and punching the starter, you can't help but revel in the growl pumping out of the twin pipes, with a touch of vibes coming from the 60-degree V-twin. Ten minutes into my route along the moss-encrusted esses of Northwest Portland's winding Germantown Road and I realized the Rally's ergos were a way better fit for back-road bombing than the base model's—at least for me. The taller bar combined with the neutral-footpeg upright position are comfortable yet put you in a stance that gives you great leverage and control while offering a commanding view of the road. It all made for a solid rider triangle from where I could plan my next turn, and because the bike carries its weight well, it feels like a much lighter machine at speed (even though it's slightly heavier than the base model). The Rally didn't fight back when initiating turns, with neutral steering along the way and the chassis holding a steady line throughout. On drier stretches of road where we'd dig deeper into turns, you could feel the tires' profiles a bit, but we didn't encounter any missteps (though the lean-sensitive ABS did come in handy once or twice) and cornering clearance was more than ample. With the same quick throttle response as its FTR brothers, the Rally readily squirts out of the turns, and even the chunky tires stuck better than expected in the sometimes moist corners (they ride more like street rubber, though expect some movement with that blocky tread pattern). The 123 horses on tap (111 on the Cycle World dyno) are almost immediately accessible at the twist of a wrist, and they responded eagerly at most any rpm.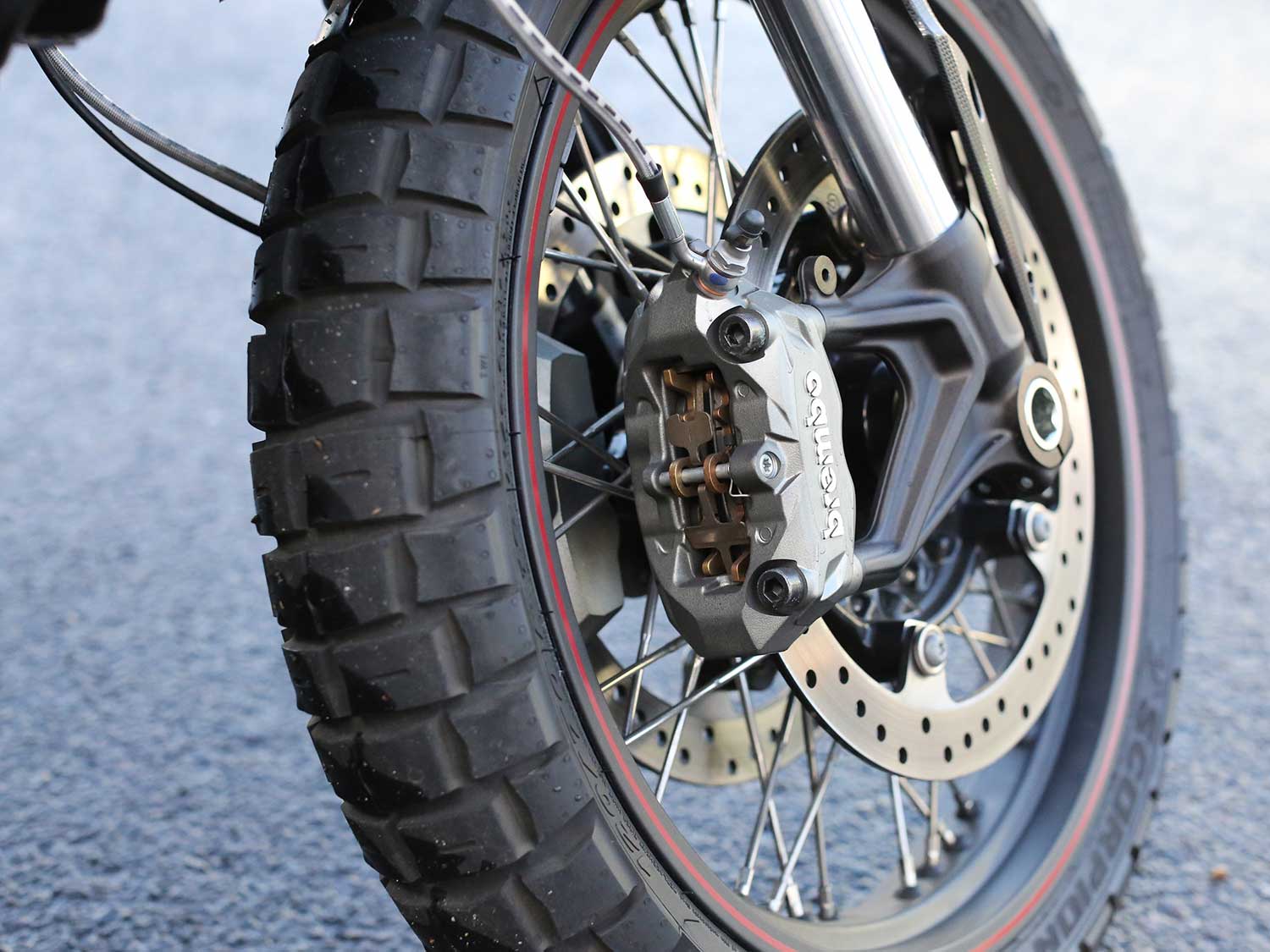 There were some niggles though. I found the bike occasionally coughing and sputtering in the first 20 minutes or so of the ride, but fueling seemed to settle down appreciably as things warmed up. I'll chalk that up to the fact that these were preproduction models; the Indian rep made it clear that's what we were on. Ride quality felt nicely balanced in general, but I would have liked some more compression damping up front, for the rutted urban portion of our 55-mile route. Other dings include fuel capacity—that small 3.4-gallon tank means range for this somewhat heavy bike can be a downer—and a license plate mount that's downright hideous. Fortunately Indian does offer a relocation kit, which of course will cost you.
The bottom line is the new FTR Rally was an unmitigated blast on our short trip. The subdued packaging and overall vibe will appeal to some folks, even if the Rally's price, weight, and range won't. If you keep in mind that the FTR Rally is mostly a styling exercise—along the lines of the BMW R nineT Scrambler (but more affordable)—and, like most scramblers, is made to spend more time on road than off, it'll probably make sense. It makes for a solid back-road ripper and a decent enough forest road scrambler, and personally, I'm looking forward to another ride.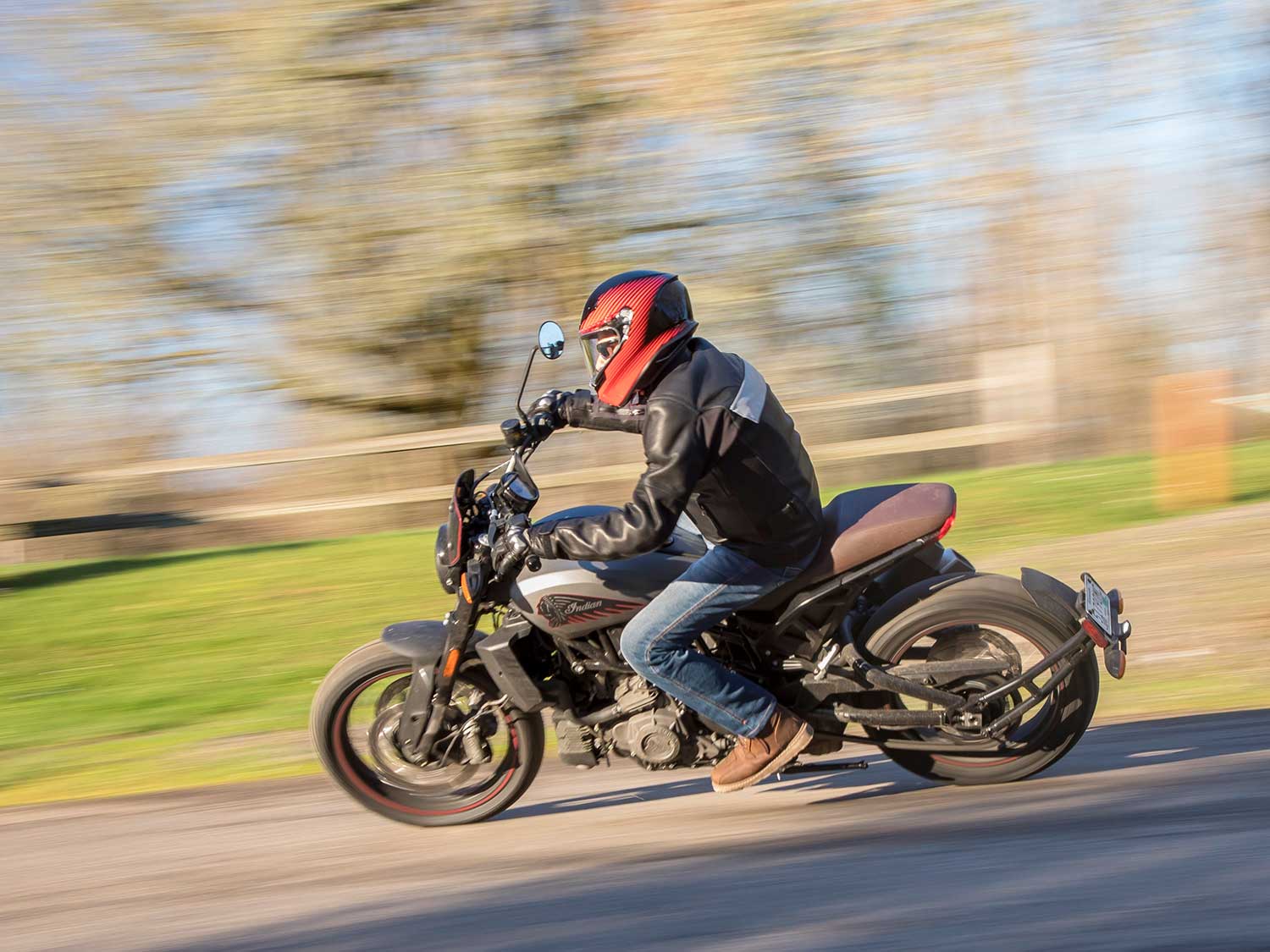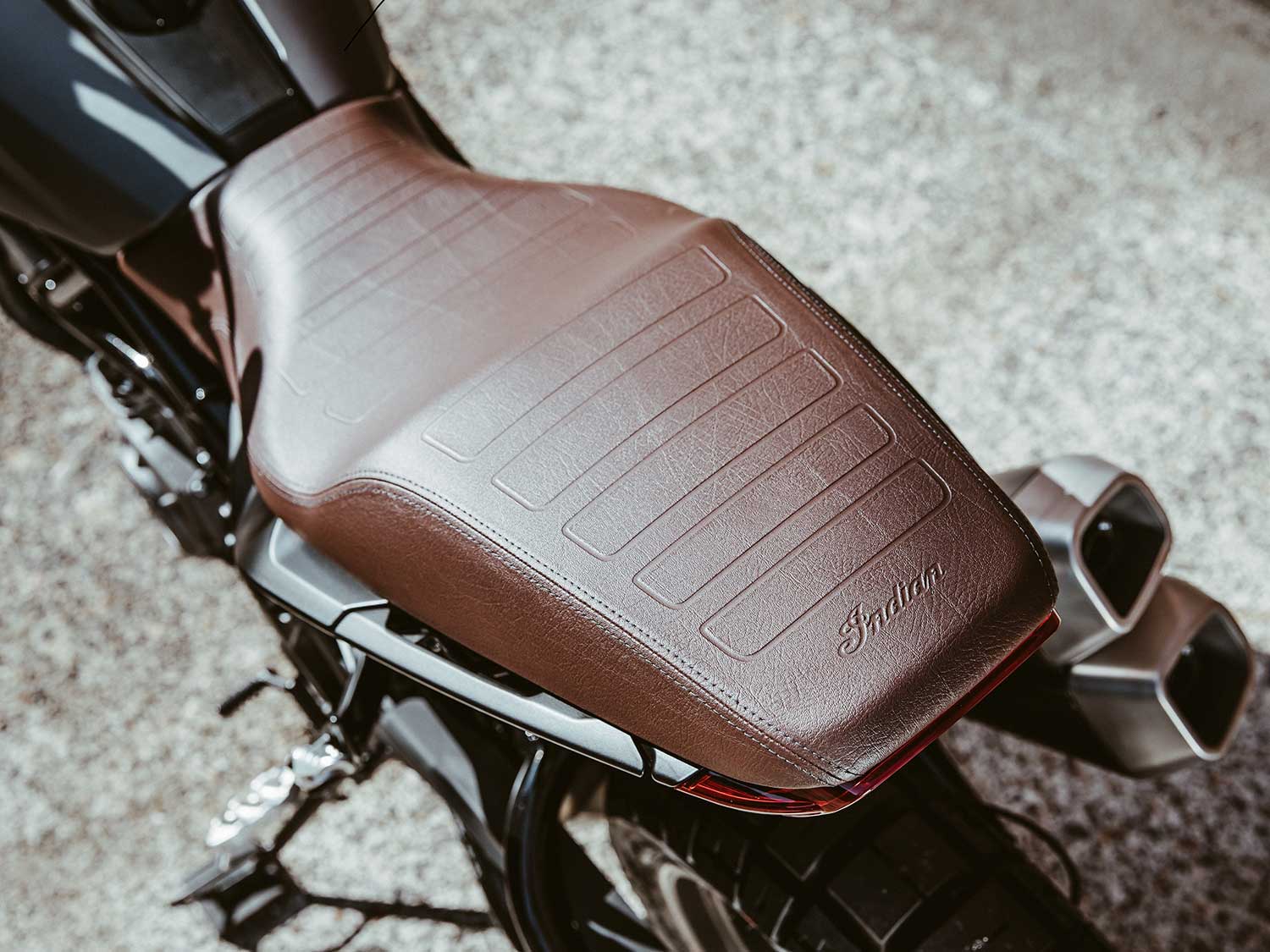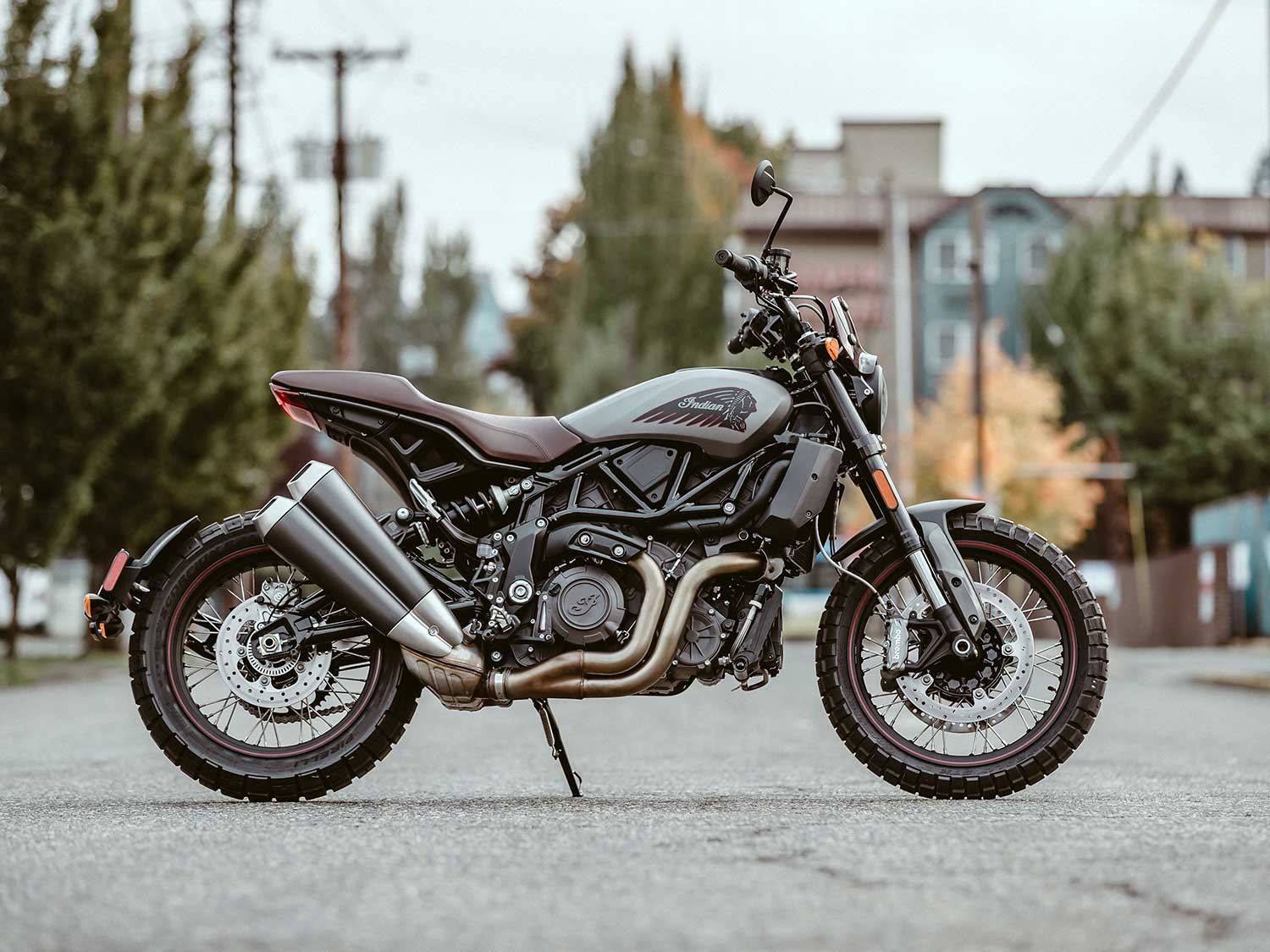 2020 Indian FTR Rally Specifications
| | |
| --- | --- |
| MSRP | $13,499 |
| Engine | 60-degree liquid-cooled V-twin |
| Displacement | 1,203cc |
| Transmission/Final Drive | 6-speed/chain |
| Fuel system | Electronic fuel injection |
| Claimed Horsepower | 123 hp @ 8,250 rpm |
| Claimed Torque | 87 lb.-ft. @ 5,900 rpm |
| Frame | Tubular steel trellis |
| Front Suspension | 43mm inverted cartridge fork; 5.9-in. travel |
| Rear Suspension | Monoshock, adjustable for preload and rebound; 5.9-in. travel |
| Front Brake | Brembo Monoblock 4-piston calipers, dual 320mm discs w/ ABS |
| Rear Brake | Brembo 2-piston caliper, 260mm disc w/ ABS |
| Rake/Trail | 26.3°/5.1 in. |
| Wheelbase | 60.0 in. |
| Seat height | 33.6 in. |
| Fuel Capacity | 3.4 gal. |
| Claimed Wet Weight | 527 lb. |
| Contact | indianmotorcycle.com |