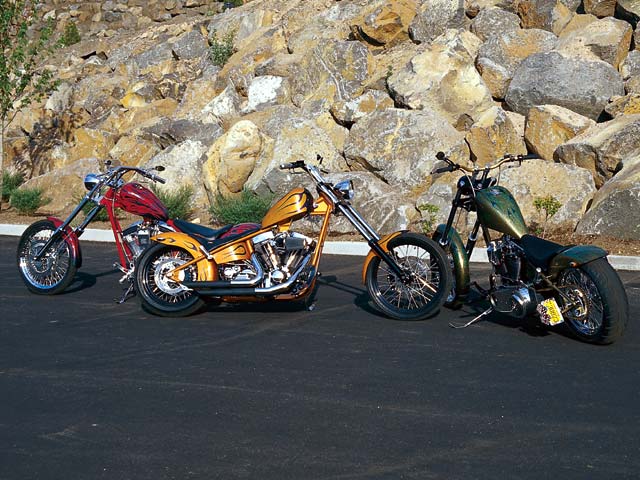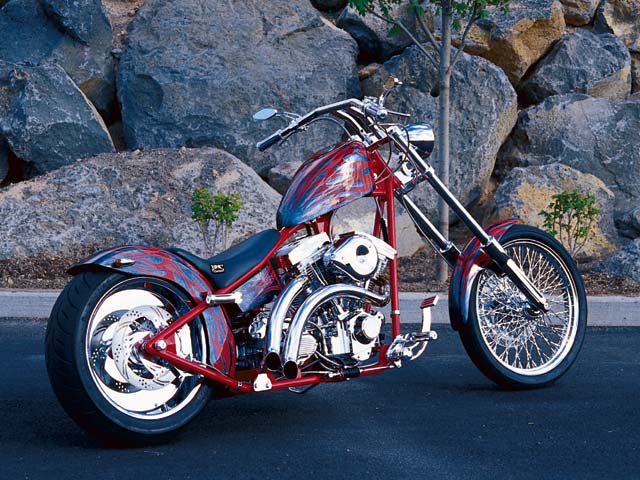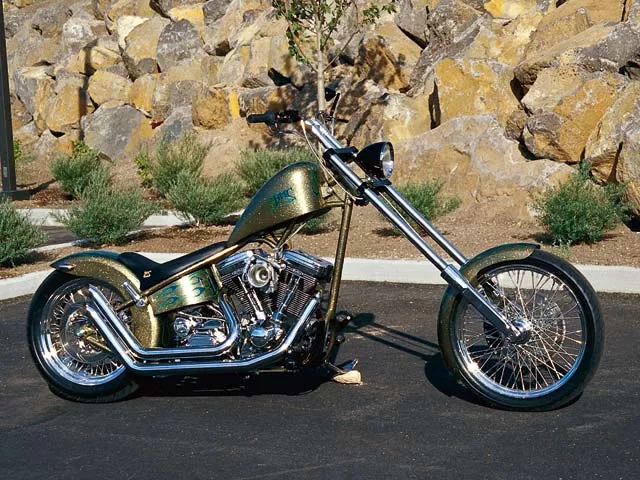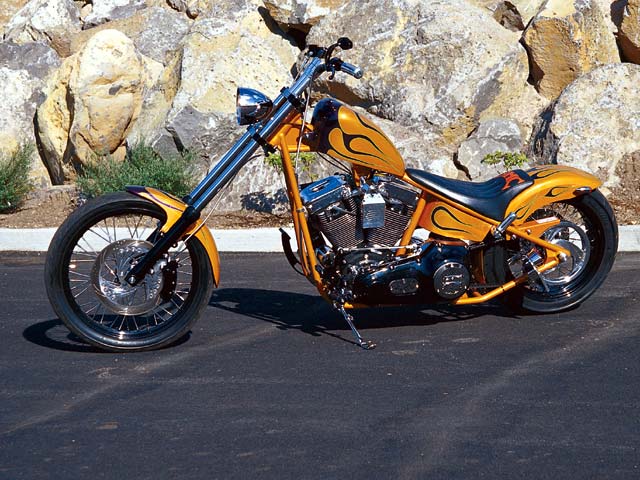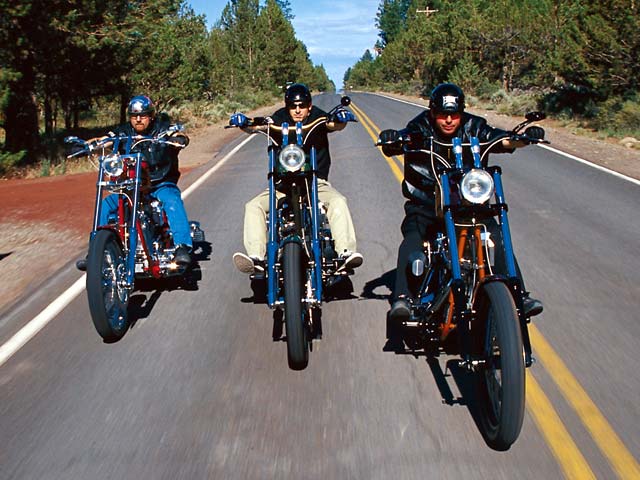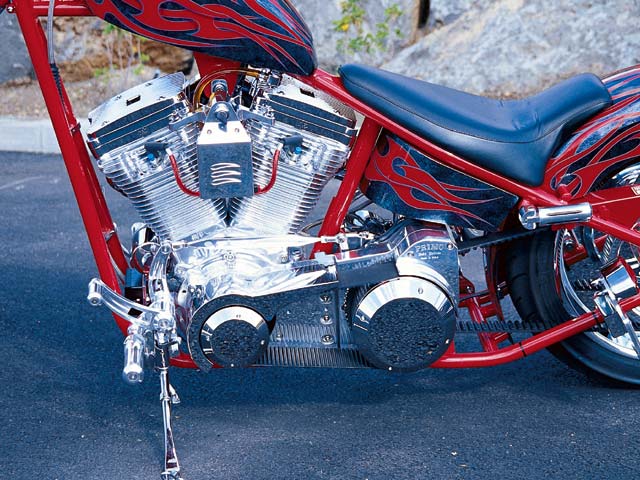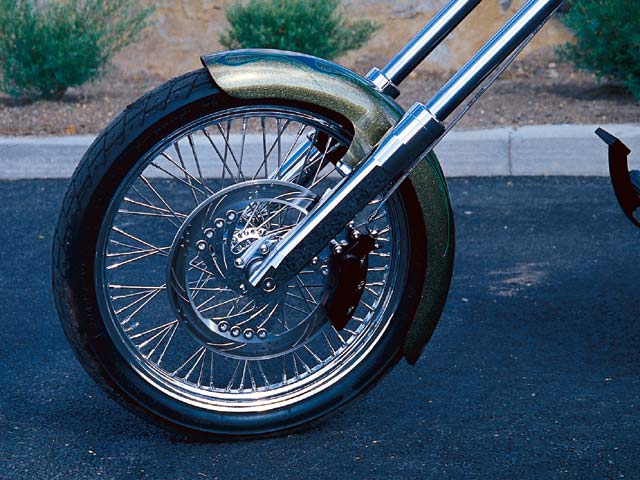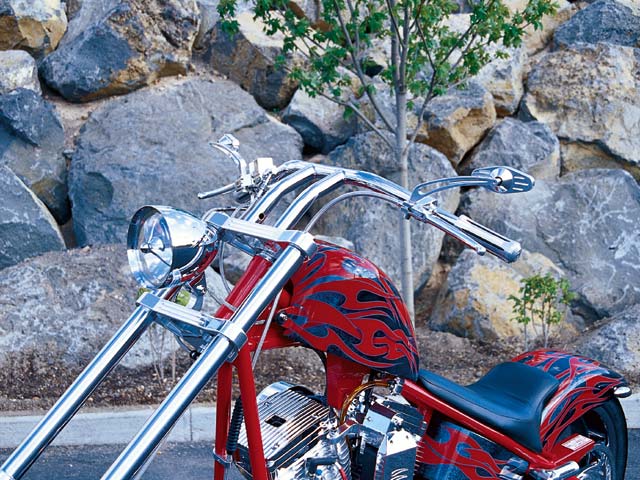 There's nothing like loving your job. When it comes down to it, getting up in the morning and being jazzed about going to work is a really good thing — and it certainly beats the alternative.
There's a lot of job-loving going on in Oregon — Bend, Oregon, to be precise; home of the BMC Motorcycle Company — a small bike company with big success these days. One of the keys to the company's success is having great employees that not only dig their jobs, but eat, drink, and breathe motorcycles.
No, make that BMC motorcycles.
All of the bikes you see here are BMC employees' personal rides. These guys feel so strongly about what they do, they decided there was no better way to express their faith in and devotion to their company than to ride what they build. Chris Neal's Burnt Orange Notorious 918 was the very first chopper to be built at BMC's facility. This particular motorcycle was the company's test bike for emission compliance. Upon its return, Chris asked Big Mike if he would sell him the bike. BMC's owner responded with an enthusiastic yes.
Meanwhile, two of BMC's bike builders, Rick Keen and Gabe Flegal, were going back and forth about how cool it would be to ride bikes like the ones they hand-build for their customers. So they ran the idea by Big Mike. Not one to let a good idea get by him, he agreed. And before they had their next pay checks, Rick and Gabe were planning their bikes.
Rick really dug the old-school looks of Chris's 918 and decided to follow his lead. Gabe, on the other hand, wanted to go with a different look than the other two, so he pulled a No Limits single downtube frame out of the prototype bin.
All three bikes share long extended front-ends. Rick and Chris both went with 4-degree OMP trees and 8-inch-over CCI tubes. Gabe built his frontend by combining 12-inch-over Forking By Frank tubes, Pro-One lower legs, and a set of black 6-degree OMP trees.
With the exceptions of Rick's chromed solid RevTech rear wheel and his Road Wings 80-spoker up front, the wheels on these bikes are exclusively from DNA and are of the spoke persuasion. Sticking with a known commodity on BMC's bikes, the trio went with OMP six-piston calipers up front and four-piston calipers out back. Rotors are OMP floating units all around, as are Avon tires.
With the bikes rolling around, it was time to bolt some horsepower into the frames. Chris' original chopper was equipped with one of the company's standard RevTech 100-inchers. Pleased with the way the bike performed, Chris left the motor alone with the exception of an addition of a Forcewinder air cleaner and a set of flat, black Samson Slasher pipes.
Knowing how powerful and reliable the 100-inch mill is, Gabe figured if it was good enough for his customers, it sure as hell was good enough for him. After installing a Crane HI-4 ignition and Samson pipes, the motor was ready to be mated to the RevTech five-speed gearbox via the Primo Rivera 3-inch open belt primary. Considering these three guys are of the competitive nature, Rick made a plan to be sure his bike would get to its destination before the other two.
The heart of his plan: a growling 120-inch Merch motor, complete with a Red Shift cam, S&S; Super G carb, Spyke ignition, and WCC pipes. Keeping with the old-school theme, Rick followed Gabe's lead and went with the open primary drive from Primo. The wide belt spins a Primo Rivera clutch that is connected to a RevTech five-speed polished transmission.
All three bikes are fit with BMC front and rear fenders and include internal struts, although length and contour varies from bike to bike. Gas tanks for the bikes began as XL-style tanks; from there, Gabe's was stretched 2 inches, while all of them had their fuel valves relocated to ensure efficient use of the tanks' capacity once mounted on the backbones.
After seeing so many completed bikes roll out of the shop, our trio had very different ideas on paint and graphics. Rick's bike got a healthy dose of red powdercoat before flames of House of Kolor Charcoal Marbelizer were applied. Gabe decided to contrast the many black ano pieces on the bike by laying a basecoat of gold metalflake — not just any flakes would do, they needed to be big 'ol suckers to really make the light dance. Residing on the flaked surface are some tasteful blue flames highlighted with green pinstriping.
Although Chris' bike already had some good paint on it, he figured a paintjob good enough for EPA testing was not worthy of his daily rider. To remedy the situation, the bike was stripped to bare metal and treated to a Burnt Orange base that is home to slender purple flames outlined in green.
Final assembly included different parts used to give each bike a character of its own. Gabe finished things by installing Choppers Inc. 6-inch six-gun risers affixed with BMC motocross-style bars, black ano OMP hand controls, and black rubber motocross grips. A DNA and BMC taillight lets motorists know Gabe's intentions as he sits on the BMC/Corbin seat and rests his feet on the OMP foot controls.
Meanwhile, Rick was busy bolting BMC bars, risers, and a Headwinds headlight to the front of his bike. Down below are OMP pegs and controls, and out back are Pro-One turn signals as well as a BMC cateye taillight/license mount.
Chris re-used the majority of the original controls, including all of the OMP controls, DNA headlight, and Choppers Inc's. original six-gun risers. In addition, the bike has a BMC license mount and a special seat made by Corbin exclusively for BMC.
Talk about pride of ownership — these guys put their money where their mouths are…every day.