This build was one that we at Bonneville Baggers are very proud of. We started with a 2001 Road King FLHRI that we bought unsure of what we were going to do with in the beginning. My right-hand man Jared "Dirty" Dursteler and I are always having brainstorming sessions, but we still didn't have an idea that stood out. That got me thinking, and the thought of a lowrider tribute bike came to mind. I was talking with Pete Macias from Pegasus Car Club about the idea of a tribute bike to a sick-ass lowrider. The car I picked was a 1961 Chevrolet Impala convertible called "Stairway 2 Heaven." I started talking with Pete and exchanged ideas back and forth for months through the entire build.
First thing I did was place a call to the mero mero master of pintura and striping king "El Jefe" Danny D. in Baldwin Park, California. I explained to him what I wanted to do and he thought it was a sick idea. With the master on board, we were off to do what we do: OG gangster lowrider-style Viclas. Danny enlisted the help of the fabrication team at Engle Bros. from Fountain Valley, California. They stretched the fenders 3-1/2 inches in the front and 5-1/2 inches in the rear.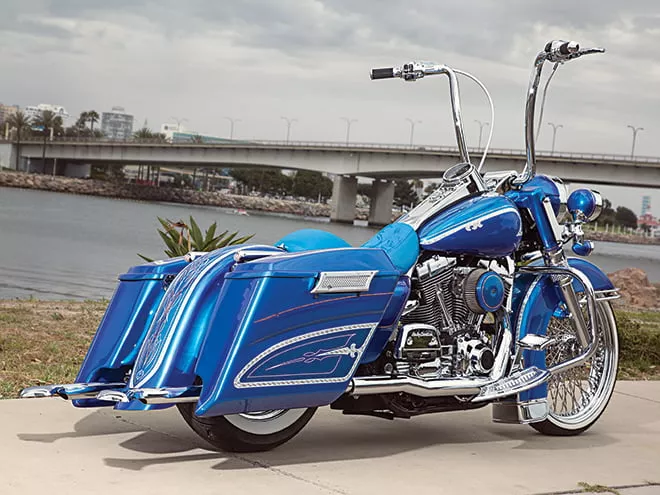 Now to order the parts. After they arrived, it was time to crack the engine open and see what we were working with. Stock is no good, so we tore it all down and did a fresh engine rebuild with new cams and 95ci pistons jugs as well—sent out to be diamond cut for that extra bling. We like to say our Viclas don't just look good but they move too. Therefore, they're both show and go.

Next, we redid the front end with a single caliper conversion, 13-inch spoke-cut rotor, HHI six-piston caliper, 21 x 3.50 twisted spoke wheel, and new Metzler rubber front and rear. We added Carlini 18-inch Gangster Apes with internal throttle from Exile Cycles with Arlen Ness controls for that clean look. Engle Bros. made a custom set of slip-ons with 42-inch-long clamshells. We also had Joe from California Upholstery make a custom seat with the exact same material and pattern as the car.

When Danny D. said the paint was ready, we jumped in the car to drive to California. We don't trust shippers, since something always happens. A few weeks later we killed it at the Torres Empire Show in Los Angeles. Everyone, including my dad, came out to support me.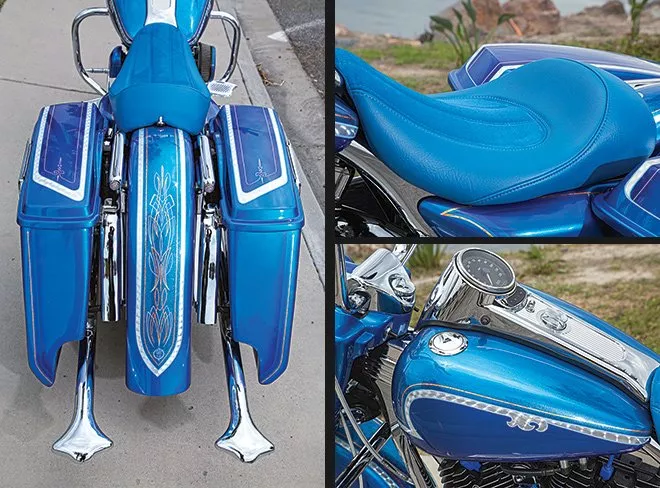 I would like to thank my boy Pete "Stairway 2 Heaven," El Jefe/el mero mero/the master of pintura Danny D., my lovely wife Yolanda, my kids, my right-hand man Jared "Dirty "Dursteler," and the Bonneville Baggers guys Paul and Digger for all the help and support at the shows. Also thanks to John Z. for always looking out and shooting our builds.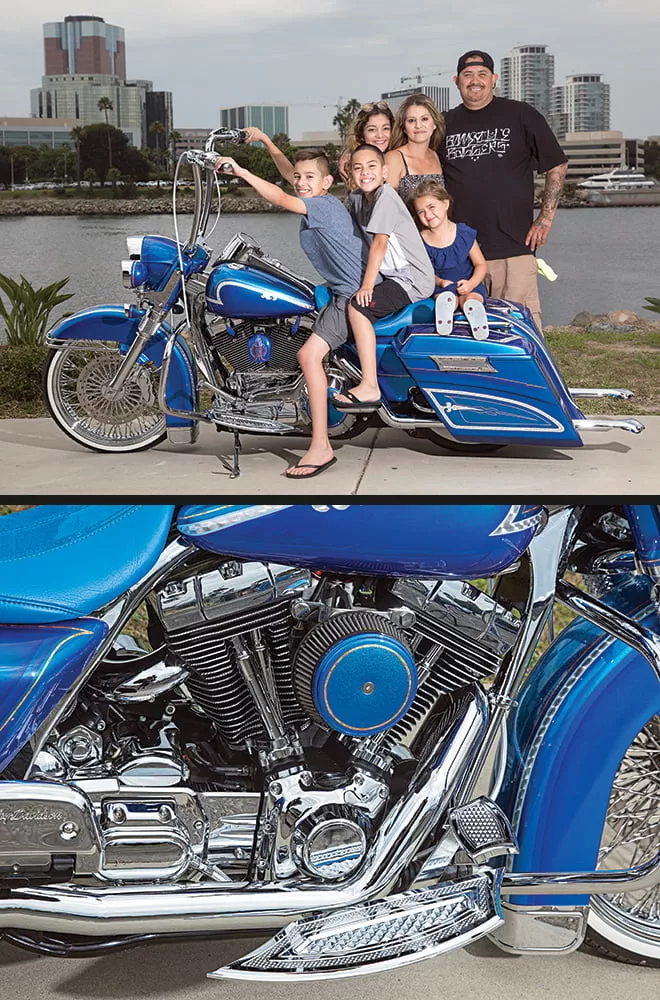 | Specifications | |
| --- | --- |
| General | |
| Owner | Manny Armendarez |
| Shop | Bonneville Baggers |
| Shop Phone | (208) 881-2517 |
| Website | bonnevillebaggers.com |
| Year/Make/Model | 2001/Harley-Davidson/Road King |
| Fabrication | Engle Bros. |
| Build Time | 9 months |
| Engine | |
| Year/Type/Size | 2001/H-D/95ci |
| Builder | Bonneville Baggers |
| Cases | H-D |
| Cylinders | H-D |
| Heads | H-D |
| Rocker Boxes | H-D |
| Cams | H-D |
| Throttle Body | H-D |
| Air Cleaner | Arlen Ness Stage 1 Big Sucker |
| EFI Controller | H-D |
| Exhaust | True Dual Headers with custom fabricated 42-in. clamshell slip-ons By Engle Bros. Fabrication |
| Transmission | |
| Year/Type | 2001/H-D |
| Gears | 5-speed |
| Clutch | H-D |
| Primary Drive | H-D |
| Frame | |
| Year/Type | 2001/H-D |
| Rake/Stretch | Stock |
| Suspension | |
| Front End | H-D |
| Length | Stock |
| Triple Trees | H-D |
| Swingarm | H-D |
| Rear Shocks | Bonneville Baggers Air Ride |
| Wheels, Tires, and Brakes | |
| Front | |
| Builder/Size | DNA/21 x 3.5 |
| Tire/Size | Metzler ME 880 MH90 21 |
| Calipers | HHI 6-piston |
| Rotors | 13-in. custom-cut spoke |
| Rear | |
| Builder/Size | DNA/18 in. |
| Tire/Size | Metzler ME 880 130/90/16 |
| Caliper | H-D |
| Rotor | H-D |
| Pulley | H-D |
| Finish/Paint | |
| Manufacturer | Axalta |
| Colors | Danny D. Special Blend |
| Paint/Graphics | Danny D. |
| Plating/Polishing | Rayco Plating |
| Accessories | |
| Front Fender | Custom Stretch Engle Bros Fab 4-1/2 |
| Rear Fender | Custom Stretch Engle Bros Fab 5-1/2 |
| Gas Tank | H-D |
| Dash | Road King Custom |
| Gauges | H-D flush-mount gauges and caps |
| Handlebars | 20-in. Carlini Gangster Apes |
| Grips | Arlen Ness |
| Hand Controls | Arlen Ness Rad III |
| Foot Controls | Eddie Trotta Diamond Cut Spiked |
| Floorboards | Eddie Trotta Diamond Cut |
| Headlight | H-D |
| Taillight | Shot Gun LED |
| Turn Signals | Shot Gun |
| Seat | Big Joe California Upholstery |