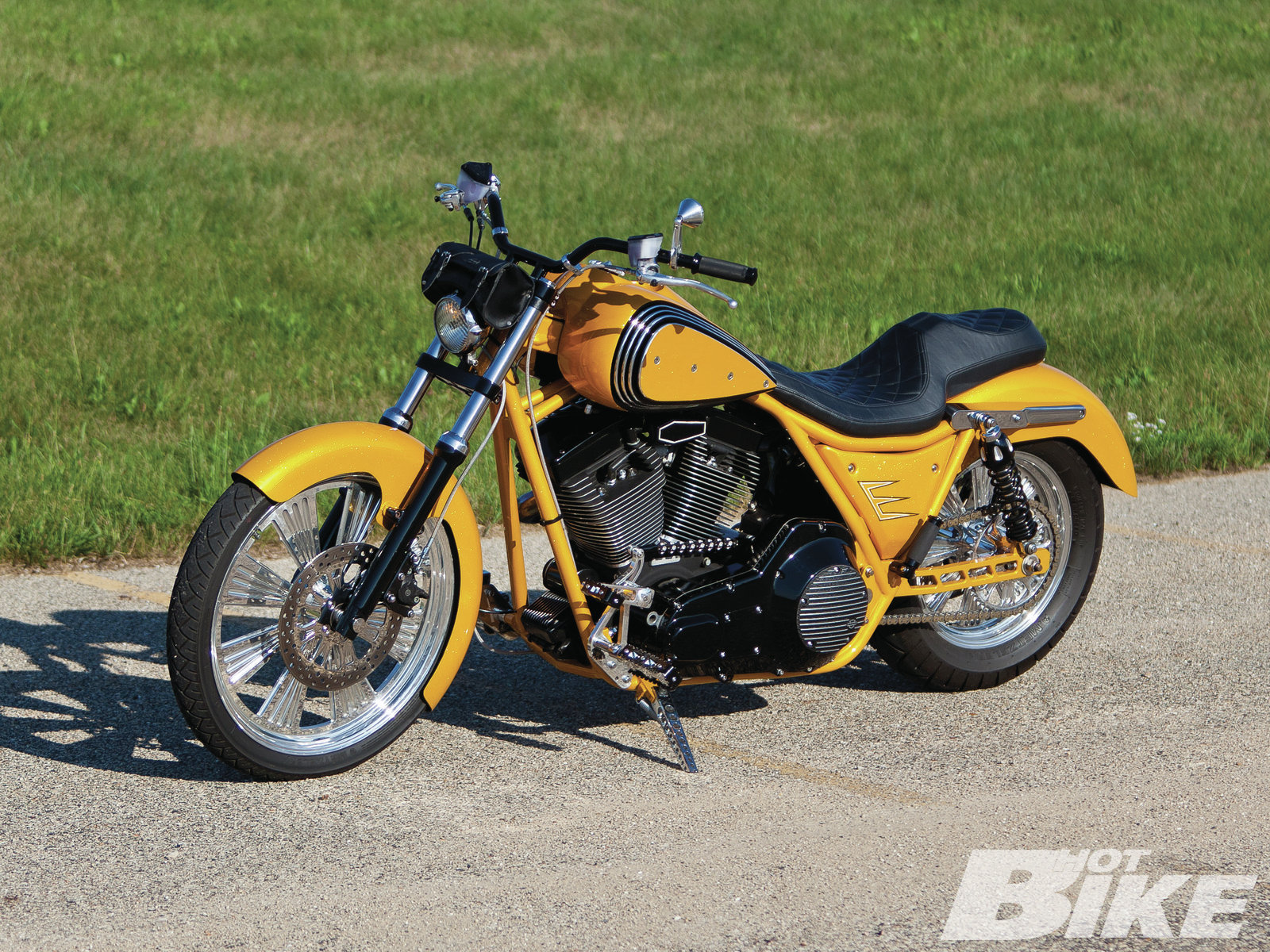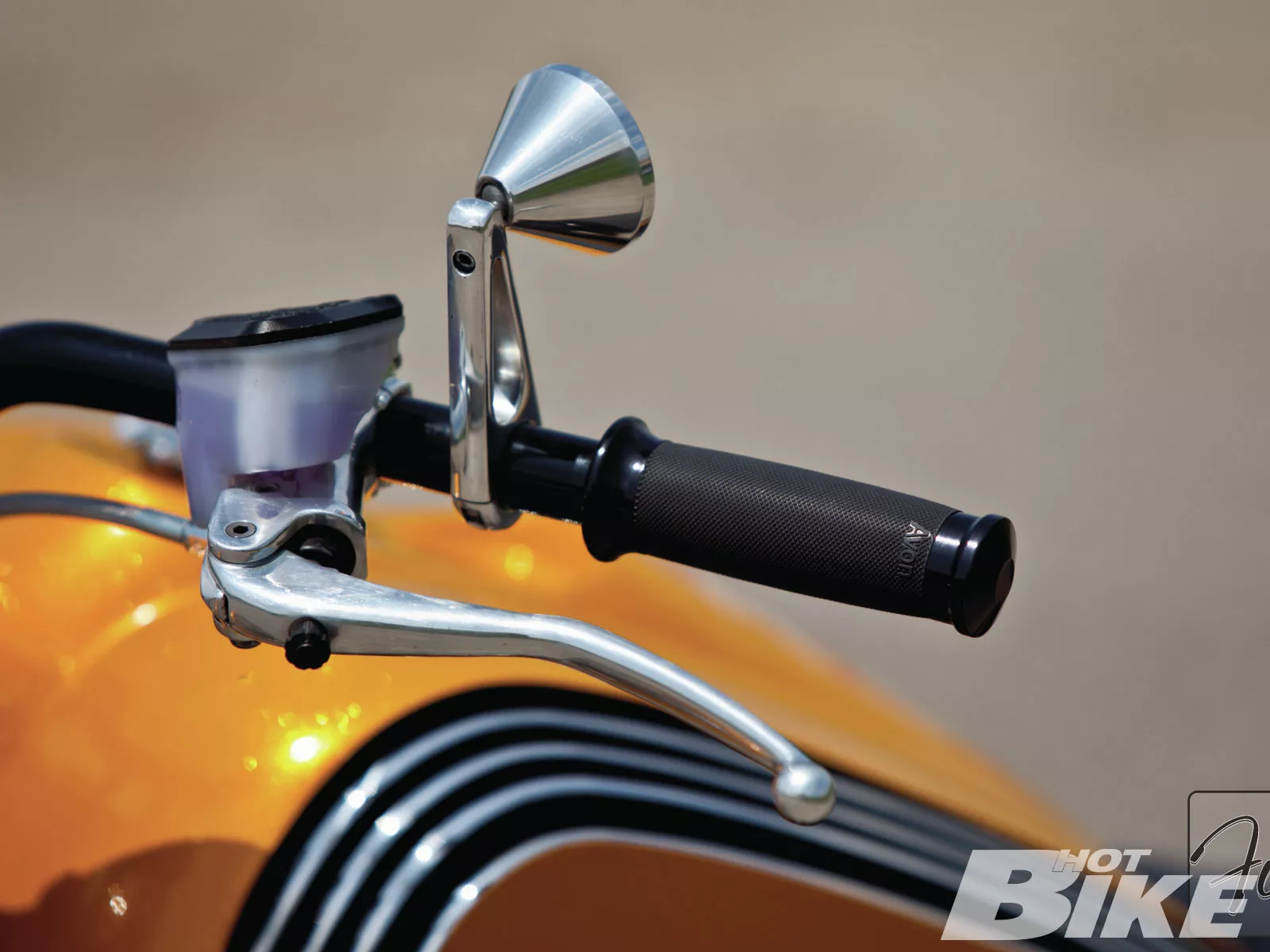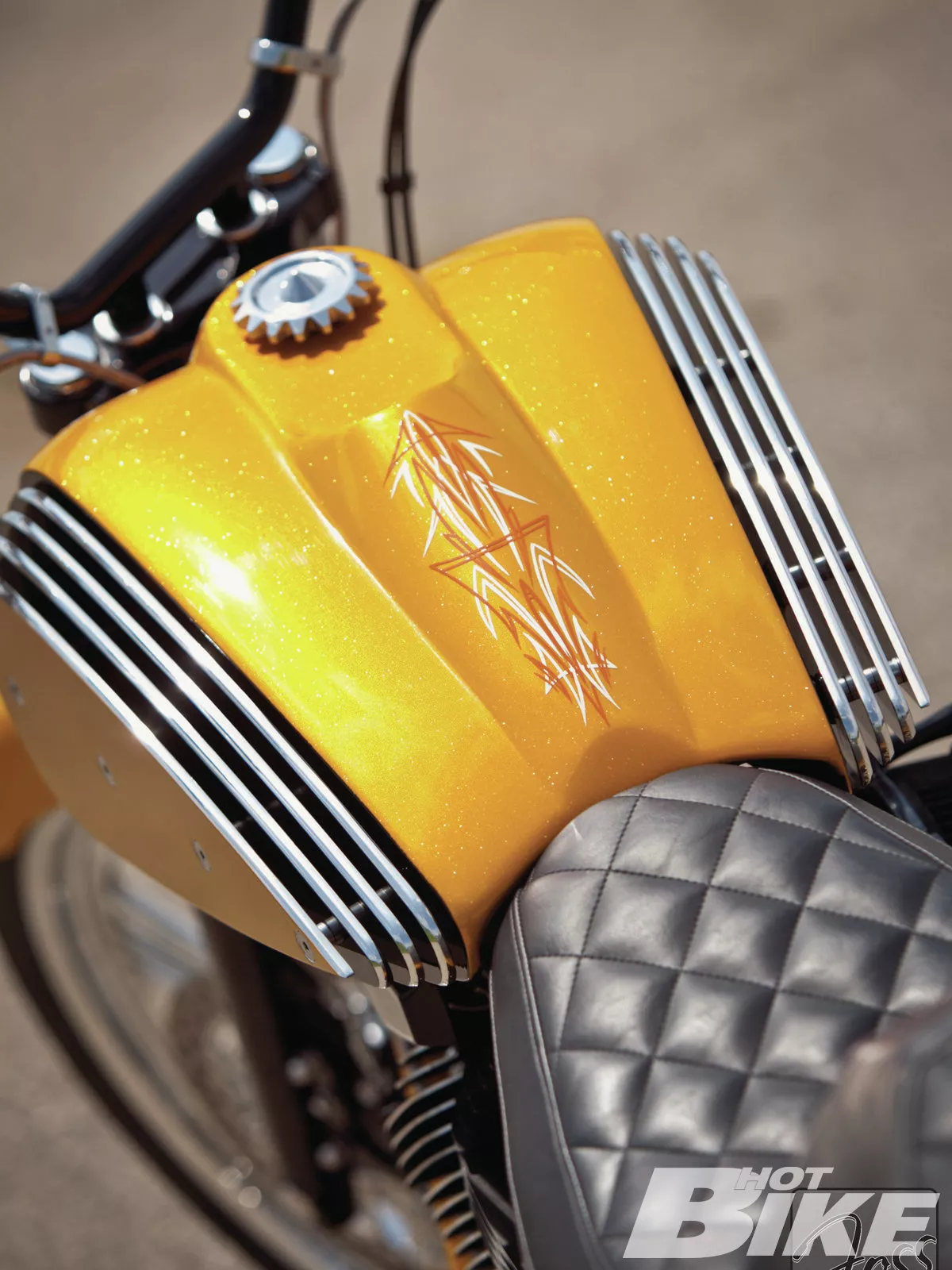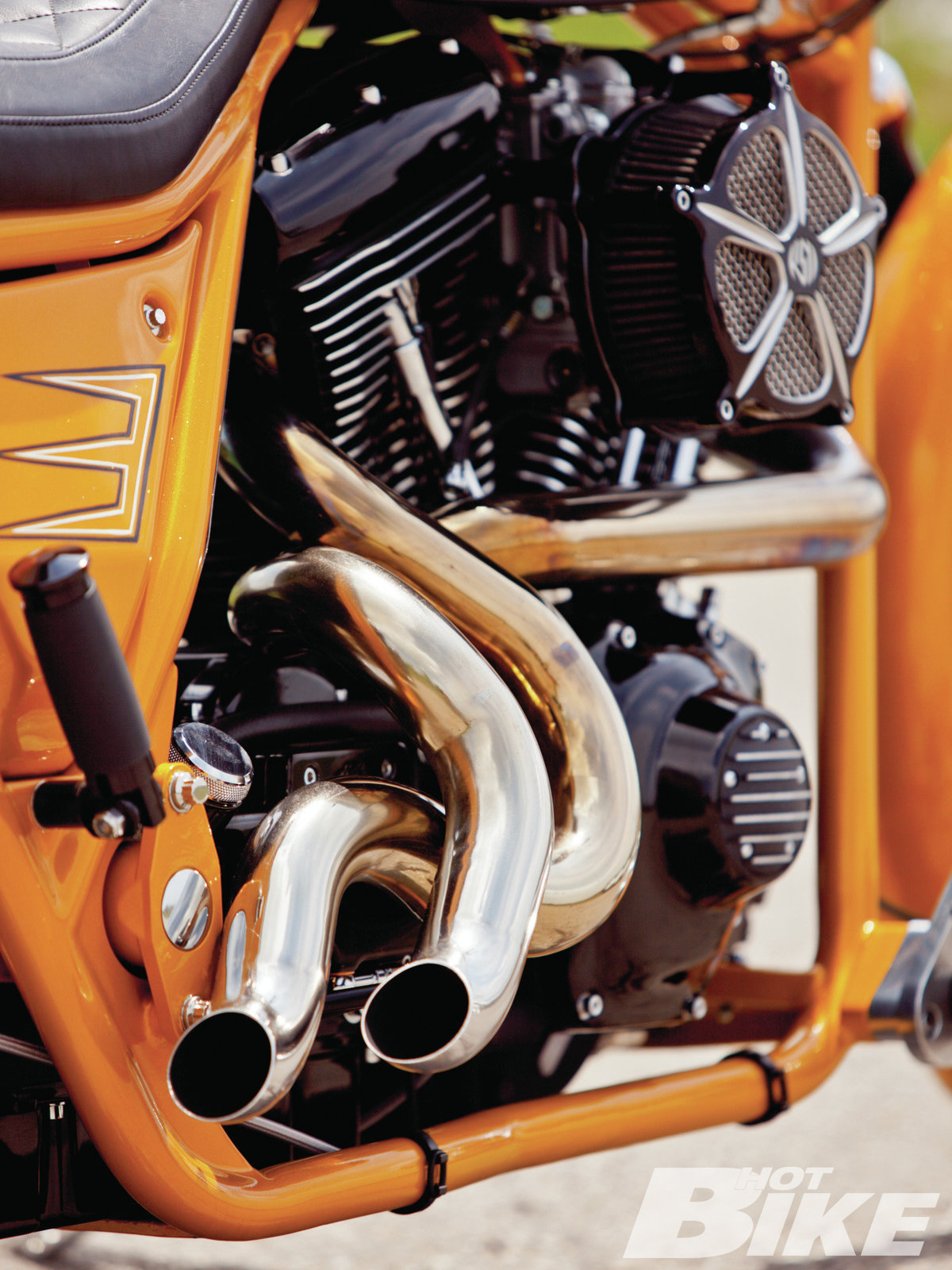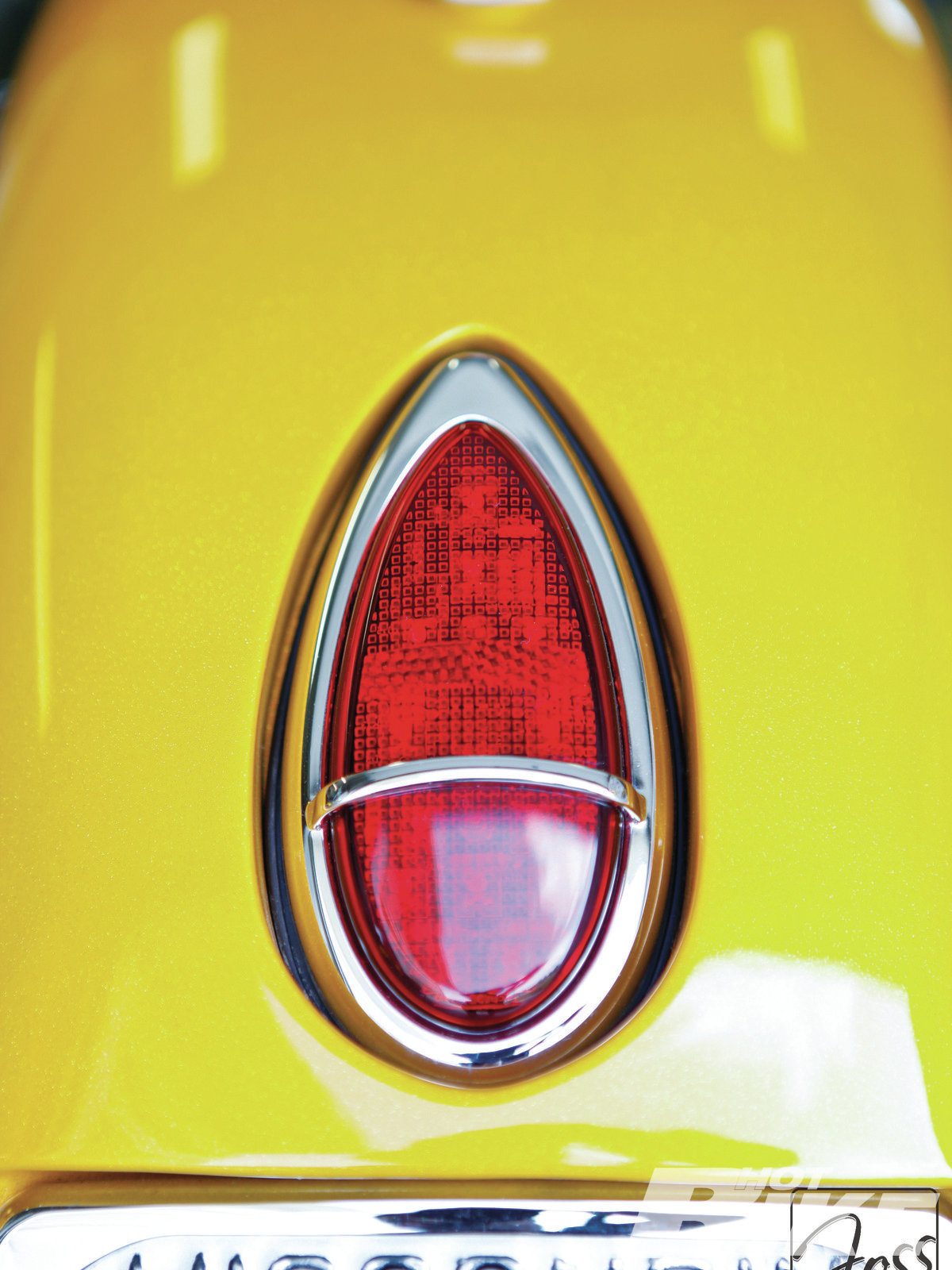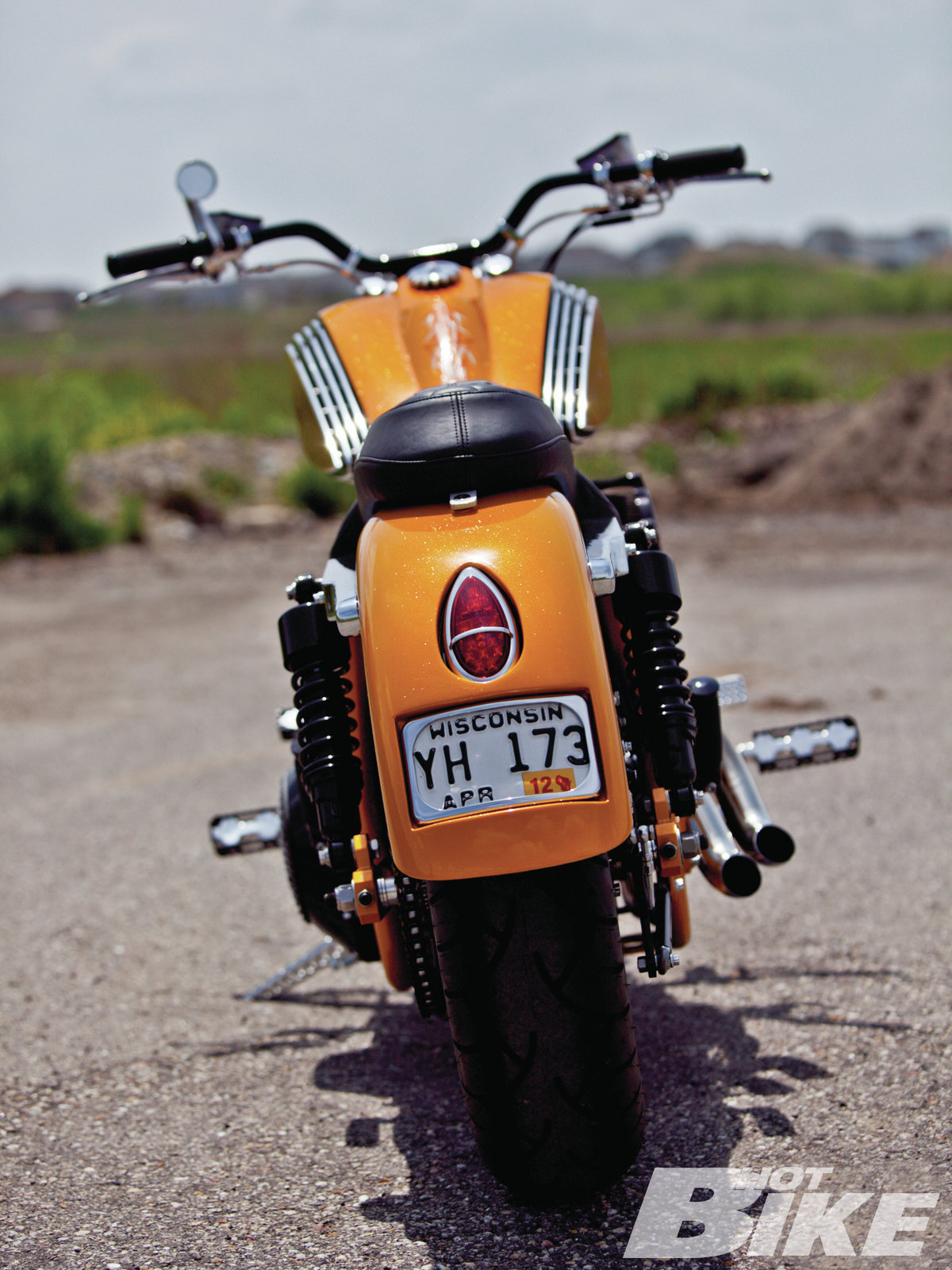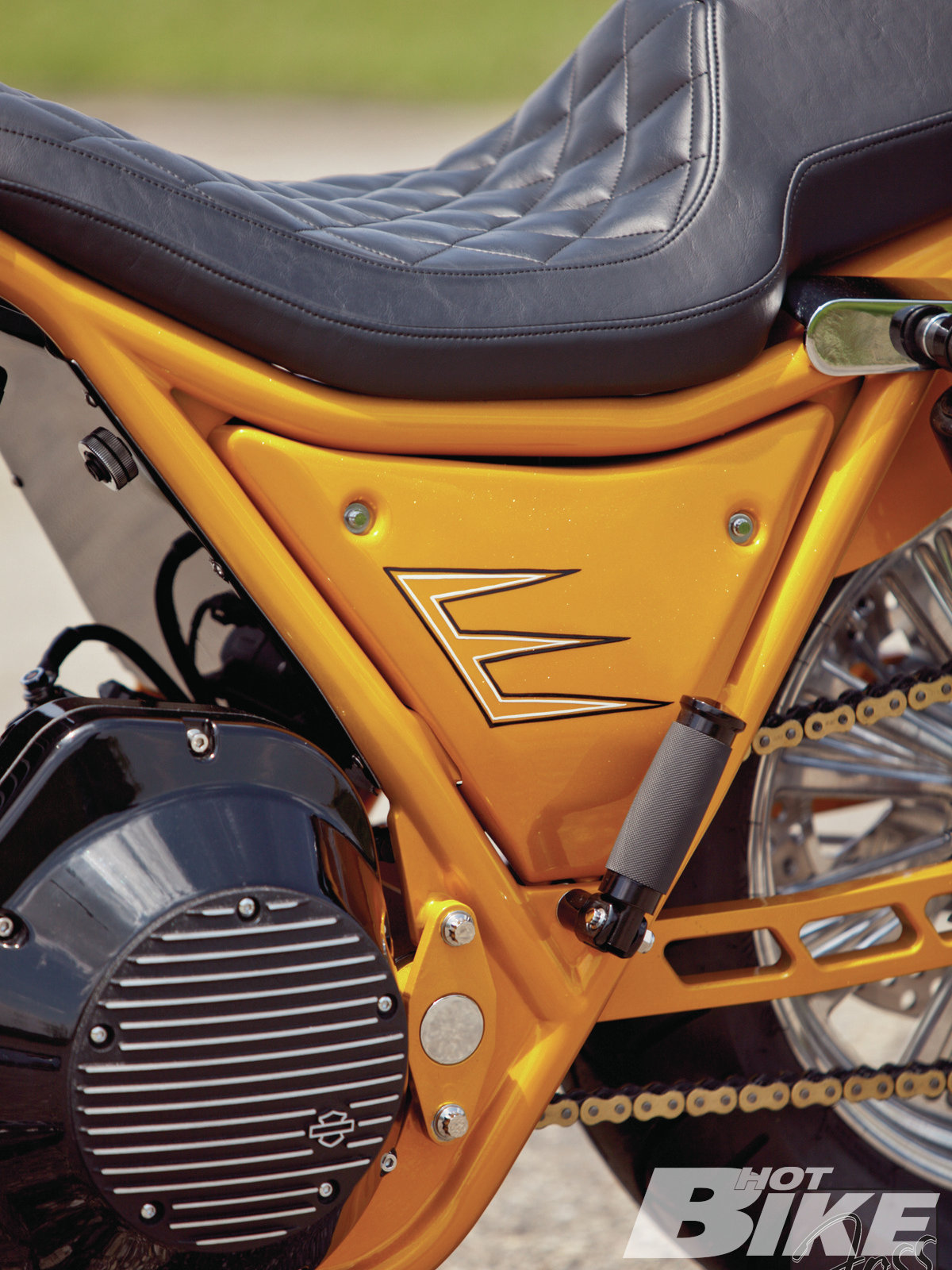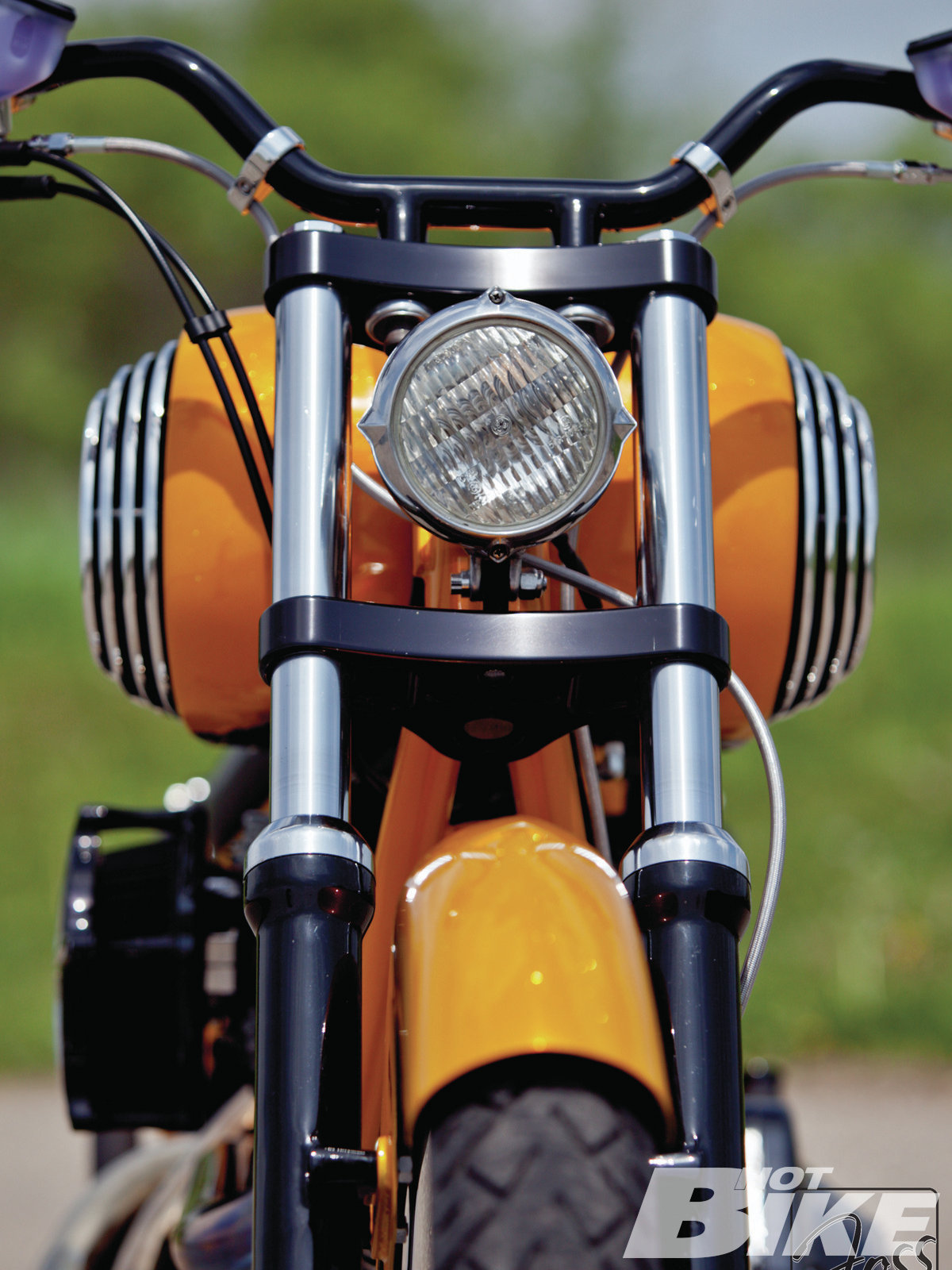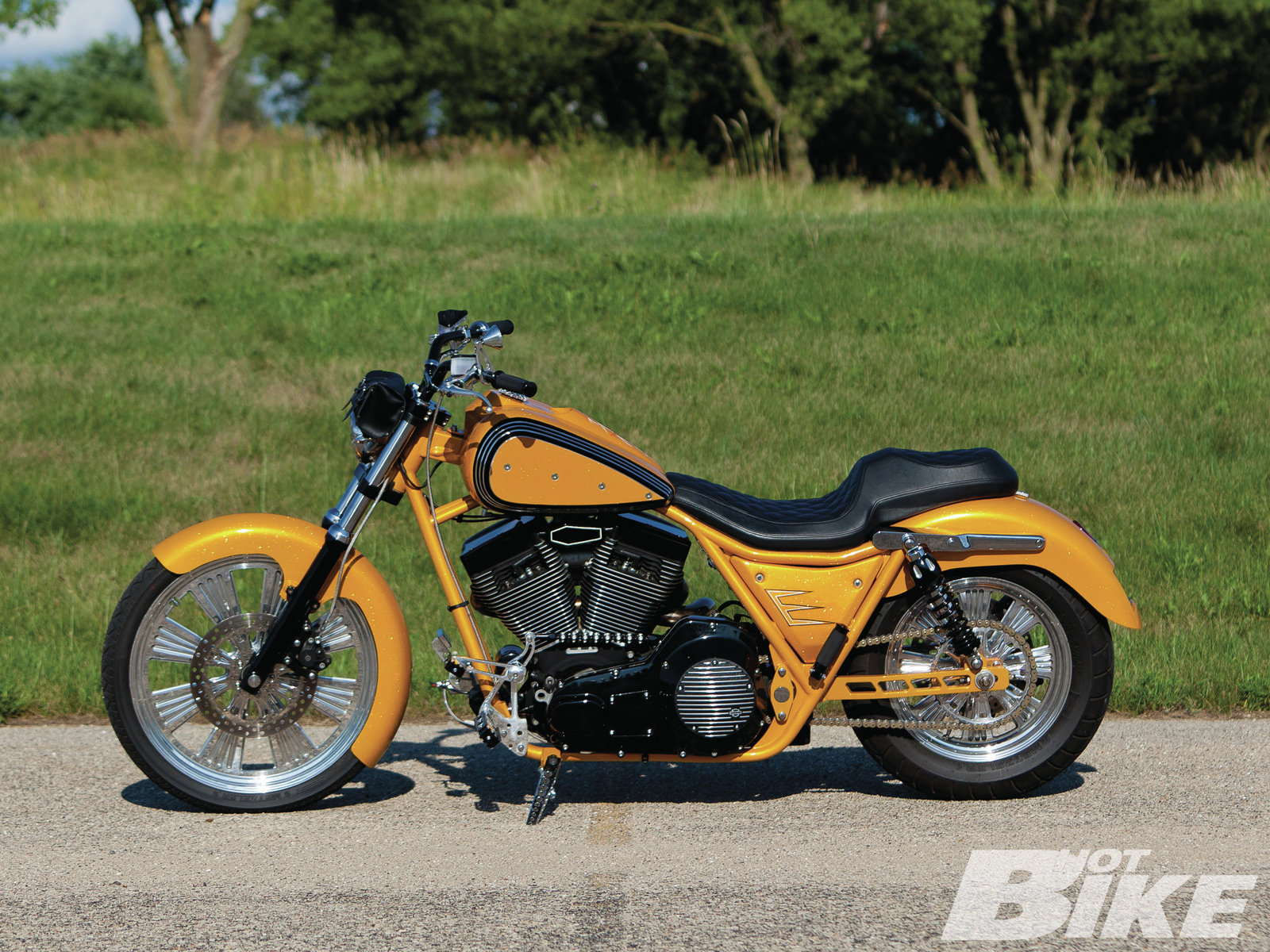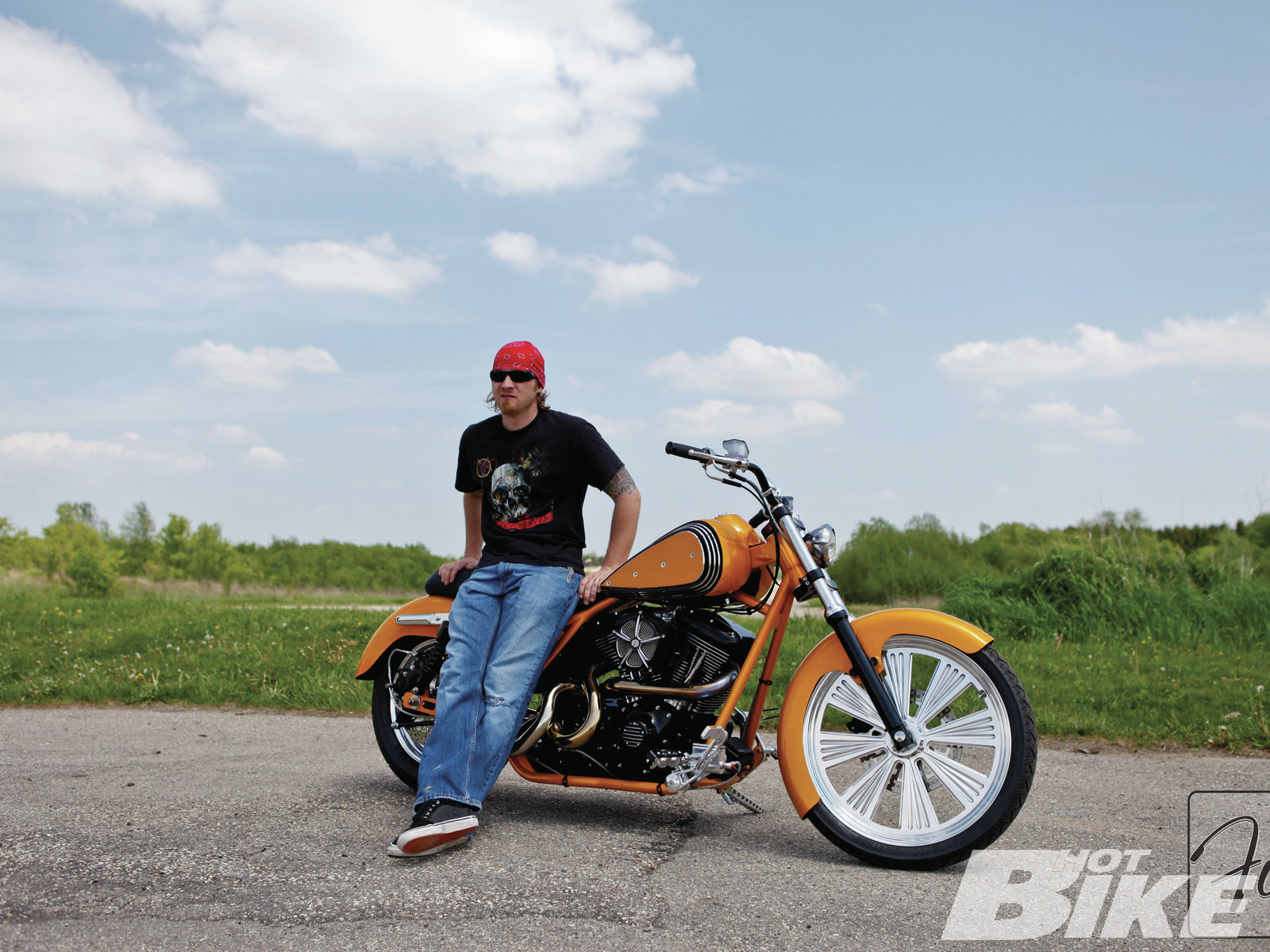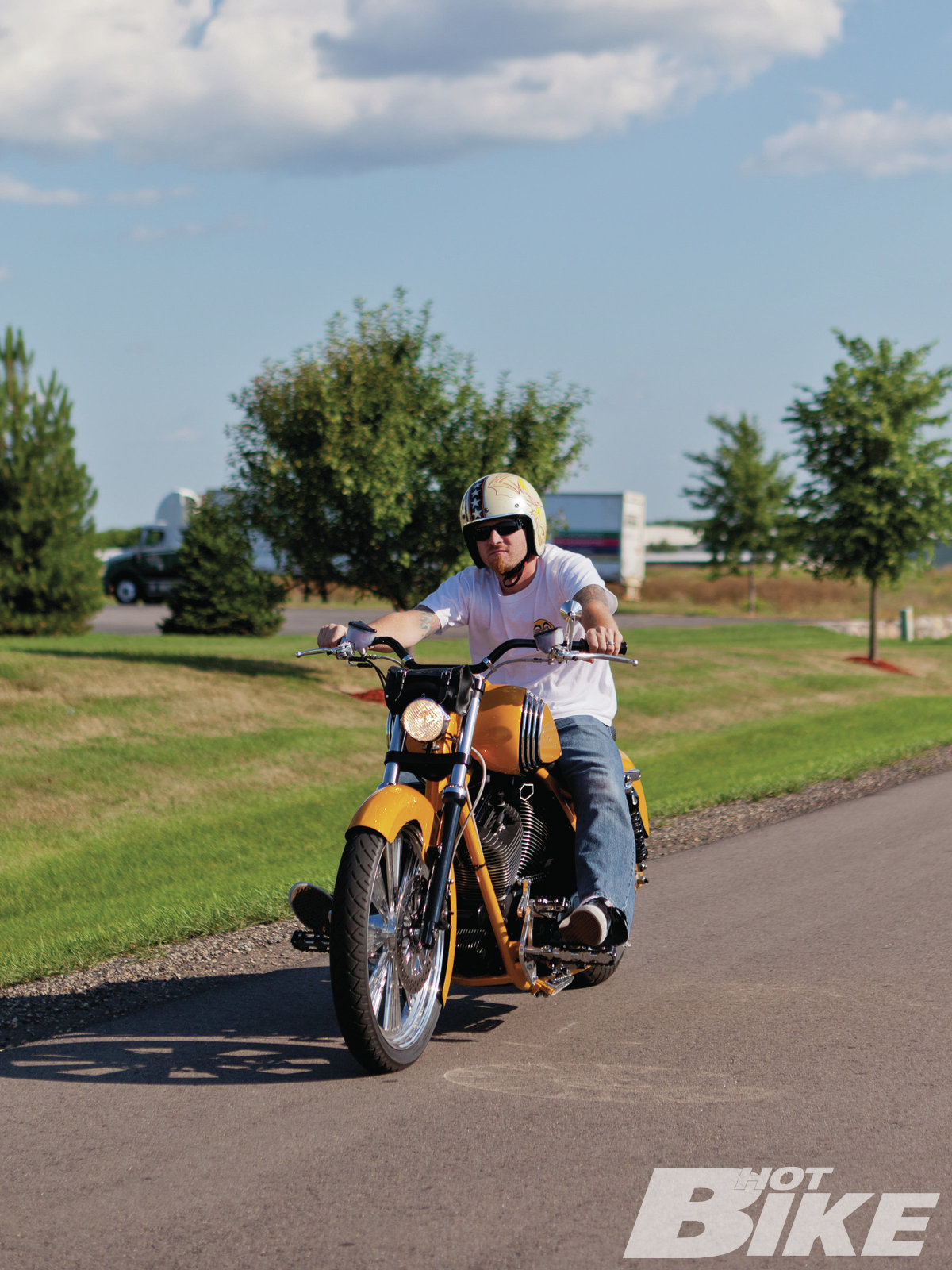 There are two questions we repeatedly get asked. The first is, "How can I get my bike featured in the magazine?" Which is usually then followed by "How can I get my bike on the cover?" While we wish there was an easy answer to both these questions, it really comes down to what we are looking for at the time, what style of bike is popular, or what kind of bikes we are in need of. As for the cover well, since we only have 12 main cover bikes a year, we have to be very discerning and select a bike that we think will appeal to a large audience. Building a sharp-looking bike that is equal parts performance and custom with a mix of off-the-shelf and unique one-off components, and doing it all out of your garage for less than the cost of a slightly used Harley on Craigslist, is definitely one way to get our attention and make the cover. Which is exactly what Greg Sefcik, owner of Overkill Inc. outside of Madison, Wisconsin, did.
Several years back Greg spotted an FXR that Jesse James had built, and fell in love with it. "It was so cool looking. It had pipes that went through the side cover and was a killer orange-ish-gold color. Overall it was just a nice-looking, rideable bike," Greg tells us. "The downfall was the price tag, it was $40,000. I don't have that Hollywood money." So with the image of that bike engrained in his mind, Greg set his sights on getting himself an FXR, and after three years of searching, the perfect project pretty much fell into his lap.
While hanging out at his friend, Ryan Fielding's shop, Paragon Customs, Greg spotted a brand-new Chopper Guys FXR frame and billet swingarm hanging on the wall. After inspecting the frame a little further, he discovered that it was set up to house a late-model FLH drivetrain, which meant he could outfit his FXR project with one of the Moco's modern and reliable Twin Cam engines. "Ryan had taken the frame on trade along with a new trans setup with Andrews close ratio gears," Greg comments. After a quick trip to the bank, Greg loaded up his new frame and trans and headed to his house where his garage would become the headquarters for the build.
Working on a tight budget, Greg spent the next year utilizing his contacts, resources, and fabricating/mechanical skills building his dream FXR. "Almost everything on this bike that I didn't make was made by or purchased from some of my buddies that own shops or from a guy who knows a guy," Greg states. "Yet other parts came off other bikes I had built in the past. I would call myself a bike recycler. For example, the wheels were purchased for $400 a piece but they weren't set up for a narrow glide, so I sent the hubs out to Dave at Detroit Bros. to machine them for me." Greg scored an FLH engine off of eBay for only $1,500. But once he got a hold of the mill and tore into it, he realized why he got it so cheap. "When my buddy from Hiley Modified and I took the engine apart, we found out it was complete trash. Our thought was it must have been sitting somewhere wet for a long time or it came out of a lake. The only usable parts were the cases, which makes those cases damn expensive. We rebuilt the engine to 95 ci with all new parts such as H-D flywheels, cylinders, and heads, Screamin' Eagle high-compression pistons and cams, and Custom Chrome rocker boxes."
When we asked Greg what the toughest part of the build was, he said that he had the most trouble with the seat pan, gas tank, and exhaust. "I made the seat pan from one solid piece of aluminum. I did all the English wheel work, shrinking and hammering to make it look like a Le Pera Villain seat. Looking back now, it would have been a lot easier to make it from several pieces," Greg states. "The gas tank was a bitch too. It started out as a bagger tank, but there's hardly any of the stock tank left, just the tunnel. Getting the sides to be even from all views (top, sides, and front) was really tough. I was originally going to machine finned pieces out of one piece of billet aluminum with the fins on the side, not up and down. The problem was weight and cost. The way I had it done was lighter and more cost effective. I went back to Ryan and had him water-jet the individual plates for me. I wasn't sure how it was going to look but it came out pretty kick-ass. I was pretty pissed when somebody told me Paul Jr. had done something similar, but I had the tank done long before his was seen on TV." As for the pipes, Greg didn't take any shortcuts by just making a set of straight pipes and calling it a day. He actually spent quite a bit of time lining up and welding some 2-inch stainless steel tubing to create a set of pipes that crisscross and twist around each other like two intermingled snakes basking in the golden sun."
---
_
"Our thought was it must have been sitting somewhere wet for a long time or it came out of a lake. The only usable parts were the cases, which makes those cases damn expensive."
_
---
After a year's worth of hard work, Greg had finally created a ground-up FXR that not only looked killer, but was an awesome bike to ride as well. "I am a huge fan of hot rods, so when I build my bikes, I like them to have an old-time hot-rod feel. I think this bike kind of has an old Caddy led sled look to it, so I named it 'El Dorado.' It's pretty crazy that I was able to build a bike with a Twin Cam engine, Brembo brakes, custom sheetmetal, and candy paint for under $11k. I have always heard people say that FXRs are possibly the best bikes Harley ever built. After riding one I would say they are absolutely correct." HB
Specifications
| | |
| --- | --- |
| Bike Owner | Greg Sefcik |
| Shop Name | Overkill Inc. |
| Shop Phone | 608) 516-3745 |
| Shop website | overkill608.com |
| Year/Make/Model | '11/Custom/El Dorado |
| Fabrication | Overkill Inc. |
| ASSEMBLY | Overkill Inc. |
| Build Time | One year |
| | |
| Engine | |
| Year Manufacturer | '02/H-D |
| Type/size | 95ci/Twin Cam |
| Builder | Hiley Modified |
| Cases | H-D |
| Cylinders | H-D |
| Heads | H-D |
| Rocker Boxes | Custom Chrome |
| Carb | Mikuni |
| Air Cleaner | RSD |
| Exhaust | Overkill Inc. |
| | |
| Transmission | |
| Year/Manufacturer/Type | '02/H-D, Andrews/Five-Speed |
| Case | H-D |
| Clutch | BDL |
| Primary Drive | BDL |
| | |
| Frame | |
| Year/Manufacturer | '08/Chopper Guys |
| Rake | 32 degrees |
| Stretch | None |
| | |
| Suspension | |
| Manufacturer Front | H-D Narrow Glide |
| Length | Stock |
| Triple Trees | Chassis Design |
| Manufacturer Rear | Progressive Suspension |
| Swingarm | Chopper Guys |
| | |
| Wheels, Tires, and Brakes | |
| Manufacturer | Front/Type Ego Tripp |
| Size-Height/Width | 21×2.5 |
| Tire/Size | Metzeler/100/100-21 |
| Caliper | Brembo |
| Rotor | RevTech |
| Manufacturer | Rear Ego Tripp |
| Size-Height/Width | 16×4.5 |
| Tire/Size | Metzeler/180/60-16 |
| Caliper | Brembo |
| Rotor | RevTech |
| | |
| Finish/Paint | |
| Color | HOK Solar Gold Base, Spanish Gold Kandy, mini Gold Flake |
| Painter | Shawn Neville |
| Graphics | Pin Striping by Steve O |
| | |
| Accessories | |
| Front Fender | Overkill Inc. |
| Rear Fender | Russ Wernimont/Overkill Inc. |
| Fender Struts | H-D |
| Gas Tank & Cap | Overkill Inc/Detroit Bros |
| Oil Tank | H-D |
| Handlebars | Overkill Inc. |
| Hand Controls | Brembo |
| Foot Controls | Jay Brake |
| Footpegs | Detroit Bros. |
| Headlight | Vintage |
| Taillight | Mini Lincoln Zephyr |
| License Mount | Drag Specialties/Overkill Inc. |
| Seat | Overkill Inc./Al Boerste |