Jeff Wright, from Church of Choppers, is a man of few words. At least by email. I haven't had the pleasure of meeting Mr. Wright (heyoo!!) in person, but his work through the years has always inspired me. I like that Jeff mixes styles to create of-the-box custom motorcycles.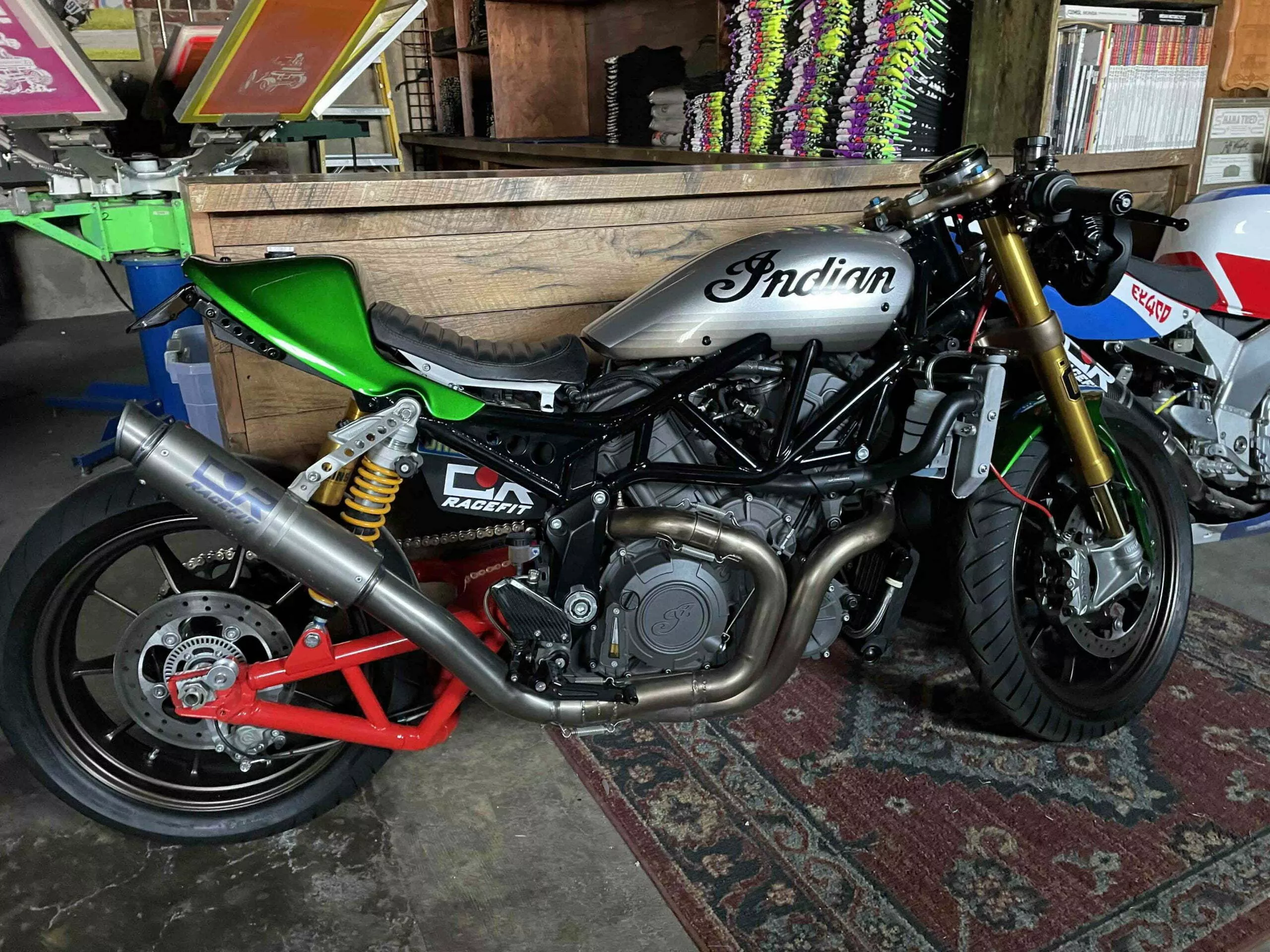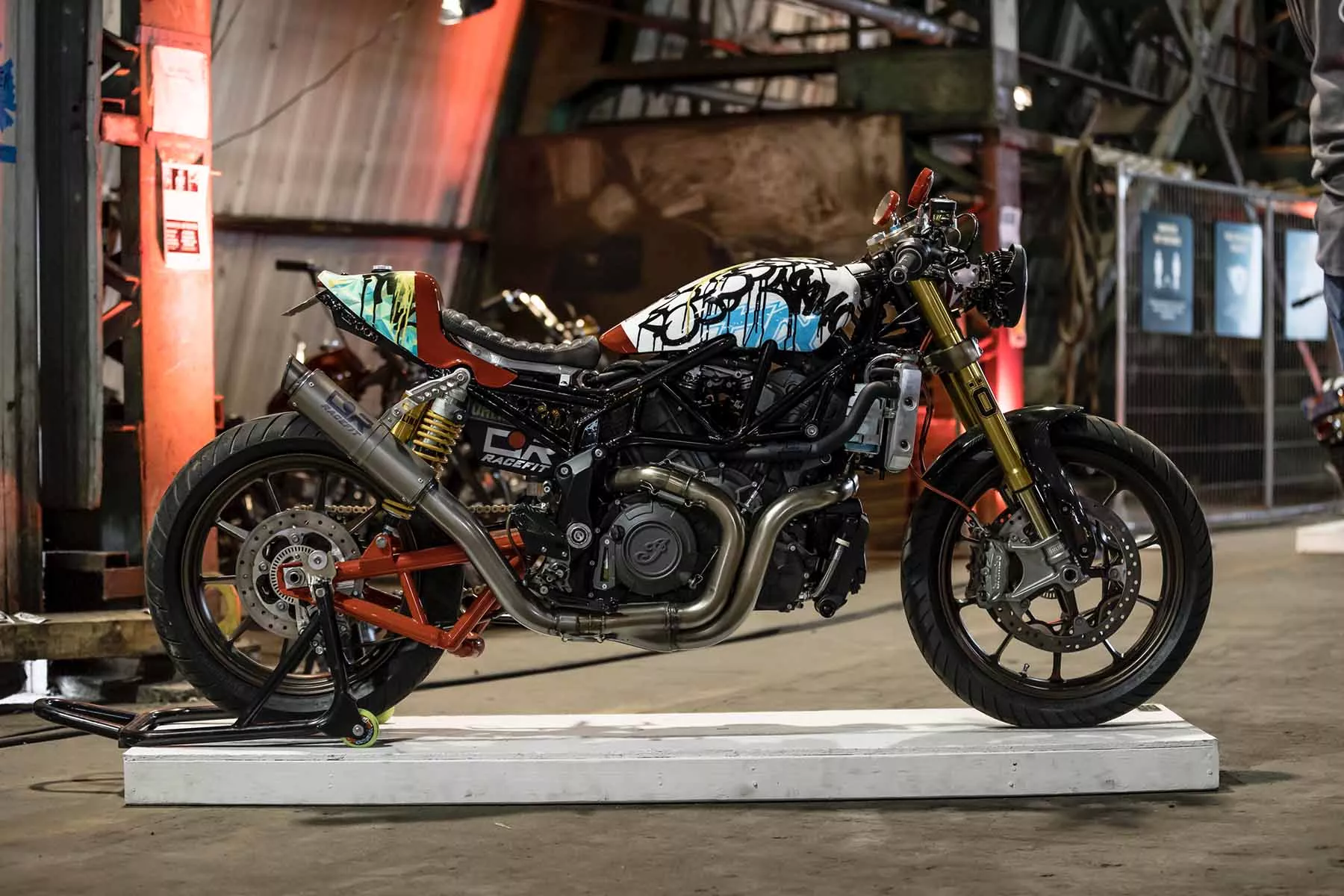 After speaking to Jeff over the phone, he opened up a bit more about this raced-out Indian FTR1200 enveloped in full graffiti livery. This build came at a pretty shitty time for Jeff, a bar owner by trade. When the COVID-19 pandemic hit in the Spring of 2020, both of Jeff's biker bars in the Des Moines area fell victim to the global shutdown. "The bars got shut down for the first time in 30 years for something I didn't do, which was a real eye opener," Jeff says. "I was like 'shit, I have no money coming in, but I have to build this bike, and so, in my head, I wanted to do something that didn't cost me a lot of money."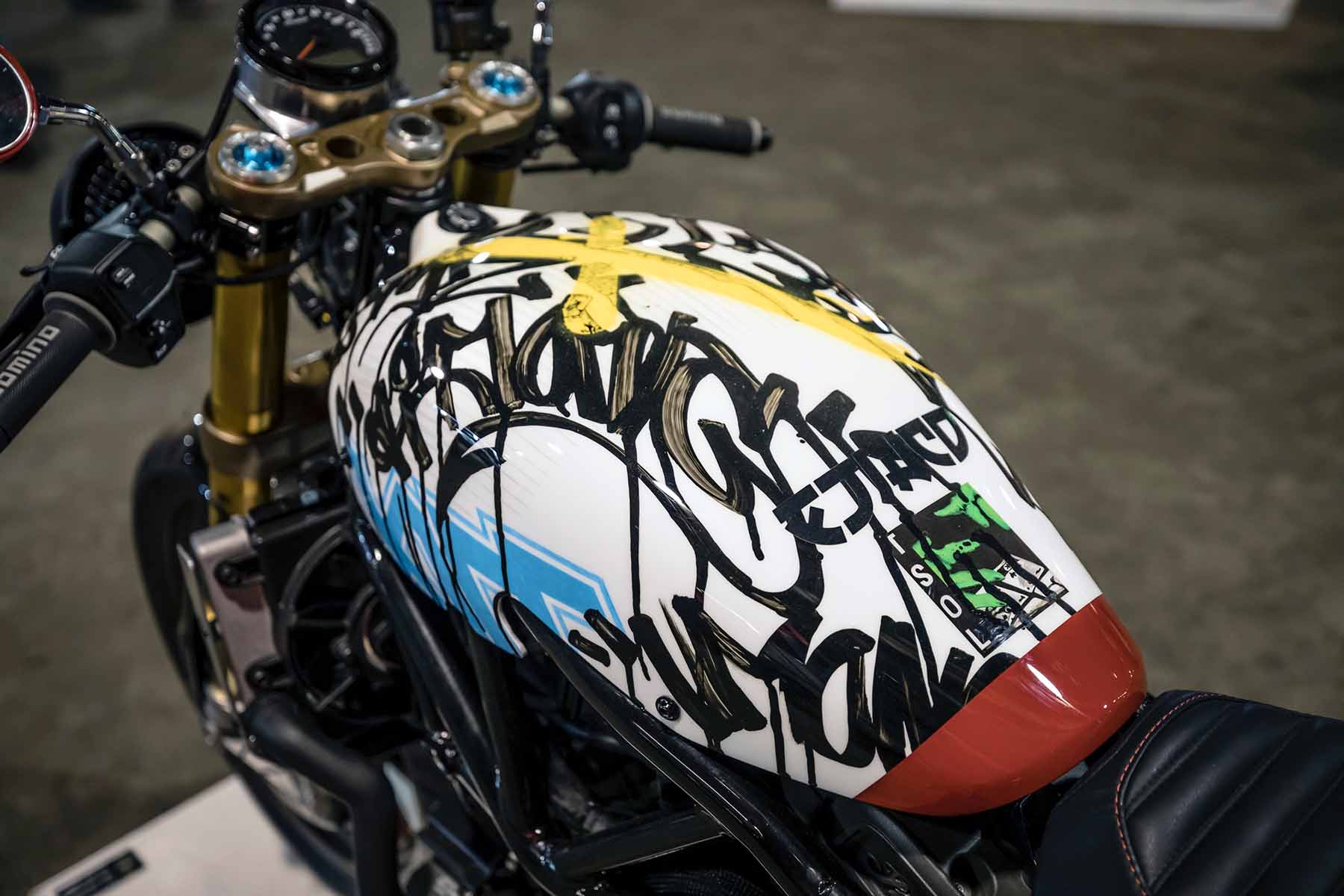 Jeff got to work cutting the frame up and building the swingarm. The only area where he had to spend some dough was the suspension. Jeff did all the fiberglass work as well as building the gas tank and the subframe. If you're not familiar with the FTR1200 rear subframe geometry, it comes standard as a monoshock setup. Notice that this FTR features a dual shock. "I think dual shock looks a lot cooler," Jeff says. "I like those long, underslung swingarms. When I was looking at the bike, you know, growing up, all those swingarms hung really low on flat trackers, so I envisioned it being hung upside down," Jeff says. "But you can't just flip it upside down because of the chain and everything." So Jeff took it off and brought in some new steel to make it look like he flipped it upside down. "It's kinda neat at the [bike] shows," he says. "People kind of do a double take." and brake and clutch levers.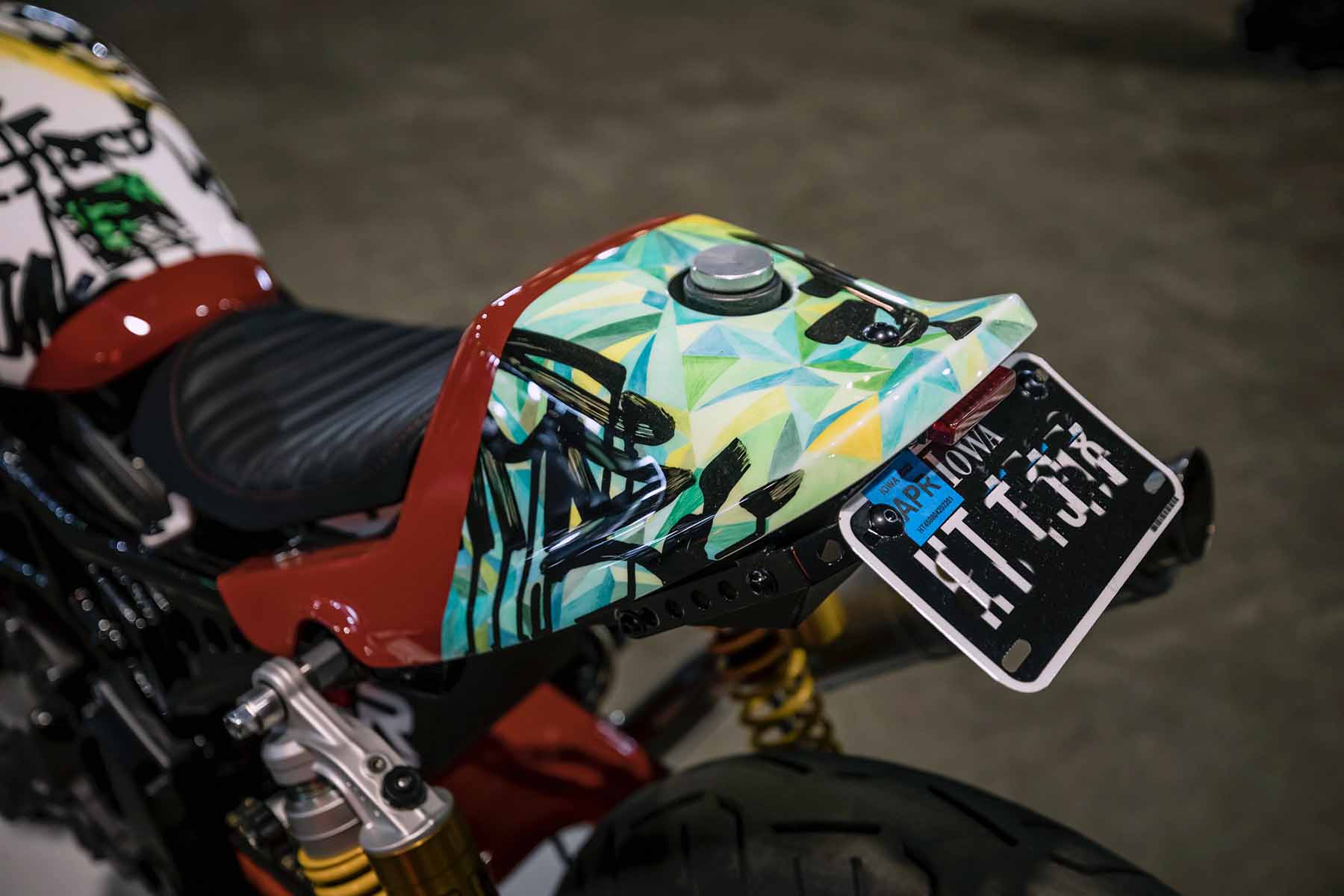 For the exhaust, Jeff's good friends with John at Racefit, who had just built an exhaust for the FTR1200. Jeff was able to secure a new pipe and mounted it to the new setup. To wrap things up, Jeff cleaned up the wiring and dropped the bars a bit for a racier position. He threw on a set of Renthal clip-ons with Domino grips and retained the factory Indian brake master cylinder and brake/clutch levers.
Jeff is also an artist. He attended art school in his early 2o's but wanted to focus more on his other two passions: booze and girls. Opening his first bar business at the age of 21, Jeff put the art career on the back burner, but never lost the creativity. One of Jeff's buds is a graffiti artist. Jeff was doodling on the gas tank with colored pencils and he had the idea of having his friend "tag" the bodywork. "I took colored pencils and just started drawing on the tank and tail section. While I was drawing I thought it would be cool to have my buddy tag it. One day his graffiti buddy showed up one day and with no plan, Jeff just cornered him to grab a pen and do some graffiti work and then they took everything over for clear coat and that was that. Right before Mama Tried, Jeff repainted it because he says, "Graffiti is temporary."