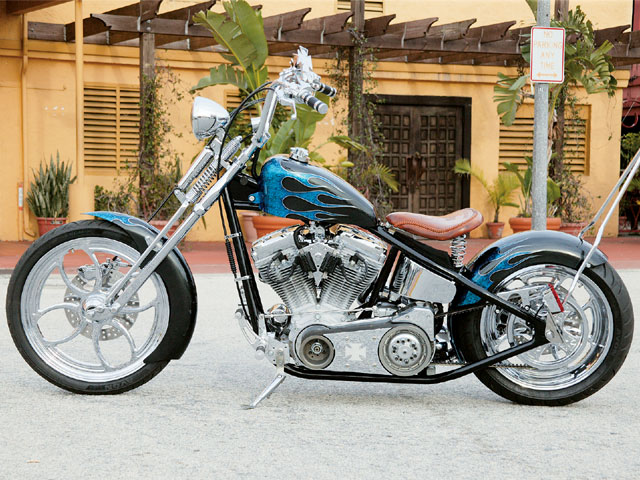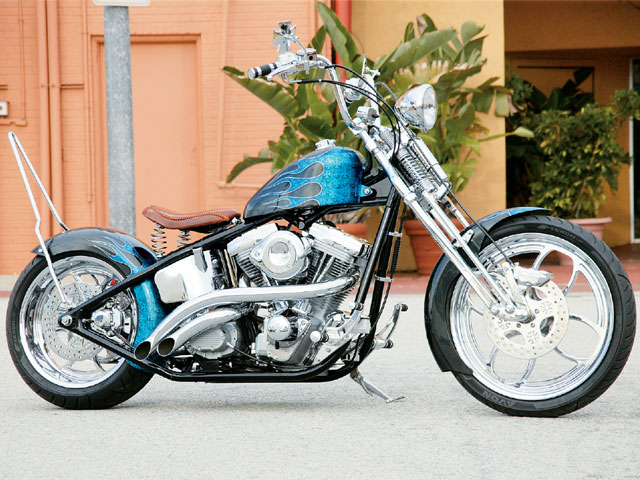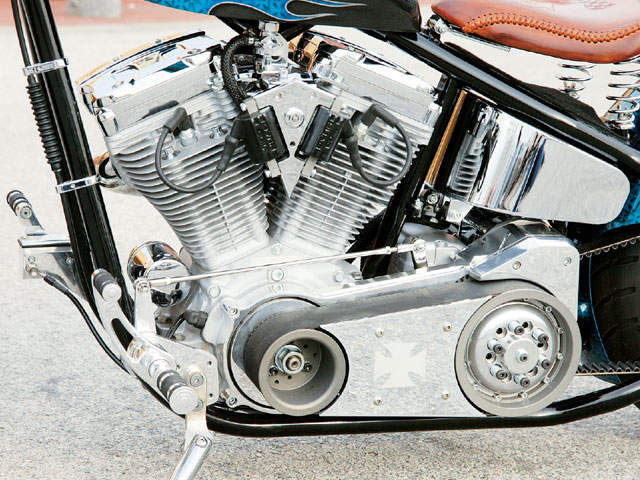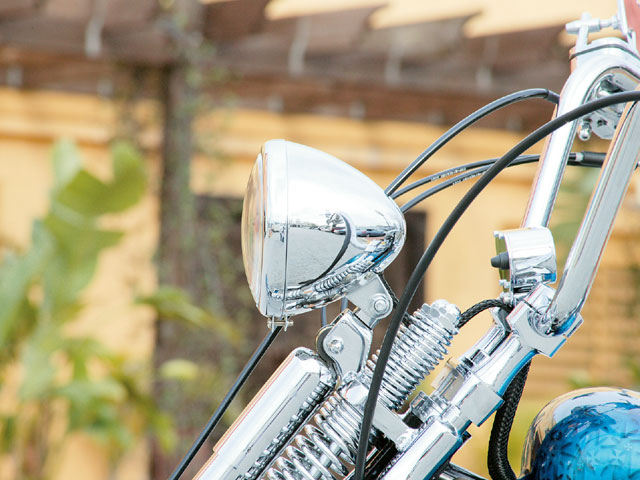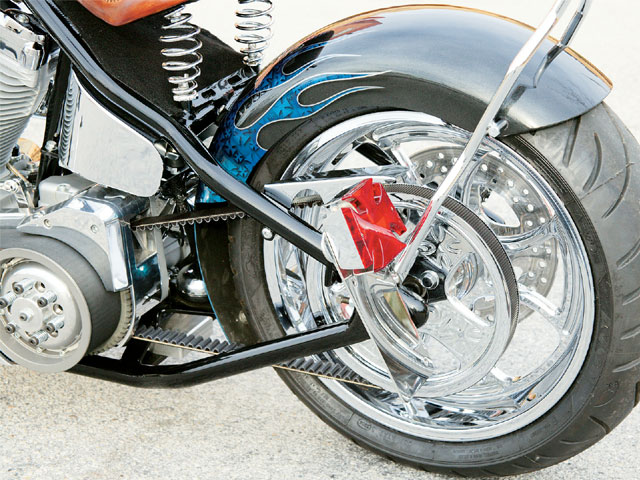 If you recall, in our March '06 issue we featured a story about the annual Chick-fil-A Kyle Petty Charity Ride Across America. And if you were paying attention, you'd remember we mentioned something about a custom rigid built by Gotcha Customs, which was then auctioned off at the end of the ride. You should also recall that the auction didn't last very long, with Kyle Petty falling in love with the bobber-esque bike and bidding $30,000 right out the gate. It was just like watching a NASCAR race-Kyle took the lead in the pack early on, and, with the trophy in sight, he never looked back. Once word spread around the office about the way the auction went down, we just had to get a look at the bike that caught Kyle's attention. Lucky for us and for you, we were able to get our hands on the bike for a quick photo shoot before Kyle decides to ditch the NASCAR circuit and take on the AHDRA.
Before we get into the details of the bike, here's a refresher on the Chick-fil-A Kyle Petty Ride Across America. Eleven years ago, Kyle and a group of riding buddies saddled up in North Carolina and rode out to the West Coast for an upcoming NASCAR race. That one ride sparked an annual event, with more than 200 riders gearing up each year to make a trek across the country on their favorite two-wheeled machines, collecting monetary donations and distributing them among children's charities. For the '05 ride, the main beneficiary of the donations was Victory Junction Gang Camp (www.victoryjunction.org), in Randleman, NC. Inspired by Kyle and Pattie Petty's late son Adam, the camp caters to children between the ages of seven and 15 with chronic and life-threatening illnesses, and gives them the opportunity to experience camp life and make lasting memories.
As we mentioned in the article, the bike was built by Gotcha Customs out of Kernsville, NC. However, if it weren't for the creative thinking of Frank Winn of Kustomwerks (a full-service distributor of custom components for American-made motorcycles), also located in Kernsville, the bike would have never come to be. One good thing about Frank is that he has a big heart, and he knows quite a few people who feel and think the same way he does. Another good thing about Frank is that he knows how to bring a whole community…well, heck, just about the entire state together to get things done. "I wanted to do something good for the kids at the Victory Junction Gang Camp. It's right here in our backyard, and the camp means a lot to bikers throughout North Carolina. Is there a better way to honor and help those kids than to build a custom chopper? I didn't think so-and others agreed with me," Frank said.
Frank worked with other members of the community and motorcycle industry on the project. All of the components were provided from businesses and individuals in North Carolina. Frank comments, "This bike was a community project from start to finish. We could not have done it without the support and contributions from people who care about the children and the camp."
hile it was Frank's connections that got all the parts donated, it was Chuck and his wife Linda of Gotcha Customs who volunteered their time to ensure that the pile of parts turned into a hot little custom rigid. Starting with a Kraft Tech rigid frame (donated by Kustomwerks) with a 38-degree neck and 2 inches of stretch in the downtubes, Chuck added a Paughco Springer frontend from Big Dog of Greensboro. To get the bike mobile, a pair of Maltese Cross wheels and rotors from Carolina Customs was added, along with a front Hawg Halter caliper from Tequilas and a matching rear from Eagle V-Twins. The wheels were wrapped in Avon tires from Big Boyz Toyz. To give the bare frame some shape, a Kustomwerks peanut-style gas tank, winged oil tank, front fender and 9-inch rear fender were bolted in place. Harley-Davidson of Greensboro was kind enough to donate an 80ci Evo motor and five-speed trans, and Britt Custom Metrix offered up a 3-inch BDL open belt drive. To give the 80-incher a little more oomph, T-man Performance gave the mill a little tweaking, adding new flywheels, cam, heads, and valves, while Metal Rebel Customs donated an S&S; carb/intake/air-cleaner setup, and Grumpy's Customs threw in a set of its Twisted Sisters pipes.
With a roller established, Saunders Graphics and Illustrations volunteered its painting skills to cover the frame and sheetmetal in a smoke-gray base highlighted by candy-blue flames. When the paint was dry, final assembly consisted of the addition of more donated parts such as a starter, ignition, and coil from Kendall Johnson Customs; wiring harness from Plum Crazy; and mirrors and headlight from Climax Custom Controls. NC Full Throttle magazine provided the handlebars, grips, and levers; Barry's Walnut Island kicked in the Dakota Digital speedo; Thunderbolt South offered up the forward controls; Eagle V-Twins tossed in the license mount; and, last of all, a seat pan from Bar Enterprises was wrapped in leather by High Rollers.
With such a huge list (we couldn't fit them all into this article) of people who contributed their time, parts, money, and energy to this project, you would think the end result might be a mish-mash of goodwill. But we were very impressed with how well the bike turned out. Everything looks as if it were originally designed to fit together to build a clean, retro-looking rigid. We can see why Kyle fell in love with the bike and had to have it for himself, offering up 30 grand at the start of the auction. It just goes to show that when you put your heart in the right place, good things will happen.