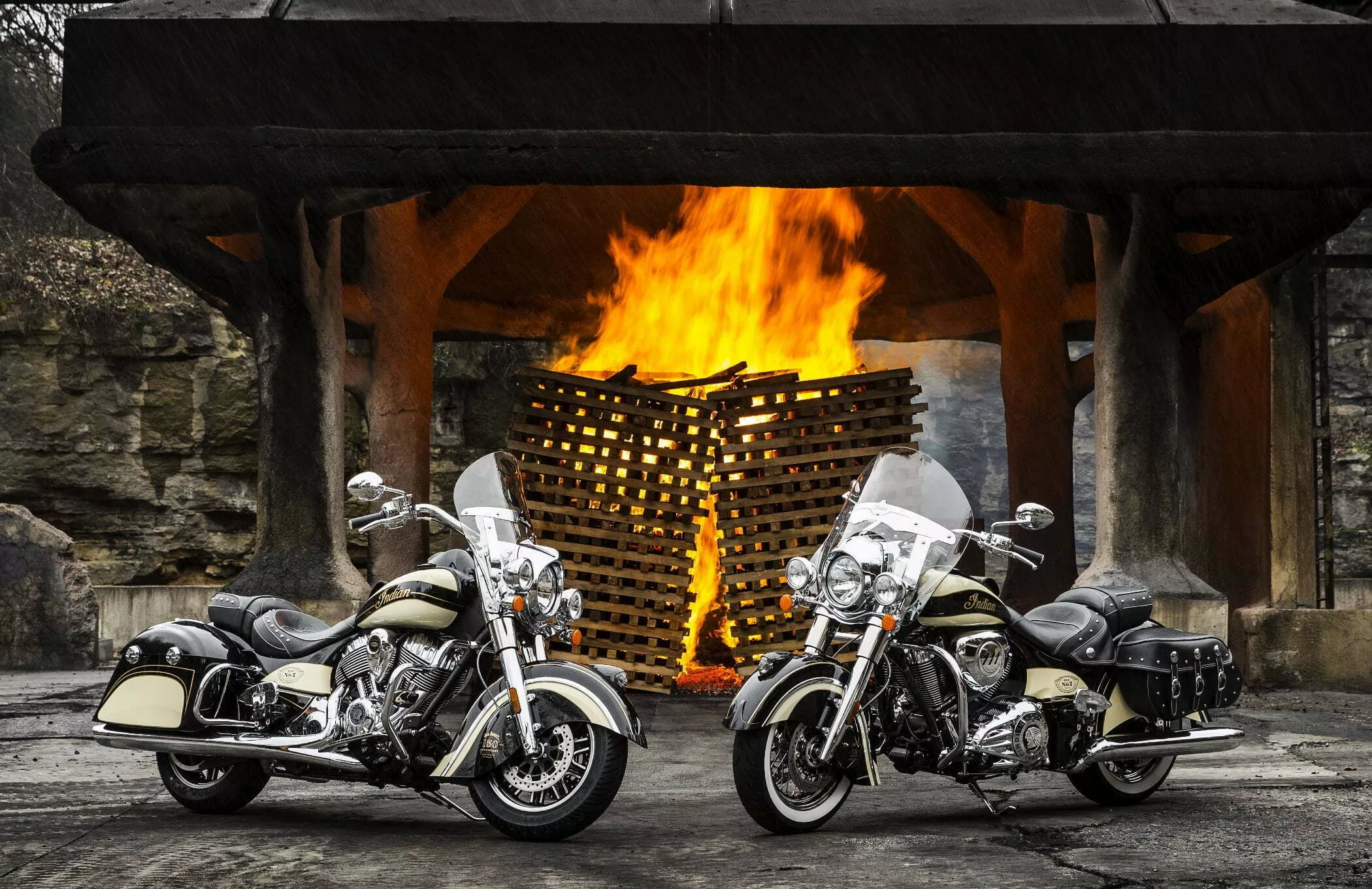 MINNEAPOLIS (March 4, 2016) — Indian Motorcycle®, America's first motorcycle company, today announced the availability of Limited Edition Jack Daniel's® Indian® Springfield™ and Indian® Chief® Vintage motorcycle models. This partnership brings together two of America's most iconic brands that share a mutual commitment to independence, originality and American craftsmanship dating back more than a century. Created to commemorate the 150th anniversary of the Jack Daniel Distillery, which was registered in 1866, each model will be produced in extremely limited numbers not to exceed 150 total units and will benefit U.S. Military personnel and their families through the "Operation Ride Home" program.
Designed in conjunction with Klock Werks Kustom Cycles of Mitchell, S.D. to offer classic styling, premium features, touring comfort and custom detailing, the new hard-bagged Indian Springfield and the leather-bound Indian Chief Vintage are the first-ever production vehicles to feature Jack Daniel's livery and its "Bottles and Throttles Don't Mix" responsibility campaign. The first unit of the limited edition series, an Indian Chief Vintage version that was the custom painted prototype built by Klock Werks, will be auctioned at the Barrett-Jackson Las Vegas auction on October 6-8 at the Mandalay Bay resort. All proceeds from the auction will benefit Operation Ride Home, which assists active duty U.S. military personnel in traveling home to visit their families. More information can be found at Barrett-Jackson.com
The individually numbered 2016 Limited Edition Jack Daniel's Indian Springfield and Indian Chief Vintage models are available to order today at your local Indian Motorcycle dealership. Both motorcycles share an MSRP of $29,999 (California models add $250 for California emissions), a Canada MSRP of $37,499, and will be available for International order except in Brazil. Both models come with a custom-printed Jack Daniel's whiskey barrel top to commemorate each bike, a two-year unlimited mileage factory warranty and free membership in the Indian Motorcycle Riders Group™ for one year.
Both models feature an array of genuine Indian Motorcycle accessories and custom accessories, as well as Jack Daniel's-inspired custom paint and logos, badging, leather saddle and saddlebags. Each fender is also inscribed with the names of the seven Master Distillers who have overseen the Jack Daniel's distilling process over its 150-year history. Finally, an inscription of Jack Daniel's "Bottles and Throttles Don't Mix" mantra reminds riders that drinking and riding are meant to be enjoyed separately.
Final customization work was designed and completed by Brian Klock and his inspired team at Klock Werks in Mitchell, S.D.
To order one of these highly sought after limited edition motorcycles, please visit or call your local Indian Motorcycle dealership from March 4 to April 4. Only 150 motorcycles will be produced and will be sold on a first-come, first-served basis. Specific motorcycle numbers may not be reserved. Each of these motorcycles will be hand-painted and built, with delivery occurring no later than August 2016.
"This is the first time in Jack Daniel's history that we have aligned with a vehicle manufacturer," said Dave Stang, Director of Events & Sponsorships for Jack Daniel's. "Using these new, limited edition motorcycles to help the 'Operation Ride Home' program serves as the perfect pairing for these two classic American brands."
"Indian Motorcycle and Jack Daniels are ideal partners to work together," said Steve Menneto, President of Motorcycles for Polaris Industries. "We share a respect for history and a common desire to promote responsible riding. These two models will be instant collectors' items, and more importantly are fantastic motorcycles for everyday riding."
For more information about Operation Ride Home, or to make a tax-deductible donation, please visit www.jdoperationridehome.com. Jack Daniel's press information can be found at the Jack Daniel's press room located at www.jdpressroom.com. Learn more about Indian Motorcycle and the 2016 Limited Edition Jack Daniel's Indian Springfield and Chief Vintage by visiting IndianMotorcycle.com.
ABOUT JACK DANIEL'S
Officially registered by the U.S. government in 1866 and based in Lynchburg, Tenn., the Jack Daniel Distillery, Lem Motlow, proprietor, is the oldest registered distillery in the United States and is on the National Register of Historic Places. Jack Daniel's is the maker of the world-famous Jack Daniel's Old No. 7 Tennessee Whiskey, Gentleman Jack Rare Tennessee Whiskey, Jack Daniel's Singe Barrel Tennessee Whiskey, Jack Daniel's Tennessee Honey, Jack Daniel's Tennessee Fire, Jack Daniel's Sinatra Select and Jack Daniel's Country Cocktails. Jack Daniel's encourages its friends to drink responsibly and reminds bikers that Bottles and Throttles Don't Mix.
ABOUT THE ARMED SERVICES YMCA
The Armed Services YMCA (ASYMCA) is a nonprofit organization which has been dedicated to making military life easier for more than 150 years. Impacting over 500,000 families annually, the ASYMCA offers low and no cost programs through 200 service centers at 32 branch and affiliate locations serving 45 of the largest military installations nationwide. Of the 1.2M active duty military stationed in the U.S., approximately 82 percent are located where the ASYMCA has a branch or affiliate nearby to help make military life easier. The ASYMCA does not receive government funding and does not charge dues or membership fees for their programs. Eighty-nine cents of every dollar donated goes directly to support programs. In 2013 the ASYMCA was designated as a top-rated charity by Charity Watch and for the 8th consecutive year received the highest (4-star) rating from Charity Navigator. Your tax-deductible donation (Tax ID #36-3274346) to the ASYMCA will make a significant impact on the lives of junior enlisted service members and their families. Please visit asymca.org to learn more.
ABOUT INDIAN MOTORCYCLE®
Indian Motorcycle, a wholly-owned subsidiary of Polaris Industries Inc. (NYSE: PII), is America's first motorcycle company. Founded in 1901, Indian Motorcycle has won the hearts of motorcyclists around the world and earned distinction as one of America's most legendary and iconic brands through unrivaled racing dominance, engineering prowess and countless innovations and industry firsts. Today that heritage and passion is reignited under new brand stewardship. To learn more, please visit www.indianmotorcycle.com.
ABOUT POLARIS® INDUSTRIES
Polaris Industries Inc. (NYSE: PII) is a global powersports leader with annual 2015 sales of $4.7 billion. Polaris fuels the passion of riders, workers and outdoor enthusiasts with our RANGER®, RZR® and POLARIS GENERAL™ side-by-side off-road vehicles; our SPORTSMAN® and POLARIS ACE® all-terrain off-road vehicles; VICTORY® and INDIAN MOTORCYCLE® midsize and heavyweight motorcycles; SLINGSHOT® moto-roadsters; and Polaris RMK®, INDY®, SWITCHBACK® and RUSH® snowmobiles. Polaris enhances the riding experience with parts, garments and accessories sold under multiple recognizable brands, and has a growing presence globally in adjacent markets with products including military and commercial off-road vehicles, quadricycles, and electric vehicles. www.polaris.com
Get the all the latest issue of Hot Bike magazine! Subscribe directly from us.