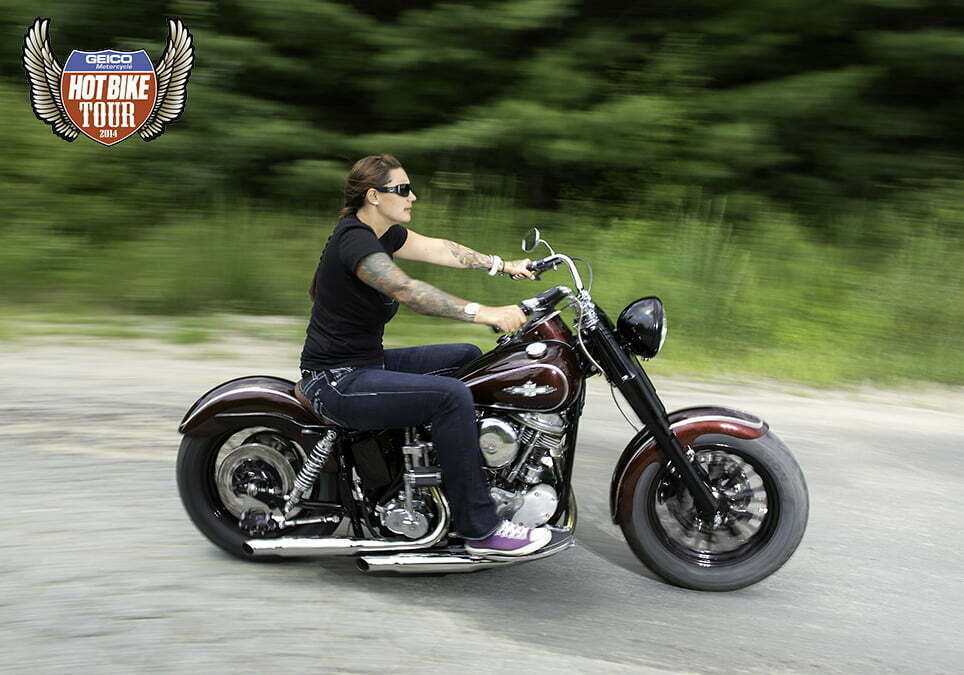 Jody Perewitz joins the GEICO Hot Bike Tour
The world's fastest woman on an American V-Twin and daughter of famed customizer Dave Perewitz will be leading out the daily ride portion of the GEICO Hot Bike Tour.
Jody, who has been clocked at 208 miles an hour has slowed it up a bit and will be joining the Tour on her trusty Panhead chopper with the aid of her sponsor Mustang Seats. Every morning Jody will be leading the pack out of each of the Tour's five city stops and onto another day of great riding with friends old and new. Jody will also be available daily for autographs and photos so both riders of the tour as well as event attendees can meet the legendary racer face to face.
"I am excited the staff of Hot Bike offered me the position as lead out rider of the GEICO Hot Bike Tour. It's going to be a great way to get out and have some two-wheeled fun in the summer sunshine and meet new people." Said Ms. Perewitz.
"We are very excited to have Jody on board for the Tour as she is a great role model and a really fun person to be around." Stated Jeff G. Holt editor in chief of Hot Bike magazine.
The GEICO Hot Bike Tour kicks off in Joplin, MO. August 16th and carves its way through Jefferson City, MO Aug. 17th, Springfield, IL. Aug. 18th, Bettendorf, IA. Aug 19th, and ends up in Wisconsin Dells, WI. Aug. 20th. Attendance is free and there will be nightly bike shows featuring the top bike builders in the world, performances by Unknown Industries, and a lot full of vendors.
For more info about the tour: GEICO Hot Bike Tour