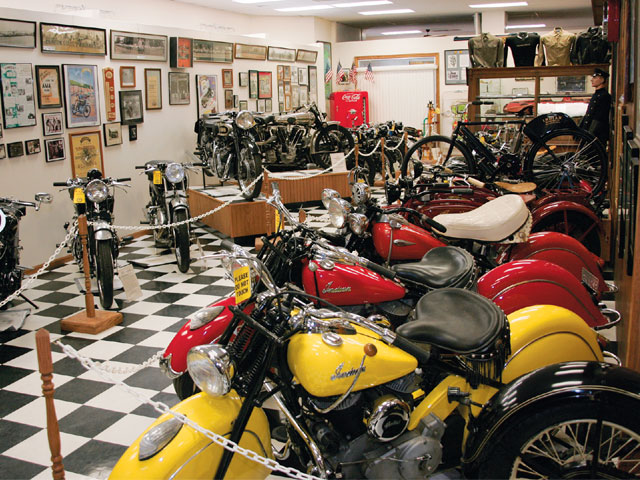 What? A free bike? If we told you that all you need to do is spend a few minutes checking out a website to find out how to buy tickets to get your hands on a motorcycle built by one of the top shops, would you do it? Hell yeah, you would. Tickets are six for $25 or $5 each, and this year J&P; Cycles has done it again by building a good-looking bike to raise money for the National Motorcycle Museum in Anamosa, Iowa. If you did not know that there is a museum devoted to vintage and collectible motorcycles, then let us tell you if you are a true motorcycle enthusiast, this is a place you need to see.
The National Motorcycle Museum opened in 1989 and houses some of the coolest motorcycles and memorabilia dating back to the early 20th century. The museum has a huge display of more than 200 antique bikes, as well as collectibles, from photos and posters to toys on every wall. To help with the general operations of the National Motorcycle Museum, they joined hands with J&P; Cycles and some top motorcycle companies that donated parts to build a bike to raise money for the museum.
Most of the parts for this build came from the J&P; catalog. But to help this build come together, other companies donated parts, including the new S&S; Panhead motor, Baker transmission, KraftTech frame, Primo/Rivera primary drive, Performance Machine controls, Spyke ignition and charging system, Avon tires, DNA wheels and frontend, as well as parts from Wire Plus.
The money donated from last year's giveaway bike also helped in part to build a new exhibit, which is an early 1900s motorcycle workshop that has just opened at the museum. Complete with replica oil lamps, this exhibit is one you do not want to miss! A big thank you goes out to the Antique Motorcycle Club of America; their sponsorship helped make this project possible. Thanks also go out to Francis Lebeda of Lebeda Engineering in Cedar Rapids, IA, for a large number of tools in the display.
Last year's lucky winner of the Knucklehead charity bike was Mike Seneski of Palmdale, CA. The drawing for this bike is late December, 2008. So enter today-you don't need to be present to win. All donations to the museum are tax deductible and help to create new exhibits, obtain new bikes, and help with general operations. For more information on the National Motorcycle Museum and getting raffle tickets, contact (319) 462-3925, or visit www.nationalmcmuseum.org. A link to the museum can also be found on J&P; Cycle's website at www.jpcycles.com.
Get your tickets today for your chance to win this 2008 Custom Panhead. Tickets are six for $25 or $5 each, and all proceeds benefit the National Motorcycle Museum.