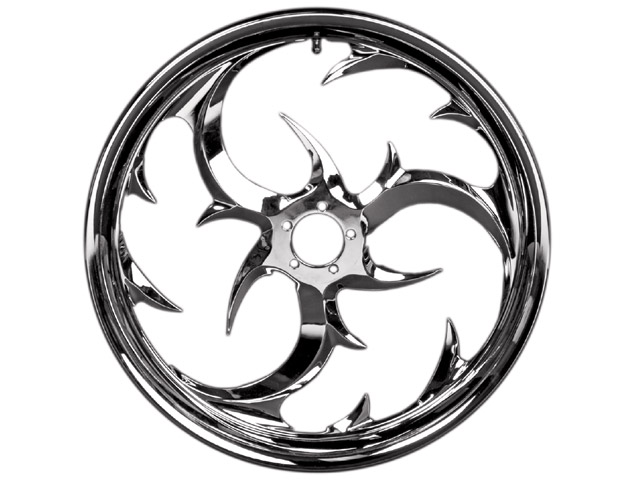 Miller Diversion165 AC/DC TIG Welder$1,617
Miller's new TIG welder was designed with the first-time welder in mind. With the fewest controls on any AC/DC TIG machine, it's easy to use and even comes with a TIG Welding for Dummies book and a DVD on how to setup the rig once you've received it. Anyone with the itch to weld patch panels, aluminum oil pans, or stainless exhaust systems can do so without feeling intimidated.
Contact
Miller Electric
(800) 426-4553
www.millerwelds.com
Pickard USA Nitro WheelStaring at $1,110
Pickard USA launched its brand new Nitro Wheel for you aftermarket parts enthusiasts. The multi-directional, three-dimensional Nitro is available in many sizes for your Harley-Davidson, including a 23-incher, and Pickard offers a matching rotor, pulley, and sprocket if you so desire.you so desire.
Contact
Pickard USA
(972) 231-1298
www.pickardusa.com
Zipper's Performance Red Shift Cams $349.95
Nothing makes the holidays brighter like opening that gift that you dreamed of getting. And a new set of cams from Zipper's Performance will definitely make you and your motor smile. Zipper's states these Red Shift 575HS bolt-in cams for 96ci and 110ci Twin Cam motors will increase power across the entire power band, but most noticeable in the lower rpm ranges.
Contact
Zipper's Performance
(410) 579-2828
www.zippersperformance.com
LA County ChoprodsvISR Master Cylinder Starting at $345
The Industrial-looking master cylinders from LA County Choprods will tidy up your handlebars in no time for a more streamlined look. The ISR master cylinders are available to fit 1-inch handlebars and can be fitted with optional adjustable levers.
Contact
LA County Choprods
(310) 353-2467
www.lachoprods.com
Duane Ballard Custom Leather Wallets $250
There's something about a wallet that defines a man. Whether it's a bi-fold, tri-fold, chain wallet, personalized wallet, or one of those cheesy magic wallets where you put the money in, flip it, and presto, it's organized, there are many choices out there. The fact is you choose the best wallet to fit your own style. Duane Ballard's wallets will definitely set you apart from the rest of the wallet-carrying population. He custom makes each wallet with top-grade cowhide for the exterior and kangaroo leather for the lining, and Duane guarantees, "No one else will have anything like them."
Contact
Duane Ballard Custom Leather
(603) 781-7505
www.dbcustomleather.com