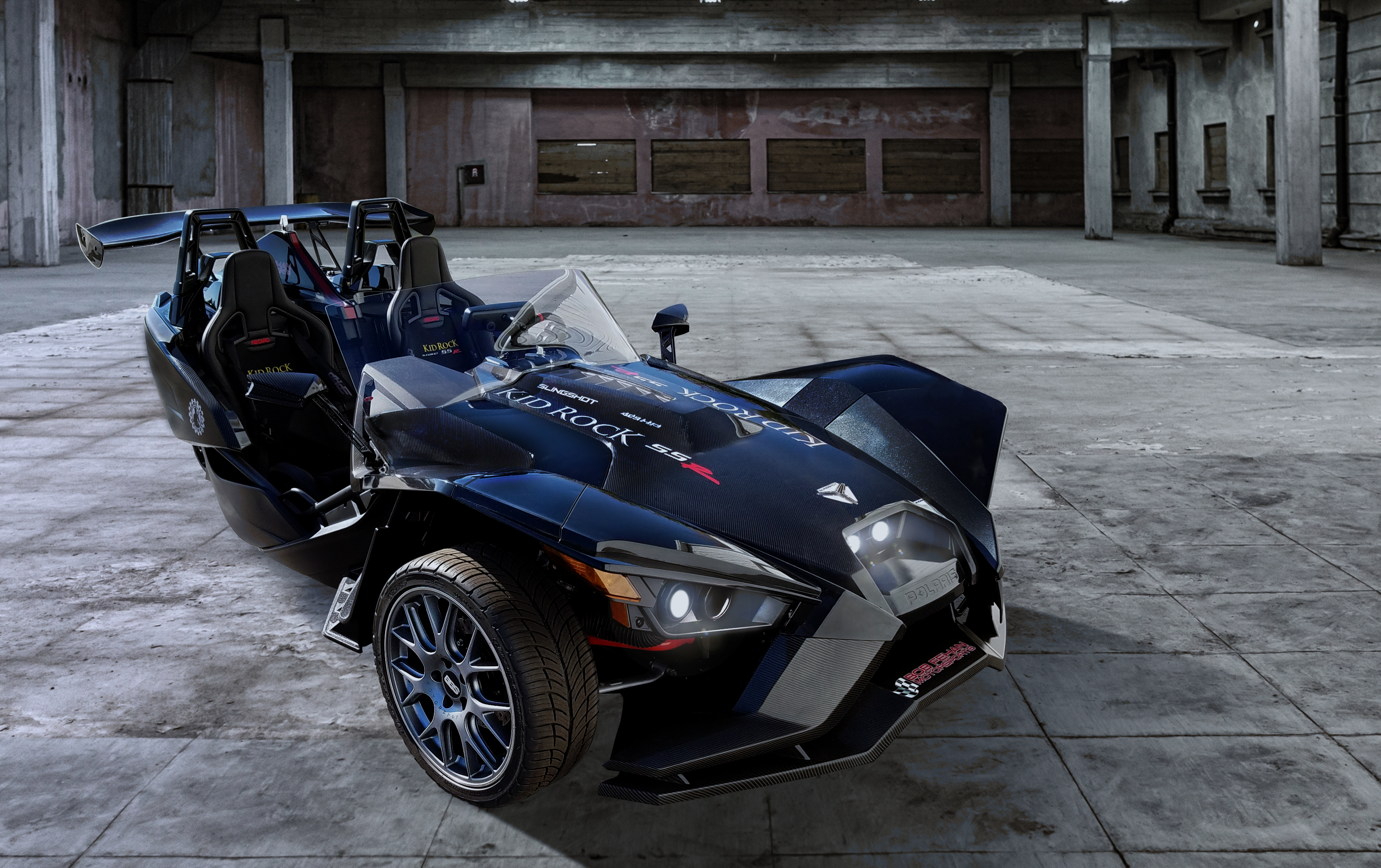 Slingshot and Bob Fehan Motorsports have teamed up to build the ultimate tribute to Detroit's bad-boy rocker Kid Rock — the turbocharged Slingshot Kid Rock SS-R concept. Introduced today as a featured vehicle at the SEMA Show in Las Vegas, the Kid Rock SS-R turned heads and drew a crowd.
With all the attitude of the American Badass singer, the SS-R concept pushes approximately 400 horsepower through the signature three-wheeler's rear wheel, thanks to a custom intercooled turbocharging system on the Slingshot's standard 2.4-liter engine. Road-race suspension upgrades help to channel that extra power through the corners for a more exhilarating experience on the track or highway.
The concept vehicle's high-performance is complemented visually with custom carbon fiber body panels, a bold wing spoiler, custom lighting and Kid Rock graphics. The cockpit features custom racing seats, a flat-bottom steering wheel, short-throw shifter and much, much more.
"Standing out from the crowd and delivering an on-road experience like no other is what Slingshot is all about. With its distinctive style to its turbocharged performance, the Kid Rock SS-R concept is as bold as the rocker himself," said Steve Menneto, President of Polaris Motorcycles.
The Kid Rock SS-R concept takes the Slingshot experience to the next level of customization and performance," said Bob Fehan, president of Bob Fehan Motorsports. "It's a combination of elements that come together cohesively to create a unique statement about the freedom of the Slingshot and the free expression of Kid Rock."
Slingshot for 2017
Slingshot's 2017 lineup includes feature upgrades and new colors for the brand's flagship models, a new racing-inspired roadster and an expanded lineup of accessories focused on rider comfort, storage and more customization choices.
The 2017 Slingshot® SLR is the newest model of the groundbreaking three-wheeled roadster lineup and features lightweight forged aluminum wheels, a 305MM-wide rear tire, Sparco® race-inspired cockpit touchpoints, a custom two-tone paint scheme and more. It expands the Slingshot range of American-designed and manufactured roadsters to three models, including the original Slingshot and Slingshot SL.
"As the Slingshot continues to attract more enthusiasts, the expanded range for 2017 gives customers more choices and more ways to personalize their experience," said Slingshot's Menneto. "The new Slingshot SLR, for example, offers a more premium look and feel, while the increased number of accessories helps make the Slingshot completely yours. In short, it's an encompassing lineup that gives you more reasons to hit the open road."
All Slingshot models are constructed with a high-strength steel spaceframe and powered by a 173-hp 2.4-liter DOHC four-cylinder engine that drives the rear wheel via a five-speed manual transmission. The responsive combination delivers exhilarating acceleration and connects the driver and passenger to the road through a sophisticated double-wishbone front suspension and electronic power-assisted rack-and-pinion steering. All models also feature an electronic stability control system and disc brakes with ABS.
For more information about Slingshot visit PolarisSlingshot.com.