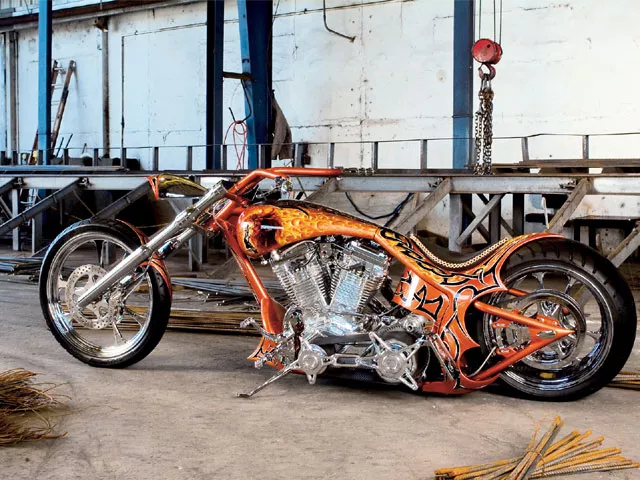 Raw Power Customs is an archetypal small bike shop. It's owned by the talented James McGlynn and pumps out its fair share of stylish customs for grateful customers. Like any decent shop, it also has a back-room bike; these are the machines that see the wild ideas the public isn't yet ready for, and more often than not they languish in the aforementioned back room while paying customers' bikes take priority. Once finished, these shop bikes are almost always trendsetting works of art, but sadly, many never see completion.
Although it would take more than three years, James vowed to finish Raw Power's back-room bike, which he had dubbed "Slayer," and eventually enlisted the help of metalworking sage Gerry Graves. Gerry not only helped with the bike, but would end up serving as an in-house sheetmetal mentor to whom James gives much credit. James envisioned Slayer as a long and low bike and spec'd the chassis from Rolling Thunder with a 45-degree rake and a backbone with 5 inches of stretch. The sheetmetal work was not limited to bodywork, as even the downtube received a restyling. The Pro Street-style airdam is actually a housing for the suspension's compressor and is accessed via a covert trap door from the bottom. In fact, most of the metalwork features this high level of creativity, including handmade bars, wildly formed fenders, and a redesigned fuel tank. The detail doesn't end there, as the tribal graphics in the paint scheme are actually a layer of painted sheetmetal bonded to the bodywork.
James chose the ultra-clean Player wheel from Performance Machine and matching discs and pulley. The HiTech beltdrive primary attaches a five-speed trans to a fire-breathing 121-inch TP motor, and the whole package sits on Avon rubber. Now that this one is finally done, we're looking forward to James' next shop bike and hope it doesn't take as long!
| | |
| --- | --- |
| SPEC SHEET | |
| **OWNER ** | Jeff McGlynn |
| **SHOP ** | Raw Power Customs |
| **WEBSITE ** | www.rawpowercustoms.com |
| **PHONE ** | (954) 942-1122 |
| **YEAR/MAKE/MODEL ** | ,'04/Raw Power |
| ** ** | /Special Construction |
| **FABRICATION ** | Raw Power Customs |
| **ASSEMBLY ** | Raw Power Customs |
| **BUILD TIME ** | Three years |
| | |
| --- | --- |
| ENGINE | |
| **YEAR/TYPE/SIZE ** | ,'02/Evo/121 |
| **BUILDER ** | TP |
| **CASES ** | TP |
| FLYWHEELS | TP |
| | TP |
| **PISTONS ** | TP |
| **CYLINDERS ** | TP |
| **HEADS ** | Raw Power |
| **ROCKERS ** | TP |
| **ROCKER BOXES ** | TP |
| **PUSHRODS ** | TP |
| **CAM ** | John Sachs |
| **LIFTERS ** | JIMS |
| **CARBURETOR ** | Mikuni |
| **AIR CLEANER ** | S&S; Velocity Stack Trotta |
| **EXHAUST ** | Martin Bros. |
| | |
| --- | --- |
| TRANSMISSION | |
| **YEAR/TYPE ** | ,'04/TP/Five-speed |
| **CLUTCH ** | Barnett Scorpion |
| **PRIMARY ** | HiTech |
| **GEARS ** | TP |
| **CASE ** | TP |
| | |
| --- | --- |
| FRAME | |
| YEAR/TYPE | ,'02/Rolling Thunder |
| **RAKE ** | 45 degrees |
| **STRETCH ** | 5 inches out, 1-1/2 inches down |
| | |
| --- | --- |
| SUSPENSION | |
| **FRONT ** | Perse |
| **LENGTH ** | 10 inches over |
| **TRIPLE-TREES ** | Perse |
| **REAR ** | |
| **SWINGARM ** | Rolling Thunder |
| **SHOCKS ** | {{{Legend}}} Air |
| | |
| --- | --- |
| WHEELS, TIRES, AND BRAKES | |
| **FRONT ** | |
| **BUILDER/SIZE ** | PM/21×2.25 |
| TIRE | Avon MH 9090 |
| **CALIPER ** | PM |
| **ROTOR ** | PM |
| **REAR ** | |
| **BUILDER/SIZE ** | PM/18×8 |
| **TIRE ** | Avon/250 |
| **CALIPER ** | PM drive-side |
| **ROTOR ** | PM |
| | |
| --- | --- |
| FINISH/PAINT | |
| **COLOR ** | Candy Tangerine |
| **PAINTER ** | David Londono/ |
| ** ** | Flawless Customs |
| rong>GRAPHICS ** | David Londono/ |
| ** ** | Flawless Customs |
| | |
| --- | --- |
| ACCESSORIES | |
| **FRONT FENDER ** | Raw Power |
| **REAR FENDER ** | Raw Power |
| **GAS TANK∩ ** | Raw Power/Graves Customs |
| **OIL TANK ** | Rolling Thunder/Raw Power |
| **HANDLEBARS ** | Raw Power |
| **HAND CONTROLS ** | PM {{{Contour}}} |
| **FOOT CONTROLS ** | PM Contour |
| **FOOTPEGS ** | Accutronix |
| **HEADLIGHT ** | Thunder and Lightning |
| **TAILLIGHT ** | Drag Specialties |
| **LICENSE MOUNT ** | Drag Specialties |
| **SEAT ** | Jeffrey Phipps |