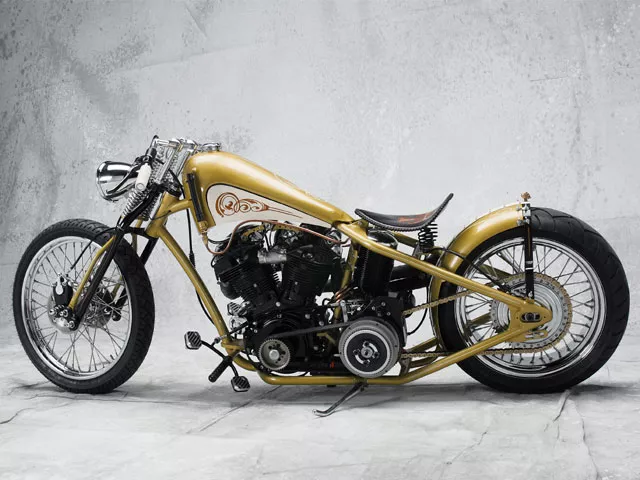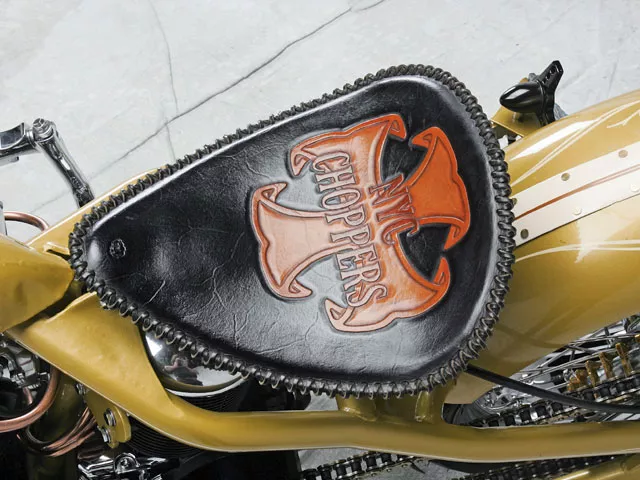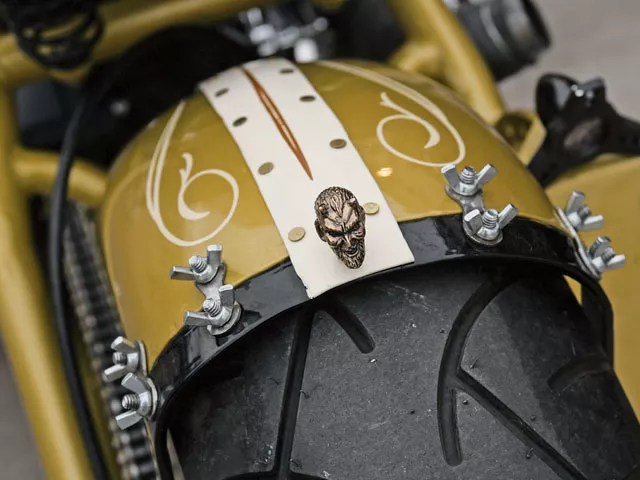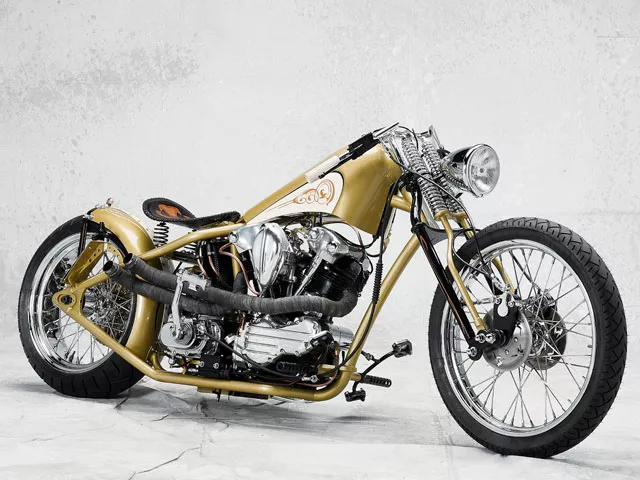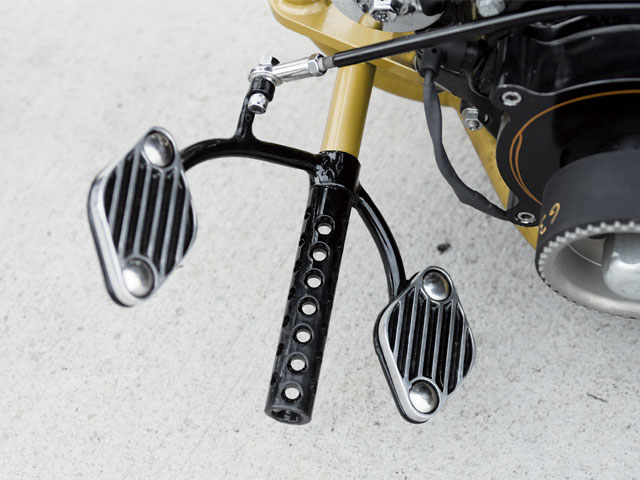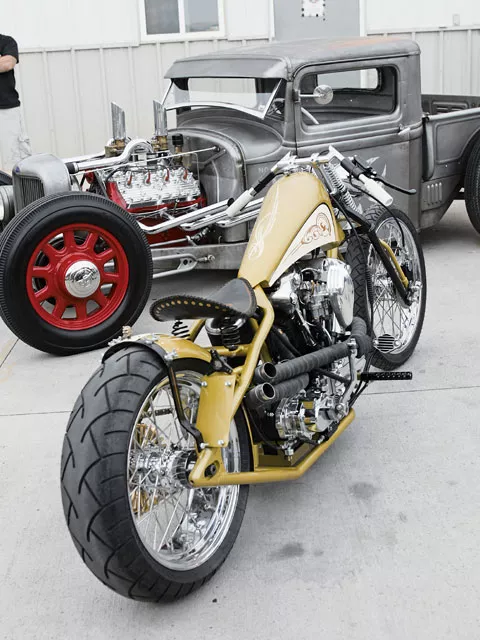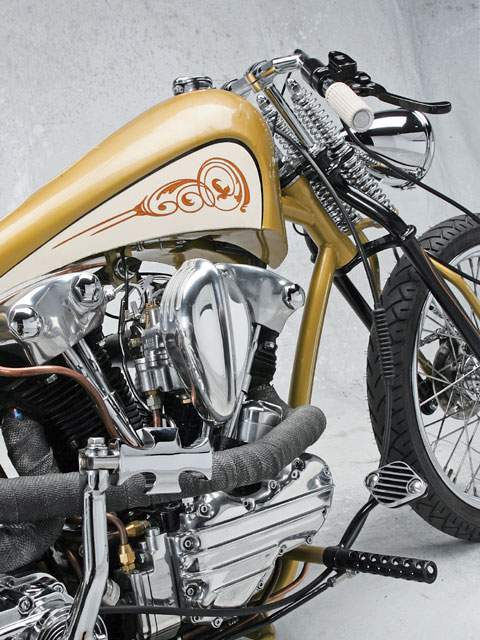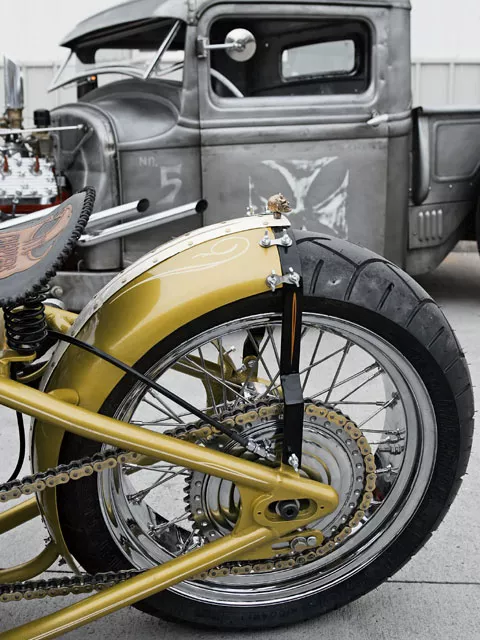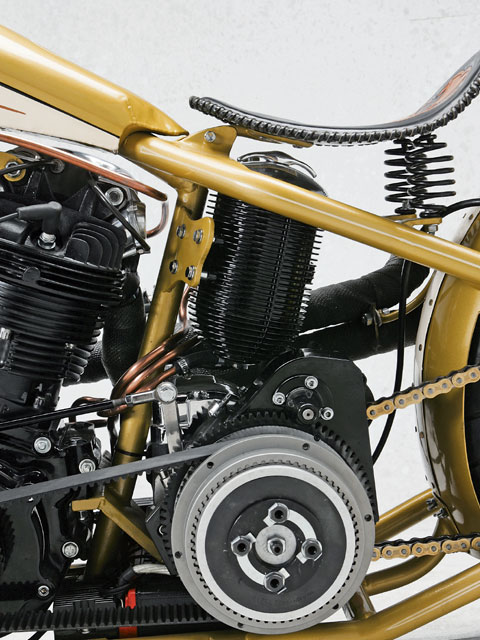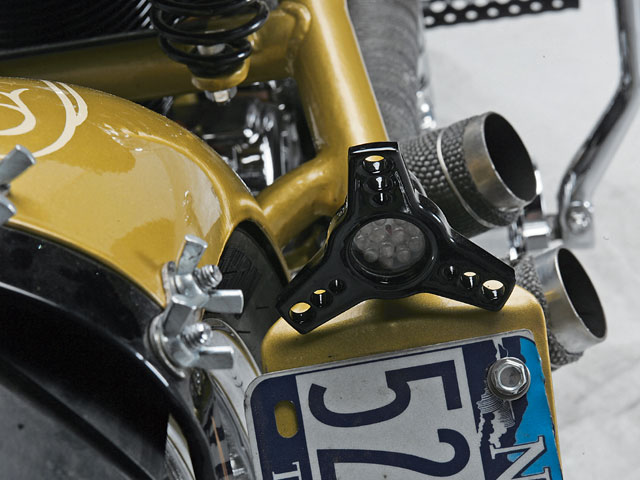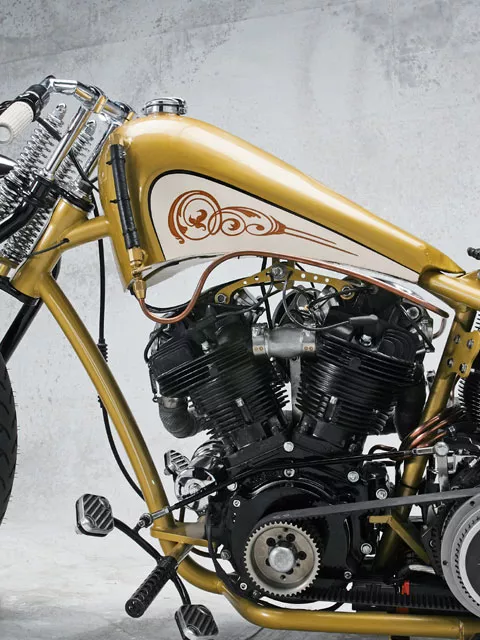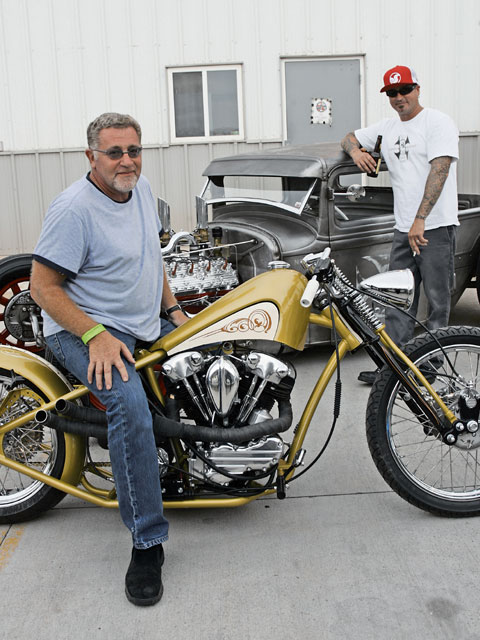 Mining gold has come a long way since the California Gold Rush of the mid-1800s. Back then, prospectors dealt with bears, claim jumpers, and horrid working conditions, to say nothing of finding the gold itself and then actually wresting it from the Earth's grasp. Now, however, there are plenty of ways to find gold, be it on Ebay in the form of Elvis chess pieces from the Franklin Mint, or, in the case of Nick Genender of New York City Choppers (NYCC), building the ore from scratch, the way he did with his bike "Gold Rush."
It's a rather raw-looking bike with an old Jimmy Shine rat-rod vibe to it, which was a bit of a switch for Nick at the time he built it. He's done a lot of bikes in various styles, and while he loves bobbers, lately he'd been caught up building slick, clean rides and wanted to get away from that, which is part of why he built the NYCC flat-tracker back in '05. After the great reaction he got from that bike, he decided to build Gold Rush.
It turned out that inspiration hit at the perfect time. Nick had recently picked up a 103-inch knucklehead-style motor from Flathead Power that, up until then, he had no idea what do with. That particular powerplant was exactly what the bike needed: modern performance in a classic-looking package. But Nick not only wanted a vintage visage for Gold Rush, he also wanted it to be primal, and that's why he made a set of wrapped pipes to go with the V-Twin. Later on, when the knucklehead went into the frame, it would be hooked up to a Baker six-speed transmission with a kicker; Nick's shop also used dual Dyna mini coils and a 2000i ignition for easier kicking. The primary drive consists of NYC's new 2-inch electric-start belt drive (with no motor plate), a Primo clutch, and a chain final drive.
But we're getting a bit ahead of ourselves. Before the motor could go into the frame, the crew at NYC needed to actually have a chassis ready to anchor the engine. They opted for a new frame they'd just started marketing that has a radiused backbone and single downtube. With a neck rake of 33 degrees, 8 inches of stretch in the backbone, and 2 more in the downtubes, the bike sits low, and the frontend is kept at a modest angle for easier handling. Nick's shop also makes a wide-configuration Springer frontend complete with Delrin spring isolators and needle bearing rockers; he felt one of these fork setups would be great for Gold Rush, and his shop created a snubnosed version that was in line with the bobbed design he had in mind. With the frontend skeleton hung, Nick went on to finish the rolling chassis with his own 21-inch front wheel, a Black Bike 18-inch rear, and Metzeler tires for both. The bike uses dual 7-1/2-inch NYC Trucker Girl rotors with single-piston Jaybrake calipers up front and an Italy Kustom sprocket/rotor for stopping duty out back.
While all the work was going into the roller, NYC was also putting together the sheetmetal package. Nick had seen a hand-formed custom gas tank that reminded him of the old speedliner trains of the '30s. It gave the appearance of motion even while sitting still. He and his crew drew some sketches for something along similar lines, then cut, shaped, and welded the panels necessary to make it happen. But the crowning touch on the fuel tank would be the '60s-style LeMans-esque gas cap similar to those used on old Shelby Cobras. It really added to the old-school hot rod look of the tank. The rest of Gold Rush's hide is just as cool. An old '50s Ford/Mercury beehive oil filter found itself converted into the bobber's oil tank, and the rear fender was cobbled together from several spare fender pieces lying around the shop, with strapping and copper rivets holding it to the frame, much like an old Harley fender.
As for the controls, Gold Rush is a bit of an amalgamation in that respect. NYC made a set of downswept Z-bars with PM hand controls (you can't get much more modern than that) but then machined some steel tubing with drill detailing for foot pegs and used old lake-pipe cast covers for brake and clutch pedals, which goes along with the old hot rod idea of making what you want from scratch.
With most of the bike done, Nick sent it out for finishing, and since "slick" was the last thing he wanted people to think when they saw this bike, a glossy paint job wasn't a priority. He sent most of Gold Rush to Action Powder, where many of its surfaces were covered in Alloy Gold powdercoat. What little paint there is on the bike (namely, the ivory insets and Victorian-style pinstriping) was done by Little Mike and Dave the Pinstriper. During final assembly NYC added in its own taillight, which was machined from one of the company's spinner-style gas caps, along with a raw, unpadded, hand-tooled seat.
Although construction was done, Gold Rush's story doesn't end there. It made its show debut at the Legend Top 50 Show, and, as the NYC crew was loading it into their trailer at the event, they were told by Jimmy Shine of SoCal Speed Shop to bring it out for the award ceremony because it had won Best of Show. If Nick was trying to evoke the look of a Jimmy Shine hot rod, that's a real good indicator he succeeded.