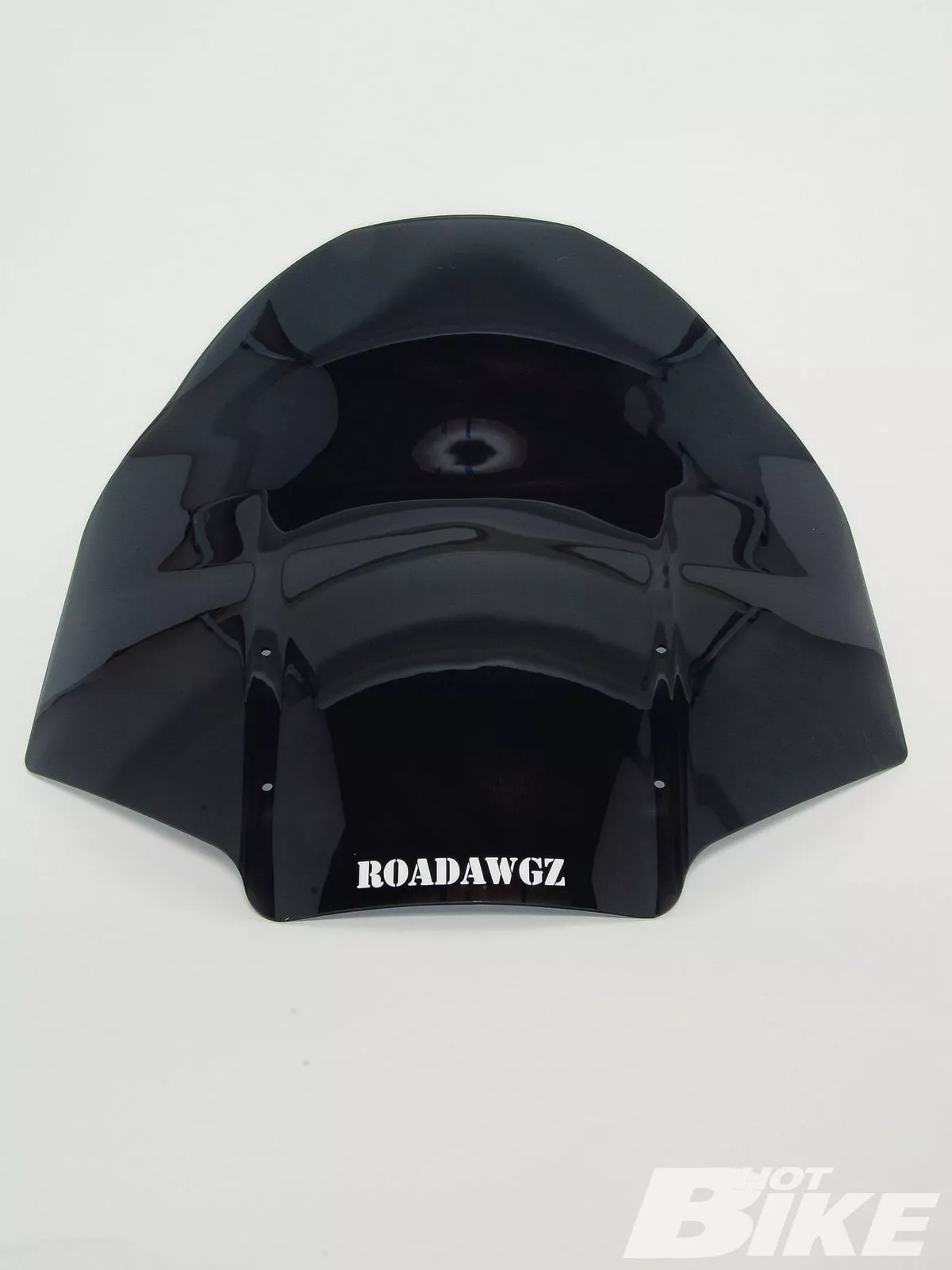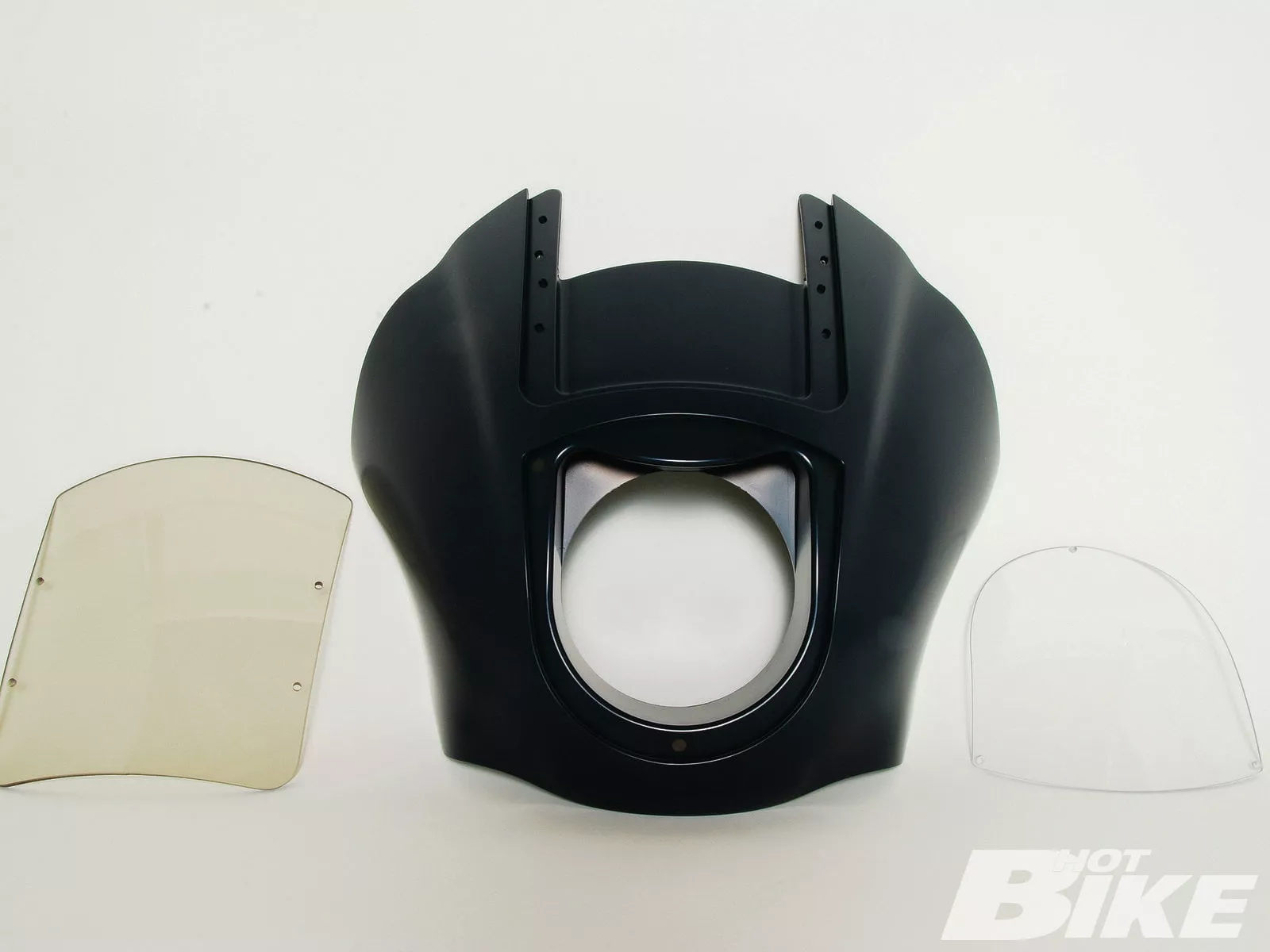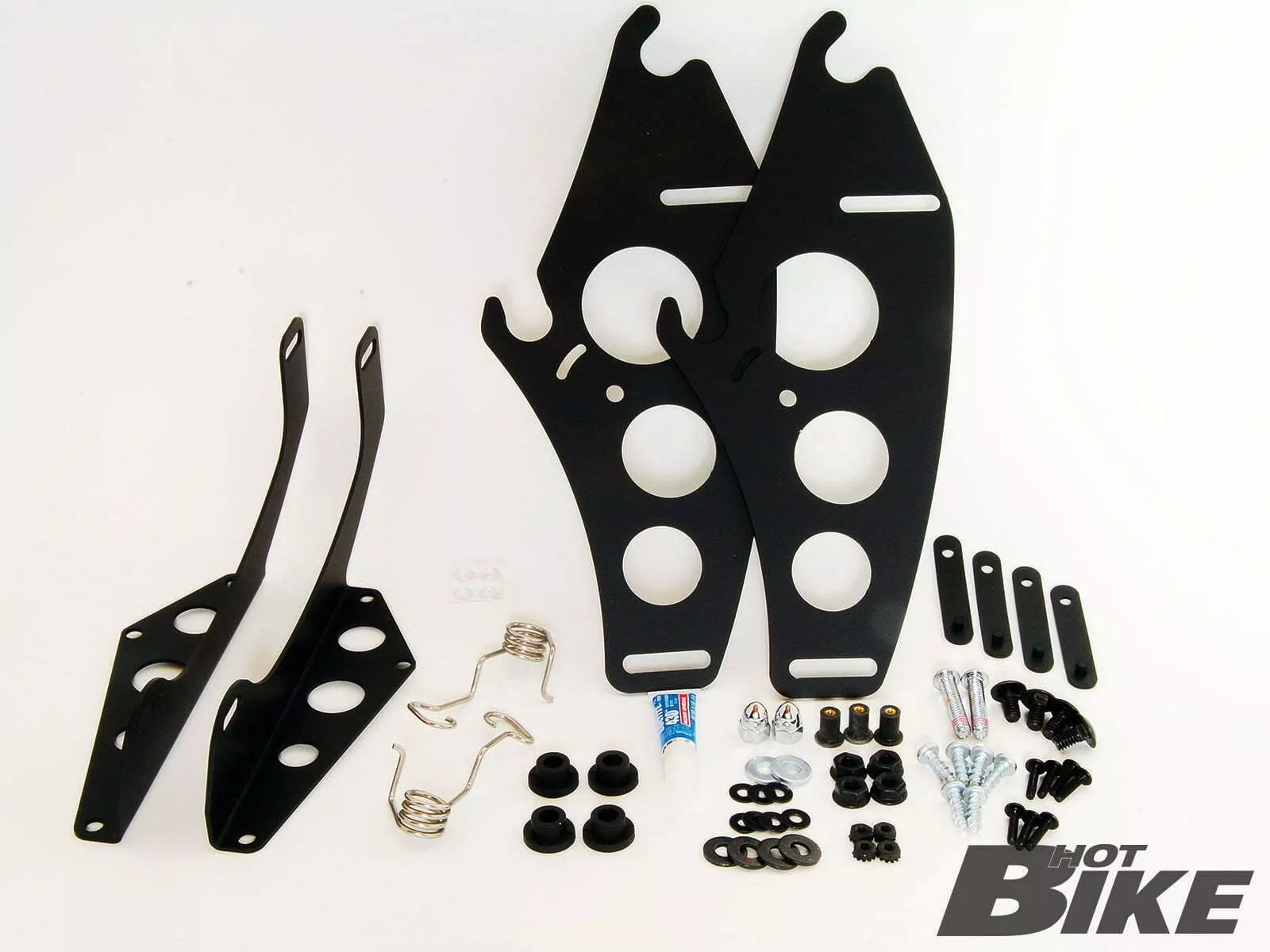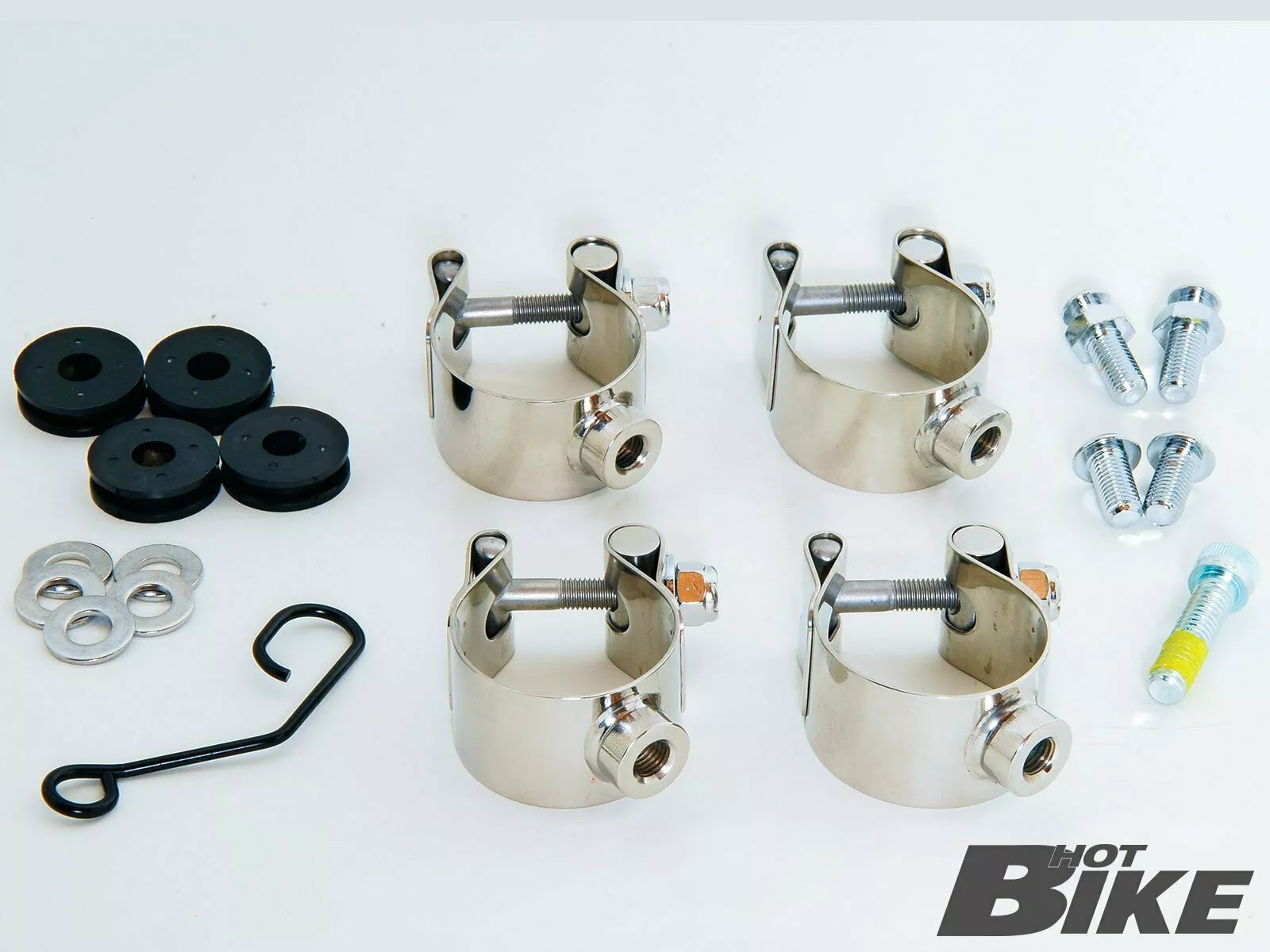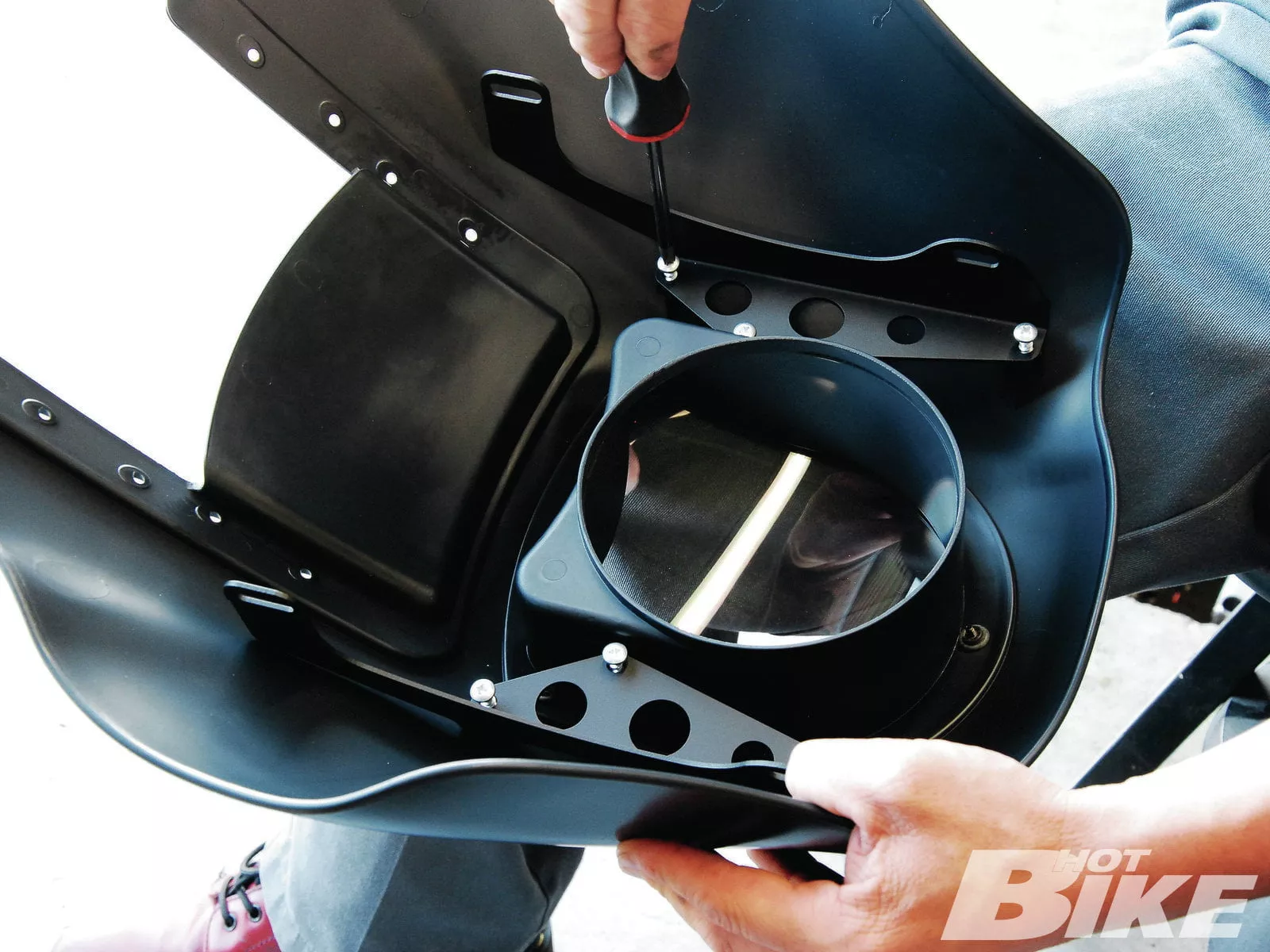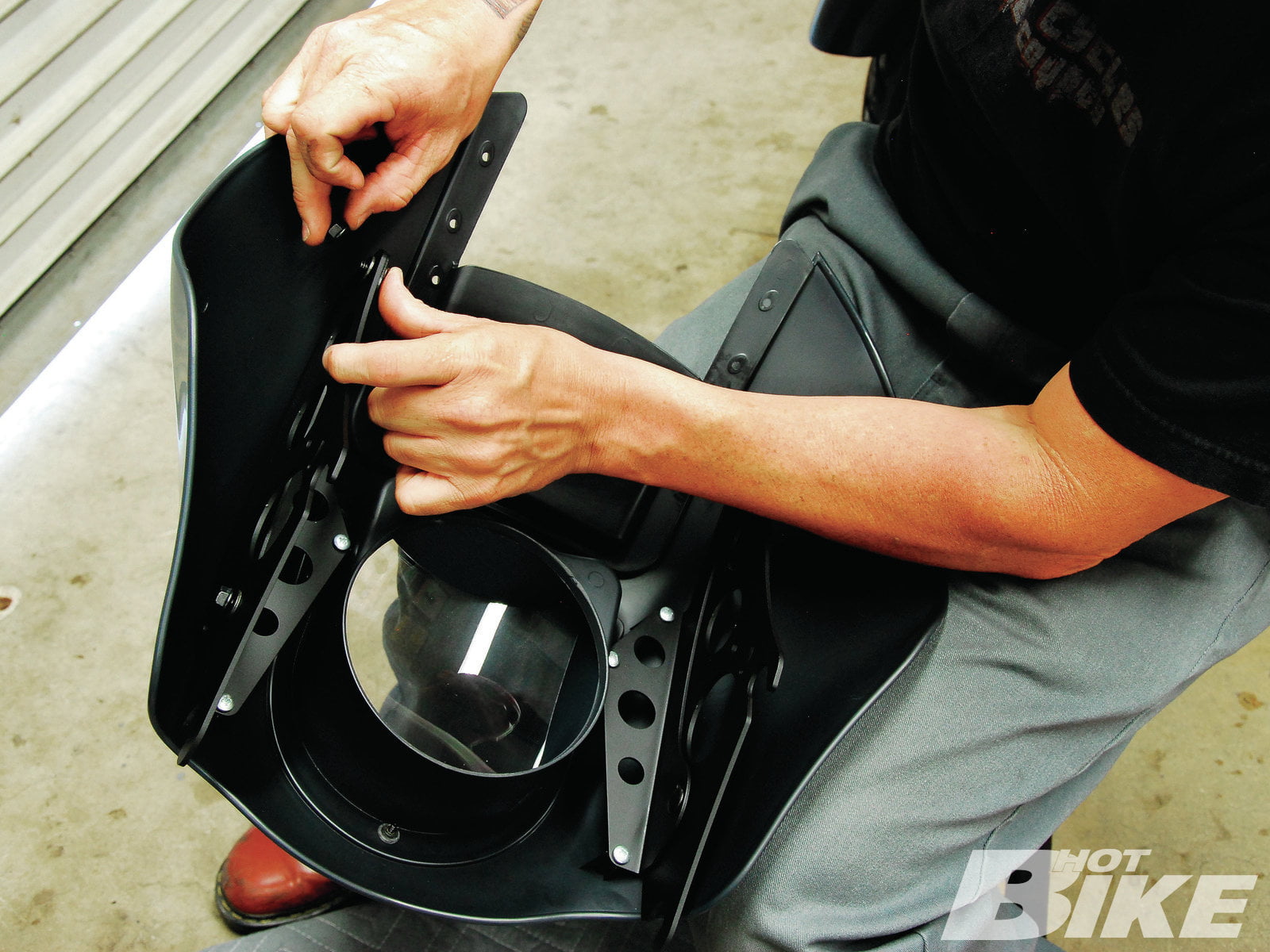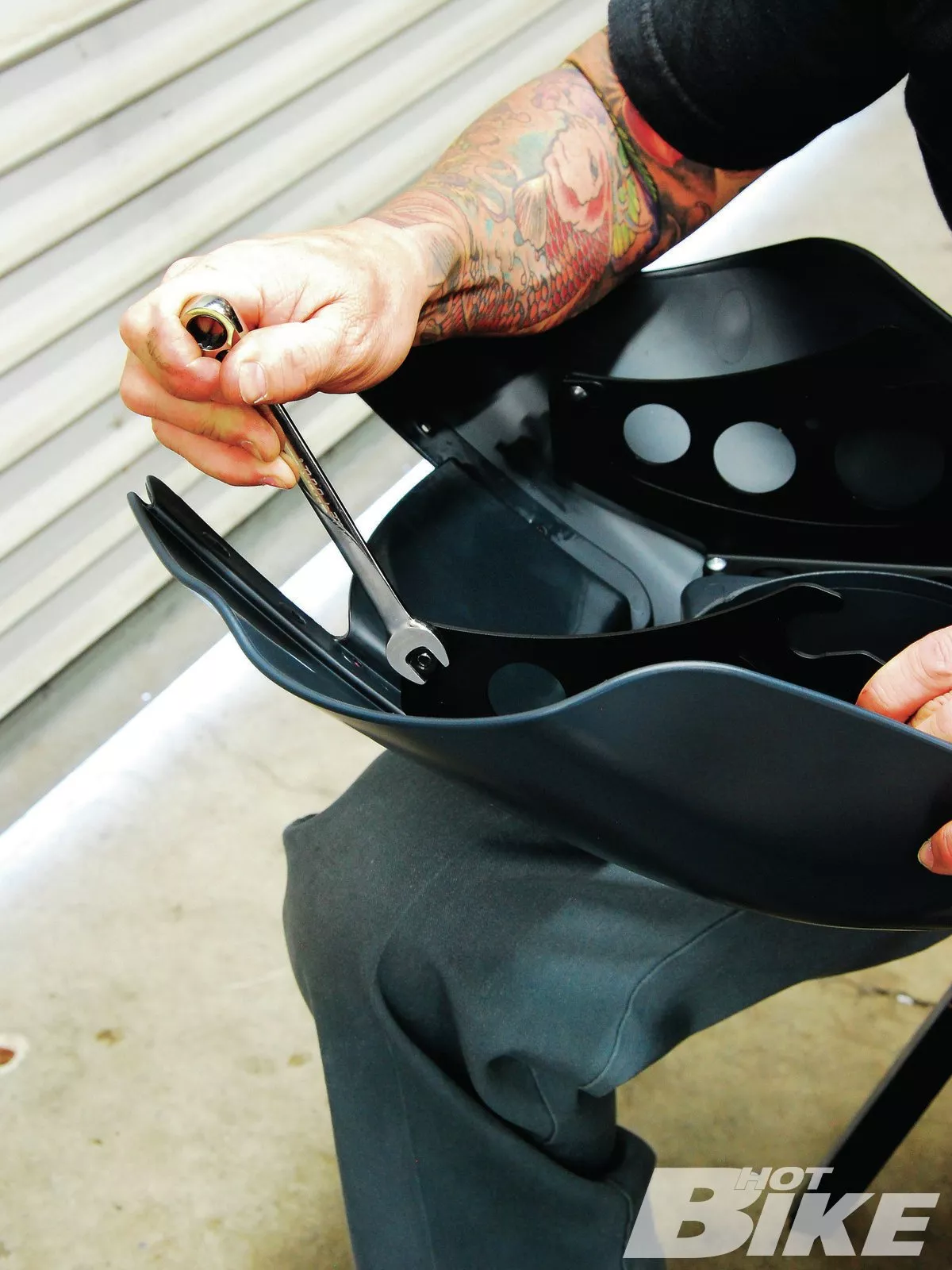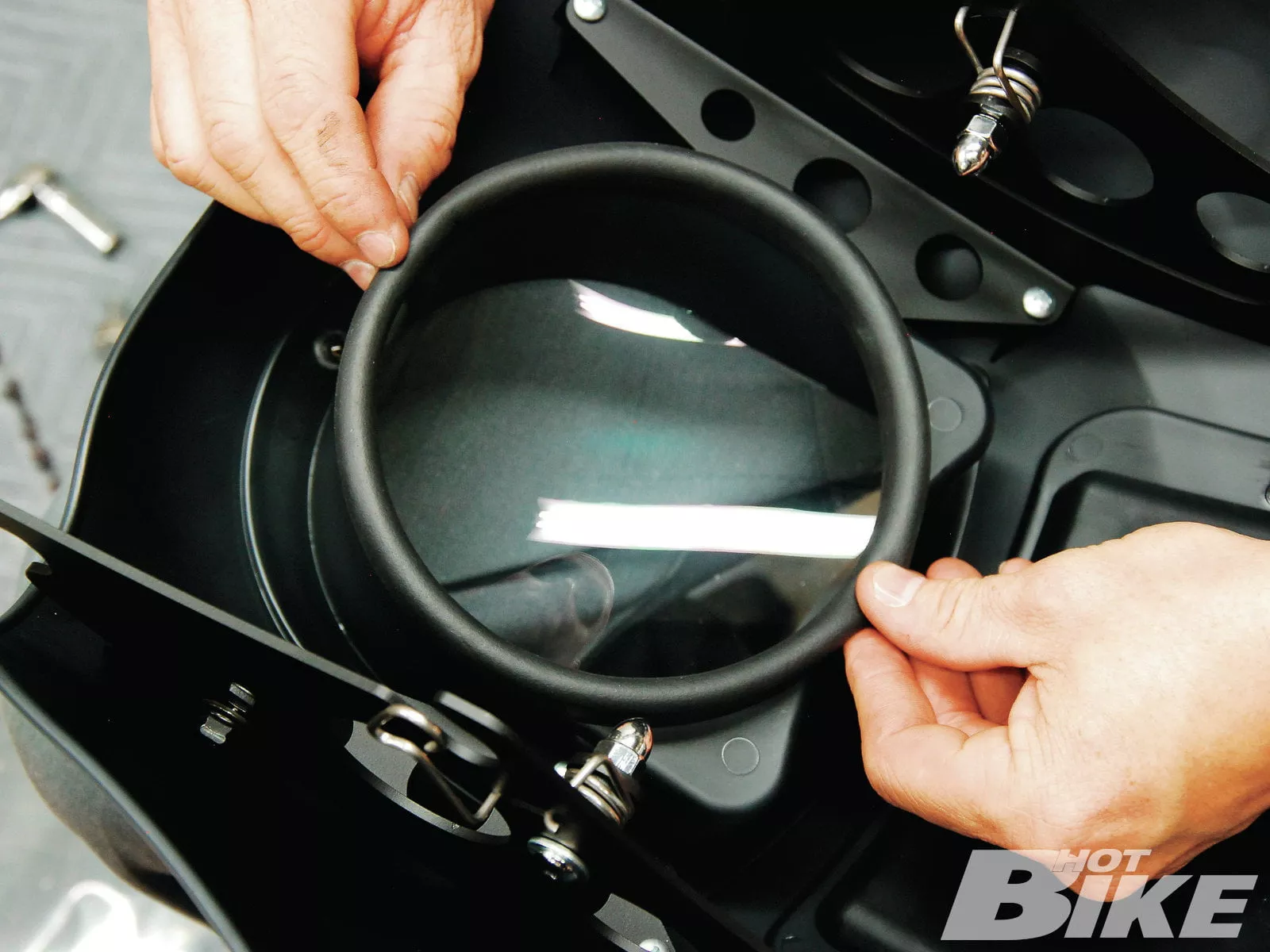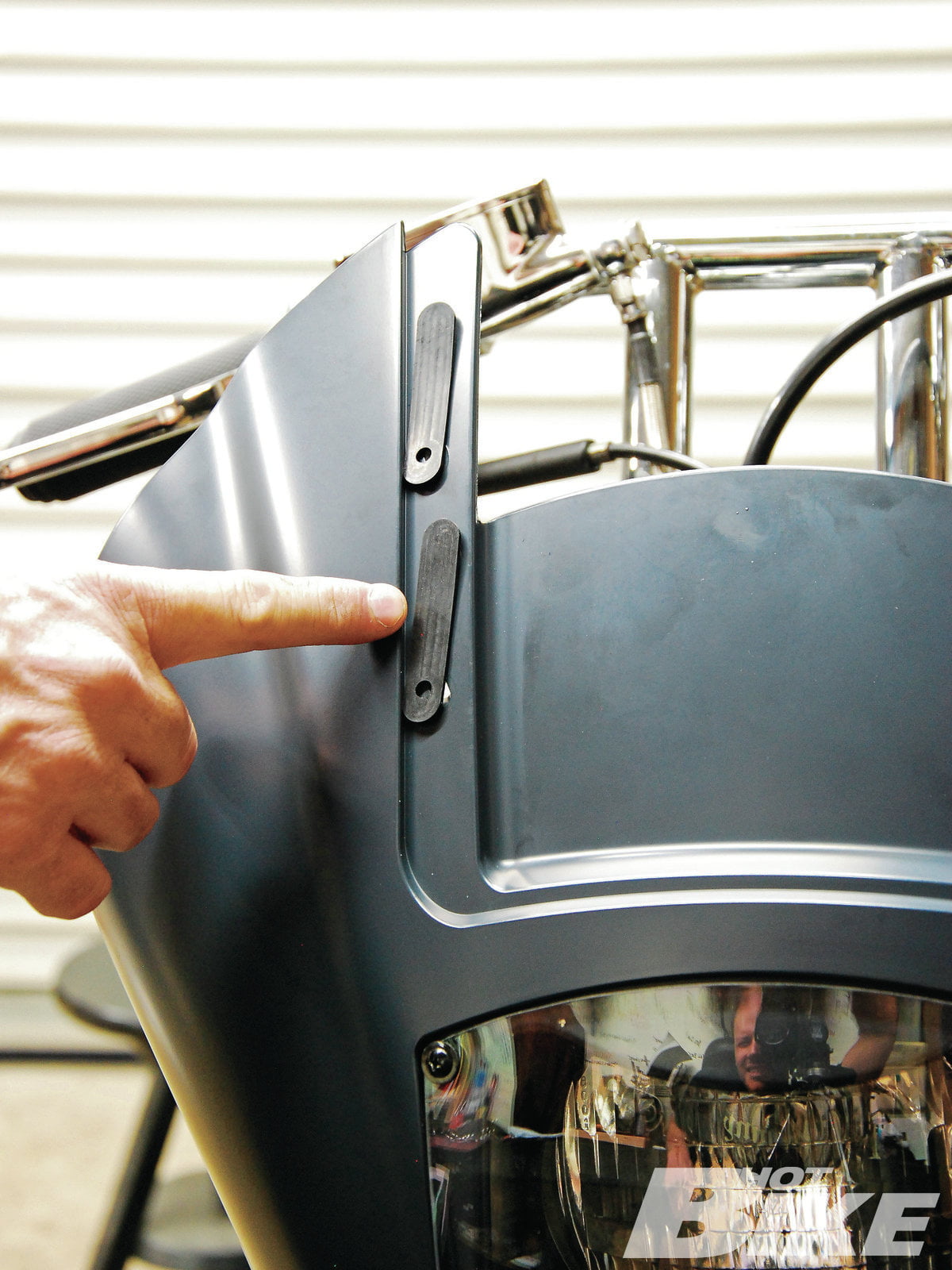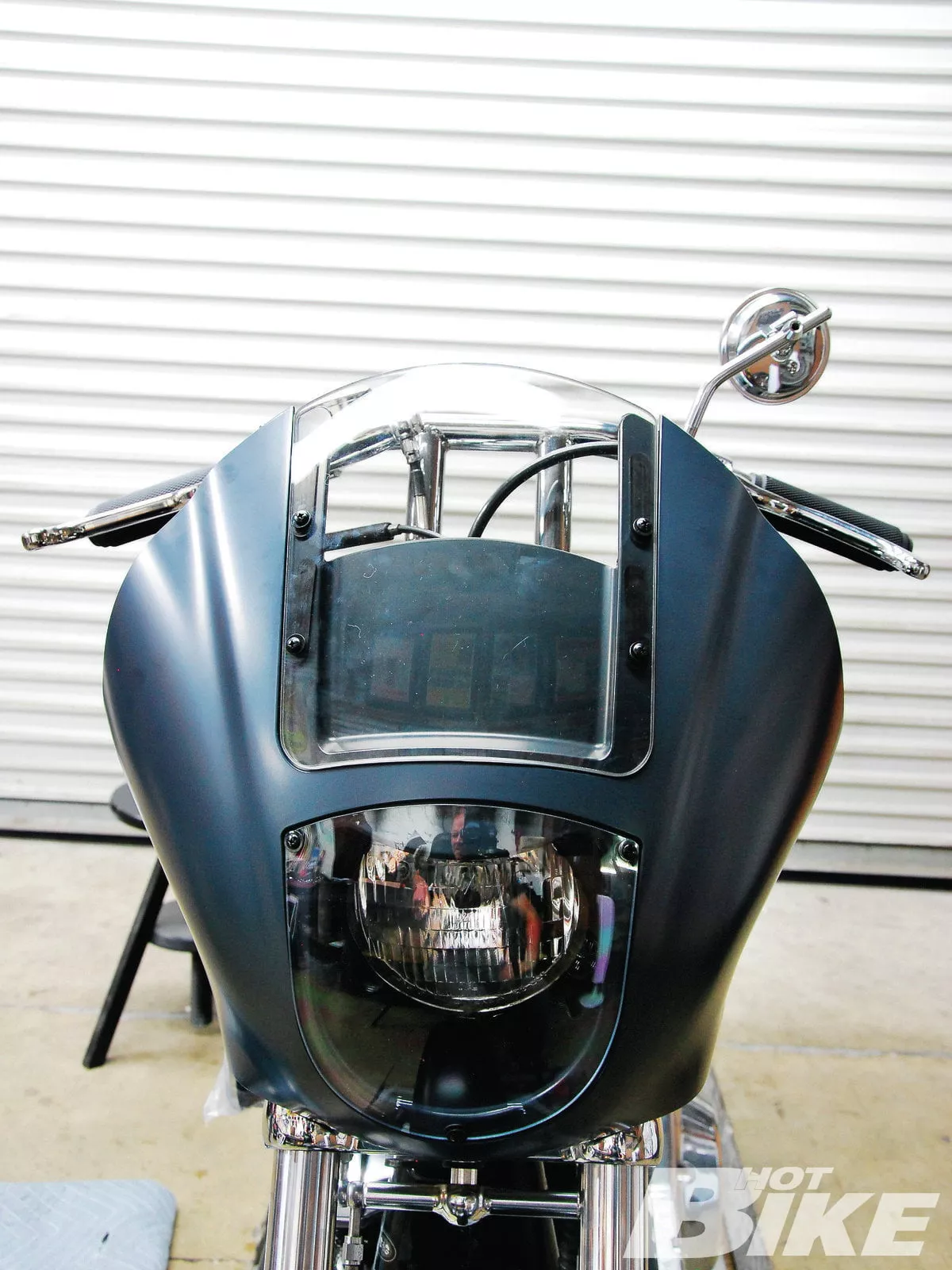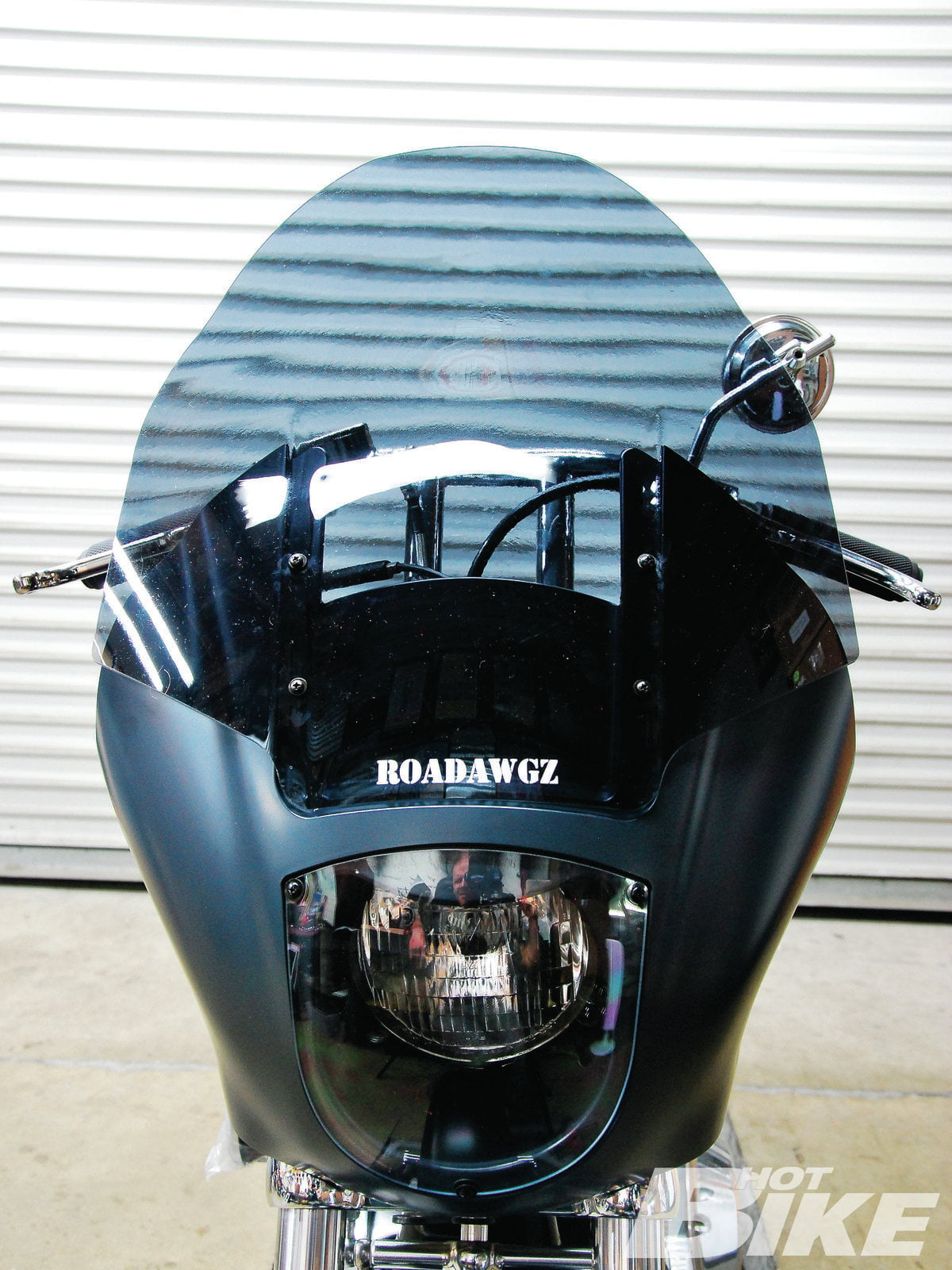 Remember the old joke, "What's the last thing to go through a bug's head as it hits a windshield?" Well, if you were a bug, this is the windscreen you'd choose to fly into. (If you don't know the punchline to the joke, you need to get out more see the answer in the caption of the last photo.)
Like many great inventions, this screen was born out of necessity. The guys at Roadawgz used to ride with Harley's Quarter Fairing attached to their bikes, but were constantly annoyed with the helmet buffeting created by the size of the shield, and experienced severe helmet lift at high-speeds from the ineffective height of the stock windscreen. They liked the look of the fairing, though, and decided to improve the design with a tried-and-true method: trial and error. Through their testing they developed the specific shape seen in these photos: a one-piece windscreen that bolts directly onto Harley's Quarter Fairing. The Roadawgz windscreen features simple installation, slightly taller-than-stock dimensions, and safe, durable, high-impact, UV-rated polycarbonate construction that's made in the USA.
Recently, Roadawgz sent us one of its windscreens to test, and we were happy to oblige them. Well known for its expertise with baggers and fairing-equipped bikes, we took a trip to Freedom Cycles in Orange, California, to install the windscreen on an old FXR, but it will work on just about any naked frontend. The installation went smoothly, and we and Freedom Cycles found that the Roadawgz windscreen lived up to the company's claims—here's how it happened.
The windscreen can be purchased by itself or with a genuine H-D Quarter Fairing. The stock windscreen is on the left, the fairing is center, and the headlight cover is on the right.
Included with the fairing kit are the main brackets and hardware
plus the clamps and hardware to attach it to the legs of a 41mm fork leg.
1. Devin, owner of Freedom Cycles, started the installation by loosely threading the bolts to connect the inner brackets to the fairing.
2. The outer brackets allow for a bit of angle adjustment and were attached to the inner brackets.
3. Once he was happy with the way the parts fit together, Devin cinched the bolts down tight.
4. A light coating of glue went on the headlight ring, followed by the included padded grommet.
5. Four small, rubber pads were placed on the fairing to protect the windscreen from damage. The Roadawgz windscreen was then bolted to the fairing.
6. H-D's stock Quarter Fairing
7. H-D's fairing with the Roadawgz windscreen attached. The screen does add about 6 inches to the height of fairing, but it's more than worth it when weighed against all the benefits. Say goodbye to helmet buffeting and lift! (Answer to the joke in the intro: Its ass)