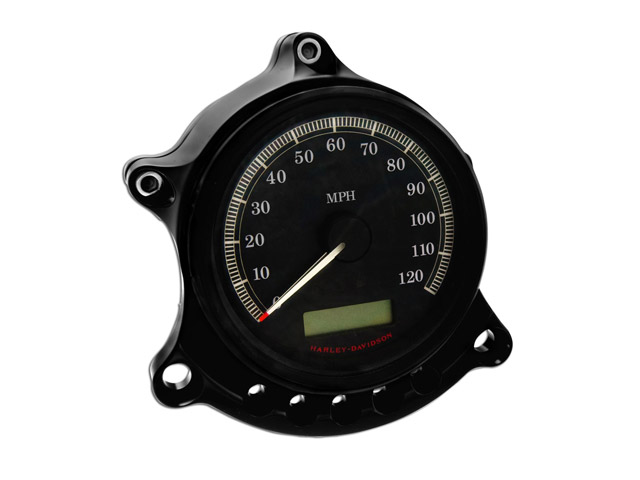 September 2010
The RSD line of Cafe Sportstser parts easily converts a late model Sportster into an aggressive yet comfortable cafe racer.
The new Cafe Gauge and Headlight Re-locator lowers your headlight and gauges to a more sleek position from the top handlebar clamp down to the front of the top triple clamp and lowers the stock headlight 2 inches. This allows for the use of any aftermarket risers or complete elimination of risers for use of the RSD Cafe 39mm Clip-Ons. Keep your warning/indicator light functionality with a LED unit sold separately.
The RSD Clip-Ons mount to the front forks, below the top triple clamp, for a low handlebar position. They utilize all stock wiring, so there is no cutting or soldering. The aluminum bars are dimple milled to allow for stock wiring to cleanly exit your stock switch housings.
The Coil Ignition Re-locator bolts directly to the cylinder heads of the bike and moves the stock ignition coil and ignition switch from under the neck of the bike to between the V of the engine on the left hand side. This allows for complete removal of stock plastic wire caddy and exposes the frame of your bike above the front cylinder.
These components are the easiest way to get the Cafe look out of your Sporty while retaining all the function and reliability of the OEM wiring, headlight, speedometer, coil and ignition.
For part numbers and additional product information, please contact your nearest Drag Specialties Dealer. For media information and high-resolution images, please contact [[email protected]](mailto: [email protected]).