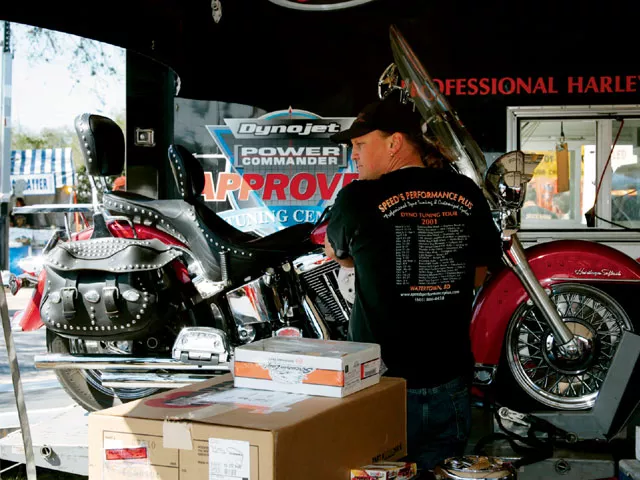 No matter what you ride or where you live, unless you do all the wrenching on your bike yourself there's a pretty good chance you take your Harley to one mechanic, and one mechanic only. For lots of us, the process of finding the right shop requires an exhaustive search, while others luck out and find a shop that meets their needs on the first try. No matter what your requirements are for a shop-be it an independent or a dealer-many things will influence your decision, including location, facilities, training, equipment, hours of operation, and, most importantly, the relationship between you and the mechanic behind the toolbox.
Probably one of the best ways to nail down the right guy to work on your bike is word-of-mouth. All the advertising in the world can't make you bring your bike to a shop the way the recommendation of a good riding buddy can. Well, have we got the shop for you-Speed's Performance Plus. Right about now you may be thinking to yourself, "HOT BIKE is located on the West Coast-how can they help me find the right guy to work on my bike? I live in Louisiana." Well, the shop we're talking about is not your average shop-it's a mobile tuning and performance center that travels the country while setting up shop at major motorcycle events scattered around the U.S. each year.
Speed's Performance Plus was the brainchild of Wayne "Speed" Hanson and his family. Not only did his family help with the concept for the business, but Speed's wife Patty, sons Jason and Jamie, and daughter-in-law Lea travel the show circuit with Speed as the motor guru crisscrosses the country to the tune of 35,000 to 40,000 miles each year.
From as far back as Speed could remember, motors were always a part of his life. He learned at an early age about automobile mechanics from his father. As the years passed, he found himself immersed in motors-building and racing stock cars and moto-cross bikes, then finally settling down in the '70s with a backyard shop where he would work on both late-model cars and motorcycles.
With all his years of racing experience, Speed quickly became known as the "tuner's tuner." Mechanics would come from miles away just to have Speed tune their motors so he could wring out every last drop of power hidden inside of them. All the while he never lost the racing bug, and could be seen in the pits of local racing venues just to lend a hand to whomever needed it.
In 1998, while on his way to Sturgis, Speed starting thinking about changing the way he did business. Instead of people bringing bikes to him at his shop, he could pack up his stuff and take it on the road to where the bikes were. That was the beginning of what we now know as Speed's Performance Plus. What was just a pickup truck and trailer a few years back has turned into a major traveling show, consisting of a whole lot of rolling stock. The centerpiece of the attraction is Speed's 77-foot combination semi/trailer. Jason pilots 53-feet-worth of motor home and trailer, while longtime friend and mechanic Jimbo rounds things out with 55 feet of his own fifth-wheel. In addition, Jamie flies between the shop and events, where he meets up with the rest of the crew and lends a hand, a wrench, or whatever else is needed.
Once everything is set up, the Speed's crew has at its disposal some pretty impressive equipment, including a DynoJet 250I dyno and an enclosed machine shop outfitted with a lift, a lathe, a welder, a hydraulic press, torches, and various machine tools capable of handling any bike maintenance issues you may encounter while you're on the road. But Speed's expertise lies in tuning motorcycles. One look at the impressive array of parts the crew hauls around the country, and it's easy to see where their main interests lie-taking your bike and tweaking it through the use of various components and dyno tuning to bring out its full potential.
Over the years Speed has developed relationships with some major players in the industry, including Dennis Kirk, Drag Specialties, Revolution Performance, Mikuni, Hooker Headers, Force Motor Products, Dynojet Royal Purple, NGK Spark Plugs, and K&N; Filters. If you cruise around Speed's trailer, you will see lots of parts from these manufacturers, along with a handful of Speed's own line of components. The parts are available through Speed's Performance Plus as well as Dennis Kirk and Drag Specialties.
Many of Speed's customers are repeat business; time after time people are amazed at how well their bikes run once the guys have had their way with them. Even without an advance appointment (highly recommended), Speed knows there will be certain guys showing up at a particular rally to get their annual tuneup while the mobile shop is in town. Looking for something as simple as a high-flow air cleaner? You can bet that when your bike rolls out it will run better than it did when it rolled in. While we have known these guys for a few years now, we make it a point to stop by and hang out with them whenever we have a few spare moments. What always impresses us is how quickly they get bikes in and out of both the dyno and the lifts scattered around the outside of the trailer, and how genuinely pleased people are with the way their bikes run once the crew is finished with them.
No matter what kind of motor work you are looking for, these guys can set you up. We watched as they built a 103-inch T-C motor for a guy who dropped off his bike on Friday and picked it up on Saturday. Now, that's cool-roll to a rally with a stock engine and motor home with something that puts out somewhere in the vicinity of 40 hp more than you started with. If that's not your cup of tea, why not try a set of Speed's new exhaust pipes, head breathers, a Power Commander, or even a blower. It makes no difference to them if you bring them a carbureted bike or one with fuel injection-the Speed's guys are up to the task. So check out their website at www.speedsperformance plus.com, get a look at their upcoming schedule, and make an effort to stop by and say "hey" at the next rally you attend.
| | |
| --- | --- |
| SPEED'S 2006 TOUR DATES | |
| FEB. 4-FEB. 6 | CINCY DEALER SHOW CINCINNATI, OH |
| MAR. 2-12 | DAYTONA BIKE WEEK DAYTONA, FL |
| MAR. 25-26 | SOUTHERN EXPO JACKSON, MS |
| APR. 5-9 | ARIZONA BIKE WEEK SCOTTSDALE, AZ |
| APR. 21-30 | 21ST ANNUAL LAUGHLIN RIVER RUN LAUGHLIN, NV |
| MAY 13-22 | MYRTLE BEACH BIKE WEEK MYRTLE BEACH, SC |
| JUN. 9-18 | 80TH ANNUAL OLDEST MOTORCYCLE RALLY LACONIA, NH |
| JUN. 24-25 | DENNIS KIRK OPEN HOUSE RUSH CITY, MN |
| AUG. 4-13 | STURGIS RALLY STURGIS, SD |
| AUG. 31-SEPT. 4 | THUNDER IN THE ROCKIES/4 CORNERS IGNACIO, CO |
| SEPT. 13-17 | RUIDOSO GOLDEN ASPEN RALLY RUIDOSO, NM |
| NOV. 2-5 | LONE STAR RALLY GALVESTON, TX |