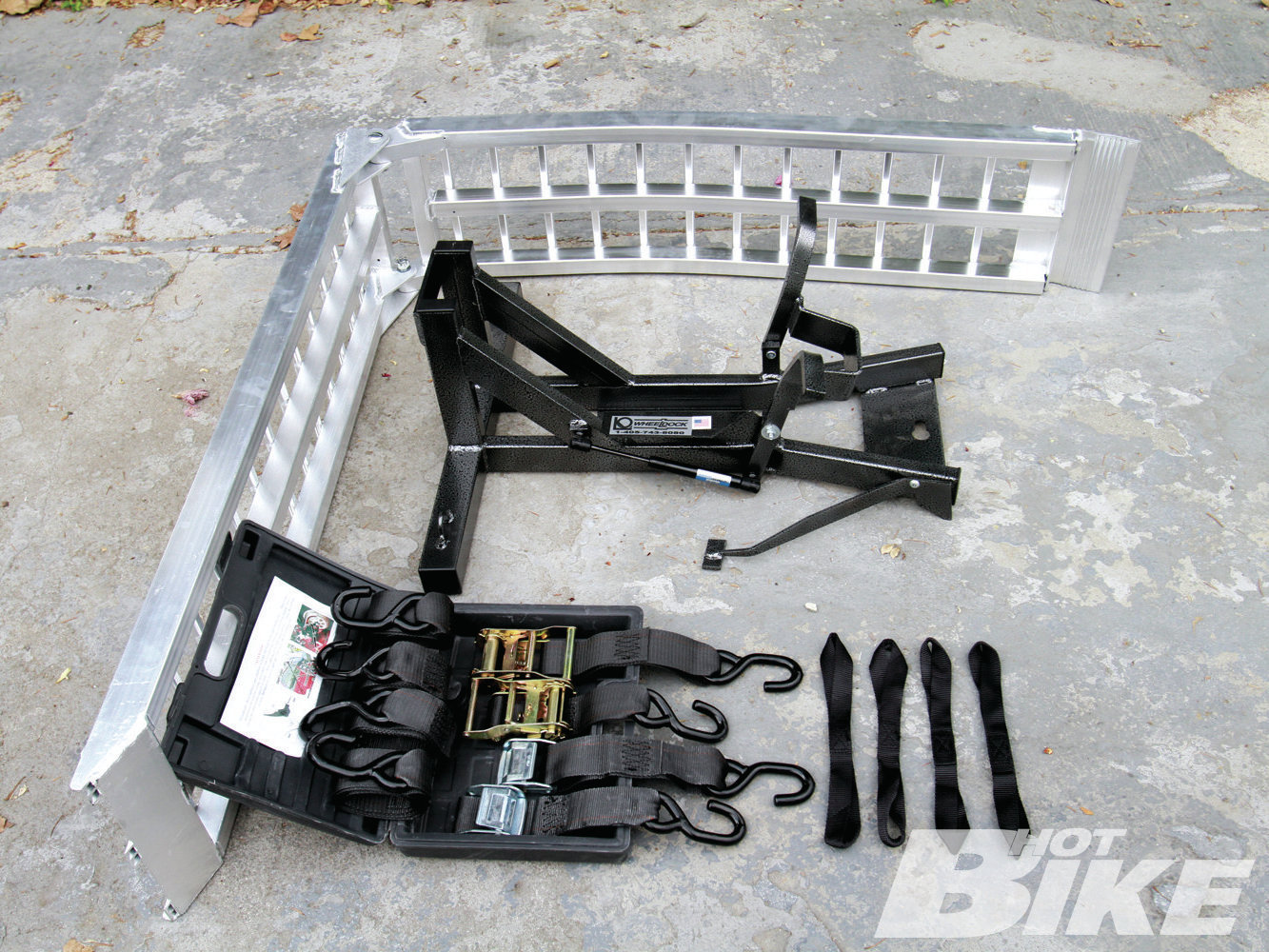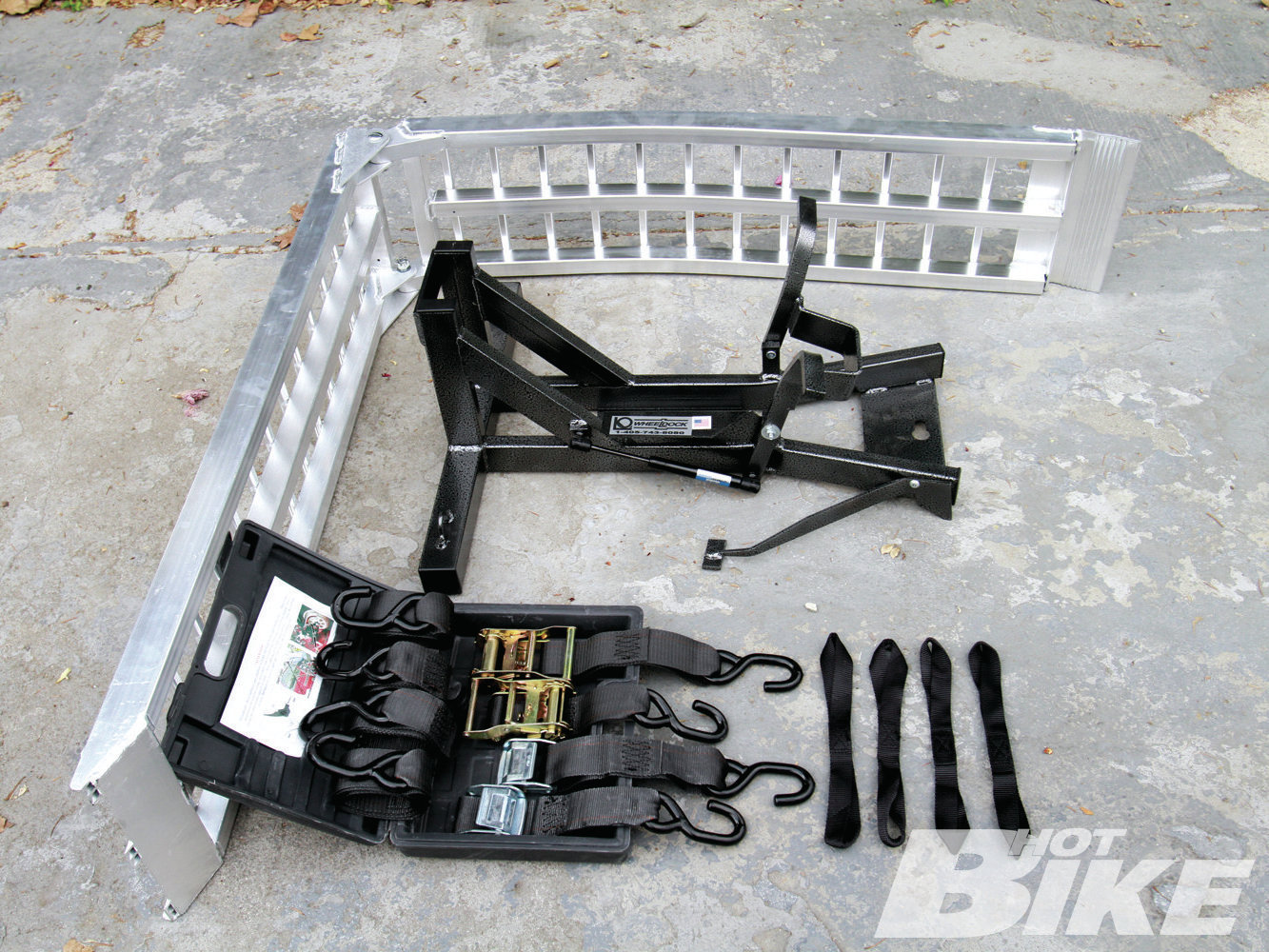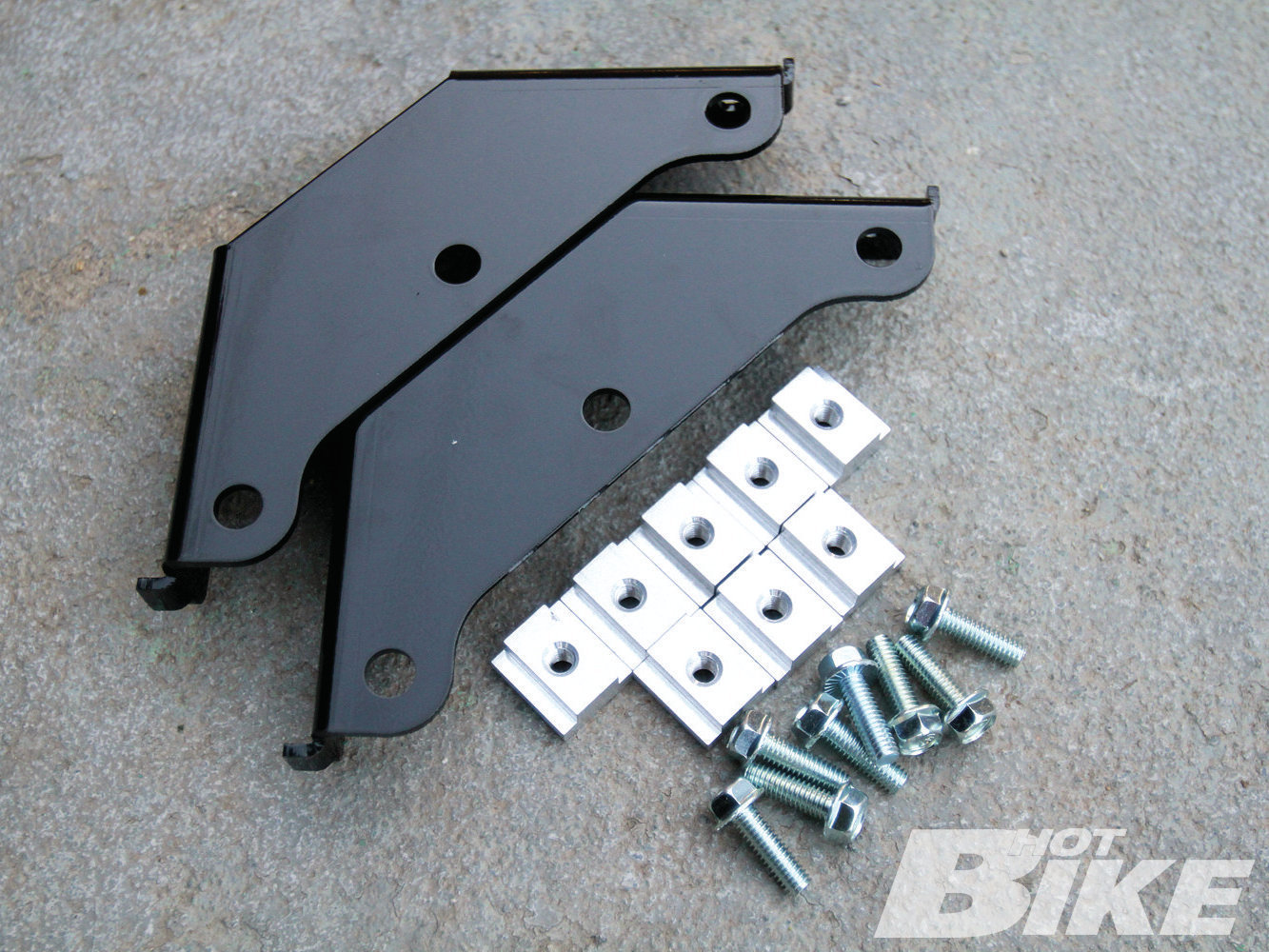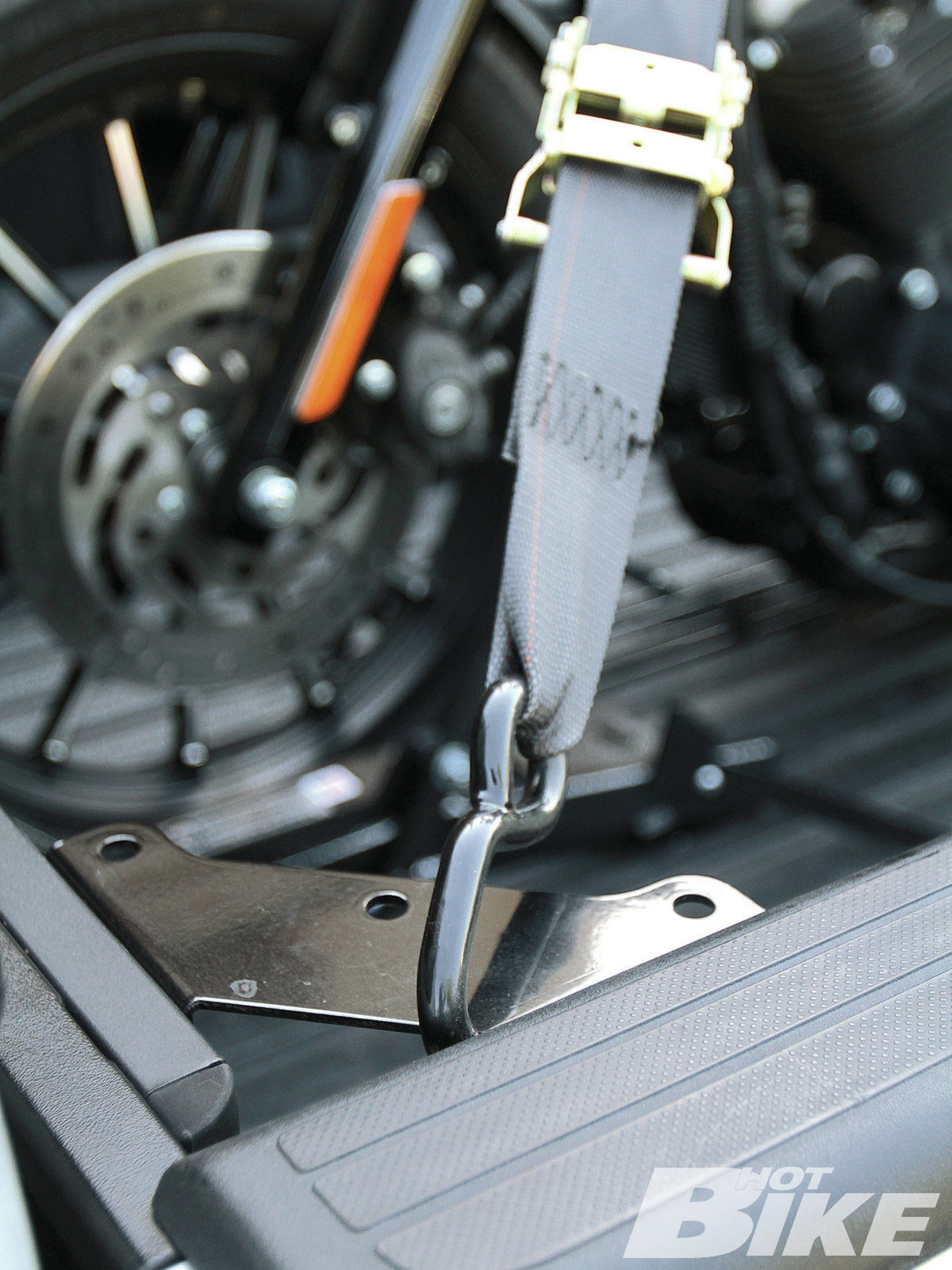 Have you ever hauled a heavy motorcycle in the back of your pickup truck and all of a sudden you've had to abruptly stop? In that split second all you can think about is how your precious cargo is going to fare in the event of an accident. Sure, hauling a bike with tie-downs does the trick, but why not step up your game a bit and haul your motorcycle the best way possible.
In the ever-expanding world of motorcycle wheel chocks, we noticed that the Wheel Dock ($199.95) is unique in that it features a cradle that automatically clamps down on the rear of the front tire via a small shock that applies up to 200 pounds of force once it's rolled into the chock. We checked to see if there was any forward/backward play, but the bike wouldn't budge.
There are multiple models available for all motorcycle types, but three for Harleys (Model 1, Model 3, and Model 5). Since we have an Iron 883 Sportster, we needed the Model 2, which features a 4 1/8-inch distance between the rails and fits Harleys with a 100/90-19 front tire. The Wheel Dock can also be used in the garage without mounting anchors in the floor. We placed the Wheel Dock on the garage floor, rolled the bike into the chock, and felt very at ease with its stability.
The Wheel Dock is made from heavy-duty steel and then powdercoated in a cool silver finish. My only gripe for the Wheel Dock is that it's model-specific. I like the option of being able to load any bike in the chock if needed. But a pretty cool feature that Wheel Dock offers is that if you sell your bike and get a new one with different tire specs, you simply ship your original Wheel Dock back with $100 and get the right one for your new bike.
As for loading the bike into the truck, we contacted Discount Ramps for its AF-9012-HD single motorcycle ramp ($129.99). Discount Ramps offers a huge variety of ramps for all motorcycles in varying widths and lengths, but since we just have the Sporty, we didn't want a huge clunky ramp that's cumbersome and a pain to load/unload, etc. Made from aluminum, it's not as heavy as some of the ramps we've used in the past, and it feels indestructible, like it would survive any natural disaster, which is a very good thing. It features a hinge in the middle so the ramp folds directly in half, and can withstand up to 1,500 pounds. We like the gradual arch design of the ramp because it prevents the bike from high centering when loading it into the truck.
Once the bike is loaded and sitting in the Wheel Dock, you still have to tie it down, which is why we hit up Discount Ramps for its MCSK2 set of ratchet- and cam-buckle tie-downs with four soft straps ($39.99). The best part: the tie-downs come in a handy little carrying case so when you're done hauling you can easily stow your tie-downs.
Another interesting hauling accessory I found is JP Metal Fabrications Hook-Ups Tie-Down Points ($49.95) for Toyota Tacoma models. The Hook-Ups fit '05-later Tacoma models and are made of black powdercoated steel and include eight billet tee nuts and mounting hardware to secure the brackets in place. Installation is a snap and provides much more peace of mind than the factory plastic D-rings used for tying items down.
With the Wheel Dock, the Discount Ramps components, and the Hook-Ups, we're much more at ease if problems should arise when hauling motorcycles. HB
| Pros  | Cons |
| --- | --- |
| • All products are competitively priced | • Wheel Dock is only model specific |
| • All feature durable and appealing construction | |
Discount Ramps
(888) 651-3431 | discountramps.com
**JP Metal Fabrications **
(408) 986-1567 | jpmetalfab.com
**Wheel Dock **
(866) 606-3080 | wheeldock.com