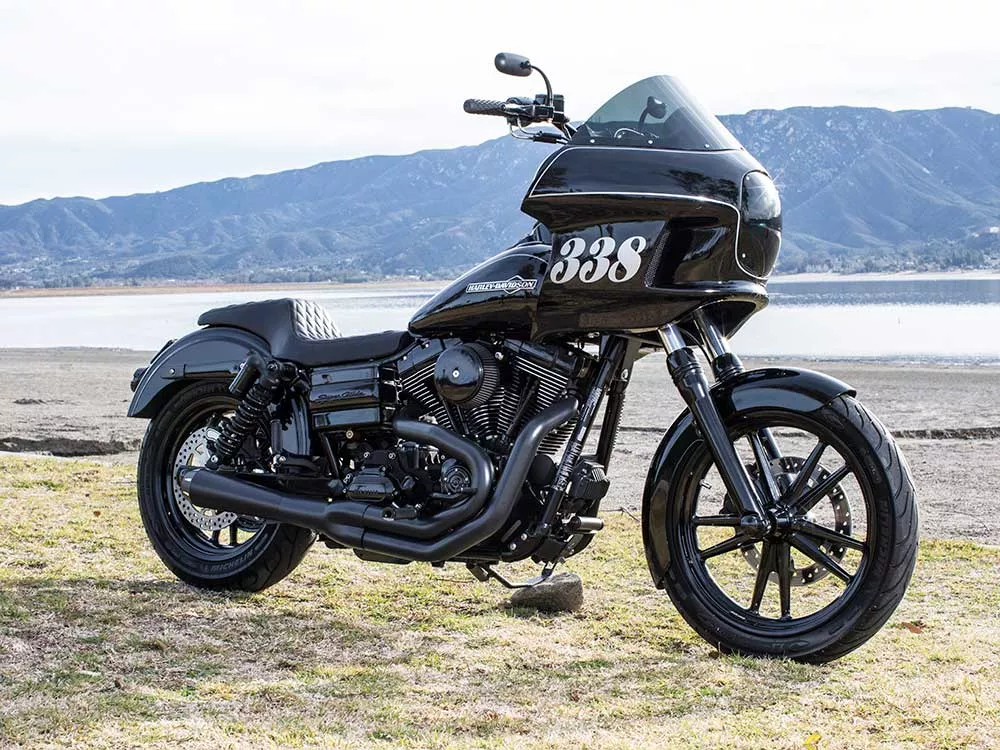 In the year 2000 my journey began. I put all my eggs in one basket, got married, had a kid, and started my new job here at Temecula Motorcycle Service. Three years later I had a dear friend of mine, Adam Crow who has recently passed to cancer (bless his soul), ask me to build a custom chopper for him. I did just that—built him a badass chopper that showed me there was more than just fixing Harley-Davidson motorcycles. There was a whole customization world out there that I was hungry to get my hands into.
This is actually my ninth personal bike that I have either built or completely customized.
By far this one has to be my favorite. I have always wanted to do a Dyna completely blacked out, so, against my wife's wishes, I sold my latest chopper to start this build. I was supposed to buy her shutters for the house, but I had other ideas—sorry about that!
Biltwell got me started with the Murdock risers, Tracker handlebars, Torker grips, Continental Diamond seat, and Rocker pegs. Then I did some suspension work just in case, and the inner kid in me came out and felt the need to jump some curbs like my BMX and dirt bike days.
Finally, I started in on powdercoating everything that I could. To be honest, that part was kind of the worst because everyone here at Temecula Motorcycle Service (employees and customers) would point out every single piece that was not black, and they thought it should be. In fact, there was even a pool on how many different times I was going to have to go to the powdercoater. I owed one of our guys a hundred bucks because I went over 15 times! Anyway, with the RWD FXRT fairing on there it cuts the wind like a Road Glide, so you don't realize quite how fast you are riding. Don't worry—CHP pulled me over to let me know and to get my autograph! HB

<div class="st-block quote text-
Notice: Undefined index: st_text_align in C:laragonwwwhotbike-importblocksquote.php on line 1
">
"I have always wanted to do a Dyna completely blacked out, so, against my wife's wishes, I sold my latest chopper to start this build. I was supposed to buy her shutters for the house, but I had other ideas—sorry about that!"
| Specifications | |
| --- | --- |
| General | |
| Owner: | Chris Hardwick |
| Shop: | Temecula Motorcycle Service |
| Shop Phone: | (951) 296-9377 |
| Contact: | [email protected] |
| Year/Make/Model: | 2011/Harley-Davidson/Super Glide |
| Build Time: | 6 months |
| Engine | |
| Year/Type/Size: | 2011/Twin Cam/103 in. |
| Builder: | Chris Hardwick |
| Cases: | H-D |
| Cylinders: | 103 in. |
| Heads: | Screamin' Eagle 103-in. ported and polished |
| Rocker Boxes: | H-D |
| Cam(s): | S&S 585 |
| Throttle Body: | Screamin' Eagle 50mm |
| Air Cleaner: | Arlen Ness |
| EFI Controller: | Power Commander 5 |
| Exhaust: | Bassani Road Rage |
| Transmission | |
| Year/Type: | 2011/H-D |
| Gears: | H-D |
| Clutch: | Barnett |
| Primary Drive: | H-D |
| Frame | |
| Year/Type: | 2011/Super Glide |
| Rake/Stretch: | Stock |
| Suspension | |
| Front End: | Legends |
| Length: | Stock black powdercoated |
| Triple Trees: | H-D black powdercoated |
| Swingarm: | H-D |
| Rear Shocks: | Progressive 970 Blackout |
| Wheels, Tires, and Brakes | |
| Front | |
| Builder/Size: | H-D/19-in. black powdercoated |
| Tire/Size: | Michelin Commander III/100/90/19 |
| Calipers: | H-D |
| Rotors: | DP |
| Rear | |
| Builder/Size: | H-D/17 in. |
| Tire/Size: | Michelin Commander III/160/70/17 |
| Caliper: | H-D |
| Rotor: | DP |
| Pulley: | H-D powdercoated |
| Finish/Paint | |
| Manufacturer: | H-D |
| Colors: | Black |
| Paint/Graphics: | 338 done by Timothy Bartee and Jim Smith Designs |
| Powdercoating: | Bill, Chrisman Coatings |
| Accessories | |
| Front Fender: | RWD Designs |
| Rear Fender: | H-D |
| Gas Tank: | H-D |
| Dash: | H-D powdercoated |
| Gauges: | HD Gauges |
| Handlebars: | Biltwell Tracker Bars and Murdock Risers |
| Grips: | Biltwell Torker |
| Mirrors: | RWD Designs |
| Hand Controls: | H-D powdercoated |
| Foot Controls: | H-D mids |
| Pegs: | Biltwell Rocker |
| Headlight: | Speedkings 7-in. LED |
| Taillight: | Speed Kings smoked |
| Turn Signals: | Alloy Art black powdercoated smoked |
| License Mount: | Drag Specialties |
| Seat: | Biltwell |
| Stereo: | Rockford Fosgate Bluetooth |
| Amplifier: | Rockford Fosgate |
| Speakers: | Rockford Fosgate by Audio Evolution |