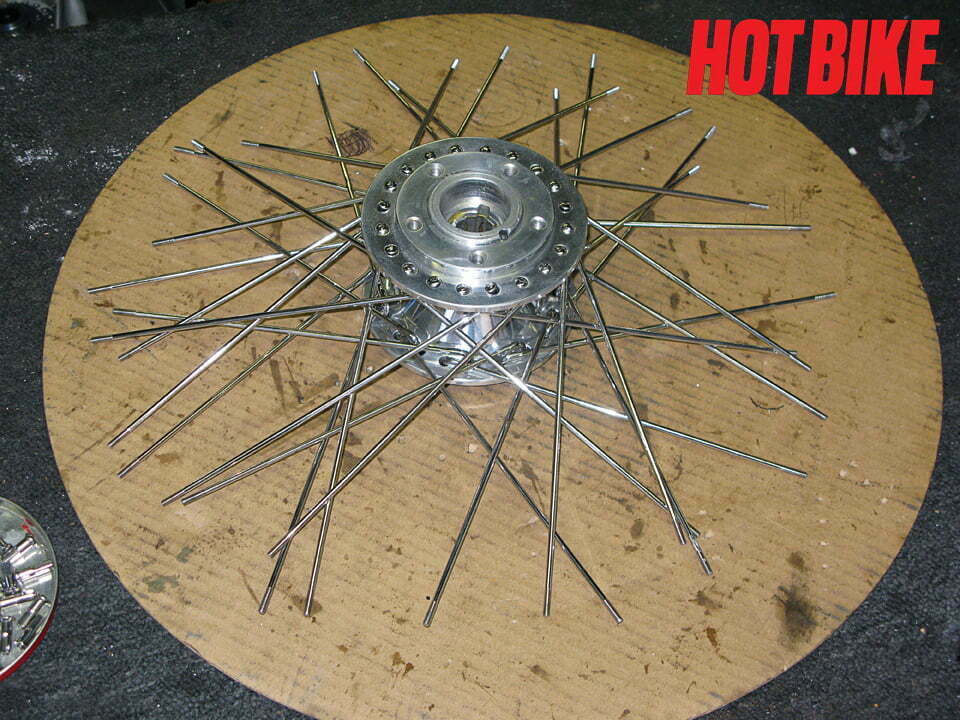 When I got this project '79 FXE Harley, it was dripping with cheesy '80s ride-to-live chrome covers and a ton of other crap destined for the dumpster. After we had stripped off most of the lameness, we decided the old 19-inch front wheel needed to be replaced with a 21-incher neatly wrapped in an Avon Speedmaster.
Since this bike is a commuter, we decided retaining the dual-disc setup was probably a good thing. Instead of buying a new wheel off the shelf, we were going to build a wheel with the stock 35mm hub the bike came with. After asking our pals at Wheel Works for some advise on spoke sizes and the best rim to use, one of the techs, Adam, suggested it would be better and much faster if we just bring the hub in and let them work their magic.
So the very next day, camera in hand, we trucked on over to see just how the pros build a wheel. Once there, we chose to go with a set of stainless-steel spokes, stainless nipples due to their anti-corrosion properties, and a chromed-steel no-name 21×1.85 rim because it matched the rear H-D wheel to a T.
It took Wheel Works a fraction of the time it would have taken us to lace up the wheel, put new bearings in the hub, and get it trued and tensioned correctly. Even though we like to work on our bikes ourselves, it is good to know that at 70 mph this wheel is not going to send us to an early grave. Thanks, Wheel Works!
Follow Hot Bike's other build projects here.
Sources:
Avon Tyres
(877) 890-8473
Wheel Works
(714) 530-6681