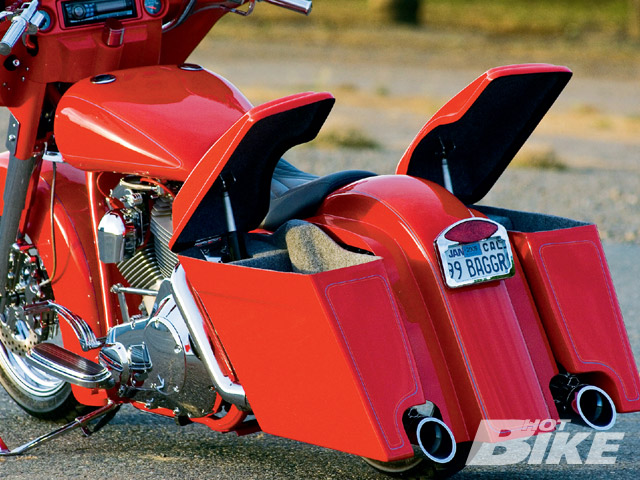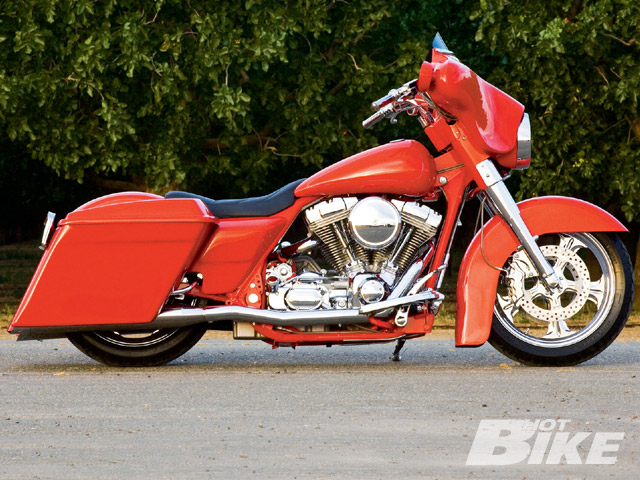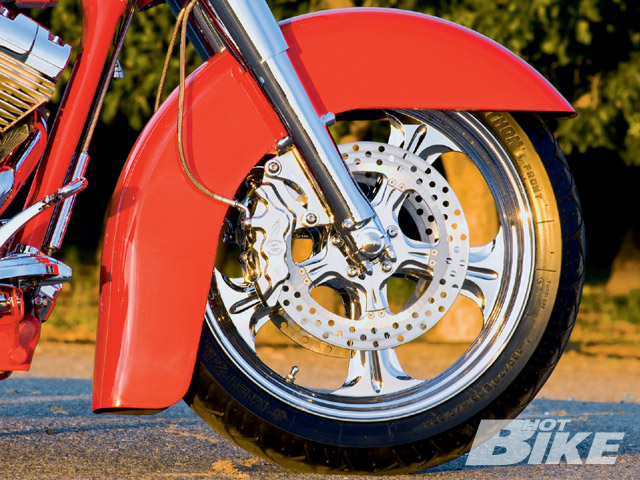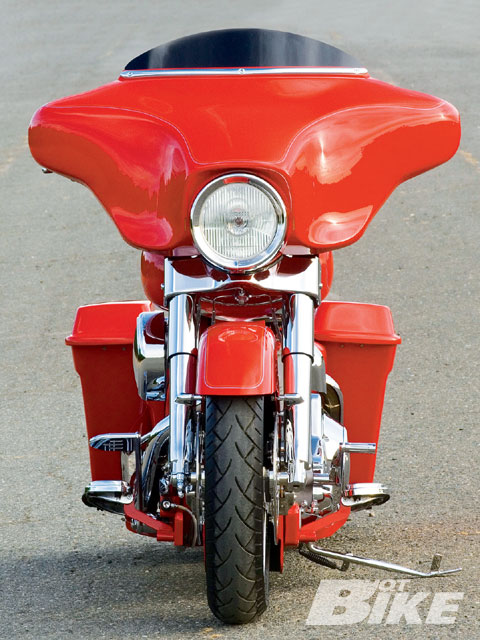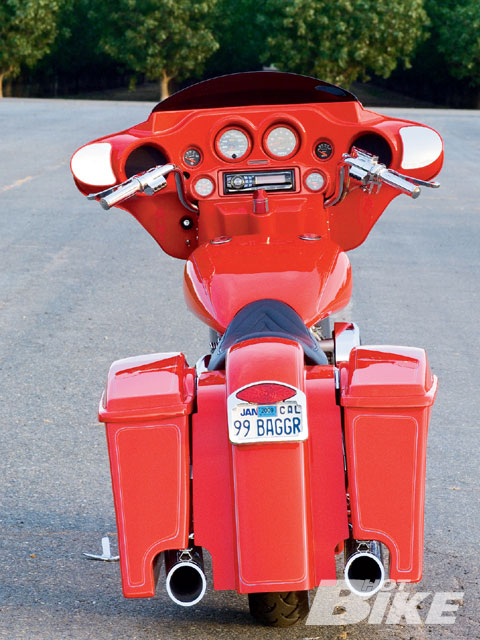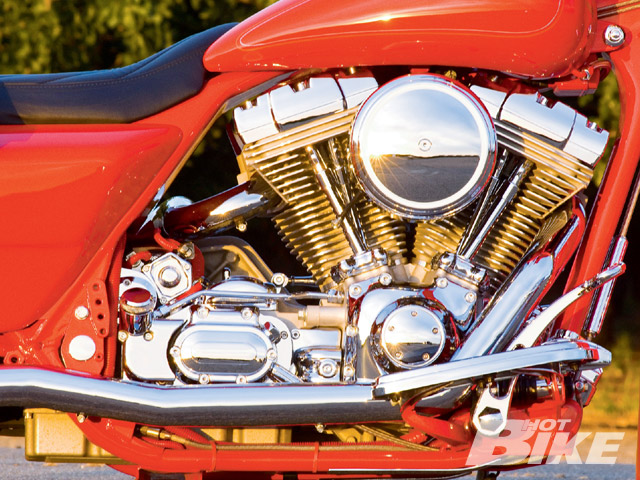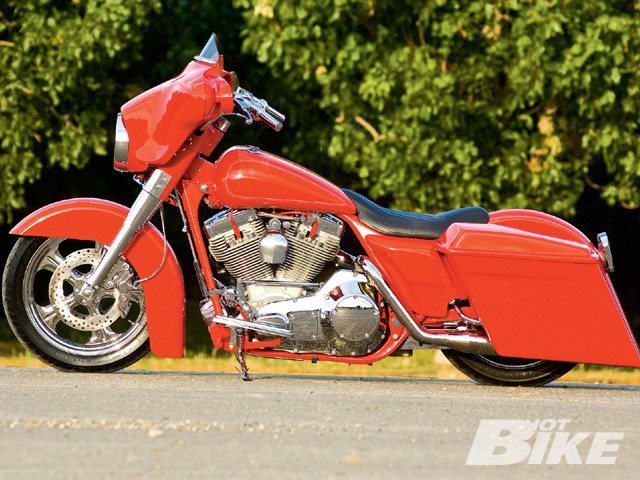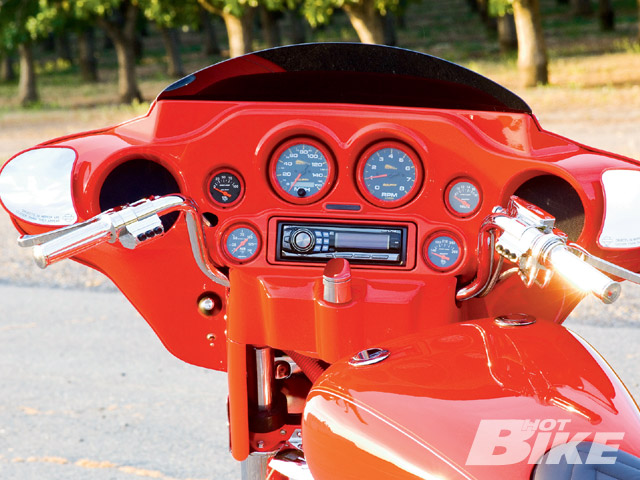 Todd Evans, from Redding California, has been a bodyman and painter for over 20 years. He has done everything from collision repair to building full customs, both cars and bikes. So in 2003 when he was looking for his next challenge he decided to turn a stock Harley into a clean and simple touring bike, that wasn't too flashy but would still get attention everywhere it went. He found the perfect platform to start the project in a hardly used '99 Electra Glide with a mere 1,600 miles on it. "My intention was to build a clean rider. I started by stretching the bags and fenders and then I painted it black," Todd said.
Like most Harley enthusiasts however, Todd couldn't just leave it at that, next he ditched the stock wheels and brakes for a set of PM Wrath wheels, 18s front and back, with dual PM six-piston calipers up front and a four-piston grabber in the rear. Once the wheels were in place, next came the strip search as Todd began searching the bike for all the "unnecessary parts" to strip off.
At that point Todd began to enter the bike into some shows. "Everything I did was so subtle, nobody really noticed it or they just thought it was a Street Glide," Todd said. So while he had partially met his goal of creating a clean and simple rider, it was apparently too clean and simple and didn't garner the attention Todd had hoped for. So he tore it down with the intention of building a sanitary, but even more noticeable rider. "I didn't want to go overboard with anything. I was going to candy it but then I figured it would look like every bike out there that had candy paint. So I figured the solid red would stand out and be easier to fix rock chips and scratches," Todd stated. "The same goes for the engine. I didn't polish the block or go overboard with upgrades because I wanted it to be reliable. The cast cases have a good contrast with the paint and chrome. Overall it has the clean street rod look I wanted, not over the top or gaudy."
While the solid red paint did help to get people to stop and take a closer look, it didn't detract from all the subtle details Todd incorporated into this bagger, such as flush-mounting micro blinkers into the front of the fairing. In fact they are so small you hardly notice the slim 1-inch long LED strips running up either side of the headlight. Todd also swapped out the stock gas tank and dash for a Drag Specialties unit which he installed flush mount caps and completely smoothed. At the back of the bike, Todd didn't just extend the rear fender, instead he made his own fender. Todd lowered the rear struts 2 inches and then raised his new fender 2 inches, with internal struts and all the mounting hardware hidden behind the molded covers. He also installed a set of Bagger Bills remote control Gator Boxes and Lids.
"My wife, son and I have traveled up and down the coast going to shows and have really enjoyed ourselves. We have met some great friends who have pushed me into working on more bikes and cars so I started my own shop and have been doing well," Todd said. "I have won peoples choice, judges choice, best of show, and even won the pro builder class at Motorcycle Madness with this bike. Now some of the bikes I have built have been doing well at shows and hopefully I can use some of my old custom ideas on some new projects."
| | |
| --- | --- |
| SPECS | |
| BIKE OWNER | Todd Evans |
| SHOP NAME | Evans' Cycle & Rods |
| SHOP PHONE | (530)524-1713 |
| YEAR/MAKE/MODEL | '99/H-D/{{{Electra}}} Glide |
| FABRICATION | Todd Evans |
| ASSEMBLY | Todd Evans |
| BUILD TIME | Six months |
| | |
| --- | --- |
| ENGINE | |
| YEAR/MANUFACTURER | '99/H-D |
| TYPE/SIZE | Twin Cam/88ci |
| BUILDER | H-D |
| CASES | H-D |
| CYLINDERS | H-D |
| HEADS | H-D |
| ROCKER BOXES | H-D |
| CARBURETOR | Mikuni |
| AIR CLEANER | Screamin' {{{Eagle}}}/Ness |
| EXHAUST | Rinehart |
| | |
| --- | --- |
| TRANSMISSION | |
| YEAR/MANUFACTURER/TYPE | '06/Ultima/6-speed |
| CASE | Ultima |
| CLUTCH | H-D |
| PRIMARY DRIVE | H-D |
| | |
| --- | --- |
| FRAME | |
| YEAR/MANUFACTURER | '99/H-D |
| RAKE | stock |
| STRETCH | Stock |
| | |
| --- | --- |
| SUSPENSION | |
| MANUFACTURER FRONT | H-D |
| LENGTH | 2 inches under |
| TRIPLE TREES | H-D |
| MANUFACTURER REAR | {{{Legend}}} Air |
| SWINGARM | H-D |
| | |
| --- | --- |
| WHEELS, TIRES, AND BRAKES | |
| MANUFACTURER FRONT/TYPE | PM/Wrath |
| SIZE-HEIGHT/WIDTH | 18×3.5 |
| TIRE/SIZE | Metzeler/130/70-18 |
| CALIPER | PM |
| ROTOR | PM |
| MANUFACTURER REAR/TYPE | PM/Wrath |
| SIZE-HEIGHT/WIDTH | 18×3.5 |
| TIRE/SIZE | Metzeler/140/70-18 |
| CALIPER | PM |
| ROTOR | PM |
| | |
| --- | --- |
| FINISH/PAINT | |
| COLOR | {{{Dodge Viper}}} Red |
| PAINTER | Todd Evans |
| GRAPHICS | Howard Zeller |
| PLATING/POLISHING | Taylor Made Plating |
| | |
| --- | --- |
| ACCESSORIES | |
| FRONT FENDER | H-D/Todd Evans |
| REAR FENDER | Todd Evans |
| FENDER STRUTS | Todd Evans |
| GAS TANK∩ | Drag Specialties/Todd Evans |
| OIL TANK | H-D |
| GAUGES | Auto Meter/Todd Evans |
| HANDLEBARS | H-D |
| RISERS | H-D |
| MIRRORS | H-D |
| HAND CONTROLS | PM |
| FOOT CONTROLS | Ness |
| FOOTPEGS | Ness |
| HEADLIGHT | H-D |
| TAILLIGHT | Russ Wernimont |
| TURN SIGNALS | Todd Evans/Russ Wernimont |
| LICENSE MOUNT | Russ Wernimont |
| SEAT | Todd Evans/Franks Upholstery |
| SADDLEBAGS | Bagger Bills |
| BAG FILLERS | Todd Evans |
| FAIRING | H-D/Todd Evans |
| STEREO | Alpine |
| SPEAKERS | Kicker |