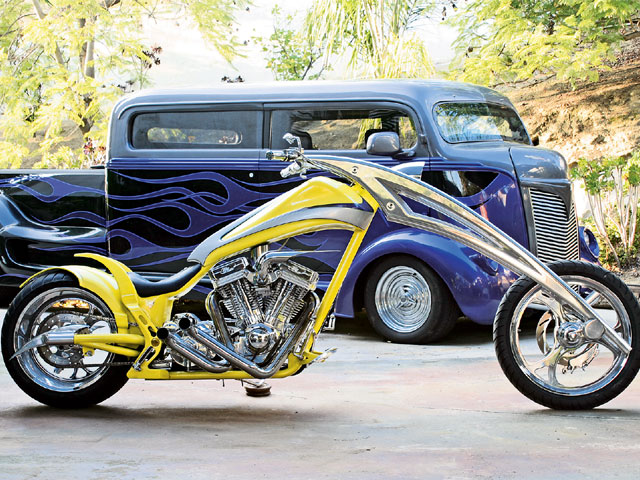 We'd heard all about a San Diego-based fabricator and his revolutionary, radical-looking billet frontend. In fact, the bike was brought to our attention while we were some 500 miles north of America's Finest City. A laptop photo was all we needed to get on the phone and attempt to track down the man responsible for such an outside-the-box design. After some digging, we discovered that the mystery man was none other than ber-designer Scotty Ziegler. Anyone with children probably has some of his award-winning toy designs scattered about their living room. He's also into designing extreme four-wheeled vehicles, too-the kind that one might envision coming straight out of a cartoon or comic book, except in this case they're built to be driven.
We were given directions to an isolated retreat high in the mountains where, after walking past a waterfall, we found Scotty creating away in his cave. Yes, that's right-his fabrication shop and studio is a working cave that's built into the side of the mountain, complete with a large rock door and the requisite stalactites hanging from the ceiling. This is where he comes up with new ideas, including the bike you see here.
Scotty started out with a Softail-style frame from Eddie Trotta that was cut up and modified heavily to provide the platform Scotty wanted to work with. With the help of Robert Veronneau of Mask Motor Works, Scotty designed the futuristic composite-blend fuel tank that seems to grow out of the frame's backbone. It's smooth, with details that would be extremely difficult to produce in metal. To keep the rear rubber close to the fender, the metal was attached directly to the swingarm. A scimitar-like metal end piece on the swingarm mirrors the flow of the frame's rear as well as the overall sweep of the bike.
However, the crowning achievment on this bike is the frontend. Constructed from billet aluminum, it features an internal suspension, along with a trailing link at the axle that places the front wheel behind the massive forks. A clean Ness caliper fits unobtrusively within the fork assembly, which clamps down on a Ness mini-rotor. To help slow the roll from the powerful 121-inch TP mill, rear braking duties are carried out with an Exile combination sprocket/disc setup with an Exile caliper.
This is one unique bike fabricated by a man with endless imagination. He wanted it to be different, radical yet ridable, and he hit the nail on the head with this one.
| | |
| --- | --- |
| SPEC SHEET | |
| OWNER | Scotty Ziegler |
| SHOP | Scotty Ziegler of California |
| PHONE | (619) 440-8525 |
| WEBSITE | www.scottyziegler.com |
| YEAR/MAKE/MODEL | '04/Scotty Ziegler/Custom |
| FABRICATION | Scotty Ziegler |
| ASSEMBLY | Scotty Ziegler |
| BUILD TIME | Four months |
| | |
| --- | --- |
| ENGINE | |
| YEAR/TYPE/SIZE | '04/Evo/121ci |
| BUILDER | Total Performance Engineering (TP) |
| CASES | TP |
| FLYWHEELS | TP |
| RODS | TP |
| PISTONS | TP |
| CYLINDERS | TP |
| HEADS | TP |
| VALVES | TP |
| ROCKERS | TP |
| ROCKER BOXES | TP |
| PUSHRODS | TP |
| PUSHROD TUBES | TP |
| CAM | TP |
| LIFTERS | TP |
| CARBURETOR | mikuni |
| AIR CLEANER | Scotty Ziegler |
| EXHAUST | Scotty Ziegler |
| | |
| --- | --- |
| TRANSMISSION | |
| YEAR/TYPE | '04/Six-speed RSD |
| CASE | Baker |
| GEARS | Baker |
| CLUTCH | Primo |
| PRIMARY DRIVE | Primo |
| | |
| --- | --- |
| FRAME | |
| YEAR/TYPE | '04/Eddie Trotta/Scotty Ziegler |
| RAKE | 45 degrees |
| STRETCH | 8 inches out |
| | |
| --- | --- |
| SUSPENSION | |
| FRONT | Scotty Ziegler & Robert Veronneau |
| LENGTH | Long |
| TRIPLE-TREES | Scotty Ziegler & Robert Veronneau |
| REAR | |
| SWINGARM | Eddie Trotta/Scotty Ziegler |
| SHOCKS | Works Performance |
| | |
| --- | --- |
| WHEELS, TIRES, AND BRAKES | |
| FRONT | |
| BUILDER/SIZE | Arlen Ness Hammer/21-inch |
| TIRE/SIZE | Avon/120/21 |
| CALIPER | Arlen Ness |
| ROTOR | Arlen Ness |
| REAR | |
| BUILDER/SIZE | Arlen Ness Hammer/18×10.5 |
| TIRE/SIZE | Avon/{{{300}}} |
| CALIPER | Exile |
| SPROTOR | Exile |
| | |
| --- | --- |
| FINISH/PAINT | |
| COLORS | Yellow/Gold Pearl |
| PAINTER | Scotty Ziegler |
| GRAPHICS | Scotty Ziegler |
| MOLDING | Scotty Ziegler |
| PLATING/POLISHING | Equality Plating |
| | |
| --- | --- |
| ACCESSORIES | |
| REAR FENDER | Scotty Ziegler |
| GAS TANK & CAP | Scotty Ziegler &Robert; Veronneau |
| OIL TANK | Scotty Ziegler, in frame |
| HANDLEBARS | Scotty Ziegler |
| RISERS | Scotty Ziegler |
| MIRRORS | Arlen Ness |
| HAND CONTROLS | J&P; |
| FOOT CONTROLS | Scotty Ziegler |
| FOOTPEGS | Scotty Ziegler |
| HEADLIGHT | Alure |
| TAILLIGHT | Russ Wernimont Design |
| LICENSE MOUNT | Scotty Ziegler |
| SEAT | Scotty Ziegler &Lars; at High End Products |