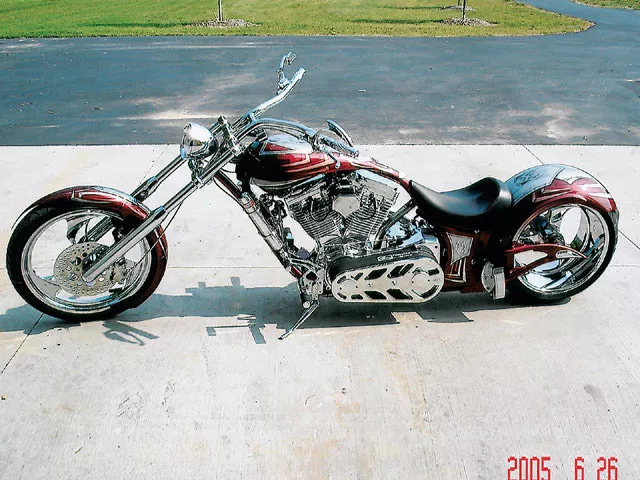 We would like to start by asking you, the reader, to help us with your ride submissions. There is no shortage of Readers' Rides coming across the editor's desks; however, only about 1/4 of them can be used. The reason: bad photos, little or no info about the bike, and even worse, no contact info to get better photos or the needed bike specs. So before you put a stamp on that envelope or send out that e-mail, make sure that you have filled out the basics: Your name, phone number and/or e-mail, where you're from. Then fill out a spec sheet-all you need to do is copy the info from the magazine: Motor, tran, frame, wheels, and so on. Last, a brief history about you and your bike. Now that you know exactly what we're looking for, we can't wait to see what you're going to send in. Thanks!Email to: [email protected]
High Mile Sportster
Gary, the owner of this '05 Sportster, is the kind of guy that likes to ride as much as he can; even the weather doesn't stop him. Over the past 17 years this bike has racked up almost 80,000 miles. Some of Gary's modifications were to powdercoat and chrome any parts that might rust when he rides in the rain…not that he lets that get in the way.
| | |
| --- | --- |
| CITY/ STATE | Plainville/MA |
| YEAR/MODEL | '05/Sportster |
| BUILDER | H-D |
| ENGINE | H-D |
| HEADS | H-D |
| CARB | H-D |
| CAMS | H-D |
| PIPES | Santee |
| IGNITION | H-D |
| TRANSMISSION | H-D |
| PAINT | H-D |
| COLOR | Black |
| WHEELS | H-D |
| TIRES | Dunlop |
| BRAKES | H-D |
Big Kit, Big Bike
"I can build that," is what Don Clough said to himself after he saw an ad for the Big Bear Choppers Venom. He saw one built in this magazine years ago and felt he could do it. He ordered the kit back in '05, and while it took a hell of a lot longer to finish than he thought, in the end, he built it his way and was happy with it.
| | |
| --- | --- |
| CITY/ STATE | Bellevue/MI |
| YEAR/MODEL | '05/BBC Venom |
| BUILDER | Don Clough and friends |
| ENGINE | TP |
| HEADS | TP |
| CARB | TP |
| CAMS | TP |
| PIPES | Grumpy |
| IGNITION | Spyke |
| TRANSMISSION | Baker |
| PAINT | Michael Olney |
| COLOR | Silver/Mauve with black shadow |
| WHEELS | BBC |
| TIRES | Avon |
| BRAKES | Exile and PM |