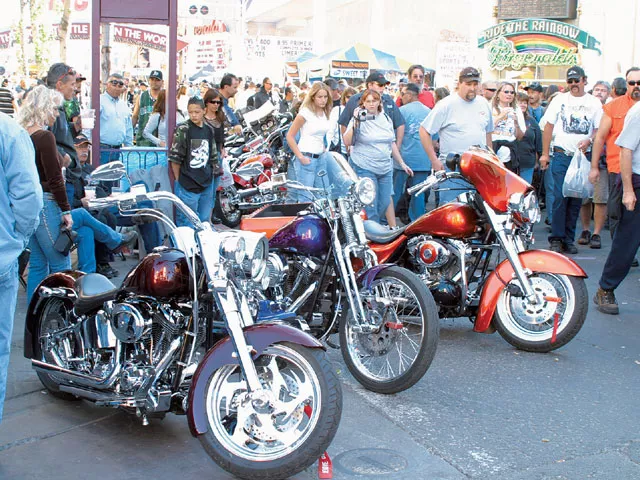 Did you know that Reno, NV, is so close to hell you can see Sparks? No, really-you can. The city of Sparks is only about four miles away from the self-proclaimed "Biggest Little City in the World." OK, so that might have been a lame joke, but anyone who was in the Reno area this past September 21st-25th most likely saw sparks from the fireworks show celebrating the annual Street Vibrations Motorcycle Rally.
Like the pioneer wagon trains before them, packs of motorcycle enthusiasts from all over the country traversed the pine-lined mountains and trout-filled streams of the Sierra Nevada in search of a better life and entertainment-for a weekend at least. Unlike its desert-surrounded sister cities Las Vegas and Laughlin, Reno is an ideal place for a motorcycle rally. While all three cities provide plenty of gambling and $7.99 prime rib buffets (which we all know bikers can never seem to get enough of), Reno has miles of beautiful roads just waiting to be ridden. With authentic Old West towns such as Virginia City and pristine Lake Tahoe only a short ride away, an entire weekend could be spent just hitting up all the historic sights and admiring the stunning scenery.
The heart of the 2005 Street Vibrations event took place in downtown Reno amongst the casinos, hotels, motels, saloons, and pawnshops, just the way it was in the Old West. For about three blocks, the city's main drag, Virginia Street, was closed to automobile traffic, allowing only motorcycles and pedestrians to pass through. This year major players such as Ron Simms, Harley-Davidson, Thunder Mountain Custom Cycles, Kryakyn, and Corbin were spread along the main strip, with plenty of custom parts and accessories, souvenirs, sunglasses, and food vendors packed among them. One block off the main drag-but still receiving plenty of foot traffic-Arlen Ness, Drag Specialties, Wicked Image, Renegade Wheels, and QTM displayed their goods in Reno's new events center.
Aside from shopping and gambling, there was plenty of entertainment all weekend long to keep the crowds happy. The Silver Legacy Baron Room hosted the "America's Finest Custom Bike Builders Invitational," the events center held a tattoo expo, and Reno Harley-Davidson rented bikes and held dyno drags. There were also concerts with rockin' music from The Beer Dawgs, Iron Butterfly, Dickey Betts, and Ted Nugent. Rounding out the weekend were the standard biker events such as bike shows, bikini contests, and poker runs. Speaking of poker runs, Reno's favorite hometown custom bike builder, Aaron Green and his shop Paramount Custom Cycles, held a poker run to all the "cat houses" in the local area. No word yet on who got the best hand.
If your plan for the new year is to attend a rally you've never been to, be sure to put Street Vibrations at the top of your list. Over the past 12 years this event has steadily grown and is becoming one of the premier events for people who like to do more than just shop and hang out-this is definitely a rider's event.