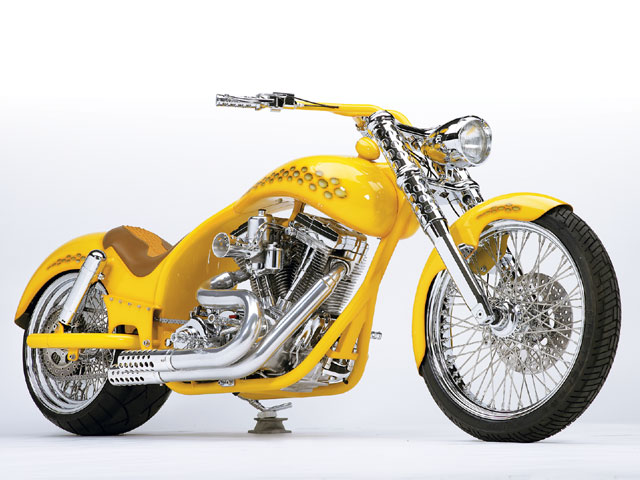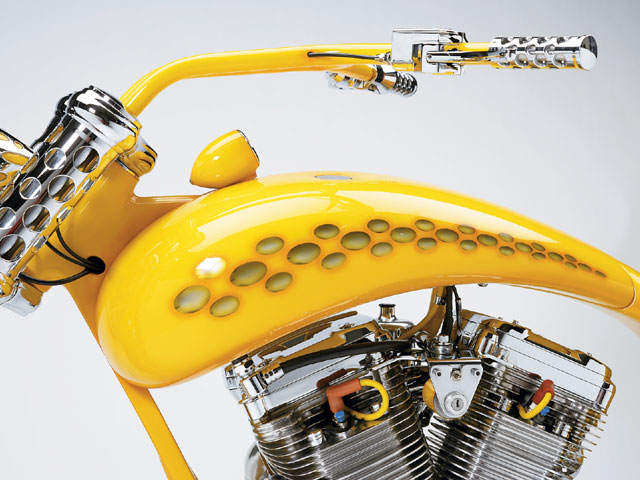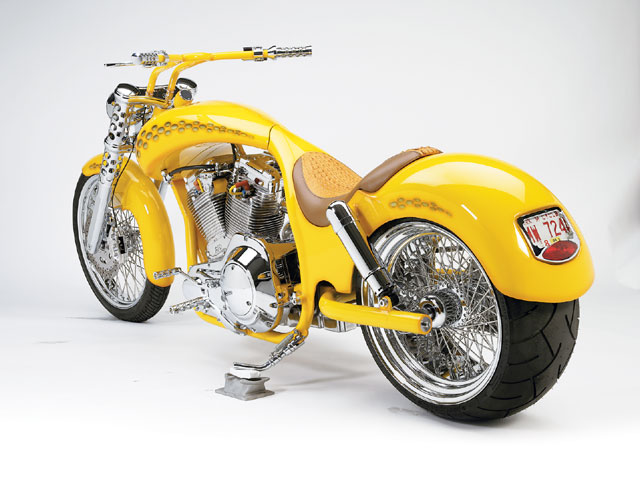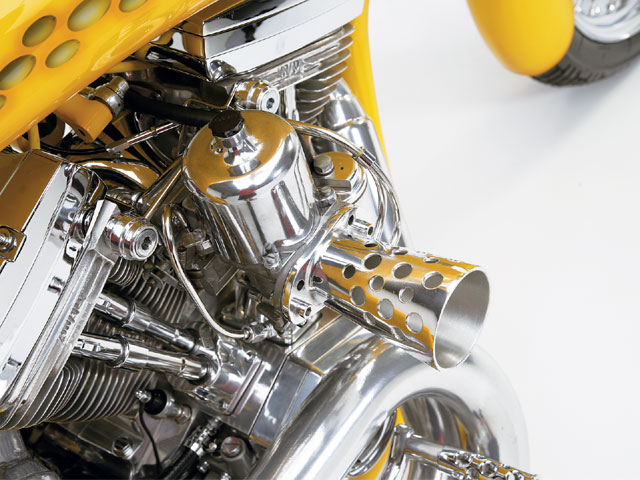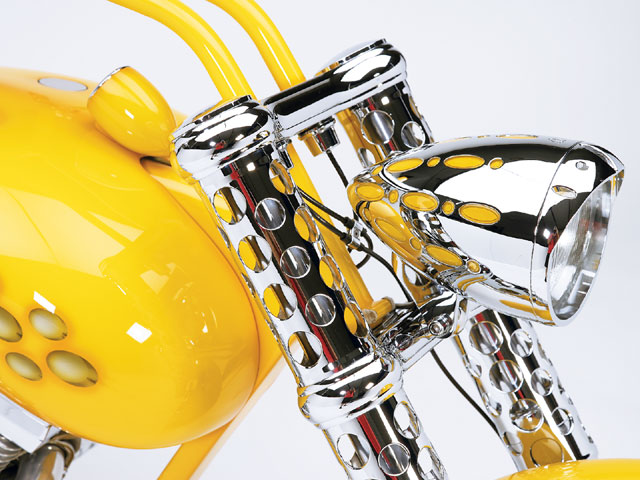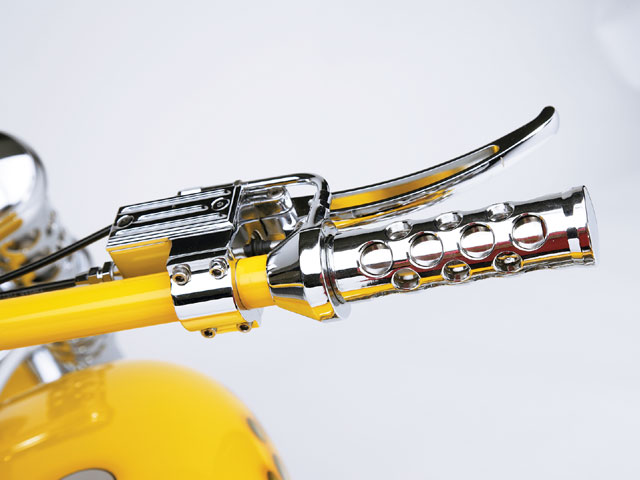 When most folks claim to have had an epiphany they're usually talking about pretty serious, life-altering revelations, like finding God or the winning lottery numbers coming to them in a vision. For Jerry Berryhill of Little Rock, AK, though, his epiphany didn't bring him fame, fortune, or salvation, but rather a glimpse at his ideal custom FXR-inspired motorcycle.
"I woke up in the middle of the night and I had conjured up a vision of this frame," Jerry said. "It would have external shocks and use the FXR-style motor mounts. I was still half-asleep and kind of in a stupor, but I drew up a quick sketch before I headed back to bed."
So, with his nightstand masterpiece in hand, Jerry paid a visit to his cohorts at Rodney's Cycle House to start fabrication on the frame. When he's not at his day job working for the state, Jerry is a regular fixture at the shop owned and operated by Rodney Roberts, and has earned the right to tinker around on the shop's equipment as he sees fit. To streamline the frame fabrication, and to ensure his vision could become an exact reality, Jerry put together a makeshift blueprint.
"I did a scale drawing of the frame, and then blew it up 400 percent and had it printed to where it was life size," Jerry said. "Then we just had to bend tubing to match the drawing. I think it really simplified it."
With his 3-out, 3-down, 38-degree frame completed, Jerry turned his attention to the styling of the bike, and like so many custom bikes it ended up being one piece that drove the design.
"I bought Battistini footpegs and hand grips that Arlen (Ness) was selling and I thought those holes were pretty cool," Jerry said. "So I just started drilling holes. I just thought in this day and time everything was getting so cookie cutter and you've got to do something a little bit different."
The Ness/Battistini styling was carried over with a Ness headlight, as well as one-off accents on the upper fork covers, velocity stack, and exhaust tips all done by Jerry.
With the rigidity and superior handling potential of the FXR-inspired chassis, and the all-day comfort he would be afforded with the rubber-isolated engine, Jerry made many of his design decisions with an eye on balancing form and function. First on his list were a set of factory mid-controls, which along with a set of one-off handlebars from Rodney's shop, would put Jerry in an optimal upright riding position.
"I'm not a long-legged person, and nowadays everyone is stretching these bikes out forever and I'm kind of sick of it," Jerry said. "Functionality was really important for me on this bike. I've built who knows how many motorcycles over the years and some have been really functional and some have just looked really cool. With this bike it's very comfortable, but it's still really cool to look at, and yet still really easy to ride."
All that long range comfort called for a heaping helping of motivation, provided in this case by shelved but not forgotten Merch 120ci Evolution-style engine, minted way back in 2001. An S&S; .560 cam keeps the valves thumping in time, and a Crane Hi-4 ignition module deals out the spark. Jerry's dolled up velocity stack feeds into a vintage SU carburetor and the spent gases roar out of yet another Cycle House one-off exhaust system.
Power finds it way to the rear wheel through a stock H-D closed chain primary and a requisite Baker right-side-drive six-speed transmission, before hitting the pavement via an Exile Cycles Sprotor.
A comfortable, suspended ride was a priority from day one, so Jerry spared no expense in picking components to help smooth out the road. To that end a set of Progressive Suspension shocks were bolted to the custom-made swingarm, while Pro One fork tubes lock into a set of Ness triple-trees out front. A mini Dakota Digital speedometer was molded tight to the top of the gas tank, and finally it was time for the frame and tins to find their way to Danny Helms of Helms Custom Design. Helms reached for the PPG "Smooth Yellow," and then augmented the show-stopping basecoat with some virtuoso airbrush work in keeping with the bike's speed hole theme.
Seat Pan Joe skinned the one-of-a-kind saddle in a combination of goat and alligator and Jerry finished things out much the way they began with a set of Ness hand controls.
You'd think with Jerry's obvious eye for design and technical chops that he's be looking to make this motorcycle building thing into an honest living, but for now this journeyman builder is content to keep business and pleasure separate.
"I've been doing these things since 1968," Jerry said. "Everybody's got to have a hobby, and this one is cheaper than a lot of them. It's kind of fun for me, and certainly a departure from what I do for a living."
| | |
| --- | --- |
| SPEC SHEET | |
| GENERAL | |
| OWNER | Jerry Berryhill |
| SHOP | Rodney's Cycle House |
| PHONE | (501) 376-1574 |
| YEAR/MAKE/MODEL | '06/Special Construction |
| FABRICATION | Rodney's Cycle House |
| ASSEMBLY | Rodney's Cycle House/Owner |
| BUILD TIME | One year |
| | |
| --- | --- |
| ENGINE | |
| YEAR/TYPE/SIZE | '01/Merch/120ci |
| BUILDER | Merch |
| CASES | Merch |
| FLYWHEELS | Merch |
| RODS | Merch |
| PISTONS | Merch |
| CYLINDERS | Merch |
| HEADS | Merch |
| VALVES | Merch |
| ROCKERS | S&S; |
| ROCKER BOXES | H-D |
| PUSHRODS | Crane |
| PUSHROD TUBES | H-D |
| CAM | S&S; .560 |
| LIFTERS | JIMS |
| CARBURETOR | SU |
| AIR CLEANER | Owner |
| IGNITION | Crane HI-4 |
| EXHAUST | Rodney's Cycle House |
| | |
| --- | --- |
| TRANSMISSION | |
| YEAR/TYPE | '06/Baker 6-speed RSD |
| CASE | Baker |
| GEARS | Baker |
| CLUTCH | Barnett |
| PRIMARY DRIVE | Chain |
| | |
| --- | --- |
| FRAME | |
| YEAR/TYPE | '06/FXR Special Construction |
| RAKE | 38-degrees |
| STRETCH | 3-out 3-down |
| | |
| --- | --- |
| SUSPENSION | |
| FRONT | |
| TRIPLE-TREES | Ness |
| TUBES | Pro-One |
| REAR | |
| SWINGARM | Rodney's |
| SHOCKS | Progressive Suspension |
| | |
| --- | --- |
| WHEELS, TIRES, AND BRAKES | |
| FRONT | |
| BUILDER/SIZE | DNA/21 inch |
| TIRE/SIZE | Metzeler {{{90}}}/90/21 |
| CALIPER(S) | PM |
| ROTOR | H-D |
| REAR | |
| BUILDER/SIZE | DNA/18-inch |
| TIRE | Metzeler |
| CALIPER | Exile |
| ROTOR | Exile |
| | |
| --- | --- |
| FINISH/PAINT | |
| COLOR(S) | Smooth Yellow |
| PAINTER | Danny Helms |
| GRAPHICS | Helms Custom Design |
| MOLDING | Helms Custom Design |
| CHROME PLATINGAND POLISHING | Atlantic Coast |
| | |
| --- | --- |
| ACCESSORIES | |
| FRONT FENDER | Drag Specialties/RWD |
| REAR FENDER | Swap Meet Special |
| GAS TANK | Rodney's |
| GAUGES | {{{Dakota}}} Digital |
| HANDLEBARS | Rodney's |
| HAND CONTROLS | Ness |
| FOOT CONTROLS | Ness |
| FOOTPEGS | Ness |
| HEADLIGHT | Ness |
| TAILLIGHT | RWD |
| SEAT | Seat Pan Joe |
| ELECTRICAL | Rodney's |