Indian Motorcycle's The Wrench: Scout Bobber Build-Off competition is going strong and currently each of the three finalists is inching closer to completion of their custom Indian Scout Bobber. On top of already being given a Scout Bobber to customize and keep as well as a build allowance of $10,000, the overall winner receives a $10,000 cash prize plus bragging rights of being the overall winner of the The Wrench: Scout Bobber Build-Off.
We checked in with Alfredo Juarez last month, and PJ Grakauskas a couple of weeks back. This week, we picked the brain of the last finalist, Christian Newman, to get his take on being selected as one of three builders for The Wrench. Hailing from Buffalo, New York, Christian's 9-to-5 working as a mechanical engineer for a mining company keeps him plenty busy. But he is no stranger to building custom motorcycles. We're excited to see what Christian brings to the table when all three of the custom Scout Bobbers are unveiled.
The three custom Scout Bobbers will be unveiled August 5 at the Legendary Buffalo Chip during the Sturgis Motorcycle Rally. The public unveil will trigger a second fan voting process, which will determine the grand prize winner. The winner will be announced two weeks later and will receive a $10,000 grand prize along with a feature spread in Hot Bike magazine.
Talk about being a finalist for The Wrench.
It's flattering and at the same time, nerve-racking. In general all of my projects are just for myself, don't have such tight timelines, and also are less in the public eye. Generally the people following my builds like a very specific type of motorcycle, and this bike will (likely) be followed (or at least seen) by much of the "general public."
When did you start tinkering with motorcycles?
I found a minibike frame in the trash as a kid. Junior high, I think. I distinctly remember taking an old couch cushion, wrapping a T-shirt around it, and then stapling it to a board. A year or so later, my father gave me an old blown-up KDX80. My first streetbike was a CB550 that I scored at a garage sale for 10 bucks. It turned out to be a bike my father owned in the '70s. I still have it, actually. It was also my first project.
What was your first bike?
A KDX80.
Any builders you admire, respect, or try to emulate?
I'd like to be Maxwell Hazan if he were into choppers.
What bike(s) do you currently own?
A '40 Knucklehead stainless chopper, a 1961 Panhead swingarm chopper, '75 CB550 thing, '78 Shovelhead turbo, '93 Fat Boy, '99 Sportster chopper, 2000 Sportster chopper, '39 ULH chopper (unfinished), and now an '18 Indian Scout Bobber.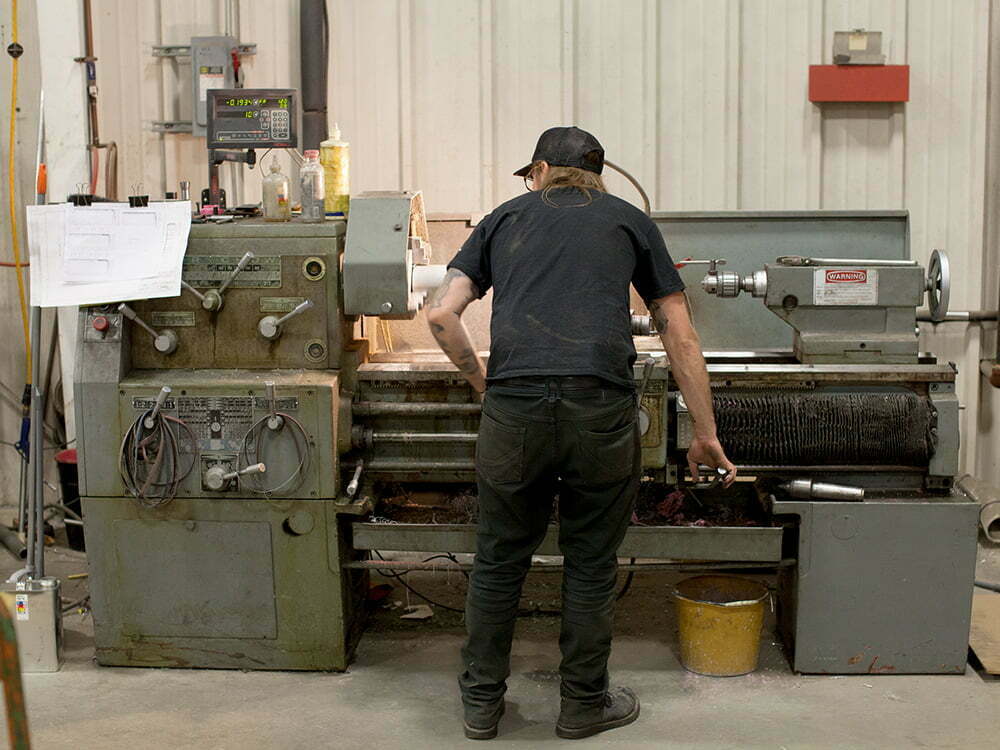 Explain the similarities between your 9-to-5 and how it applies to customizing motorcycles?
I spend my days designing mining equipment. I have become highly proficient in CAD, so that's a huge help when it comes to building bikes. I tend to model a lot of parts before I actually make them. All too often when I don't, I'll have to remake a part because it just doesn't feel right. Doing the CAD work is a big help. I think that my motorcycle hobby has helped my 9-to-5 more than vice versa though. I'm a self-taught fabricator, and knowing how things will be machined or welded helps me design better mining machines.
Talk about how you started building bikes as a hobby.
It was just born out of being a tinkerer. I have messed with stuff for years and years. I remember taking apart my dad's battery charger just to see how it worked when I was in fourth grade. He wasn't pleased. I eventually graduated into making things that actually functioned. I was into making cars for a while. My senior design project in college was putting a turbocharger on my '99 Nissan Maxima.
Ever thought of doing it for a living?
Often, but I am very concerned it would suck the fun out of it, or I would have to make radical lifestyle changes that I'm not ready for. For now, simply doing it as a hobby allows me to do whatever I want, how I want, when I want.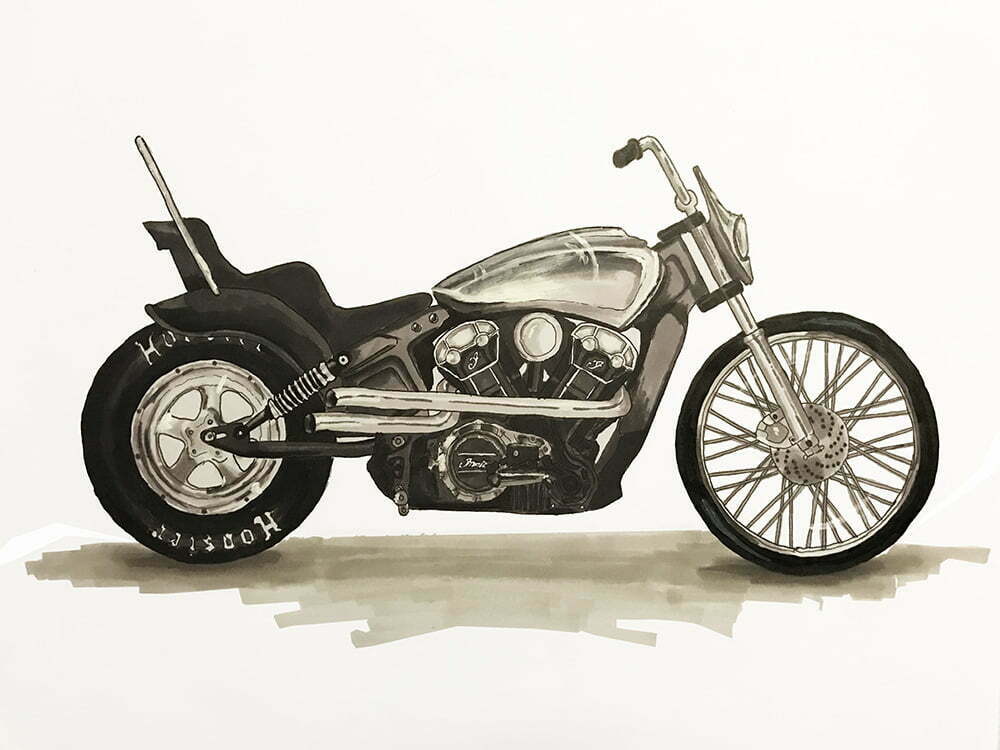 What are your thoughts on the Indian Scout Bobber?
For a new motorcycle, it's cool. I know very little about any new motorcycle, so I'm excited to get my hands dirty with it.
What's your plan of attack for your Scout Bobber build?
Not sleeping much, working all the time, basically. I went to Switzerland for a motorcycle show in early May, and from then on until the deadline it will be full throttle, so to speak.
How are you going to spend the $10,000 build allowance?
Fabrication of wheels and tires, crazy frank fender, swingarm castings, paint. It will go pretty quick, I think.
What will you do with the $10,000 cash prize if you win?
Put a roof on my house, probably. Or buy machining tools.