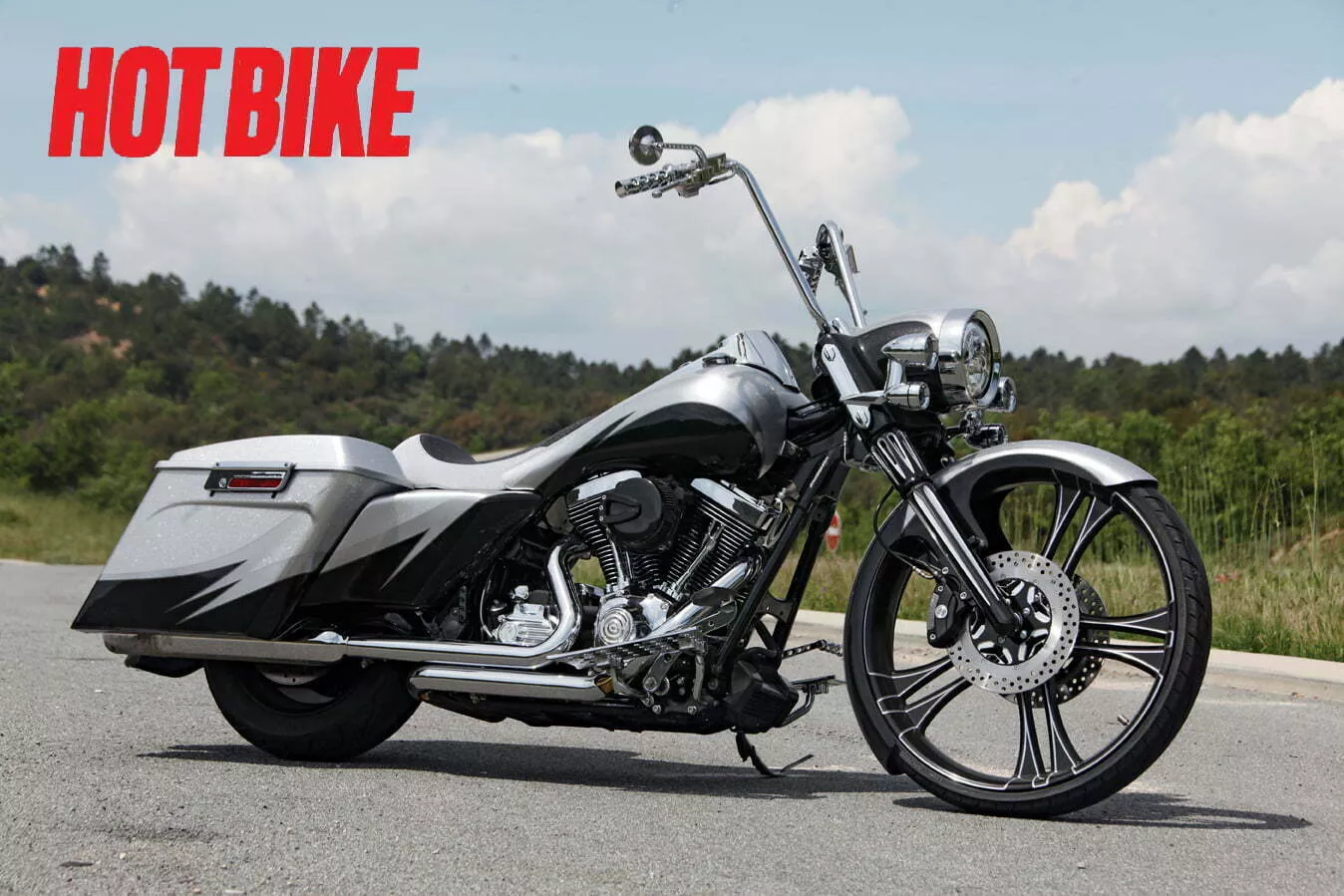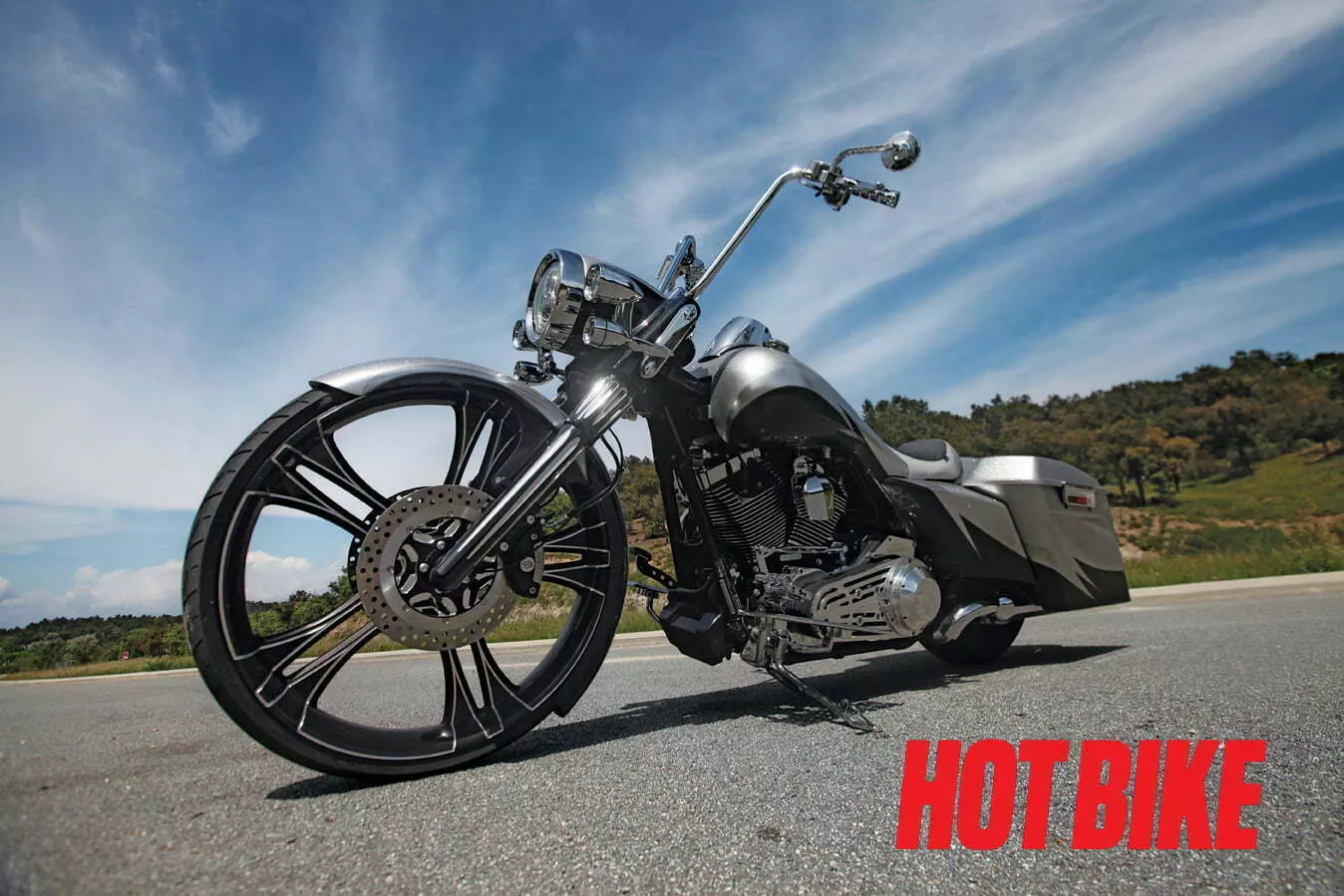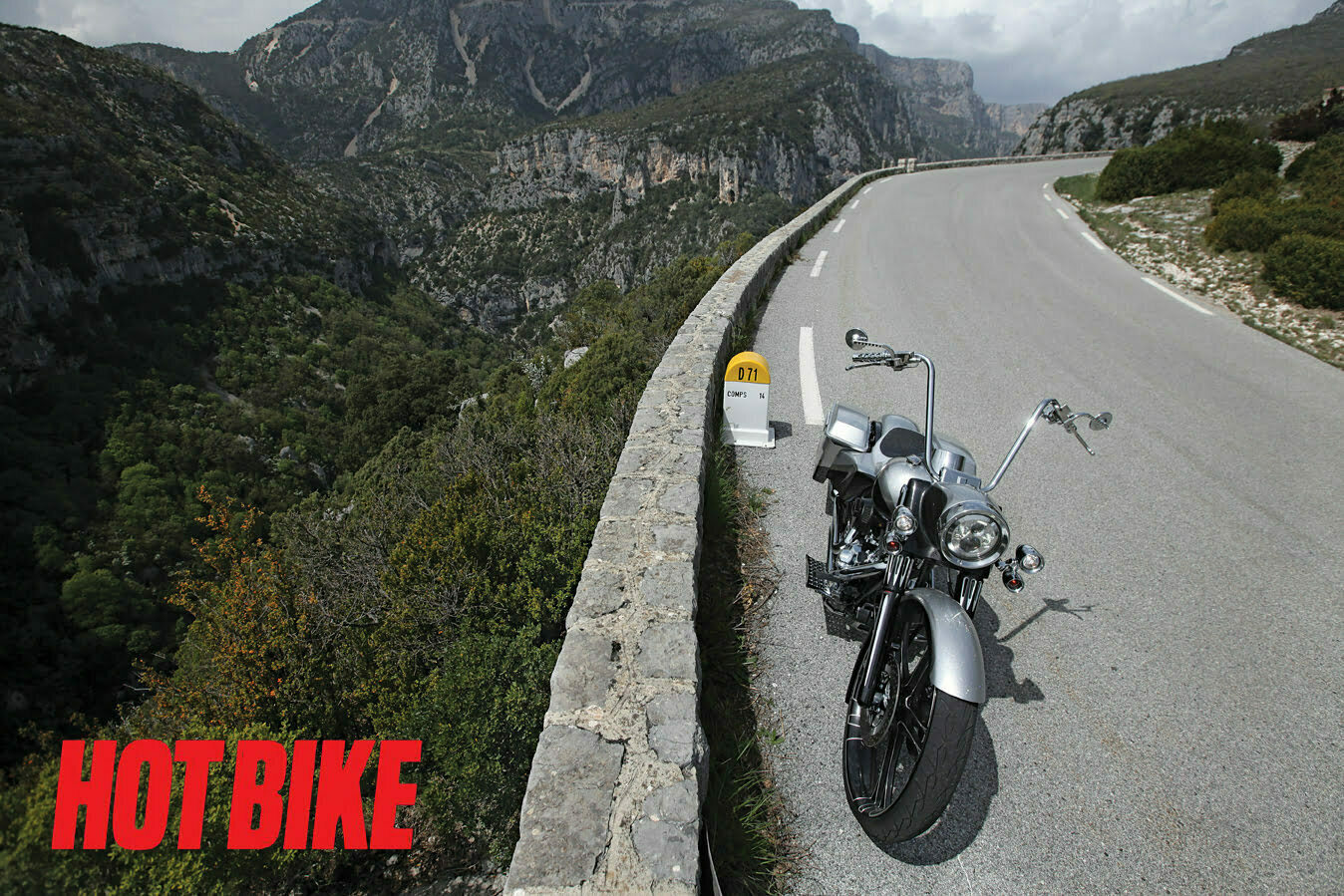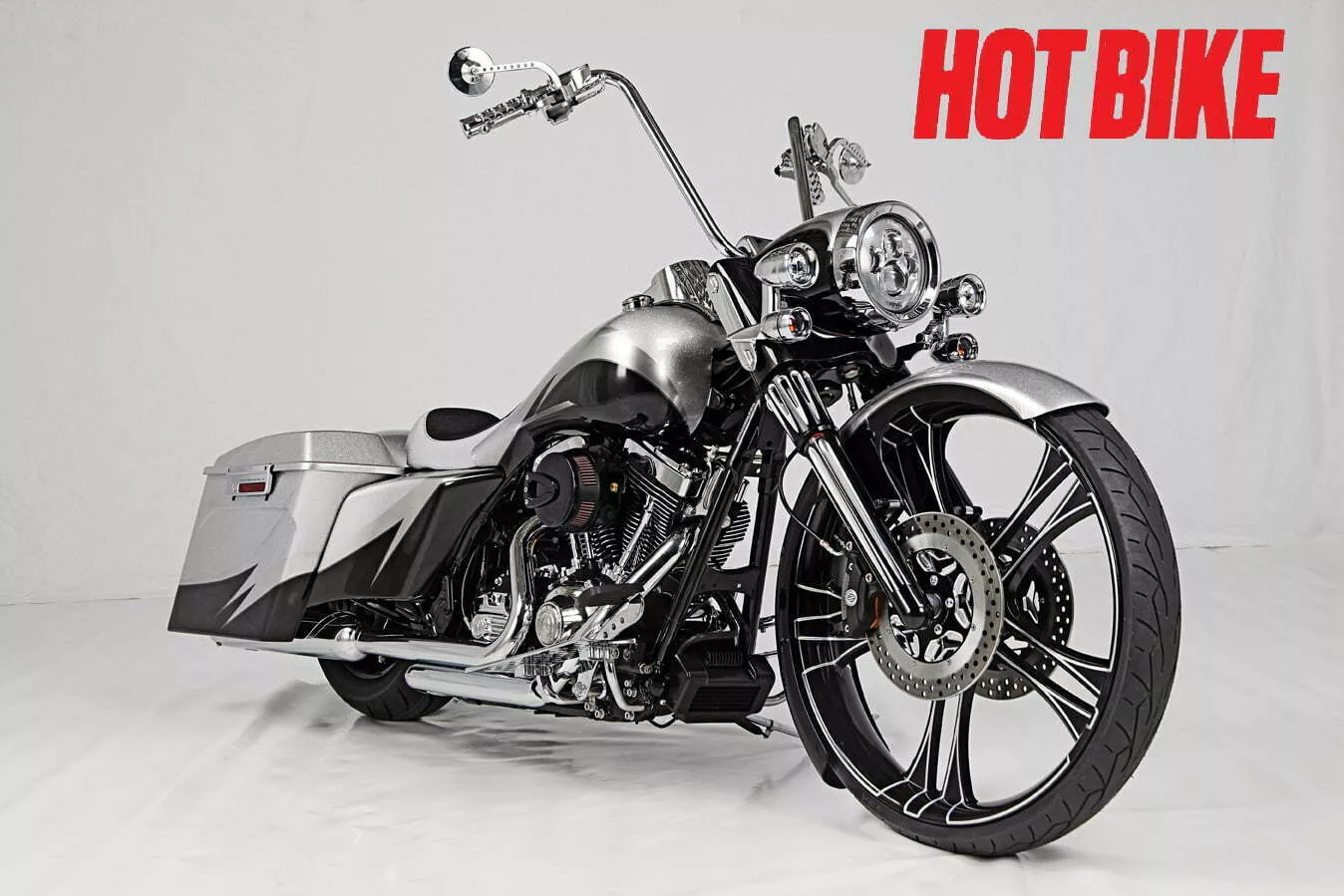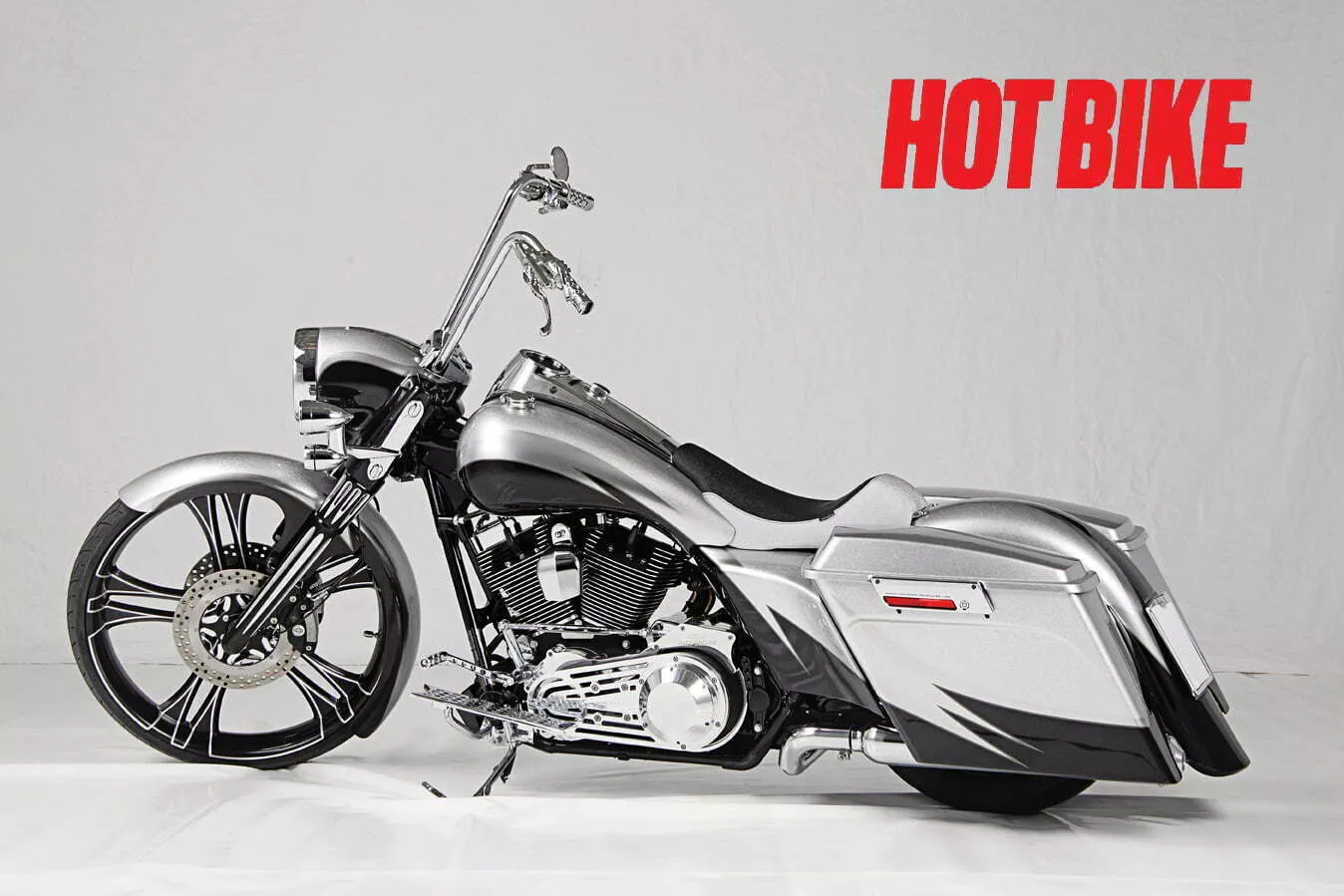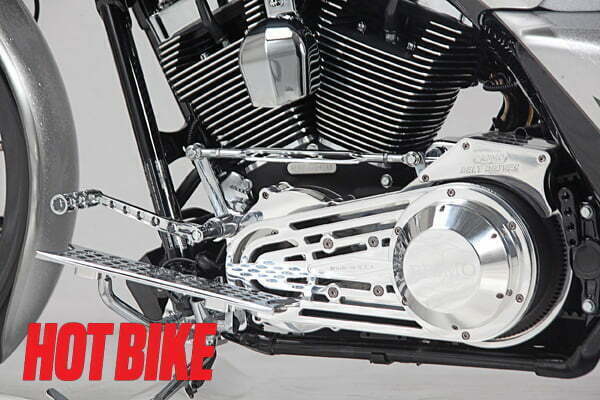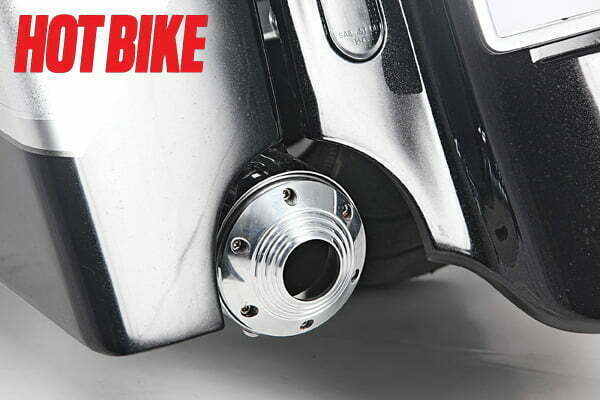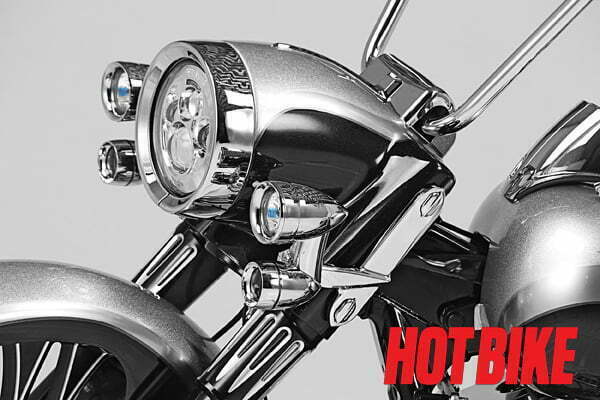 When it comes to size, the Harley-Davidson Factory in Frankfurt am Main is certainly the biggest Harley dealership in Germany—if not in Europe! And in terms of sales, it is at the top as well. Thomas Trapp and Matthias Meier do not just operate a gigantic dealership; they've also integrated a state-of-the-art custom shop where Alex and Rado build show-winning custom bikes.
"While the touring segment in our shop is big, building really high-end baggers is not as huge as other customizing requests," Thomas Trapp stated in May 2013 at the Magic Bike Ruedesheim, "Not yet, anyway! Numbers are going up, and we are already in the higher two-digit range." H-D Frankfurt's earlier rendition, the 2012 Bag 'n' Red bike, was a prime example of what the custom shop/factory dealership can do just from the Custom Chrome Europe parts catalog, and Silver Star is set to repeat this experience if not top it.
Consequently, the bike utilizes the latest and best bagger parts available from Custom Chrome Europe, most of which have been developed by German Harley specialists for road use in Germany. And that means high-speed operation on the autobahn!
Thunderbike, a customizing giant in Hamminkeln, participated in the 2011 and 2012 BOAR program, this year contributing a huge 3-D machined Daytona-design 26-inch front wheel. To integrate the huge front end in the stock touring frame, Thunderbike developed its own triple trees that retain the riding characteristics and stability despite a more chopper-style setup. CNC-machined Arlen Ness fork legs and boots are a perfect match for the silver/black design that is the trademark of this sparkling bright paint job.
Contrary to full-fairing baggers, Silver Star has no front fairing at all. The rider hangs onto a huge Arlen Ness 18-inch bagger bar, in which H-D Factory's specialists have hidden all cables and brake lines.
The tank is by bagger specialist Paul Yaffe—no need to introduce him—while Dakota Digital instrument panel (for Fat Bob tanks) is delivering all necessary information: Features include an adjustable speedometer (selectable as mph or km/h), an adjustable tachometer that can also be displayed in the digital readout, clock, odometer with two resettable tripmeters, turn signals, high-beam indicator, neutral indicator, low oil-pressure warning, check-engine indicator, security, low fuel, voltmeter reading with low-voltage warning, resettable service miles, resettable hourmeter, high-speed recall, high-rpm recall, user-settable countdown service meter with warning, 0–60 mph timer, quarter-mile timer, quarter-mile speed, gear position display compatible with three-speed through seven-speed transmissions, and adjustable rpm warning point with output for external shift light. You name it, they got it! All of these features in one compact unit that will fit in the factory opening of the Harley-Davidson Softail, Road King, Fat Boy, and Deuce dashes. Displays self dim at night for convenience, too.
When it comes to the light, there are several interesting features mounted to this ride. The headlight insert is a Speaker LED Headlights/Spotlights with European Approval. The high/low LED headlight and spotlights are a perfect choice for upgrading OEM headlights to LED. It features a durable glass lens, cutting-edge optics, solid-state electronics, die-cast aluminum housing, and built-in front position lighting. It is bright like the sun—and certainly catches the attention of other motorists day and night. CCE introduced it in last year with great success.
New and very neat are the "Driving Lights" for Touring models by Küryakyn. They mount left and right of the main beam and offer additional safety and a great look!
The kit's unique bracket configuration allows placement of these compact lights in the same location as the stock turn signals and also permits full adjustment. Besides being tucked in neatly right next to the fairing, even the wiring is neatly concealed—just plug and play.
Another German Harley-Davidson specialist is responsible for the complete tail end and touring packet; Rick's Motorcycles, now also an authorized Harley-Davidson dealer in Baden-Baden Germany, recently introduced a full line of H-D bagger parts, developed from the demand of easy-to-bolt-on high-quality components that would withstand the "beating" that German and European riders give their iron horses. Rick's Motorcycle is just a stone's throw away from the A-5, leading in a straight line from Frankfurt to Basel—and next to twisting roads of the Blackwood Forest and northern Alsace, pure motorcycle fun and a perfect testing ground. To minimize weight at the tail end, Rick's Touring Tail Fenders are manufactured from heavy-duty but lightweight fiberglass. This improves stability while losing essential weight, which otherwise would try to wag the tail of the bike. Rick's tail end exchanges for the stock rear fender of Harley-Davidson's Touring-type motorcycles, giving the popular "street-dragger" look, especially when an air-suspension system is mounted, in this case Legend Air Suspension. Rick's Touring tail ends are available in both an EC-homologated version with orange indicators and extra taillight on the license plate or as a custom version, both for the US and international market, with black glass indicator/taillight combination. The license plate baseplate integrates into the fender.
Attention to details is one of the trademarks of Rick's House of Custom; the Rick's Bagger parts line offers this option for extending the stock Road King side covers for a better and more aerodynamic airflow around the cases—and a cooler look, too! Rick's side fillers are manufactured from heavy-duty fiberglass, thus offering great strength and a solid base for the paint job. There are no modifications necessary, as these side fillers are glued directly onto the stock side covers. Contours are shaped to fit perfectly inside and outside, and the kit comes complete with glue and assembly procedure. The final piece in the Silver Star bodywork is Rick's brand-new stretched cases, casted from high-quality ABS plastic material rather than glass. This allows higher strength of the large cases, better surface quality for the paint job, and superb fit, which is especially important when the hot exhaust bikes are routed close to the cases. Both cases have been shaped for a dual muffler exhaust system, big enough for stock and multiple choices of custom aftermarket systems. Nevertheless, the full size of the bags can be used for luggage, adding another 4 inches of storage space on each side. Both cases fit to the stock mounting points of the stock cases and use stock-size top covers of Harley-Davidson's cases or aftermarket sources.
Added to the engine for a bit more performance is a Good Guys cleaner, which matches multiple custom styles or the stock look perfectly and improves airflow to the engine of your Twin Cam. The system fits all Twin Cam 88 carburetors and all EFI systems from 2000 to 2012, including all Touring models (carb and EFI equipped). The Good Guys air cleaner design uses common K&N filter inserts, which means easy filter cleaning with fast access. Precision CNC-machined housings are black anodized and natural aluminum.
The wasted gas is exited through BSL's Touring Bomb, which is available in black and polished finish. New and established touring parts are used to round up the project and allow everyday use: Arlen Ness/Battistinis floorboards and shifter peg, Cycle Visions floorboard extensions, and Performance Machine hydraulic clutch housings are combined with PM handlebar controls and master cylinders. Primo Rivera 2-inch Touring Belt Drive offers a great look but comes with racing heritage: The Brute IV Extreme Touring Open Belt Drive is just a measly 2 inches wide, but boy, can it hold the power. The special 8mm Kevlar corded belt included with this kit was specifically designed to hold in excess of 150 hp. Who is using that on a Bagger, unless you seal the bags and load them with nitrous oxide? The drive's electric start feature utilizes a 66-tooth ring gear for maximum torsional longevity. A great bike for a great ride—and it does catch the eye wherever it appears!
During several touring trips at the HOG Festival Grimaud and Euro Bike Fest in Czech Republic, when the Bagger toured Napoleon's Austerlitz battlefield—not always under best weather and road conditions—the Legend air shocks at the rear came in quite handy. The rolling chassis can be raised and offer more ground travel for better riding angles in turns. Fears that the looooong front fender would be scratched or damaged by rough road surfaces in the French or Moravian mountains were unjustified. Though sometimes we really didn't want to see how close the rear tip of the fender actually came to the surface. Handling and riding stability with the 23-incher in front were excellent. Yes, the turning radius with the triple trees is wider, but that is a compromise you have to take with a touring bike that surely turns heads wherever it rides! This is one elegant and eye-catching Bagger, and it doesn't need fairings and blinking gimmicks on this ride: Silver Star is a "character" by its appearance—and a true star.