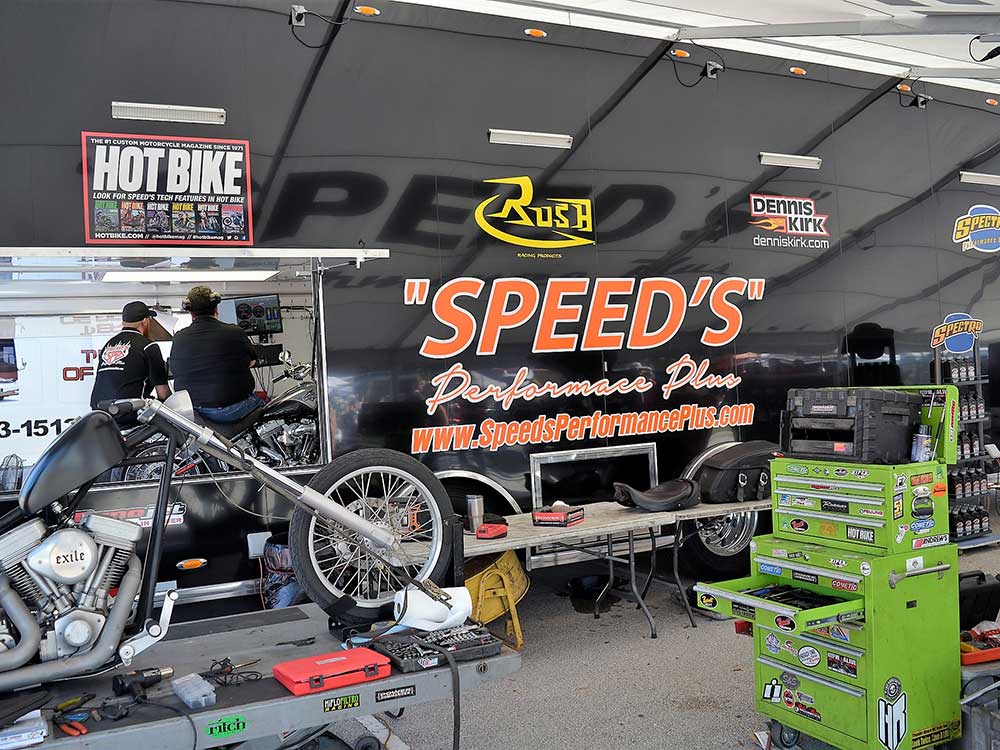 A lot of Harley riders don't think about big throttle bodies and high-flow injectors until every other performance mod has been completed. It's understandable. Common knowledge has had it that those high-flow throttle bodies and bigger injectors are a last step, after the addition of aftermarket high-flow heads, for instance. Only then do big throttle bodies and high-delivery injectors begin to pay off. Up to that point, goes the reasoning, you can get along quite nicely with Harley's stock equipment—custom-tuned, of course, for maximum efficiency.
Not quite true, say the techs at Speed's Performance Plus. Sure, they'll routinely include a big throttle body and high-flow injectors in a big-bore engine kit and definitely when aftermarket performance heads are part of the package. But, says SPP's Jamie Hanson, they don't limit the recommendation for that throttle body/injector swap to just those situations.
"Big-inch late-model bikes like the 103s and CVO 110s really wake up with added airflow and increased fuel delivery," Jamie says. "Especially when a new set of cams is part of the deal." The result can be impressive, a nice performance upgrade at a fairly reasonable cost.
Examples? A recent SPP tune on a 110, Jamie explains, included a swap to 585 cams and the addition of a 58mm throttle body with high-flow injectors. And instead of going from the stock bike's upper-70s horsepower numbers to the lower-90s as would be expected with just the camshaft change, with the addition of a bigger throttle body and its corresponding injectors horsepower can jump up into the 110 range with 120 pound-feet of torque.
All this assumes the exhaust system is also up to snuff, preferably with a 2-into-1, and the air filter is performance oriented. But otherwise the engine is bone-stock. "And given these results," Jamie says, "it's a no-brainer to include that bigger throttle body with high-flow injectors into a cam swap. It's just too much extra performance to leave on the table."
Bear in mind though, this setup also requires a careful remap of the new fuel delivery, actually pulling a little bit of that extra fuel now available out of the lower-end rpm and partial-throttle positions. Without recalibration, Jamie goes on, the added fuel delivery so beneficial at the mid- and top ranges would most definitely be overly rich on the bottom-end. The bike would load up with a mushy feel off idle. And that, Jamie says, is pretty much true across the board with high-flow injectors and big throttle bodies. A careful, and thorough, dyno tune is mandatory if the desired result is a crisp, responsive low and midrange combined with that aggressive and powerful top-end.
A good correlation here would be comparing the injector swap to a camshaft swap, the difference being the adjustability of the injector's flow. While there is no one camshaft design that will pull strong and make maximum power at every position from idle to full throttle, with the added airflow of a bigger throttle body and high-flow injectors that's exactly what's possible. A cam ground to make high-end horsepower is going to lose something on the bottom end, and camshafts designed for low-end power will sign off well before full throttle. It's much the same with injector size. All that extra fuel delivery desired at higher rpm will be too much on the lower end, but the difference here is that high-flow injectors, unlike a cam, can be custom-adjusted throughout the rpm and throttle-position range.
"And down at those lower rpm/partial throttle positions," Jamie says, "it's not uncommon for us to end up taking out a lot of that extra fuel delivery, in some areas of the powerband dialing back the fuel delivery by as much as 30 to 40 percent." But, notably, still taking advantage of all that extra flow at the higher rpm/higher throttle positions, up where high-flow injectors really come into play. Bottom line, it's the best of both worlds.
Takeaway from all this? A bigger throttle body and high-flow injectors have a lot to offer, especially on a late-model/big-inch bike. And it doesn't have to be limited to being a last step in the performance hunt. But rare indeed is the case where you could just bolt on all that hardware and be happy with the result. A careful remapping tune is mandatory. The guys at Speed's Performance Plus can tell you more about all of this. Give them a call, or stop in and have a chat next time that big, black truck is in your area.