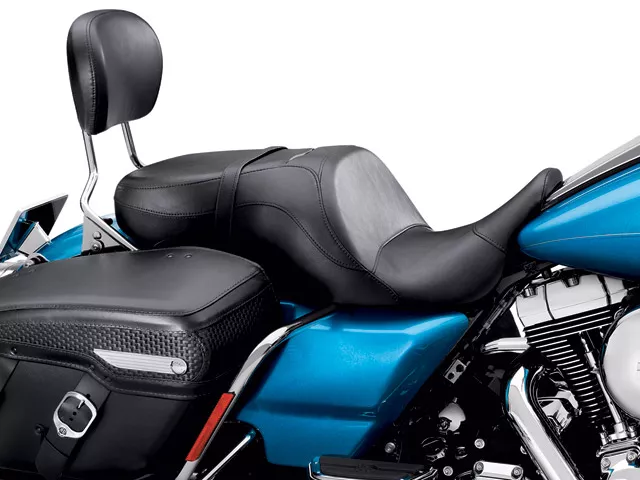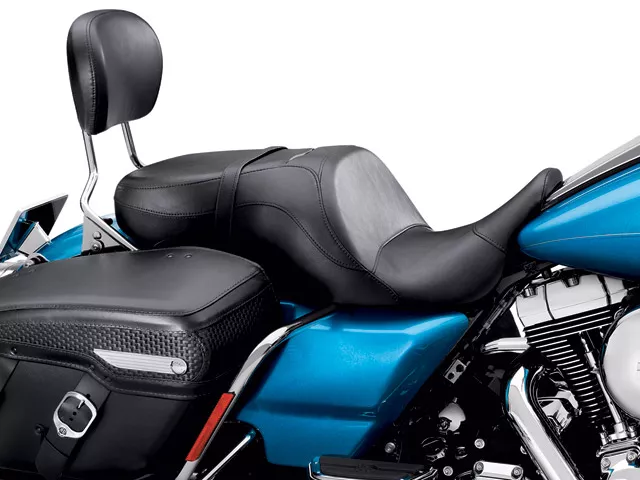 MILWAUKEE (July 27, 2010) - The new Super Reduced Reach® Seat – Touring (P/N 54382-11, $299.95) offers a forward position designed to move riders with a shorter inseam even closer to the controls than the Harley-Davidson Reduced Reach Seat. Its narrower nose area also allows the legs to be about one inch closer together so that feet may rest firmly on the pavement.
The scooped, bucket-shape saddle is enhanced with added back support padding to move the rider up to 2 inches lower* and 2.5 inches further forward. The combination positions the rider closer to the hand and foot controls to improve both comfort and confidence. The seat can be equipped with an optional rider backrest for added support and comfort. Seat width is 13.0 inches. Passenger pillion width is 12.0 inches. The Super Reduced Reach Seat fits 2009-later Harley-Davidson Touring and Trike models.
*Measurement based on 2009 Electra Glide® Classic original equipment seat. On some 2010 and all 2011 models the Super Reduced Reach Seat is 1.5 inches lower than the Electra Glide Classic original equipment seat. . Harley-Davidson Motor Company produces heavyweight custom, cruiser and touring motorcycles and offers a complete line of Harley-Davidson motorcycle parts, accessories, riding gear and apparel, and general merchandise. For more information, visit Harley-Davidson's Web site at www.harley-davidson.com.